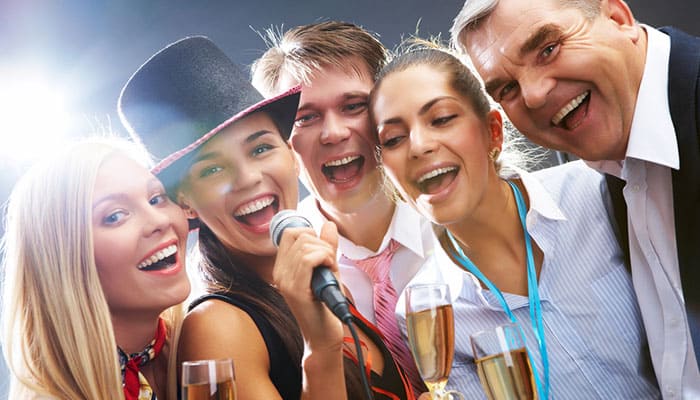 Now you may be wondering, what exactly is a karaoke microphone and which is the best? It's actually just a microphone, but that doesn't mean you should go out and just pick any old option. There is actually is a wide range of microphones out there and some perform better than others when it comes to producing a great karaoke experience at home. The good news is they are typically pretty affordable, so you might as well grab two (trust us, it's a lot more fun to have someone on backup than flying completely solo.)
Note that there are both wired and wireless options out there, but we highly suggest going with a wireless microphone – the last thing you want to worry about while you're singing in the spotlight is tripping over a cord, even if it is only in front of your closest friends. Read on to see the top 10 microphones for hosting your own karaoke party.
Looking for something more professional for high quality vocal recording? See our review on the greatest ribbon mics here.
At a glance:
Our top 3 picks
Our team's top 3 recommendations
Xingma UHF Rechargeable Handheld Wireless Karaoke Microphone

Sennheiser EW 135 G3-A-US Handheld Cardioid EW Karaoke System

GTD Audio G-380H VHF Wireless Microphone Karaoke System with 4 Handheld Mics

High-quality SMD components and SMT technology
Works for long distances
Uses shock solid frequency line for less dead points
Prevent the interference from computer, DVD and Digital Power Amplifier

Enhanced frequency bank system with up to 12 compatible frequencies
Automatic frequency scan feature searches for available frequencies
User-friendly menu operation with more control options
Wide range of accessories adapts the system to any requirement

4 Channel Receiver with 4 Microphones
Individual volume controls on each Channel
230 feet ( 65 Meters ) Range
One 1/4" Mixed Output and four XLR Individual outputs
List of the Best Karaoke Microphones of 2022
Main Brands - Key mic brands include Shure, Sony, Sennheiser, and Audio Technica. All of these brands deliver professional products time after time and you can't go far wrong with them. But, smaller brands also create excellent mics these days so try and look past the main brands if you're looking for something cheaper.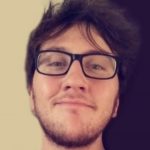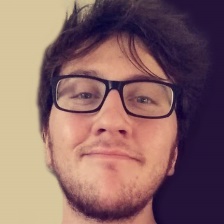 1. Xingma UHF Rechargeable Handheld Wireless Karaoke Microphone
First up we have the Xingma UHF Rechargeable Handheld Wireless karaoke mic. We like this option because of its superior audio quality, and because it actually rejects and suppresses a lot of background noises. This makes it an excellent choice for belting out your favorite tunes outside, in a park or in your backyard.
It's a wireless mic, which is another feature we love because it means you don't have to worry about getting tangled up, yet it still has a very powerful range so that you stay connected while you move (and groove) around. There's nothing worse than dropping out right as your song hits its peak! Also, the battery life on this mic is impressive.
Looking for a complete karaoke system? Click here to read our complete karaoke machine reviews.
The microphone itself, as well as the receiver, take rechargeable batteries so you can always keep the power flowing. The LED prompt lets you know how much charge you have remaining, so you never have to question how many more songs you can fit in before you're stuck belting out your favorite songs without a mic.
Pros:
+ High-quality SMD components and SMT technology
+ Works for long distances
+ Uses shock solid frequency line for less dead points
+ Prevent the interference from computer, DVD and Digital Power Amplifier
Why We Liked It - The receiver connects to a wide variety of devices, such as a computer, a mixer, a speaker, a DVD player, your TV, and any other option that fits a 6.35mm plug. Finally, this karaoke mic feels great in your hand. The high-quality unit is made of metal that you can easily hold while you croon.
2. Sennheiser EW 135 G3-A-US Handheld Cardioid EW Karaoke System
This is the system for die-hard karaoke fans! If you are looking to step up your performance game, then you will want to seriously consider the Sennheiser EW. It is impressive, to say the least. Sennheiser is a brand name that is synonymous with exceptional quality. Their products are top of the line, and this handheld, wireless microphone is no exception.
You can expect top-notch quality, craftsmanship, and performance from this system, which is why for those dedicated to performing, as well as doing some other types of public speaking, this is an excellent choice.
This system provides versatility for every style of music and presentations: you can depend on great performance from the ew 135 G3 vocal system. It features a handheld, wireless microphone that delivers a great natural sound. Unlike other microphones, this system produces a clarity that is hard to compete with.
It has a great range that allows you to work for the crowd without worrying about a dropped connection. This system allows you to wirelessly sync the transmitter with the receiver with the single touch of a button. It also allows you to charge the optional rechargeable pack while it remains in the transmitter.
Pros:
+ Enhanced frequency bank system with up to 12 compatible frequencies
+ Automatic frequency scan feature searches for available frequencies
+ User-friendly menu operation with more control options
+ Wide range of accessories adapts the system to any requirement
Why We Liked It - The true diversity receiver has a backlit graphic display that makes it easy to read under all lighting conditions, so even if you have your lights turned down low (and we don't blame you - a great karaoke show includes stellar mood lighting) you'll be able to see all the controls on the receiver. If you're ready for the next level in karaoke experience, you will not be disappointed with this choice.
3. GTD Audio G-380H VHF Wireless Microphone Karaoke System with 4 Handheld Mics
Karaoke by yourself is fine, but having your pals back you up is a lot more enjoyable. With this system, you get four handheld wireless mics which are perfect for having a great karaoke party!
This is also an excellent option for new bands or small groups that really need a few mics to practice and perform with. This system comes in at a very affordable price point, especially given the fact that you get four mics, which is exactly why we've included it on the list. The mics themselves sit in the receiver which makes for very easy and convenient storage when you're not using them.
Another really great feature we love is that each channel has its own volume controls. Go ahead - we won't judge you if you turn down the volume on that one friend that likes to hog up all the vocals. With a range of up to 230 feet (65 meters, your friends, and family will have more than enough space for moving and grooving around while performing.
Let's talk a little bit about sound quality as well. For the price of this system, you get a very decent, smooth output.
Pros:
+ 4 Channel Receiver with 4 Microphones
+ Individual volume controls on each Channel
+ 230 feet ( 65 Meters ) Range
+ One 1/4" Mixed Output and four XLR Individual outputs
Why We Liked It - It can even compete, or perform better, than some of the more expensive systems that exist out there.  One thing to keep in mind is that with this system, you'll need to keep batteries on hand as they are not rechargeable. For general karaoke and recreational use, this still shouldn't be too much of an issue.
Lavalier and Lapel Mics - Lavalier and lapel mics are designed to have an ultra-low profile so they don't appear on camera. They're used for TV, film, and broadcasting purposes and are generally fitted onto clothing. Lavalier and lapel mics will need to be coupled with a bodypack that will connect to the receiver.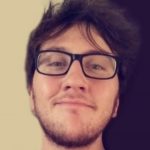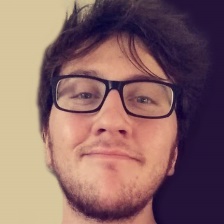 4. Shure SLX2/SM58 Handheld Transmitter with SM58 Microphone, H5
Here we have another serious heavyweight contender. Meet the legendary Shure SM58 vocal microphone. This beautifully crafted wireless microphone is designed for professional vocal use for events like live performances, sound reinforcement, and studio recordings. For those of you seriously committed to producing next-level karaoke events, this is the mic for you.
We chose it because it is a beast of a mic with clear attention to details. For example, it features a highly effective, built-in spherical filter to minimize wind and breath 'pop' noise. It also uses a unidirectional (cardioid) pickup pattern isolates the main sound source while minimizing unwanted background noise. Frankly, this mic's tailored vocal response for sound is truly a world standard for singing or speech.
This mic will produce a brightened midrange and bass roll-off truly elevating your karaoke (and any other singing) performances. We also think you will love how this mic feels in your hand, as it has a durable, rugged construction and proven.
This type of microphone will require a stand, read our reviews of the top ones here.
This mic will produce a brightened midrange and bass roll-off truly elevating your karaoke (and any other singing) performances. We also think you will love how this mic feels in your hand, as it has a durable, rugged construction and proven shock-mount system that cuts down handling noise. Note that this is just for the microphone (transmitter) and not the receiver (although there are package deals out there if you're interested.)
Pros:
+ Pneumatic shock-mount system cuts down handling noise
+ Effective, built-in spherical wind and pop filter
+ Legendary Shure quality, ruggedness and reliability
+ Cardioid (unidirectional) dynamic
+ Frequency response: 50 to 15,000 Hz
Why We Liked It - Overall, this is an excellent choice at a very fair price point for the quality you'll be receiving. If you're looking to stand out as the Karaoke King or Queen, do not overlook this option.
5. Pyle-Pro PDWM96 Lavalier Wireless Karaoke Microphone System
Look ma - no hands! Not only is this microphone wireless, it's also hands-free, so if you're looking to perfect your air guitar while taking center stage at your next karaoke get together, consider the Lavalier Microphone System.
This wireless mic uses a body transmitter, so the mic is clipped onto your clothes (if shirtless is your thing, this may not be the choice for you, but we guess your friends would prefer you with a shirt on...) Given its compact size and design, you might think that this mic can't compete with the other options on our list, but that's not the case. While it's not quite at the same level as the more professional-grade products, it can certainly hold its own and provide a great audio experience.
Read Also: 10 Best Microphones for Recording Vocal Singing
Not only do we love the fact that it's hands-free, but it truly provides great quality as the price point is extremely affordable. You can easily pick up a few of these so that all your friends can partake in the singing fun. You will need a speaker that has a ¼" jack to plug the receiver into, however, with an adapter, you could even use this system with an iPhone! Perfect for a little impromptu karaoke session on the go or recording your karaoke sessions to share on social media (if you're brave!)
Pros:
+ Body pack Transmitter and Clip-On Lavalier Microphone
+ Volume Control - Super Compact Design
+ Operation range: Up To 60 ft
+ Operating Frequencies: 114-116MHz
+ Batteries Included: unit comes with 9V for Belt pack Transmitter and AA for the ¼" wireless transmitter
Why We Liked It - Pyle has been in business for over 35 years, and their manufacturing experience and expertise is easy to see - and hear.
6. Pyle-Pro PDWM2100 Professional Dual VHF Wireless Handheld Microphone System
Mic Check 1-2 - with this excellent from Pyle (yup, same great brand as the hands-free mic above,) this system features not one, but two professional quality handheld wireless mics perfect for karaoke sessions.
This is still a very affordable option, especially given the fact it comes with two microphones - so you can duet with a friend, of course (or maybe try using both for yourself at the same time? Don't worry, we won't judge you.) You'll be able to move within a range of 50-150 meters, and if measuring distance isn't really your thing, then you can just rely on the AR/RF LED indicator lights to let you know when you may be in danger of going too far away from the receiver.
Also, keep in mind that you'll want to maintain a clear line from between the mic (transmitter) and the receiver while you're moving about so that you don't get any unnecessary feedback. It can be helpful to mount the receiver higher up so that there's always a clear line to the mics and that will keep the sound interference-free - and focused solely on your mad karaoke skills!
Pros:
+ 2-Channel Wireless Microphone System
+ Dual Telescoping Receiver Antennas
+ Independent Rotary Volume Controls
+ Wireless Operation Range: 50-150 Meters with AF/RF LED Indicator Lights
+ Battery Operated Microphones (9V)
Why We Liked It -  We simply love that you can get two good quality mics, at an affordable price, which is why this option made the cut.
7. Audio-Technica ATR288W VHF Battery-Powered TwinMic Microphone System
The Audio-Technica is a wireless system that really functions as a multipurpose tool as it provides versatile performance for DJing, presentations, and of course, karaoke! This wireless system is supplied with two microphones: an omnidirectional condenser lavalier microphone and the ATR1200 unidirectional dynamic vocal/instrument microphone.
The lavalier condenser mic provides a great hands-free option for dancing, playing an instrument, or any other activity you need to do while broadcasting your vocal talents. A unidirectional mic is a great option for you if you prefer to hold onto your mic while you sing (for maximum dramatic effect, of course.) Keep in mind this is an "either/or" option - there is only one receiver, so only one mic can be used at a time.
Pros:
+ Miniature lavalier condenser microphone for "hands-free" use
+ ATR1200 dynamic microphone for handheld use
+ Compact, ultra-lightweight transmitter and receiver powered by 9V batteries, 1 each
+ Operating range 100' to 300'
+ Includes belt-clip and quick, reliable camera mount adapter
Why We Liked It - Still, it's great to have a choice between what style of mic you want to use. Both are wireless, and both provide excellent audio output. The mics and receiver are powered by a single 9v battery, and you'll need to connect the receiver to a ¼" adapter.
8. Behringer Ultralink ULM100USB Karaoke Mic
This set is the perfect package for those looking to get a complete system for their karaoke parties. It comes with two ULM200M handheld microphones and a ULM200D dual-mode USB receiver, which we love because it means there's a mic for you, and one for a friend.
These karaoke mics are great to pick for karaoke lovers as they sound great and have a very good range (up to 400'/120M) leaving you able to freely roam around your home stage. We also love that you won't have to deal with the hassle of frequency matching; the receiver automatically pairs with the transmitter, so setup is as easy as plug-and-play. Behringer also devoted special attention to the ULM202USB's battery design to ensure that battery life is extended as long as possible.
You get a solid eight hours of performance time from a pair of AA batteries, and this can be extended even longer by opting for a rechargeable set. This set is also compatible with a wide variety of Behringer products, such as the B115D, Eps500Mp3, and many Q Series Mixers like the Qx2442Usb, which means you can build on this system over time as you, as your needs and budget evolve.
Pros:
+ High-quality microphone capsule for dedicated vocal applications
+ Ultra-compact USB receiver with dual mode analog/digital audio interface
+ Digital 2.4 GHz wireless connectivity offers superior sound quality
+ Maximum range 120m
Why We Liked It - Overall, this system provides an affordable entry into good quality, wireless mics - perfect for karaoke get-togethers.
9. Sony ECMAW4 Wireless Microphone
First of all, we give this microphone huge points because it looks so cool. It has a very sleek and modern design, especially when compared to other mics you wear, and it's also compact and lightweight. Thinking about taking your karaoke shows on the road? You totally can with this mic.
It's portability and small size are another one of the reasons this option made the list. This is a lavalier (hands-free!) wireless mic, which we love because it gives you the freedom to move around without fear of getting tangled up in wires, and it boasts an impressive range of up to 150ft.
Pros:
+ Sleek, attractive design
+ Compact and lightweight
+ Excellent range - up to 150ft.
+ Really great sound quality
Why We Liked It - The mic and the receiver take AAA batteries, and the receiver can be connected to an iPhone (via an adapter) which is pretty cool if you're interested in using your mic and receiver set for other activities in addition to karaoke. Making videos and/or audio recordings, for example.
10. Shure PGXD24/SM58-X8 Wireless Microphones
This is the second of three Shure microphones featured on this list. Why, you ask? Because they truly deliver stunning, accurate sound and an overall excellent experience. This option is right in the middle, a step above the previous option, but not quite the same level as the third.
It's a perfect middle ground that will no doubt liven up your karaoke parties and keep people coming back to sing more. This wireless mic is world-renowned for its distinctive upper-midrange presence peak that ensures an intelligible, lively sound.
Read Also: Top Mics for Recording Rap Music With
Pros:
+ Legendary Shure wireless microphone
+ PGXD4 receiver with 24-bit/48kHz accurate sound
+ Comfortable hand fit for long periods of use
+ Smooth frequency response at a vocal-tailored 50Hz-15kHz
Why We Liked It - For those very dedicated karaoke performers, this transmitter and receiver will not disappoint. The mic takes 2 AA batteries and will work within a 200' operating range of the receiver.
Single vs Multi-Mic Systems - Some wireless mic systems support multiple microphones, usually up to 4. But if you don't need that many mics then there are plenty of really simple single mic systems. It depends on what you're using the mics for. Give it some thought so you can choose how many mics you need.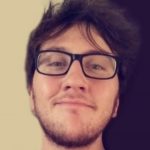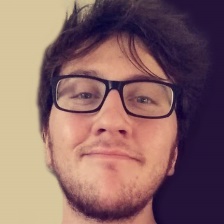 Karaoke Microphone Buyers Guide
Karaoke; one of Japan's most popular recreational exports, is a super fun way to liven up any party. Did you know that the word itself is a mash-up of two Japanese words? "Kara" meaning empty and "Oke" which is shortened version of orchestra.
It's pretty cool because that's exactly what you get - the music track, sans lyrics. It's up to you, brave singer, to provide the words.
In Japan, people rent out private booths with friends and family where they get together to jam out to their favorite songs. There's a large TV that scrolls the lyrics across the screen to help the singer follow along. People order drinks (many, many drinks) and food, bust out musical instruments to play backup and have a great time rocking out together.
In the States and other western countries, it is much more popular to do your singing on stage, in front of an entire crowd of strangers at bars or restaurants. Talk about a culture shock!
Well, what if you want to have a little fun in the comfort of your own home, without the prying eyes of strangers judging your rendition of Celine Dion's My Heart Will Go On? It used to be that you needed to rent or purchase a costly karaoke machine in order to get music that has the lyrics removed, but now all you need is a karaoke microphone and a desktop, laptop, or even just a smartphone to have your very own karaoke party.
No public humiliation, no fear of strangers booing you off stage - just your and your friends rocking out together to your favorite tunes. Liquid courage is entirely optional but highly recommended.
Our Top Pick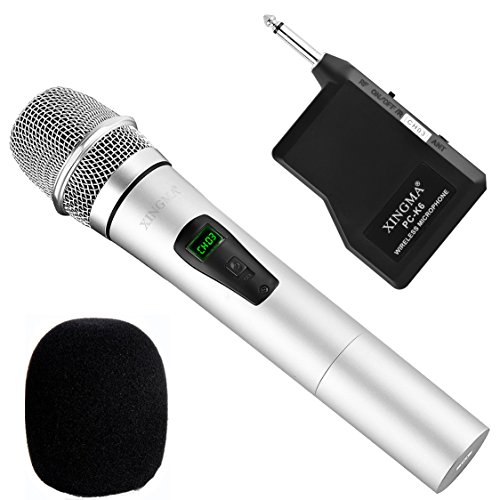 For the best, all around karaoke microphone, the Xingma 6.35mm Interface UHF Rechargeable Handheld Wireless Microphone is our top pick.
It has a great blend of quality, features, and affordability so you can't go wrong with this option.
We love, love, love that the mic and receiver come with rechargeable batteries, as well as the fact that its advanced cardioid design provides the perfect recording of your vocals.

Premium Choice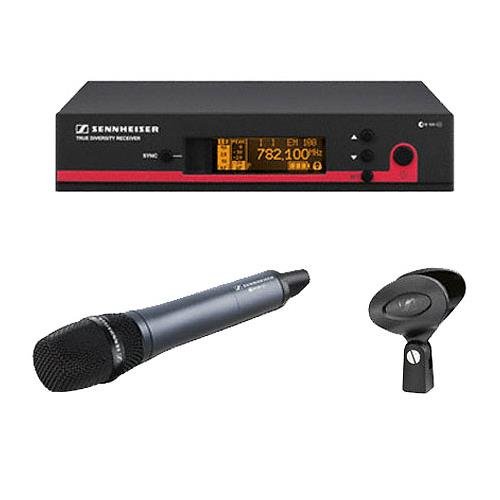 When it comes to premium selection, our pick is the Sennheiser EW 135 G3-A-US handheld cardioid EW system. It is a beautifully crafted, wireless unit, true to the Sennheiser name, and it delivers a high-quality vocal experience.
It's use of a single button to quickly and effortlessly sync up the mic and receiver makes setup a breeze, and the receivers backlight features make it easy to see in all types of lighting.
These may seem like small details, but they can certainly take your experience to the next level, so if you're looking for a top-notch option and can afford to splurge, we wholeheartedly recommend the Sennheiser EQ system.
Great Value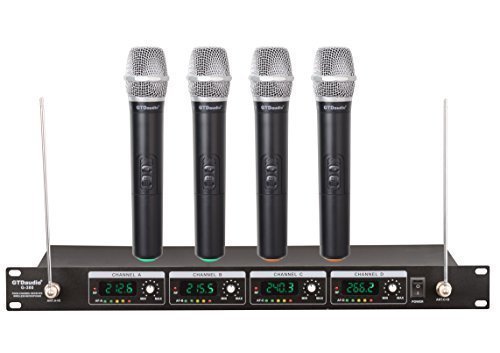 With the GTD Audio G-380H VHF Wireless Microphone System, you are seriously getting a huge bang for your buck.
The fact that you'll be receiving four wireless microphones for under $150 is a big steal, and the sound quality for this unit is quite excellent. This is a very solid option for getting together a group of friends or your family so that everyone can participate and enjoy the karaoke action.
It'd also be a great addition to a new or "basement" band that is looking to grow their sound but isn't quite ready to purchase high-end premium equipment. In addition to the four wireless microphones, this system comes with a receiver and each channel has its own volume controls.
This will allow your group to strike the perfect balance and harmony as you belt out your favorite tunes.
If you liked this review, please leave a positive rating: