We have scoured the options and come up with the 10 best electronic drum sets under $500 – perfect for anyone looking to practice their craft without guilt, or for any beginner entering into the discipline. When buying a new drum kit, it may be worth refreshing your drum sticks (get a new pair here).
For drummers, it's hard to remember when electric drum sets first came out because when they did they were so gimmicky that we would rather forget these times. For when electric drums were first introduced into the market, the technology was far surpassed by the vision, and what was first introduced was nothing but a shadow of what we had hoped for. However, things have, thankfully, changed these days, and drummers can now rest assured not only that they can get a good quality electric drum set for cheap, but nowadays we can even expect to get quality electronic drum sets for cheaper than their acoustic counterparts.
There are various reasons why one would want an electric drum set over an acoustic one. Although, if you fancy the real deal, you may wish to look into buying an acoustic snare drum (click here for review). First and foremost is the fact that on electric sets you can adjust the volume output, or indeed play with headphones in. Acoustic drum sets are notorious for irritating your neighbors, and unless that is goal, it is a horrible and perpetual byproduct of simply practicing your craft at home. But here enters electric drum sets: plug in the headphones and you can practice to your heart's content without upsetting anyone in your vicinity. Some even have a built in Metronome!
In particular, when practice is the main concern, budget electric drum sets will serve your purposes just fine. However, there is virtually an unlimited number of budget electric drum sets available online, and you may very well drown in this sea of options before you grab onto a single saving kit. This is where our list comes in.
At a glance:

Our top 3 picks
Our team's top 3 recommendations
Best Overall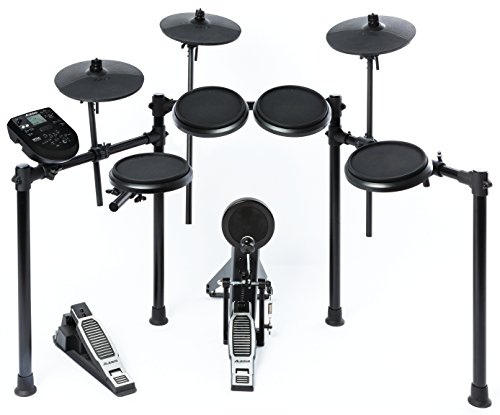 Alesis Nitro Kit | Electronic Drum Set with 8" Snare, 8" Toms, and 10" Cymbals

Amazing cost to value ratio
Sturdy 8 piece set held down by the aluminum rack
Intuitive and useful module
Premium Quality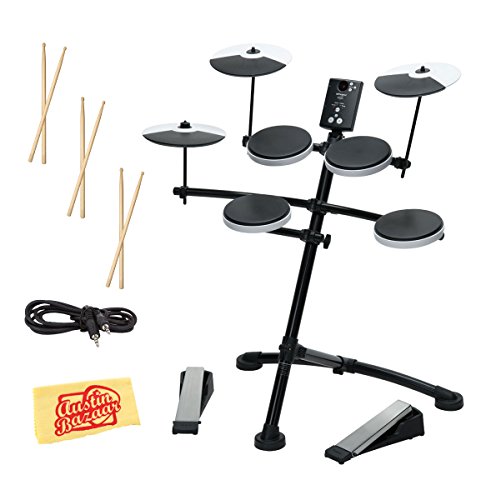 Roland TD-1K V-Drums Electronic Drum Kit with Drum Stick Sampler

Amazing cost to value ratio
Sturdy 8 piece set held down by the aluminum rack
Intuitive and useful module
Great value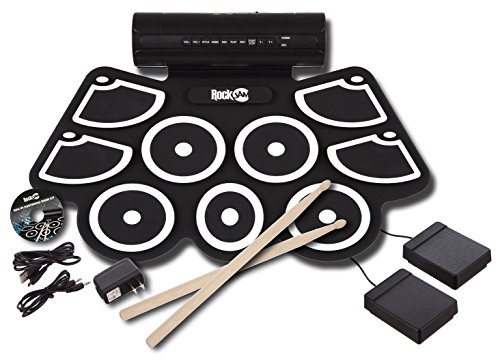 RockJam Electronic Roll Up MIDI Drum Kit with Built in Speakers, Foot Pedals, Drumsticks

Amazing cost to value ratio
Sturdy 8 piece set held down by the aluminum rack
Intuitive and useful module
The 10 Best Electronic Drum Sets Under $500
1. Alesis Nitro Kit | Electronic Drum Set with 8" Snare, 8" Toms, and 10" Cymbals
The Alesis Nitro Kit electronic drum set, everything considered, is probably the best value to cost ratio of any budget set on the market today. With this Alesis you get everything that you might consider a must have, but beyond this, you get a few extra bells and whistles that push this baby over the top.
This set is a complete 8 piece kit, including the traditional items you would expect. It is noteworthy that the mounting rack is aluminum, thus keeping everything secure. Also, this Alesis comes with a Nitro electronic drum module, with an extremely intuitive button layout, stock full with hundreds of different sounds, and over 50 play-along tracks.
We should also mention the fact that this set comes not only with a USB port, but also an old-school MIDI jack so that you can still hook up your old technology if you are still attached to them.
Pros:
+ Amazing cost to value ratio
+ Sturdy 8 piece set held down by the aluminum rack
+ Intuitive and useful module
Why We Liked It - With perhaps the best cost to value ratio, and some unexpected options, this Alesis Nitro electric drum set is the ideal budget kit. Alternatively, you may wish to consider the Alesis Surge mesh kit.
2. Roland TD-1K V-Drums Electronic Drum Kit with Drum Stick Sampler
Roland is the most trusted brand when it comes to electric drum sets, since this was the very company which pioneered electric drum technology, and to this day they are still at the forefront. With a well trusted name, backed up by quality components, this TD-1k is a premium option for those on a budget.
This Roland comes with four pads, three cymbals, and two pedals. The hi-hat and kick drum which you may be used to seeing are replaced on this set by the two pedals. While a bit untraditional, this set up still feels intuitive.
While this kit is basic, the performance is very good for the price range. This compact set, while keeping it simple, and using quality components, is a safe bet for a quality set at a low price.
Pros:
+ Trusted Roland name
+ Simplicity of design
+ Above average performance
Why We Liked It - This TD-1k electronic drum set is made a trusted company still at the forefront of this market. This set-up, while basic, offers above average performance in its simplicity.
3. RockJam Electronic Roll Up MIDI Drum Kit with Built in Speakers, Foot Pedals, Drumsticks
With a sticker price as low as can be found, the RockJam Electric RRoll-up kit is perfect for those looking to spend as little as possible while still getting a fully functional electric drum set. This set comes with 9 drum pads each of which provides a different particular sound – ranging from cymbals, to snares, and so on.
The portability factor on this set simply cannot be beaten. This set can be rolled up if you wish to travel from one place to another, or if you plan on storing it away while not in use. You will, of course, take a hit on the quality due to the fact that this is a roll-up, but rest assured that the sound is still adequate enough.
This set also comes with a USB port, built-in speakers, and a record function. Concerning the price and the portability, this RockJam simply cannot be beaten.
Pros:
+ Super cheap electronic drum set
+ The best portability of any kit
+ Great for honing your craft while on the go
Why We Liked It - If a low sticker price and portability are your two main concerns, this RockJam drum set simply cannot be beat.
4. Pyle-Pro PTED01 Electronic Table Digital Drum Kit Top w/ 7 Pad Digital Drum Kit
Coming in at about the middle of the road on our list here is the Pyle-Pro PTED01 electric drum set. As the name states, this set has a flat 'table' layout, which will be quite useful while storing or while moving. This set comes with 7 drums, 2 pedals, and one module to meet the needs of any beginner, or someone more advanced looking for a portable machine to practice with.
The module on the top panel has an LCD screen and a plethora of audio configuration controls. You can tinker the sound from each drum, and you can save entire pre-set configurations so that you can swap back and forth between them with ease.
Read Also: Top 10 Best Drum Sets for Kids & Juniors in 2023
This set has the option of either plugging in via its AC adaptor, or you can go wireless by popping in some batteries. The USB jack also allows you to plug in your computer, whether it be a windows or mac.
Pros:
+ Compact size is nice for storing
+ Good amount of audio configurations
+ Battery-powered option adds portability
Why We Liked It - This Pyle-Pro electric drum set is a middle of the road budget kit, with compact size, decent quality components, and great portability.
5. Yamaha DD-65 Portable Digital Drum Kit with Foot Pedals and Drum Sticks
Producing one of the better looking low profile budget electric drum sets, Yamaha has created the DD-65 kit. With 8 drums spread out over the stylish chrome casing, this set will be perfect for beginners or more advanced players looking for a portable set.
This set has a few options not often seen in this price range, including an AUX in jack allowing an MP3 player to be connected, along with the more popular USB port. This kit also comes with a variety of pre-loaded sounds and tracks, something we have come to expect.
There is the option to run this set on batteries, giving you the portable option if you so desire it. Finally, the control panel has a good amount of features, including some pre-set automated features that are fun to toy around with.
Pros:
+ One of the more stylish units
+ Option of an AUX in jack
+ Fun automated features in the control panel
Why We Liked It - This Yamaha DD-65 electric drum set comes with most of the options we would expect at this price range and is perhaps the most stylish of them all in this range.
6. Alesis DM6 USB Kit | Eight-Piece Compact Beginner Electronic Drum Set with 8" Snare, 8" Toms, & 12" Cymbals
With four drums and three cymbals propped up by a sturdy frame, along with two floor pedals, this Alesis DM6 provides more of an authentic feel to the standard acoustic set up. Unlike some of the 'table' set ups we highlighted above, jamming in this set mimic the feel of sitting in a full-blown acoustic kit.
The rubber drum and cymbals surfaces were created by Alesis to reduce vibration and feedback, and also to increase the natural feel of the surface. The module used here is stocked with a collection of sounds – including percussion, cymbal, and a wide array of drums. Edit the layout of your kit and save various pre-loaded sets.
Perhaps the most outstanding feature on this Alesis is the sturdy rack that mounts the kit. The rack is made out of heavy-duty aluminum, and it also allows for the option of adding clamps and mounts to tinker your set up as you choose.
Pros:
+ Authentic feel of an acoustic
+ Drums and cymbals reduce vibration
+ Sturdy aluminum rack
Why We Liked It - Those looking for a kit with the feel of a full-blown acoustic, and who want a strong sturdy feel, go with this Alesis electric drum set.
7. Alesis Forge Kit | Eight-Piece Electronic Drum Set with Forge Drum Module
The Alesis Forge Kit is one of the most expensive electric sets that you find on our list. But, along with the higher price tag comes higher-end quality. This 8 piece drum kit comes with a dual-zone snare, three tom pads, a kick drum pad, 3 cymbals, and a chrome mounting rack. This set feels great and will be an excellent practice to get you ready to advance to the next level.
The drum module on this baby features over 600 sounds – this is perhaps the most sound you can expect in this budget price range – and 60 play-along tracks. The module also has the popular USB input so you can upload your own WAV sounds and assign them to any drum or cymbal. This module also has many other, more rare, connections for those interested in more options: it includes stereo main outputs, an AUX input, along with a Midi in and out.
Pros:
+ The highest quality for a budget electric kit
+ Great for advancing your skill level
+ Drum module has a wide variety of options
Why We Liked It - This Alesis Forge Kit is perhaps the best quality that can be purchased in this price range. With the higher sticker price, you get an authentic drum set feel and a high grade module.
8. Roland TD-1K Electronic Drumset
The Roland TD-1k electronic drum set is, like our previous kit, one of the highest end models that you can find in the budget price range. The Roland brand name is one of the most trusted in the industry, so if you are looking for a top of the line model in the budget price-range with a name to trust, look no further.
The TD-1K kit has 15 drum kits pre set, so you can easily adjust to any genre you are looking to jam in. Play heavy metal with your band, and then, with a push of a button, play some mellow jazz back at home. The pads and cymbals on this set are very responsive, and the training functions on the module are geared towards making practice a fun time.
This set was also made to be quiet so that you might leave your roommates in peace. With the headphone jack along with the beater-free kick drum, you can jam all night without waking a soul. If you're looking to record your kick drum, you'll need a bass drum mic.
Pros:
+ High end budget product
+ Easy to switch genre
+ Play in peace and quiet
Why We Liked It - With the trusted name of Roland, this electric drum set has some of the best quality of any budget kit. This set is great for practice, as the set up is authentic, you can easily switch genres, and the output is very quiet.
9. Carlsbro CSD130XXX Electronic Drum Set
The best feature about the Carlsbro CSD130XXX electric drum set is perhaps the very easy set up and the wide variety of options. The Digitron display is intended to make tinkering a breeze. It comes stock with a number of pre-made kits from which you can choose, and beyond this there are over 250 high quality voices. There is also a headphone jack for playing in peace, as well as an AUX input for uploading other sounds you may want.
Further, this comes with the traditional USB port that you can also use as an amp, and it also comes with a less common MIDI in and out. Finally, unlike the 'roll out' or 'table' sets that are common in this price range, this set is a full standing kit, and thus is great for those who are more serious about their craft.
Pros:
+ Tinkering your set-up is a breeze
+ A wide variety of jack options
+ Full standing set, ideal for practice
Why We Liked It - If you are looking for a standing kit to practice on, and are seeking a variety of jacks, inputs and outputs, this Carlsbro electronic drum set will be great for you.
10. Yamaha DTX400K Customizable Electronic Drum Set
The Yamaha DTX400K electronic drum set is a high quality kit that is ideal for practicing while you are away from your main set. The reason I say this is because it has an authentic feel, and is intended to be very quiet while jamming.
Ever angered your neighbors or roommates by simply practicing your musical craft? Well, you can kiss that problem goodbye with this set by Yamaha. For, they completely got rid of the kick pad and beater on this set – which are often the two main sources of irritation for your neighbors.
However, this doesn't mean that function is therefore lost on this set. On the contrary, Yamaha has included these functions on other parts of the set, so you are not losing anything here. However, on the downside, this does mean that the set up will be a bit altered, and so you should keep this in mind.
Pros:
+ Good quality practice set
+ Intended to be quiet
+ Maintains full function
+ Comes with a great drum throne
Why We Liked It - This Yamaha DTX400K is intentionally made to be a high-quality electric set in the budget price range that specializes in being very quiet. If empathy for your neighbors and roommates is one of your concerns, go with this Yamaha.
10 Best Electric Drum Sets Under $500 -  Buyers Guide
There are two ways to answer the question of what is the 'best' electronic drum set under $500. The first answer would simply be the most expensive one. In general it is indeed the case that the sets closer to this price tag will be better – that is, they will feel authentic and will prepare you to advance your skills so that you are well suited to move on to a better set in time; they will have the best quality components and thus create the best sound; and finally, they will have the best module which will give you the most input/ output options as well as the overall number and quality of sounds. The second answer would be the drum set that suits your needs the best. Thus it is important to think about what your needs are – as well as what they will be in due time – and once you have this established, you can make a good choice about what will be best for you.
How Do I Know Which is the Best Drum Set For Me?
As just stated, an important thing for you to think about before you purchase an electric drum set is what your needs are. Once you know this, you will be well suited to make a decision on which kit to buy. For instance, if you are interested in acoustic drum kits, you need to decide if the noise level will be appropriate. The good thing about acoustic kits is that you can get real authentic sounds - especially with the use of a proper drum microphone (click here for the full review). With an electric kit, you can plug in your headphones to eliminate noise. Now, some important factors here to consider are the following.
Do you want a 'table' / 'roll-up' set or a full standing set?
The former are cheaper in general and provide more portability. The latter is better for preparing to advance your skill, as other more expensive sets will share a similar layout.
What type of external hardware do you want to use with this kit?
This question touches on the importance of deciding what type of module you want on your kit. For as a general rule all modules come with a USB port, but if you would like, for example, a MIDI or AUX port, then you need to make sure your module allows for this.
Do you have close neighbors or roommates
This question touches on the issue of how quiet you need your set to be. Most electric drum sets come with a headphone jack, yet pedals and other aspects of the kit also make a difference concerning how much noise you make. Some sets are actually designed so that being quiet is the main priority.
There are a wide variety of options here, and setting yourself a limit on the price tag can act as a way to initially narrow down your options.
How Easy is it to Set Up an Electric Drum Set?
All electric drum sets require some setting up, and in two ways. Firstly each set needs to be programmed electronically, in that you choose what exact sound you want to come out of which drum, which cymbal etc. Many of these electric sets come with pre-programmed set-ups – some come with more than others – and so if you want a plug-and-play set, make sure to check the details on the pre-programmed kits.
Secondly, some electric drum sets require you to actually set up the hardware itself. That is, the more expensive full standing kits come with a variety of drums, cymbals, etc. and a frame. You need to actually attach these to the frame to get it set up. Further, if you want to change location, you can disassemble the kit, and reassemble it once you arrive on location.
Now, one way to bypass this second set-up is by purchasing a so-called 'roll out' or 'table' electric set. These are generally cheaper than the full standing sets, yet they require no set-up when it comes to the hardware. For, the drums and cymbals in these sets are already pre-placed, and so you simply plug-and-play with these kits.
Is an Electric Drum Set, Set Up the Same as an Acoustic Set?
As there are various different types of electric drum sets, the answer to the question of whether the set-up is the same between the two will vary. Firstly, those electric kits that have a 'table' or 'roll out' layout are very different than acoustic sets, and thus the former, being plug-and-play, do not require you to tinker the drums and cymbals, whereas the latter indeed requires you to adjust the height, etc., of each.
The full standing sets, on the other hand, are intended to mimic the layout of acoustic sets, and thus here the set-up of the hardware is quite similar. There will be no 'correct' way to tinker your layout, you simply do what feels best for you, but in general, you will layout your electric set in a similar fashion to an acoustic.
Finally, no matter which electric set you buy, the way you set-up the sounds on each drum, cymbal, etc., will be something entirely different than what you do on acoustic sets. For on electric sets you can choose what digital sound you want to come out of each item, and thus the set up here may be a bit tedious, yet this also gives you quite the freedom in choosing your sound.

Our Top Pick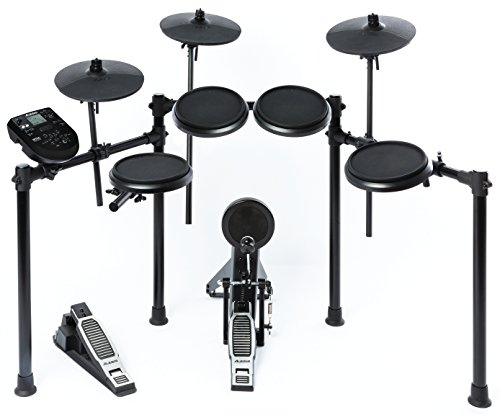 Coming in at a great price with surprisingly high-quality components, the Alesis Nitro Kit is our top pick. This set not only comes with what we would expect in a budget electric drum set – including the 8 piece kit, and module – but actually comes with a few extra pleasant surprises.
Firstly the module itself is better than expected, sporting the most intuitive button layout that we have seen, hundreds of songs, and 50 play-along tracks. In more detail, the buttons of the module mirror the layout of the kit itself.
Finally, this set not only comes with the USB that we would hope for, but it also comes with a MIDI jack for those of us who just can't give up on our old school technology.
Premium Choice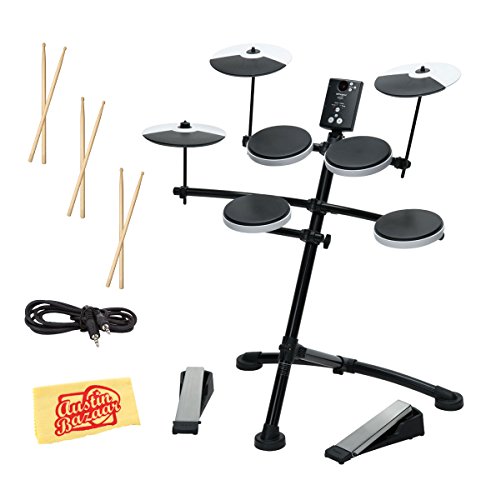 For our premium choice, we had to go with the tried and true company of Roland, and their TD-1K electronic drum set. When buying an electric set, you can never go wrong with a Roland – it will always be a safe bet – and it is no different when it comes to budget kits.
The four pads and three cymbals are pretty standard, while the two pedals serve to replace the hi-hat and kick drum you might normally expect. While this set is thus a bit different than you might expect, it works out in the end and is actually quite intuitive.
Overall, there are no glaring deficiencies in this set, and indeed, every component is at least above average when it comes to the budget price range. Thus, with the trusted Roland name, the good quality components, and the simplicity of design – all this goes to make the TD-1K our premium choice.
Great Value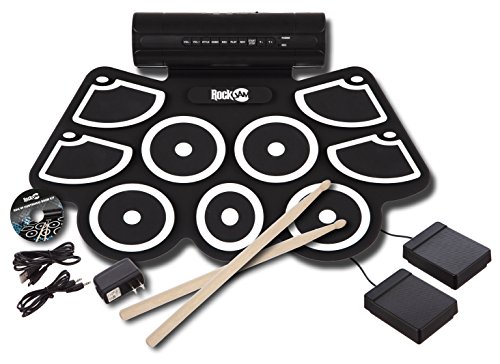 The RockJam Electronic Roll Upset is definitely the greatest value that you will find on the market today. Priced incredibly low, this cheap electronic drum set still has the adequate quality to be able to hone your craft. The 9 drum pads will provide enough options for all of your needs.
Along with the low sticker price, the other main perk of this electric drum set is the portability factor. For this is a roll-up, meaning you can literally roll up the entire set, throw it in your car, and head over to your buddy's house to show them your chops. While it is true that the price on this set cannot be beaten, it is also true that the portability cannot be beaten either.
Overall, the extremely low sticker price, and the ultra portability, that comes with this fully functional electronic drum set makes this kit our pick for great value.
Conclusion
Things have changed drastically for the electric drum set market since the early days of inception. For back then the quality of the sets was far too low, while the price tag was far too high. Back then, it simply wasn't realistic to play on an electric kit since acoustic ones provided better sound with a cheaper price tag.
However, these days the sound quality of electric sets rival those of acoustic kits, and indeed it can be argued that as for the price-to-quality ratio, budget electronic sets are the way to go. But there are further reasons to go electric here: the portability of electric sets is superior, and the option of volume control or headphones can set your neighbors' and roommates' ears at ease.
Electric sets are thus ideal for practicing your craft, and budget kits in particular are great for this role. If you are in the market for one of these budget sets, our list of the top ten electronic sets under $500 should suffice to set you on the right track.
If you liked this review, please leave a positive rating:
[vc_separator