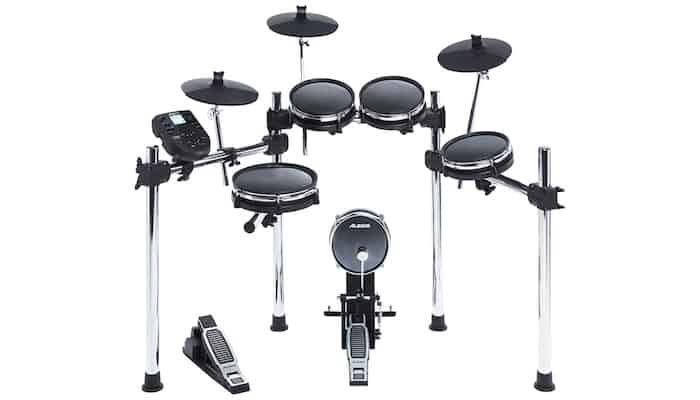 [[TOP3 OFF]]
Alesis is a ground-breaking company that was established in 1980. It has an excellent reputation for making electronic instruments and music equipment, such as synthesizers, mixing consoles, and studio monitors. But it is electronic drum kits that Alesis is most famous for. It produces a range of electronic drum sets that are suited to both beginners and experts alike.
The Alesis Surge Mesh Kit is an eight-piece electronic drum kit. The premium mesh heads allow for silent play at home, but they also offer the same give as a normal drumhead. This means you can play this kit as if it was a normal acoustic drum kit. Mesh heads also give a good range of responses, that will alter tone depending on where you strike the drumhead. They are also tunable, so you can find your ideal tone.

Another element of electric drum kits that differs from acoustic drum kits is their compact, portable nature. The Alesis Surge Mesh Kit is very compact, which means that it is easy to store when you're not playing, and can be easily transported too, perhaps even to the recording studio, as this kit is set up for high-quality recording.
Key Features
Electric drum kits are often loaded with lots of great features, and the Alesis Surge Mesh Kit is no exception. Here are the key features you'll find on it:
10" Dual-Zone Mesh Snare: This snare offers a good response and produces a very natural sound.
3 x 8" Dual-Zone Mesh Tom Pads: These tom pads offer great rebound and response, feeling almost like an acoustic kit.
8" Mesh Kick Tower Pad with Pedal: This allows for natural, accurate play.
Ride and Crash Cymbals (with Choke Function): These cymbals offer the drummer a huge range of tone, so you can express yourself freely, regardless of the genre you tend to play.
Backlit LCD Screen: This radiant display is easy to see and use.
40 Classic and Modern Ready-to-Play Kits: You have a vast range of kits already available to you once you set up this electronic kit.
In-Built Learning Feature: And there are also sixty tracks you can play along to, as well as a built-in metronome, which will all help improve your drumming.
Advanced Sequencer and Performance Recorder: This offers you the potential to record.
MIDI In and Out Jacks: If you have an old MIDI drum machine then you can hook it up to the Alesis Surge Mesh Kit.
Pros
+ The mesh heads offer excellent give, response, and rebound, making this type of electronic drum kit the closest to an acoustic kit you can find.
+ The simplicity of the set up makes it a user-friendly electronic drum kit for anyone who is learning the drums, or someone looking for their first electronic kit.
+ Huge range of programs, so you can experiment with sound, perhaps even seeing what you'd sound like on the bongos.
+ As it is an electronic drum kit, then it is almost silent to practice on, which might mean that you'll be able to play more often than on an acoustic kit, as you won't disturb anyone with this kit.
Cons
- The cymbals might not register if you grab them to stop the sound, as you would on an acoustic kit, but this is a minor issue that is common with most electronic drum kits.
Who Is It Suitable For?
The Alesis Surge Mesh Kit suits a huge range of drummers. Beginners will enjoy learning on it, as it offers a huge range of sounds, and the mesh heads feel just like drumheads on an acoustic kit. But this is a high-quality product, intermediate and advanced drummers will also enjoy playing it, especially if you want to transition to an electric kit for practicing on at home.
Why We Like It
It's an excellent electronic drum kit produced by one of the best manufacturers of electronic musical instruments in the world. The mesh heads make this kit a dream to play. They also allow for a lot of range in creating tone. As it is an eight-piece kit, then you can really experiment with your playing, and let yourself go, all while knowing that you won't be disturbing anyone like you would if you were playing an acoustic kit.
Other related product
Alesis Nitro Kit
If you liked the article, please leave your feedback.