Every budding or seasoned musician needs the best electronic drum set they can afford. Whether it's a Roland or a Yamaha, it's important to know the key details of each product before you decide on a final purchase. The greatest thing about electronic kits is their portability, low maintenance, and the fact that they don't make any kinds of loud, disturbing sounds unless you plug them in!
Everyone knows that guitarists and keyboard players have alternative electronic choices to their instruments and drums. However, not many people know that drums are also in that group, and electronic drum kits are becoming increasingly popular due to their convenience. You can plug in headphones to reduce noise and practice comfortably, all while keeping in time with a digital metronome (click here for review).
Since many big brands have taken it upon themselves to provide drummers with the finest electronic drum kits and equipment, we want to help you make your choice. To make this important decision less stressful and more straightforward, we've created a guide, including a few product reviews, frequently asked questions, and the like. We hope you find your next best piece of equipment here. Enjoy the ride!
At a glance:

Our top 3 picks
Our team's top 3 recommendations
Best Overall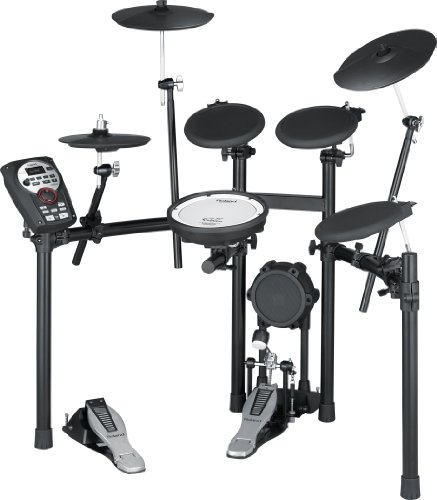 Roland TD-11K-S Electronic Drum Set

A big LCD interface for easy use
A COACH function to help players practice
Pre-recorded backing songs to play along with
Premium Quality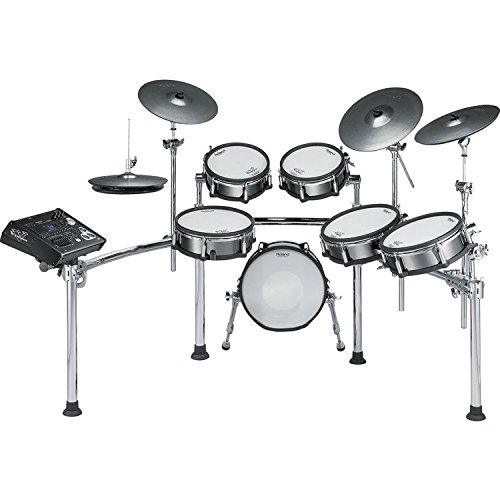 Roland TD-30K-S V-DRUM V-Pro Series Electronic Set

A big LCD interface for easy use
A COACH function to help players practice
Pre-recorded backing songs to play along with
Great value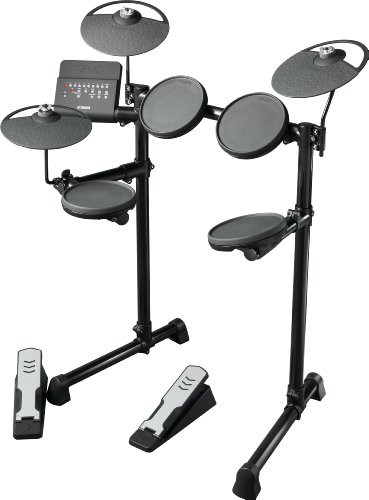 Yamaha DTX400K Customizable Electronic Drum Set

A big LCD interface for easy use
A COACH function to help players practice
Pre-recorded backing songs to play along with
The Best Electronic Drum Set of 2023
1. Roland TD-11K-S Electronic Drum Set
Having its release in May of 2012, The Roland TD-11K is a fantastic choice. It's right in the middle of the production line of all the Roland drums, which means it gets the best of both worlds. It also means that, even though it is already tested and tried, it is also affordable and aged very well, earning itself a worthy place among the new Roland drums.
There re many reasons why the Roland TD-11k electronic drum set is such a great pick when looking at digital drums. It's lightweight, weighing in at only 30kgs, and compact, measuring 144.8 x 99.1 x 81.3 cm.
Many people praise this gear for being a very clever and intuitive piece of equipment, which, in turn, makes it extremely easy to get used to. It features the superNATURAL-enhanced sound engine prevalent in the Roland gear, which allows for a classic, acoustic sound quality. It also features a tower-style KD-10 kick pad that feels like an acoustic bass drum head, despite it being an electronic instrument at heart.
You also get a 10-inch hi-hat, but please note that the hi-hat stand isn't included.
One of the best features of the gear is its ability to play back high-quality songs and backing tracks. This feature allows the player to learn as they play along with a track that they can loop, slow down, or speed up. The Roland TD-11K also features a wide range of musical genres in its library to fit almost any performance and song.
Pros:
+ A big LCD interface for easy use
+ A COACH function to help players practice
+ Pre-recorded backing songs to play along with
Why We Liked It - Whether you are looking for a new electronic drum set or your first ever purchase, the Roland TD-11K is used extensively by both parties. Despite its age, it still manages to rank in the top 100 on Amazon, where all kinds of electronic drum set brands are listed. Taking that into consideration, there is no way to go wrong with this well-developed and well-aged piece of gear!
Drum Module Modes - One of the best ways to maintain your electronic drum set overtime is to commit to regularly cleaning your drum modules. You can use a moist, warm towel to help wash off any lingering grime or dust. For a more thorough cleaning, you can invest in specialized cleaners to keep your set in tip-top shape.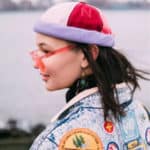 2. Roland TD-30K-S V-DRUM V-Pro Series Electronic Set
Moving up the ranks of the Roland drums, we reach one of their most notable releases, the Roland TD-30K V-Pro. Released in the same year as the TD-11 30K, it is still regarded as one of the highest quality electronic kits out there. If you are willing to go the extra mile and bet your money on this Roland, we promise you won't be disappointed. It is truly a fantastic investment, and here is why!
The Roland TD-30K drum module is praised for having phenomenal, studio-quality sound and being exceptionally well crafted. The set-up of the equipment is surprisingly easy; it doesn't take more than a few minutes but guarantees hours of fun. This electronic drum set is also very sturdy and durable, so if your kids want to try out an electronic drum kit, the Roland TD-30K is the way to go.
The TD-30k drum module also boasts very high accuracy in its sounds, as well as the excellent V-Edit mode that is easy to customize and just as intuitive as the TD-11k. This new function can handle all the settings you throw at it just fine and lets you enjoy all kinds of mixes and combinations.
Pros:
+ Sturdy stand
+ V-Edit mode that functions at a professional level
+ Studio-quality sound
Why We Liked It - It's needless to say that this is one of the best electronic drum sets, even compared to other Roland models. This is thanks to all the new features, editing modes, and simply stunning sound. Whether you are looking to replace an electronic or acoustic drum kit, you cannot go wrong with the Roland TD-30K. It's a professional, high-quality kit that will make you wonder why you didn't buy it sooner!
3. Yamaha DTX400K Customizable Electronic Drum Set
First available in 2013, the Yamaha DTX400k has earned itself a worthy reputation among many popular drum kits available online. Weighing in at 18kg, it is much lighter than the previously reviewed electronic kits, making it one of the best electronic drum sets for travel. Even though this kit is also cheaper than previous alternatives, it is, by no means, any worse. In fact, this affordable electronic drum set has more to offer than more expensive models on display.
This piece of drumming equipment is perfect for kids and adults alike and is a sturdy choice. It comes in a bundle with headphones, suitable drumsticks, and a drum throne which is an extra plus, since, usually these items need to be purchased separately and at a high cost. The Yamaha DTX400k is the best electronic drum set for beginners and the drum module has ten different settings when it comes to altering the sound.
The Yamaha DTX400K takes up a very small amount of space, measuring 35.1 x 12.4 x 22.7 inches, making it perfect for apartments and not cluttering up your home. The drumming pads are also pressure sensitive, making for an engaging playing experience!
Pros:
+ Comes in a bundle with headphones and seat
+ Compact and doesn't take up much space
+ 10 different sound settings
Why We Liked It - Ranking within the top 50 on Amazon when looking at electronic kits, it is by far the most affordable and all-inclusive bundle you can ask for. The quality of the kit itself is great, as well as how easily you can customize it. All in all, it's the best electronic drum set for any beginner looking to get into the world of cymbals and hi-hats!
Drum Monitor - While one of the perks of an electronic drum set is its quiet nature, you may want to factor in a drum monitor into your budget. There's nothing quite playing your set fully and freely. Plus, this opens the door to live performance with your set or even more flexible recording capabilities.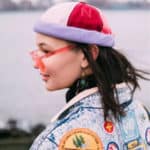 4. Yamaha DTX522k Electronic Drum Set
Released a few years after the DTXplorer, Yamaha's 2013 DTX522k was a big change to the electronic drum kit market. Having new and improved tom-pads, cymbal pads, and even a 3-zone hi-hat made this kit rise to the top of purchases. It earns itself such a valuable place in the rankings due to the fantastic sounds it can produce, something common to the DTX Yamaha series.
Having mostly 5-star reviews, the DTX 522k drum module has many features that allow it to be so high on the list. It is a very responsive, sensitive kit that has great sound and above all has versatile, adjustable drum sounds. The versatility aspect of the DTX522k seems to be the most noteworthy reason why so many people choose this digital kit over others.
The DTX522k drum module also has a fantastic training option that lets you level up your skills, whether you are a beginning or an advanced player. Working closely with the new tools provided by Yamaha in their digital drums, this electronic drum set will help you improve quicker than your peers as you practice accuracy, and endurance, and keep up to the rhythm.
Pros:
+ Cymbals that can express different drum sounds based on the zones
+ Laser technology to track strokes and react accordingly
+ Ability to mute cymbals - an exclusive feature to the DTX series
Why We Liked It - The Yamaha DTX522k is one of the best electronic drumsets for recording soundtracks, doing live shows, or just enjoying studio sessions and jamming with your band and friends. It has some great features that will surely improve your current skill level and keep you up to par with your rivals!
5. Alesis DM10 Studio Kit
The Alesis DM10 is truly a professional electronic drum kit for any advanced player or beginner looking to spend more money in investing in such a high-quality kit. Weighing in at 30 kg, this is one of the best electronic drum sets for taking to shows and having a high-quality setup at the same time.
The construction of the Alesis DM10 is sturdy and doesn't move around as you play, which eliminates a problem many other electronic drum sets seem to have. The Alesis DM10 drum module also has a great choice of effects that will entertain you for hours as you play around and try to choose the optimum setting for your new piece of equipment!
This model is also easily customizable and poses no trouble when putting it together; the cables are labeled, and the cymbal pads and drum mesh pads are sensitive and of high quality. It features an 8-inch kick pad and dual-zone drum pads.
It has a very good sound output and is perfect if you want to take your career up a notch, making it one of the best electronic drum sets on the market!
Pros:
+ More than 1,000 sounds available to enhance your drumming sessions
+ Perfect for both live performances and studio training
+ Use of mylar heads for a better rebound
Why We Liked It - The Alesis DM10 is a professional digital kit that has its place in the top 50 of its kind on Amazon. If you decide to settle for this kit, it will help you create fantastic live shows with great sound, whether you are in your garage or on stage! You might also like the Alesis Surge Mesh Drum Kit.
6. Roland TD-11KV-S V Compact Electronic Drum Kit
The Roland TD-11KV is undeniably vastly different from the Roland TD-11k. It is intended to be a high-quality compact piece of drum equipment without drawing too much attention. Roland definitely did their job well since the TD-11KV has many fantastic features, such as the mesh heads that are significantly quieter than their rubber alternative.
The TD-11KV electronic drum set also comes with choke-able cymbals, a must-have feature for most drummers, and Roland did well to include it in this set.
Even though the kit was designed to be compact and may look small at first, it is comfortable and will suit the needs of most players. The Roland TD-11KV drum module has over 25 pre-defined drum sounds that will make it easy to choose something suitable for your particular jamming session!
As with the previous Roland kits, this e-drum kit features pre-recorded songs that you can jam along to as you master your skills. The practice features and COACH function are also included in this electronic kit to maximize your experience!
Pros:
+ Choke-able cymbals
+ Compact design perfect for small apartments
+ Play-along and COACH functions
Why We Liked It - Having a few more features than its predecessor, the Roland TD-11k, the Roland TD-11KV is sure to enhance your drumming sessions with all the new accessories. If you are looking for a small, versatile, high-quality piece of drumming gear that won't be too loud, the TD-11KV is definitely the best electronic drum set for you!
7. Roland TD-25KV V-Tour Drum Kit
Available since 2015, there is no denying that the Roland TD-25 KV electronic drum set is the flagship of all Roland products. While it is the most expensive of all the electronic kits listed so far, it is rightfully so.
Astonishingly weighing in at only 25 kg, it lives up to its name as the perfect tour kit. It will not add any extra weight to the luggage and will still allow you to perform with phenomenal sound and quality.
The appearance and design of the Roland TD-25KV and its electronic drums is also something to keep in mind. It's a simply beautiful instrument just on its own. The drum rack is easily adjustable, and all parts of the kit can go way above average height, which is a definite plus for taller drummers. The sound quality is comparable to an acoustic drum kit, which is something commonly said about Roland products.
This electronic drum module has over 120 electronic drum sounds available and more than 30 effects that you can adjust depending on your session and style of play, and studio sound.
Pros:
+ Beautiful in design and appearance
+ Hundreds of effects and drum sounds available
+ Responds organically to the drummer's playing thanks to the advanced sound engines
+ To-the-point interface
+ Customizable to suit every need
Why We Liked It - Being in the top 20 list of drum kits on Amazon, there is no question that the Roland TD-25KV has a lot to offer for its price and popularity. It provides superior sound thanks to Roland's ever-present superNATURAL features and mesh heads that help you get a natural feeling as you play. The adjustable drum rack is easy to use. There's no question about it; the Roland TD-25KV is one of the best electronic drum sets!
8. Yamaha DTX700 Series Electronic Drum Set
The Yamaha DTX700 is another advanced digital drum set that makes our list, and with good reason. It features the long-awaited DTX Textured Cellular Silicon drum pads. This new feature has earned itself a good name due to how much it mirrors an authentic acoustic drum kit sound. In addition, the silicon drum pads are amazingly quiet and feel great as you go all on out and perform your favorite tunes.
There are over 1,300 sounds available just in this Yamaha drum module, along with 130 sound options that make this kit one of the best electronic drum sets for versatility out there. The Groove Check function is also a fun addition for drummers. It lets you get a visual of how much you are on or off on your timing, which can be frustrating for new drummers. It's an essential feature to improve in heaps and bounds.
The Yamaha DTX700 has a better drum module than some Roland kits; it features individual outputs and is a lot more flexible. The new large-sized DTX silicon pads also allow for more carefree and easy playing without worrying as much about where your drumsticks may land. This drum set is small enough to fit in a bedroom or small garage and has very responsive and solid surfaces. It's the best electronic drum set for intermediate drummers who are looking to boost their skills!
Pros:
+ 50 pre-set sounds
+ Training features like The Groove Check to help you improve rhythm and timing
+ DTX Silicon Pads for a quiet and acoustic feel
+ 44 play-along tracks
Why We Liked It - You cannot go wrong with the Yamaha DTX700. This e-drum kit is right up there on the list of the best electronic drumming kits available, and it doesn't look like it's backing down anytime soon. The DTX silicon drum pads, improved drum module, and the fun practice functions it has available make this model one of the best electronic drum sets around!
9. Yamaha DTX950K Electronic Drum Kit
First available in 2010, this Yamaha was made right after its predecessor, the Yamaha DTX700. It's another remarkable electronic drum set from Yamaha that will not disappoint you in the slightest. With its crisp, clean sound and overall quality, it's another fantastic pick that will provide you with hours of fruitful training and fun.
The thing that makes the DTX950K stand out above the other products is also its new DTX Silicon Pads; they are as close as you can get to an acoustic drum set. This model has increased the sensitivity of its pads drastically and boasts to satisfy even professional drummers' needs.
The feature that stands out most about this Yamaha is the aux-in connector that will now let you plug in your Mp3 or CD player and play along to your favorite songs! It has a great drum module!
Like many Yamaha products, the Yamaha DTX950k doesn't make much noise and will last you for a long time, thanks to its excellent craftsmanship. Armed with over 90 songs that you can mute and jam along to and a high-quality tone generator, this e-drum kit will satisfy any drummer's needs.
Pros:
+ Metronome feature to keep you in pace
+ Customization (you can mix and match to create your idealistic equipment!)
+ Aux-In connector
+ Wide range of training exercises, like the Groove Check
Why We Liked It - There is only one thing we can say: this digital Yamaha drumming gear is well worth your buck. It might be on the pricey side, but you get high-quality and professional equipment that will serve you for years to come. Yamaha has gathered all their greatest features to produce this leading model, making the DTX950K one of the best electronic drum kits on the market!
Best Drum Set Buyers Guide
How Do Electronic Drums Work?
Even though electronic drum sets may look very similar to their predecessor, the acoustic drum set, they come with quite a few different options that allow them to function the way they do. Unlike an acoustic drum set, electronic drums include cables, trigger and sensors pads, drum modules, and LCD screens to help them be as efficient as possible. Even though these terms may sound confusing at first glance, there is no need to worry. Let us explain them - you'll be navigating your drum module in no time!
Sensored Pads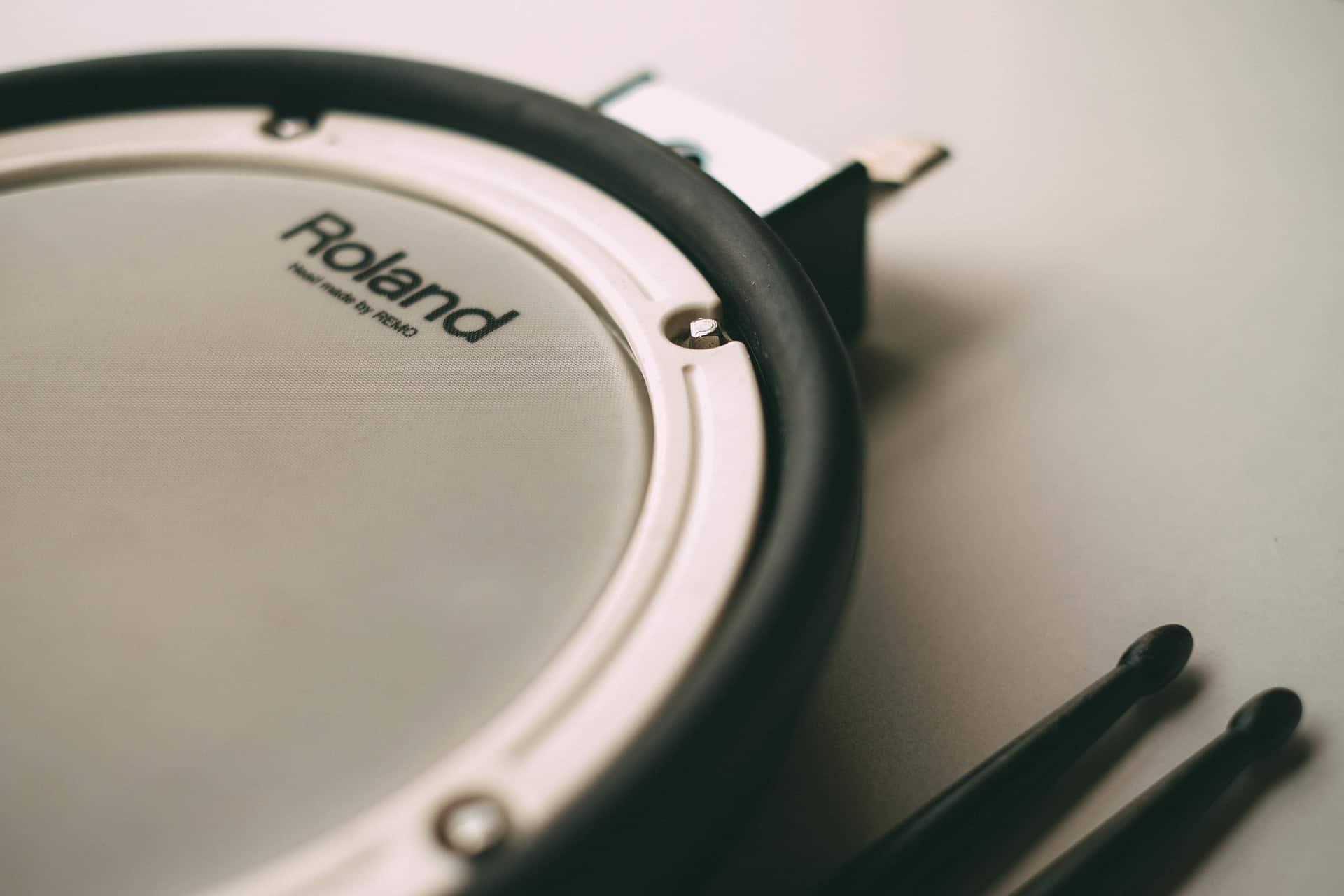 An electronic drum kit functions much like a traditional acoustic drum kit. Except with electronic drums, you can hammer away and not be heard by anyone! The pads that replace the acoustic drums in an electronic drum kit have built-in sensors that let out a signal as you start hitting against them with your drumsticks. From mesh pads to more, each type will offer a different effect. If you are looking for a drum machine - click here for the full guide.
The Drum Module
The signal you make when you hit against the sensored drum pad will make its way through the cables and head to the drum module, which is also referred to as the "brain." The drum module is present in all electronic drums.
The drum module basically controls everything you do on your drum set but chiefly lets you produce the right sounds when you hit against the pads. When the signal reaches the drum module, it produces a sound depending on which drum pad you hit - for example, both the snare pad and bass drum pad will sound different.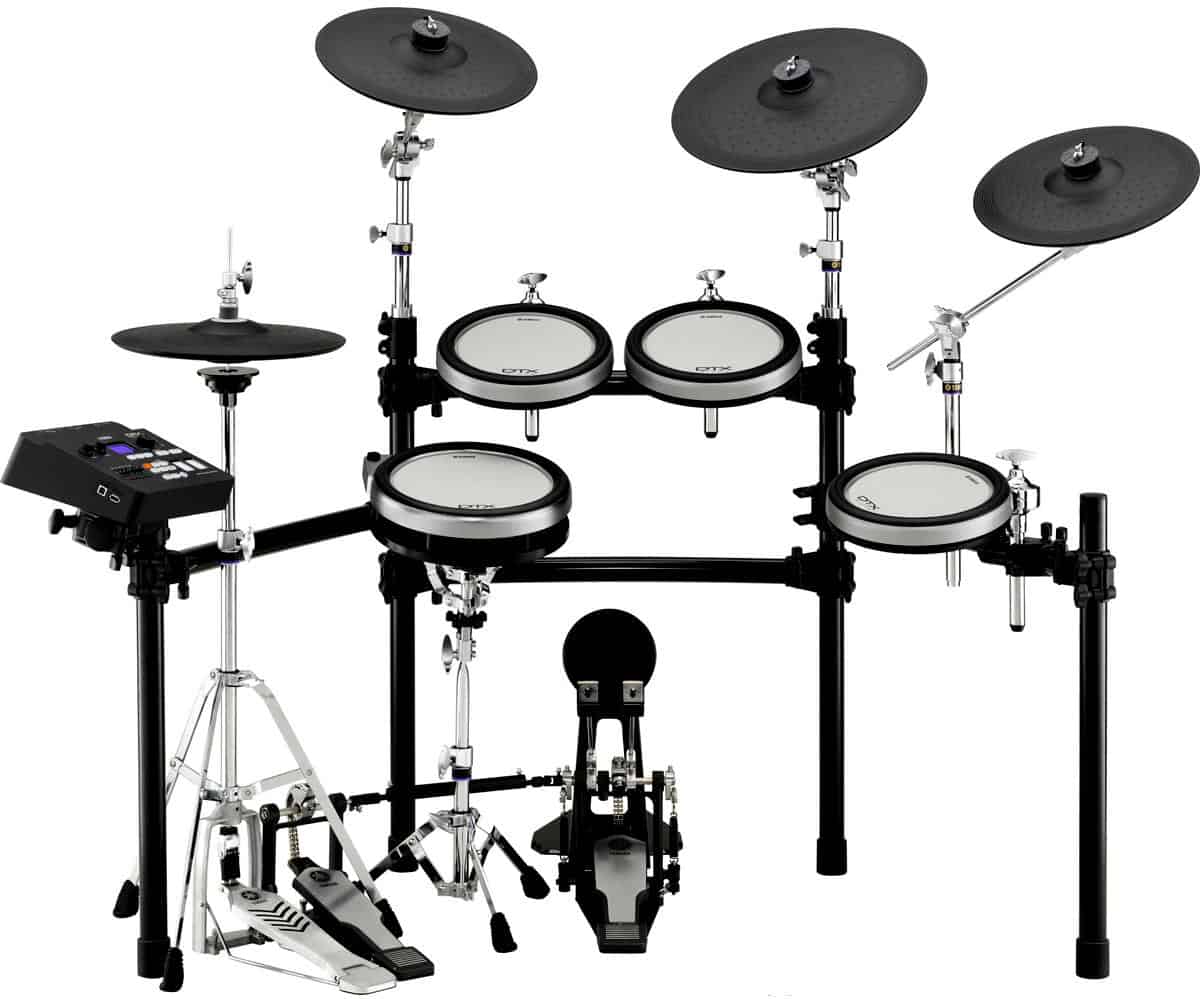 The electronic drum module is also the place where you plug in the rest of the equipment, like the hi-hat or the cymbal pads. The electronic drum set module also features various inputs, each labeled for convenience. Roland is one of the only brands that does the opposite: there is only one input for all the pads on the drum module, and the various cables split and reach out towards the pads instead.
Usually back-lit, the LCD screens of the drum module make them easy to navigate no matter the time of day. This is where you can make all kinds of changes to the sounds, effects, and tones of your electronic drums. It's the hub of all set-ups and is also where you will be setting up your coaching and training exercises. There's no doubt you'll be spending a lot of time navigating around this little device, so research all drum modules on offer!
Trigger Pads
The pads are tricky to explain; they have sensors located in the snares, kick-drum, toms, cymbals, and hi-hats. When you hit any of the sensors, the trigger pads pick that up and sense vibrations from your hit. So no matter how hard or soft you touch the pads with your drumsticks, they will produce an appropriate sound based on the intensity of the vibration of the hit.
Many advanced digital sets have advanced trigger pads that allow you to get different sounds from a single drum pad. Depending on which sensor you hit, whether it's on the front, back or side, and whether you're hitting a bass drum pad or something else, you will get a different reaction that you can incorporate into your playing accordingly.
How Do You Choose A Good Electronic Drum Set?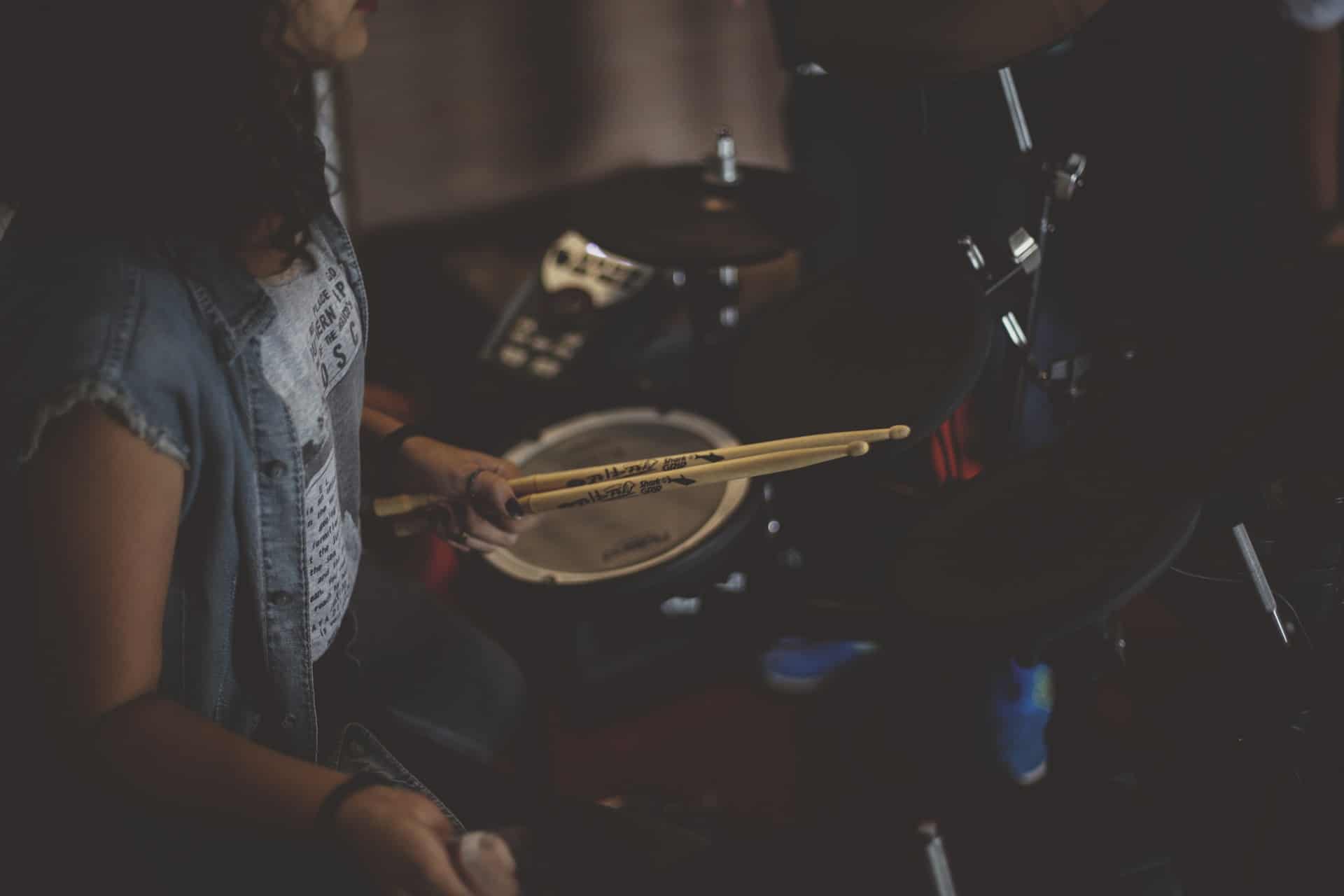 It's no secret that electronic drum sets have become increasingly popular over the past few years thanks to their convenience. Due to their popularity, many top industry brands have made it their goal to produce the best electronic drum kit they can possibly offer to their audiences. The question remains: how do you choose the best electronic drum set for you?
Prices
It's best to start off by knowing your budget when choosing your first digital drumming kit. Yamaha has many drum set bundles available that are perfect for beginners without sacrificing quality. If you are willing to spend a little extra, Roland has fantastic kits for beginners, too. Both brands offer compact, high-quality products that are also under $1000. If you are looking for affordability and good value, these two brands will definitely offer you many solutions.
Research
Each electronic drum set varies greatly from the other, so it's important to check the specifications and features of the product you want to buy. Commonly, some electronic drum sets that are sold online don't include seats, headphones, hi-hat stands, amps, or drum pedals. Usually, you have to buy these additions separately unless you have an all-inclusive bundle. The key thing to remember is to check exactly what you will be buying because, even though these features and additions may appear in the photo, they may not be on the list that makes up the drum gear.
Dimensions
Although it may sound obvious, some electronic drum sets are not as versatile and adjustable as others. It's vital to check the actual dimensions of the kit you will be buying and measure if it will fit in the room you intend to place it in. There are kits specifically designed for smaller living spaces and crowded rooms. If you're looking for the best electronic drum set for a smaller space, it will usually have the word "compact" within the title.
Weight
It's important to decide whether you will be using your electronic drums in studio sessions, at your home, or on tour. There are kits specifically designed for each of these instances. Tour kits are usually very lightweight, whereas electronic drum sets for home or studio use often take more liberty with the weight and are more compact in appearance.
Some home digital drums are not as easy to move as others, so you need to make a decision early on as to what will best suit your needs. There are, of course, electric drums that give you the best of both worlds, but the key idea is to decide where you will be using your drums. Ask yourself if it's important to opt for a lightweight electronic drum set or if it doesn't matter.
Reviews
It's important to stay open-minded when choosing your first electric drum set. There are many reviews online that give one-star reviews for packaging or complain about parts missing when they weren't listed in the set to begin with. Reading trustworthy reviews and making a pros and cons list for each product will be helpful during the crucial process of choosing the best electronic drum set, especially as you will be using it for the next couple of years.
What are the benefits of an Electronic Drum Set?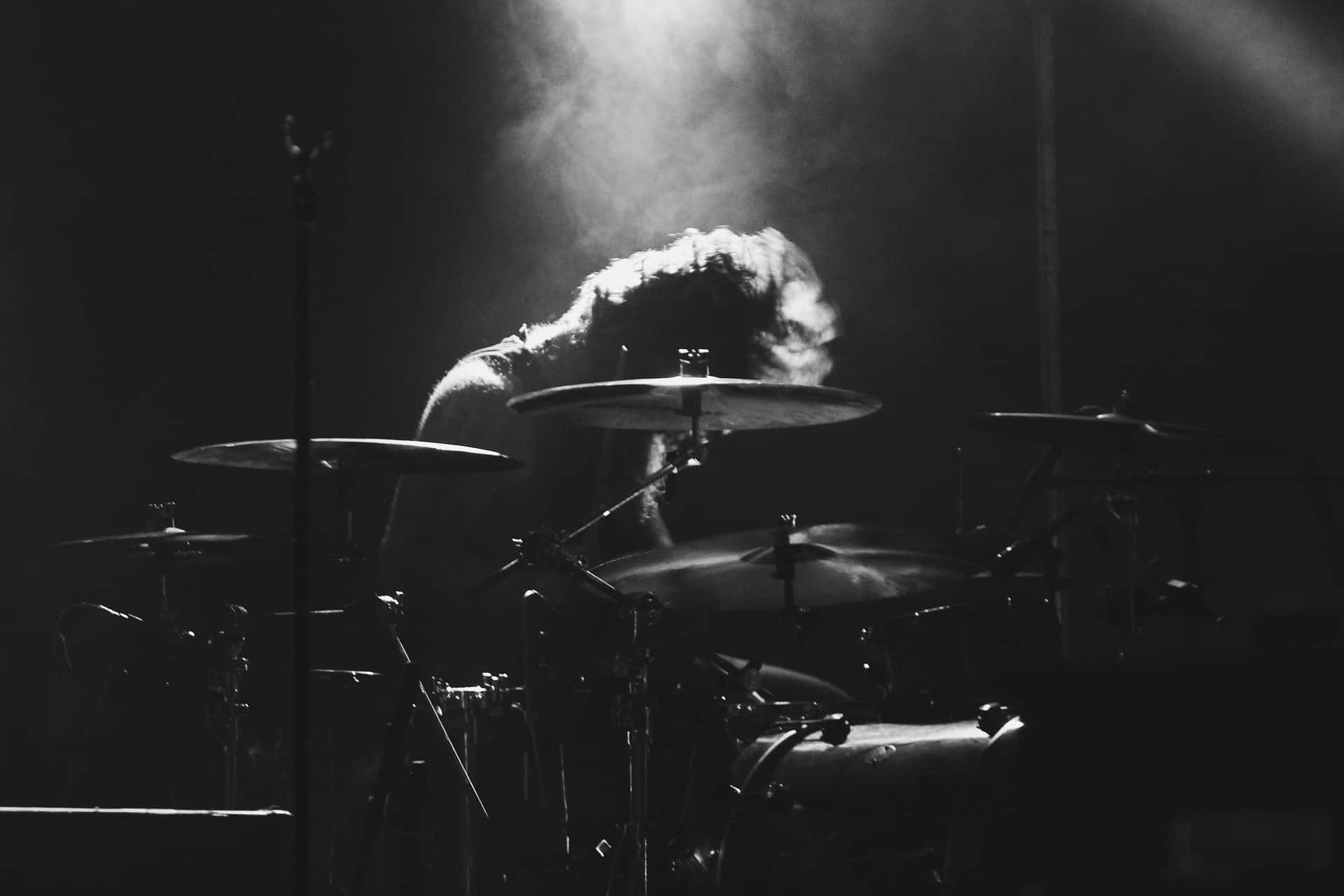 When you are buying your first electronic drum set, you certainly want to know what the equipment has to offer you. There are undoubtedly many advantages to owning one, and here are a few of them to put your mind at ease:
Versatility
Unlike acoustic drums that bind you to one tone, electronic drum sets have libraries that include hundreds (sometimes thousands) of selections of tones and sounds. So whether you're into pop, rock, or jazz, you can switch within seconds and without any fuss. This versatility is especially useful if you are a drummer who enjoys playing in various styles or if you are still trying to find your niche.
You can experiment, mix and match with different selections depending on the genre and music you like playing; you will never be forced to remain true to one idea. This kind of versatility gives freedom and liberation to drummers who want to go beyond the norm and are not afraid to think outside the box!
Coaching
Many digital drum kits nowadays have a built-in feature that helps you with training your timing, rhythm, and feel. There are many options and exercises that will help you reach your full potential. You can even let your electronic drum kit lead the warm-up or practice session for you. Many digital drums also have built-in metronomes, which proves to be way more convenient than having it as a separate entity.
This kind of coaching ensures that you will never be stagnant with your skill level. You can always seek to improve by increasing the difficulty of the exercises, something that you have to organize on your own if you use an acoustic drum set.
Editing
Electronic drum sets have another advantage: they allow you to edit, loop, playback, and play around with your recorded sessions in any way you like. So whether you want to plug in your Mp3 or a CD player, it's easy to play along with your favorite songs, record, and see where you went wrong. Similarly, some electronic drum sets let you upload your recordings straight onto your computer!
This proves to be way more difficult and fussy with an acoustic drum set since they don't provide quality recordings of your sessions. You would have to go out of your way to buy separate recording equipment when you could get an all-inclusive electronic drum.
Portable
Something that also places electronic drum sets above their acoustic counterparts is the fact that they are way lighter. They can fit in a few bags and usually don't weigh more than 30kg, a significant difference when you compare them to the 40-50kg acoustic drums available nowadays. It's a definite plus if you are looking for something that is easy to set up. You can easily take your drum kit on tours or concerts instead of spending hours setting up an acoustic drumming sets.
Choosing Accessories For Your Electronic Drum Kit
Like we mentioned before, electronic drum sets rarely include a full bundle of all of the accessories you may need, and that's why we found it important to list them and their functions. We encourage you to consider the prices of these items when you're close to purchasing your new drum kit, especially if they are not included in the bundle.
Drum Throne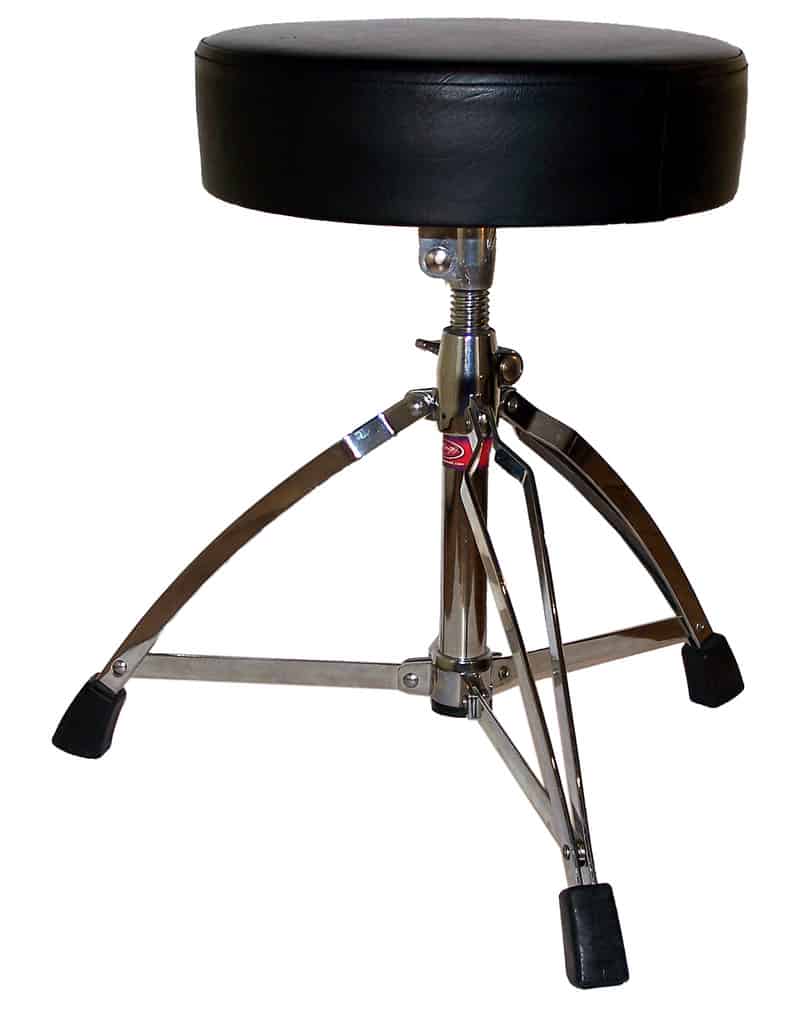 The drum throne is where you will be spending most of your time when drumming. Whether you're writing a new song or trying to figure out what's going wrong in your practice sessions, you will be sitting on the seat, which is also known as a drum throne. It's extremely rare for these to come in a kit unless it states otherwise since. This is because a drum throne depends highly upon personal choice.
There are many drum thrones to choose from, including saddle and round designs, soft and firm cushions, and a hydraulic or spindle bottom. There are, of course, fancy options, too, including a pocket for storing drumsticks, cup holders for drinks, and hangers for towels when the drumming gets intense. Many drummers, however, find these extra features to be more distracting than useful and usually go for the simplest, comfiest chair that they see.
It's best to test all the options in-store since you will be spending 100% of your practice on them. Choosing something that may end up feeling like sitting on wood probably won't keep you engaged in your training.
You will also get to see the durability of the drum throne and just how sturdy it really is, which will make it match better for your weight and posture. Ask the staff about what kind of quality foam is included in each design and decide which is the best and comfiest option for you.
Headphones
While rather obvious that most drum kits are not lenient enough to also include high-quality headphones, so you will need to take this into your own hands and search for a good match. Some bundles come with decent headphones, but most people are stunned by the difference when they decide to go out and purchase their own.
If you will be spending most of your time drumming silently with only two muffs on your head, it's critical to choose headphones that will match the quality of the drumming kit accordingly. If you buy a high-end electronic drumming kit, it's only natural that you will want to hear the sound it makes in all its grace and without grainy, low-quality headphones.
Make sure to spend some time researching your perfect fit. If you end up with a pair that has questionable quality, it could devalue and demotivate you during your practice sessions. The most notable brands to look into are Alesis, Sony, and Vic Firth; you can also use some of these with an acoustic drum set!
Drumsticks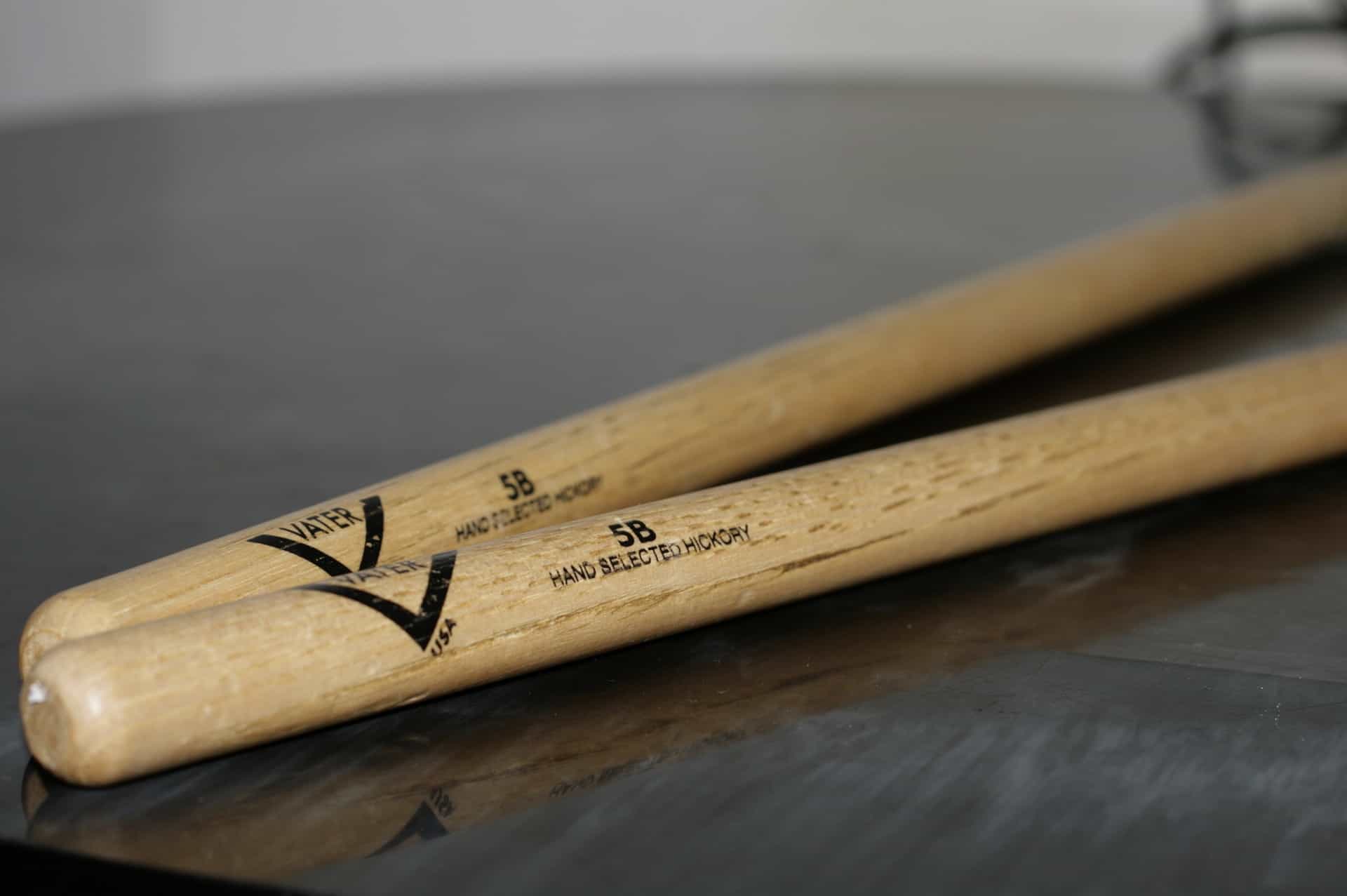 It may find it difficult to choose drumsticks or a bass drum beater for your first digital kit; the options are endless, and you might want something that could go along with an acoustic set, too. Most drummers turn to wood-tipped sticks because they last a very long time when you play a digital drum kit. Nylon-tipped ones eventually use their tips and may cause some damage.
However, wooden drumsticks can splinter, crack, and damage the mesh head if you like to be a bit more aggressive with your drumming endeavors. The sawdust can also gather underneath the mesh heads, which doesn't happen when using nylon-tipped sticks. If you like to play hard, it's best to seek out drumsticks with special shock absorber inserts, as these will help to keep the damage of stick down to a minimum.
Bass Drum Pedals
Although it's hard to believe, most electronic drum sets come without a bass drum pedal. There are as many options and variations of bass pedals as there are of drum thrones.
Although it may seem like the simplest item on the list, bass drum pedals come with a lot of different functions depending on what you need. That is probably also one of the reasons why the marketers encourage you to choose them on your own, instead of sticking something in a bundle that you might not be happy with.
It's a bit more challenging to buy a bass drum pedal for an electronic drum kit since you have to focus not only on the quality of the product but also on the compatibility it has with your specific kit. Take it easy, explore the possibilities and choose a bass drum pedal that is both within your budget and suitable for your style of music!
What Is The Difference Between Mesh Heads And Rubber Pads?
There has been a long-time debate between electronic drum kits that include either mesh heads or rubber pads. Both are used extensively in many popular and professional electronic drums, which is why this heated discussion is always prevalent among drummers. However, there are pros and cons for both, as both are two very different materials!
Mesh Heads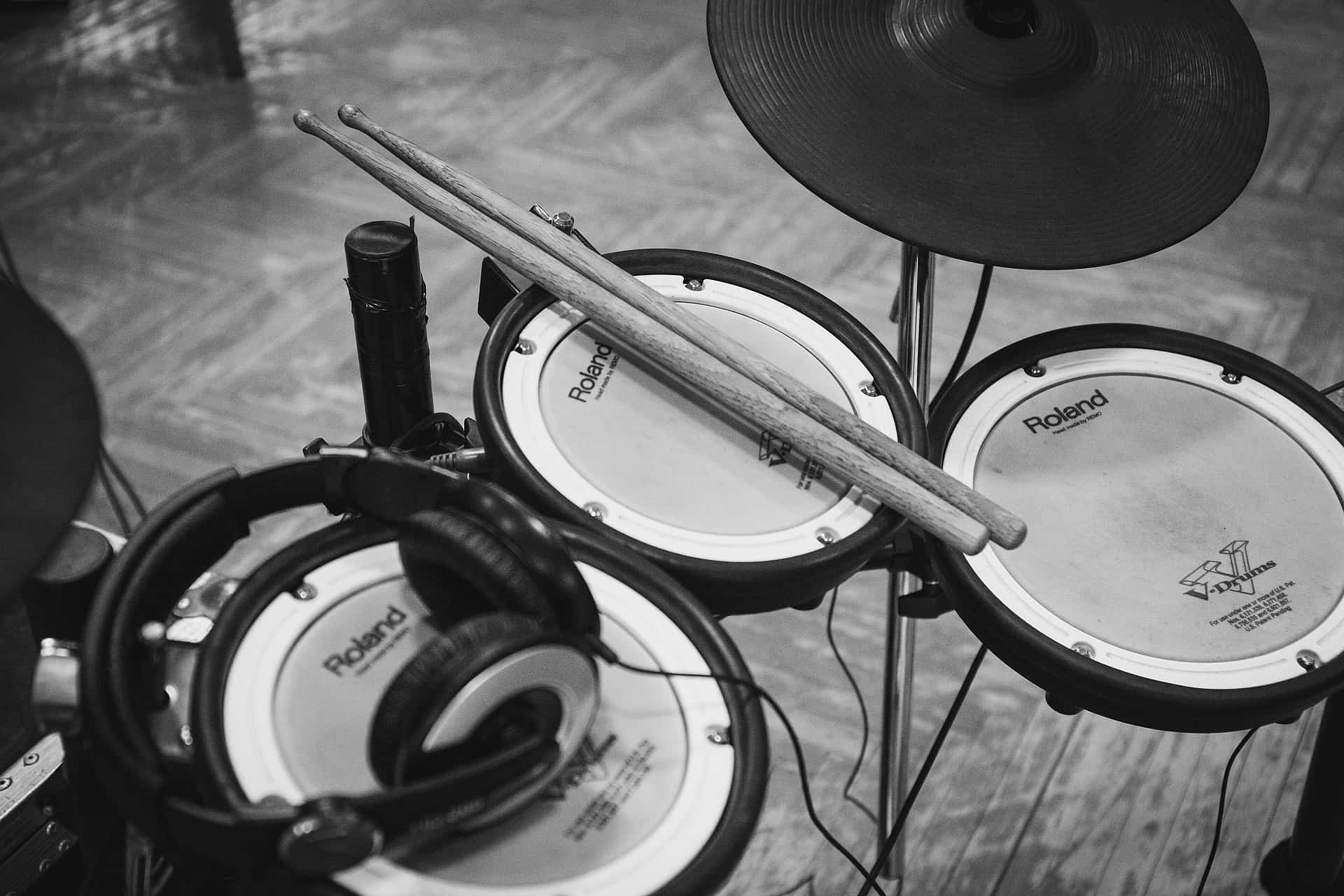 Mesh drum heads have been praised all around for being the closest alternative to getting the feel of acoustic kit sounds. Although they are not completely silent when you start playing, as you'll still have the sound of the drumsticks or bass drum beater hitting the drum pads, they are as close as you can get to a silent jamming session that won't disturb anyone.
Mesh drum pads are a bit springier than normal pads and have more bounce than their rubber alternative, which is a bonus when practicing certain techniques and being easy on the wrists. The best feature of mesh heads is definitely the insignificant amount of noise they make; whether you play predominantly during daytime or evening, no one will notice.
Rubber Pads
Many people prefer the rubber alternative on their drum kits because they have a harder surface than mesh heads. This proves to be very useful when practicing since some people complain that mesh heads are too fragile and tear easily. However, this pro also has a con; they can be hard on the wrists and cause injuries if you are a hard-hitter and don't pay attention when you get in the zone.
Due to its hardness, this type of drum pad is also a bit louder and probably not the most ideal for late-night practice if you don't live alone. Regardless, the harder surface lets you get a feel of your strokes better than more bouncier mesh heads.
Which Is Better, The Rubber Pads Or Mesh Heads?
In the end, it all comes down to personal preference. Some drummers have a habit of hitting against the pads very hard, which may inflict some long-lasting damage if they use a hard rubber surface rather than mesh heads.
If you are looking for a sturdy hard surface to practice on, a rubber drum pad is definitely your choice. To counter that, if you are a light drummer and need some peace around the house, mesh heads are definitely the choice for you.
Can I Switch Between Electronic And Acoustic Drum Kits?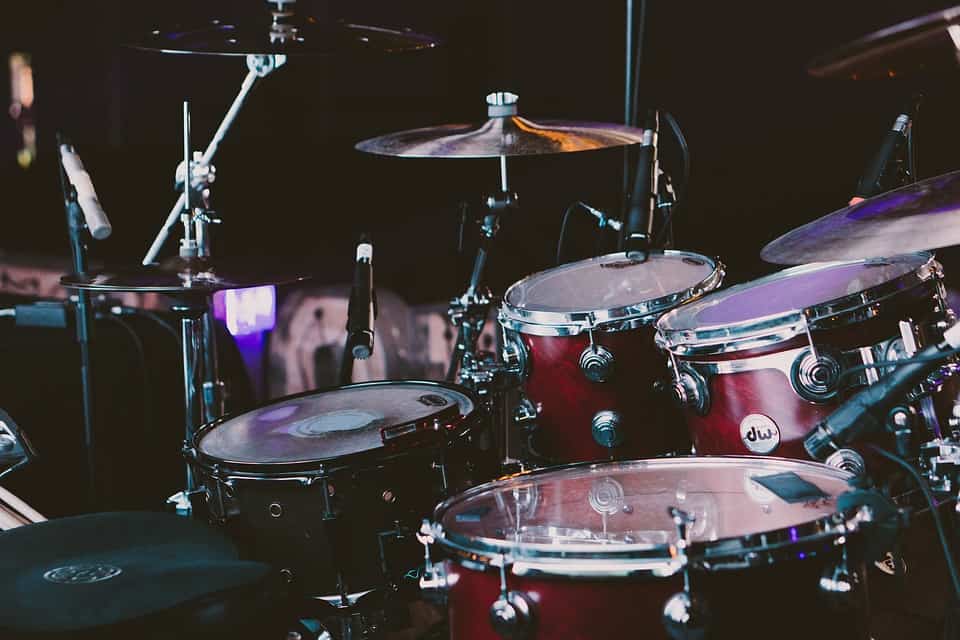 When buying a digital drum kit, many beginners face the rather daunting question: what if I want to switch to an acoustic kit later in my career? Will there be problems? And the answer is generally no, and that it shouldn't cause a problem. However, there are a few reasons that may cause some inconveniences during the first few weeks of switching.
Rebound
Electronic drum kits are often easier to play, thanks to the rebound they give when you hit against the pads. Acoustic drums don't have such rebound; they are harder to play and control and need a bit more energy and time invested in them.
This absence may cause switching between an electronic and acoustic kit troublesome because the arms need to get used to more labor. That is one of the reasons why some drummers prefer to go with a rubber surface over mesh heads, as they resemble the hardness of an acoustic drum kit better.
When switching between the two, it's just a matter of getting used to a new medium. Electronic drums are often easier to play and don't strain the limbs as much, while acoustic kits require a lot of your energy to make them sound like you want.
Materials
Electronic and acoustic drum kits are made of very different materials, and it will take a while to get used to the physical weight of the drums surrounding you. For example, if you only have experience with using mesh drum pads or rubber cymbals in electronic drum sets, it will be a surprise at first to feel how heavy and metallic cymbals are when you strike them.
This also brings us to another point: there is nowhere to plug in an acoustic kit, so you will be experiencing these raw sounds first-hand. It is highly recommended to invest in earplugs if you are planning to switch long-term to acoustic, as it can do a lot of damage to your ears otherwise, especially in small spaces where the sound doesn't have anywhere to escape.
Techniques
Some techniques are easier to perform on electronic drum sets because there is not much difference between a hard and a soft hit. This couldn't be more untrue when looking at an acoustic kit; you will get a different sound depending on where and how hard you hit.
You can get a wide variety of sound nuances depending on how you go about playing your drumming kit. While some more advanced electronic drum kits have features that try and stimulate this feeling, it just isn't the same.
Tuning
One thing that you don't have to do with electronic drums is fiddle with the tuning. But not getting used to this important aspect that every instrument seems to have might be a fallback later on.
With acoustic models, you will have to tune each drum independently. More importantly, you will have to tune them all in a way that you like, and that will suit your playing. This is something that an electronic set doesn't have to deal with, which makes it way more efficient than the acoustic nightmare of tuning.
The Switch
All in all, since the general differences are things that will take time to get used to, it will certainly be at least a bit challenging to switch. Due to the different materials and textures, both an acoustic and electronic set will give you two different responses. But while you will need to adjust your techniques and invest a bit more into your training sessions when switching to an acoustic drumming set, it shouldn't be too far-fetched to alter between the two!
Are Electronic Drum Sets for beginners as well as skilled drummers?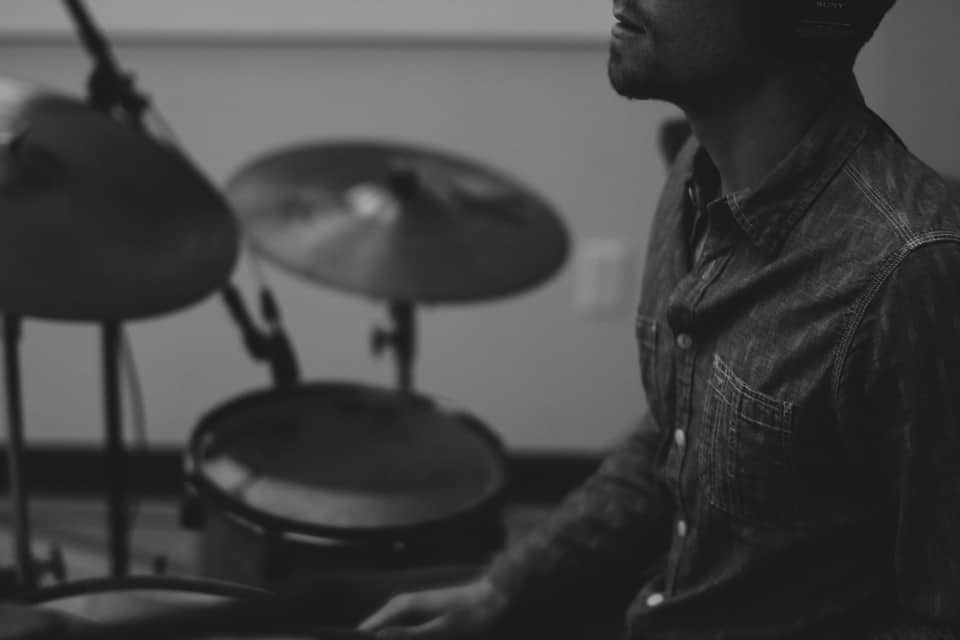 For a long time now, electronic drum kits have been widely recognized as a worthy contestant of acoustic drums, and there are many reasons for it. One of which is that they are suitable for both the needs of a beginner and a skilled drummer, and here are a few features that prove why:
Exploring Possibilities
Electronic drum sets are ideal for beginners and professionals since they let you explore all kinds of genres, tones, and sounds that are available when purchasing digital drums. They allow you to find your true calling without getting tied down to one sound, something that often happens when buying acoustic drums. This advantage means that if you are a beginner and find out drums are not for you, at least you had the ability to try all the options open to you.
Likewise, as a professional drummer, an electronic drum set allows you to reach out and try new songs and styles. This will ensure that you will always be on your toes when improving your skill levels.
Learning Together
Digital drum kits also have coaching options, as well as a metronome and a built-in library with dozens (sometimes hundreds) of pre-recorded songs that you can learn and play along with. When you feel like you've mastered something, there is always another feature to turn to and improve your current abilities. This feature makes it ideal for beginners, intermediate drummers, and professional drummers alike since both parties are looking to get better in the most efficient way possible.
For beginners, acoustic drum kits often require a hands-on mentor since they can't guide you on their own, which makes them rather impractical if you just spent $2000 on your set and don't know where to go from there.
Playback
Whether you just picked up your drumsticks for the first time or if you've been playing for decades, listening back to your own playing is invaluable. Evaluating your own drum sounds is especially vital for beginners since they will be able to see exactly where they are going wrong and immediately buckle down to improve.
The playback function allows professionals to experiment and even record their tracks with studio-quality crisp sound. There's no need for producers, microphones, or renting different spaces when you can do it all from your room!
USB and MIDI Ports
Another smart choice to research is midi drum kits, which are drum kits that include USB/MIDI ports. These ports let you connect to endless tutorials and training options to your digital audio workstation when you have already mastered the built-in exercises your digital drum kit has to offer. This is perfect for professionals, too, since they can always seek more from their drumming experience by searching out new tutorials or exercises.
Why Electronic Drum Sets Are Perfect For Beginners And Pros
Many professionals choose electronic drum kits over acoustic kits because of all the conveniences they have to offer. This compact and quiet bundle full of variety and coaching features is perfect for any drummer. All these features make an electronic drum set ideal for both the seasoned drummer and budding beginner, thanks to the conveniences and helpful features they provide for each individual.
What Difficulties Will I Face With Electronic Drumming Kits?
Although we have already listed the pros of using a digital drumming set, there are also a few difficulties that come along with using them.
Adjusting
Since digital drum kits have so many options, sounds, effects, and tones to choose from, it makes them the perfect instrument. However, getting your perfect sound will come by exploring all of these functions and layering them on top of each other. This may take hours to do since there is just not one definite sound like, with an acoustic drumming kit. If you want an authentic sound akin to that of an acoustic kit, you will have to spend a bit of time figuring out and tweaking your drum kit to fit your expectations.
Various drumming Techniques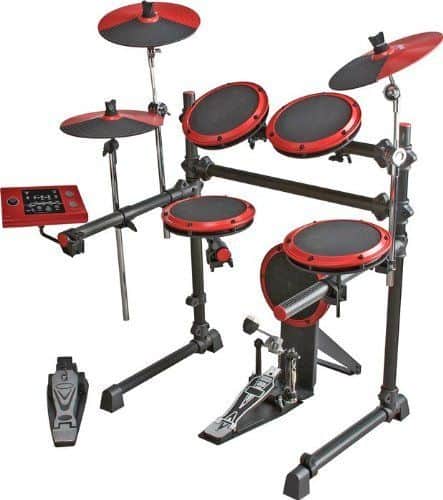 Electronic drum kits are built very differently from acoustic drumming kits, which means that some techniques will be easier to perform than others. Rim-shot, buzz-roll, or cross-stick are nigh impossible to perform. This brings us to another point; the thicknesses, sizes, and textures of electronic drum kits are only replicas of the real deal, and often there is some kind of sound indication to back that up.
Whether drum kits are built very differently from acoustic drumming kits, which means that some techniques will be easier to perform than others. Rim-shot, buzz-roll, or cross-stick are nigh impossible to perform. This brings us to another point; the thicknesses, sizes, and textures of electronic drum kits are only replicas of the real deal, and often there is some kind of sound indication to back that pads.
Touring
Even though electronic drum kits are compact, lightweight, and easy to transport and take with you wherever you go, some countries have different power outlets that may not comply. While on tour, you will need to acquire some passes to certain countries and fiddle a bit more backstage to make the electronic kit work with the equipment available there.
Difficulties
While it may take time to get your digital drumming kit to function to its highest potential as you learn the ropes, the difficulties you will encounter are rather minor. You will learn to work around them and get the most out of your drumming experience!
Top Choice: The Roland TD-11K-S V-Compact Series Electronic Drum Set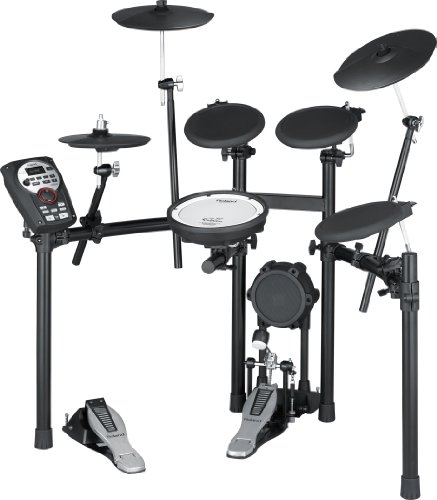 With Roland being one of the leading brands in the industry, we cannot deny that the Roland TD-11KSV is our best recommendation for an electronic drum set. Whether you live in a big house or a small apartment in the city, this compact kit will serve you well. This drum set is a perfect balance between affordability and quality equipment. It has all the features you could ask for; it's a lightweight product, it's very adjustable, doesn't take up much space, has a great feel to it, and possesses many settings.
One thing is sure: you will not get bored with this drum set anytime soon. It's the best electronic drum set for beginners and professionals alike, and the mesh snare drum pad ensures that you get as close to an acoustic sounding kit as possible. In addition, the set-up is quick and painless; it will be ready to play in under an hour upon arrival.
The Roland TD11-KSV is perfect for anyone looking to replace an old set with something of a higher quality. The durability and endurance of Roland drum kits are unmatched. The sound is great, and the price is fantastic for all the features it includes. You cannot go wrong with this digital drum set!
Premium Choice: The Roland TD-30K V-Pro Series Electronic Drum Kit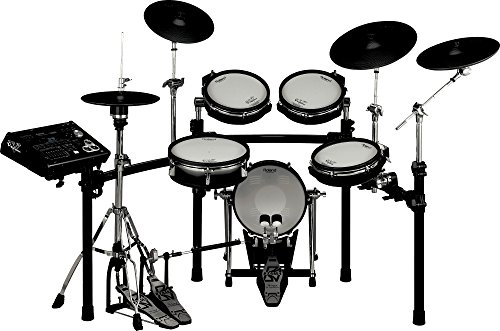 We hhave to go with another Roland product for our Premium Choice. The Roland TD-30K has been the flagship of the Roland series for a very long time, and it's for a good reason. The advanced technology that this drum kit possess is simply stunning. An example is the superNATURAL sounds feature. It's a very accurate, sensitive, and responsive piece of equipment that will give you only high-quality studio sounds.
The Roland TD-30KV is a compact, durable and sturdy electronic kit with fantastic mesh pads that take your playing experience up a notch. It's also easy to set up and has very high-quality craftsmanship; you can hammer away, and the Roland won't budge or break. The intuitive V-Edit mode is also a great feature to help drummers raise their skills as they customize this electronic kit to their hearts' content.
The Roland TD-30KV will respond to every drummer's technique with surprising accuracy and sound, and will, no doubt, serve many great drummers through their fruitful careers. There is no way of going around it; the Roland TD-30KV definitely reserves its place as our Premium Choice, making it the best electronic drum kit if you're looking for amazing quality!
Great Value: The Yamaha DTX400K Customizable Electronic Drum Set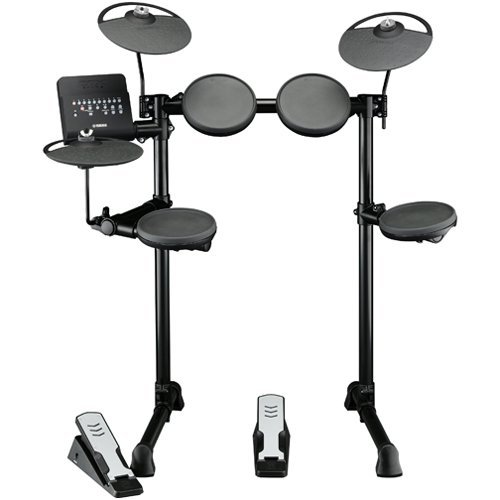 The Yamaha DTX400k is by far our first choice when picking the best electronic drum set for Great Value. The price is simply amazing for all the things that it has included. In addition, it comes in a bundle with a drum throne, headphones, drumsticks, and the pads themselves. It really is the perfect set of its value.
Equipped with ten sound settings, it will let you explore all the new possibilities that a digital kit has to offer; there is absolutely no problem in programming it to suit your needs. Like many Yamaha drum kits, this set doesn't clog up your living space either, and nor does it disturb the angry neighbors! It's just as easy to set up as the previous drums and ready to play from the get-go. It's a simple, responsive electronic kit that does its job perfectly; this affordable electronic drum set includes everything a budding drummer could wish for.
If you are looking for the best electronic drum set for great value, we highly recommend the Yamaha DTX400K. There are no complaints about this great bundle, and for a good reason. Yamaha produces high-quality products that are available for everyone, a company that rivals Roland in many aspects!
Which Electric Drum Kit Do I Choose?
With all the top, premium, and great value choices listed, the best electronic drum set for you comes down to personal taste. Each electronic drum kit has its pros and cons, and they all depend on what the drummer will be using them for and the feature they're interested in. Ask yourself what you need. Whether a Roland, Yamaha, or Alesis, the best electronic drum set will certainly provide endless hours of fun and training, all with the best quality possible!
Practice Schedule - Make sure you set up a practice schedule and commit to it. There's nothing more demoralizing than purchasing an instrument preemptively, only to let it collect dust and take up space (which can be considerable with these sets). Start with a realistic yet regular practice schedule and build from there.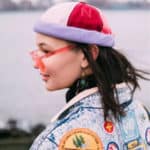 If you liked this review, please leave a positive rating:
[vc_separator