The simple Afro-Peruvian percussive box has gained unrelenting popularity since it's modern debut into the Latin and folk music scene and in true Music Critic style, we have gathered the 10 best Cajons in 2023 for critical comparison.
The functionality of the instrument is pretty simplistic as with most non-tuned percussion, but the room for rhythmic development and many methods for playing, along with their practicality and compact size makes them an awesome alternative to a large standardized drum-kit.
They have truly taken the market by storm in recent years, but premium options can be pricey. So we have done some digging, to find some affordable models which make for a good introductory instrument for those of you curious, but cautious with their cash.
At a glance:

Our top 3 picks
Our team's top 3 recommendations
Best Overall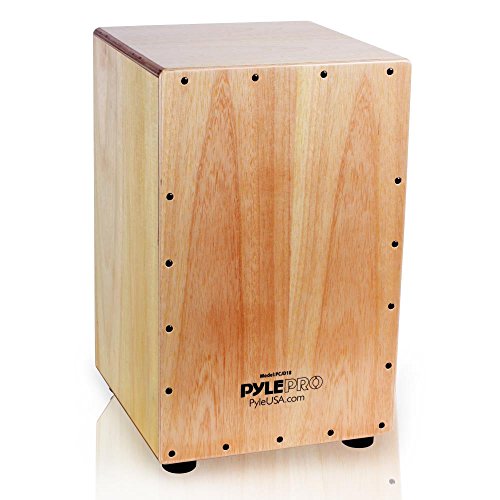 Pyle Jam Wooden Cajon Stringed Percussion Box (PCJD18)

Adjustable guitar strings.
Sturdy construction.
Affordable option.
Premium Quality
Meinl Pickup Cajon Box Drum

Adjustable guitar strings.
Sturdy construction.
Affordable option.
Great value
Meinl Percussion Bass Cajon

Adjustable guitar strings.
Sturdy construction.
Affordable option.
View The Best Cajon Drum Below
1. Pyle Jam Wooden Cajon Stringed Percussion Box (PCJD18)
First in our sights, is a nice offering from Pyle, known for their fantastic speaker enclosures- a percussive box with top-notch acoustics is not really too much of a leap.
It is hand-crafted from birch-wood and is pretty durable with a great natural tone. It is a stringed Cajon which gives the slap a little distortion. The strings are adjustable, so you can tailor the buzzing to your own individual preference.
It is a rectangular design, with a decent surface area and thickness. It isn't quite as tall as some models on the market, but it is still comfortably playable. It has rubber capped feet to prevent resonant interference and allow users to tilt the box to a professional playing position.
Pros:
+ Adjustable guitar strings.
+ Sturdy construction.
+ Affordable option.
Why We Liked It - It is economically priced and has a decent range of sounds and is sturdy enough to support a fair weight.
Fix your posture - Poor posture is a sure way to sound bad on many instruments; with the Cajon, you might sound OK with bad posture, but it will kill your back. When you sit down, keep your back straight and relax your shoulders. Don't slouch to reach forward; lean forward from the hips, keeping a straight back.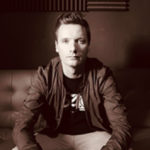 2. Meinl Pickup Cajon Box Drum
Get exceptional sound with the Meinl Pickup Cajon Box Drum. This cajon features a 9-ply Baltic birch body with a stylish matte black finish. The front plate is made out of Makah burl for a deep, balanced tone.
In terms of sound quality, this cajon delivers deep bass and a crisp snare for any performance type.
Thanks to the rounded-corner design, you get comfort with every beat of the drum. This results in an even better sound and a longer playing time. So whether you're playing at a gig, practice, or in the comfort of your own home, you can play for longer. The drum also features pre-tuned micro-coiled steel cajon strings for a responsive snare and crisp sound.
The feet of the bottom of the cajon will protect the body from unwelcome vibrations and damage.
Boosting your sound is easy; the drum features a 1/4" jack and Piezo pickups for amplification. You also have complete control of the sound, thanks to the tone and volume nods found on the side panel.
Pros:
+ Deep bass and a cutting snare.
+ Rounded-corner design for comfort.
+ Pre-tuned steel strings.
Why We Liked It - We especially love the rounded cornered design of this model. Not only does it improve the playing sound, but it also means you can play for hours and experience limited fatigue.
3. Meinl Percussion Bass Cajon
This cajon is built especially for playing bass, so if you're looking for something with a low-end punch and a powerful sound, this just might be the model for you. This model features an internal reflex channel, which helps create a super deep bass sound. The tone is powerful, whether you're playing for yourself or an audience.
The oversized design of this drum only adds to the power of the low end, creating deep notes with every thump.
This cajon comes with a fixed set of snares, which help create that crisp sound. You'll find control knobs on the side panel of the cajon, so you can get the sound you want. And if you crave even more power, you can amply the sound even more, thanks to the Piezo pickups and a 1/4" jack.
The drum also features four silicone feet that eliminate vibrations and prevent damage while playing.
Pros:
+ Oversized design.
+ Built for bass.
+ Can amplify the sound.
Why We Liked It - The best thing about this model is the bass tone. With everything built for bass, from the overall design to the internal reflect channel, you can get those deep, powerful lows you've been looking for.
Bass tones in the wrong place - A common mistake that leads to poor posture is playing the bass tones in the wrong place. Lots of beginners reach down to the middle of the Cajon, which makes them slouch their back. Instead, you should be playing bass tones nearer the top of the Cajon, with your thumb joints near the screws on your front panel.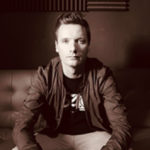 4. Moukey Full Size Cajon Drum DCD-1
Another fab option up for consideration is this model from Moukey. In terms of its dimensions, it is very similar to the compact Pyle model we began our review section with.
It too is manufactured from birch wood and features 4 guitar strings fixed internals to produce impressive snare tones. They can be adjusted (loosened or tightened) to change their sizzle, as can the entire front-plate with the turn of a screw.
It is larger than the miniature Meinl model and provides a large-enough surface area to experiment with.
The sound-hole gives it good natural volume and it comes with a high-quality shoulder strap carry bag to store it away in and make traveling easier.
Pros:
+ Large-size.
+ Fully adjustable.
+ Free storage/carry case.
Why We Liked It - It is another awesome option available for below the hundred dollar mark which has been well-made and the bag is a welcome bonus.
5. LP Americana Groove Wire Cajon LP1427
The next model is also a compact full-size option with a height of around 18.5 inches. It is manufactured in the USA and is once again of a birch-wood composition.
The soundboard has a good thickness and it features rounded corners for additional comfort when playing.
It features an internal snare to fatten up the vibrations They are fixed and don't adjust but the tone on this thing is pretty near perfection. It is exceptionally well made and the lows offset the punchy highs for a real pallet of rhythmic sounds to play with.
Pros:
+ Compact model.
+ Great depth.
+ Rounded edges.
Why We Liked It - It features a solid build that seems far more durable than some of the lower priced options on the market, the tones are awesome it has great depth and audibility and the bass notes aren't too far down the front making it a comfy Cajon to play.
6. Sawtooth ST-CJ120B Cajon
Stealing our sixth spot is this superb Sawtooth Cajon which sells for a rather unbelievable retail price, especially considering its many desirable attributes.
For starters, it is full-size at a height of 20 inches tall, it is well-constructed again from birch-wood which seems to be a go-to tone wood for an affordable Cajon
The internal snare cords are adjustable and highly responsive with a good presence. One of its more unique and indeed thoughtful features is its cushioned top which is well-padded and makes it far comfier to sit upon, allowing for longer playing sessions.
It also comes with a complimentary padded carry case, which is a great addition for anyone who wants to lug it about.
Pros:
+ Full-sized model.
+ Comfy integrated cushion.
+ Custom carry case.
+ Unbeatable value for money.
Why We Liked It - It presents excellent value for money, retailing in a similar margin to miniature hand Cajon versions and providing surprising features and necessary accessories for the sum.
7. Joy 101 Pad Series Cajon
This next Cajon from Joy 101 is not strictly speaking a Cajon but a trendier low-profile traveling Cajon option which is completely flattened with a very slim streamlined hollow.
Although they are relatively new on the scene there are a number of these hand Cajon pads on the market and they are rarely larger than an A4 sheet of paper.
It is fitted with a snare and despite the smaller dimensions still manages to make an interesting range of sounds and are the ultimate tapping boards.
They retail for far less than a full-size Cajon and can slip inside a backpack and a therefore far more easily portable.
It is pretty aesthetically pleasing with its ebony front-plate as well.
Pros:
+ Super portable.
+ Interesting option.
+ Low price.
/vc_column_text]
Why We Liked It
- Though Joy make a full-size professional Cajon this little bad boy is truly surprising and retails at a fraction of the cost, its portable nature makes it pretty innovative too.
8. Pyle Jam Wooden Cajon Percussion Box
Another Pyle model which might be more in your price range is their shorter model which is still within the realms of sitting upon at a far more appealing cost. Its aesthetics are also pretty charming too with a
deep redwood-like stain.
It is another hand-crafted model which is beautifully put together. The sound-plate is suitably deep and provides a great sounding board for the resonant birch box. It like the larger model harbors four guitar strings which give it an impressive buzz. Their tension can be adjusted allowing the player to shape their sound and a great range of sounds can be made.
It has rubberized feet to ensure the sounds are isolated from the surrounding vibrations.
Pros:
+ Hand-made.
+ Great tones.
+ Lightweight and compact.
+ Low-price.
Why We Liked It - It makes a good choice for kids and teens because of its shorter stature, standing at around 16 inches. It is much larger than a hand Cajon model but far more compact and portable, not to mention cheaper.
9. Meinl Bongo Cajon Box Drum
Our penultimate pick is a bit more of an out-of-the-box percussive box option. The Bongo Cajon from Meinl is another beautifully constructed Cajon this time designed to play upon your lap like a tradition twinset of bongos.
It is fashioned with 2 chambers and allows for a range of sounds, either side with a higher and lower pitch. It has no snare to speak of as it is aimed at producing wooden bongo acoustics with a brighter timbre and deeper hollow.
It features a solid one-piece soundboard instead of two separate skins/ heads and is very responsive.
It is comfy to sit with as the bottom has curved cutaways that help it maintain balance and stay in place. It is suitably lightweight and won't deaden legs and if they get a little tired it is compact enough to play between the thighs if needs be.
Pros:
+ Bongo option.
+ Well-made.
+ Cool design.
Why We Liked It - It a well designed and executed option, we like the natural acoustics of the hardwood body and whilst it's not got the buzz of the modern Cajons we have come to know and love it does have a rhythmic charm all of its own.
10. A Tempo Percussion El Artesano Cajon
We are leaving you with a lovingly hand-made artisan option which is as high-quality as it is eye-catching and actually comes from the Sol Percussion team in Peru, the Cajons native homeland.
The side panels of the enclosure are each made from multiple pieces of a variety of hardwood types which are hand joined, for a striking mosaic-like look. The combined woods provide greater strength and a totally unique resonant quality.
Some of the woods utilized include Mohena, musk wood, walnut, Spanish cedar, and Peruvian Lupuna. Each completed panel is sealed together with a hand-carved dovetail joint and finished with a high degree of care.
Inside it features high-quality traditional snare wires which are idyllically placed to keep the bass booming with hollow resonance and the upper body slaps buzzing with a snappier sound.
It is full size and comes with a specially tailored soft carry case to keep it in and travel with.
Pros:
+ Full-size.
+ Premium quality instrument.
+ No two Cajons are exactly alike.
Why We Liked It - It is a truly beautiful option, it plays incredibly well and is built like a brick house.
Let the sound resonate - Another typical mistake that beginners often make is to dampen the sound on every strike. Leaving the hand on the Cajon will mute the sound, and it's a habit that can be hard to shake. From day one, get used to letting your hands bounce and letting the sound breathe.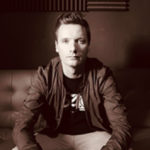 Cajon Drums Buyers Guide
The Cajon is simplistic percussive instruments which have found their footing in flamenco and is quickly taking its place within the modern music industry. It compliments acoustic sets beautifully in place of a drum-kit which can overpower the stripped back vibe which the artists are trying to achieve.
Because of how basic it really is you may notice the composition and dimensions differ very little between many of the models on the market and in this week's buyers guide we aim to shed a little light into their charm and appeal.
What is Cajon?
A Cajon is a box-shaped percussion instrument originally from Peru. It is usually made from wood sometimes this is layered plywood. They have an additional layer of wood at the front.
It is played by sitting astride the enclosure and tilting it ever so slightly to protect the soundboard forwards at an angle. The sound comes from slapping the front with your hands and tapping or rolling with your fingers. Occasionally people use light implements such as brushes, some go as far as beaters and sticks but it really is a hand percussion instrument in principle.
Some people like to hook up a traditional drum pedal but the beauty of the box and the way it is built means there is a range of sounds which can be achieved purely by hand.
Developing the techniques can take some time and a lot of practice but it is a really creative and fun instrument to explore.
A harder slap will give more attack some players have even been known to knock or thump it to achieve a bigger sound.
Modern incarnations feature internal stretched cords or coiled springs pressed against the top to give them a bit of a buzz just like a traditional snare drum, which is what gives it such appeal. Between the front, rear, and sides a number of timbres can be achieved.
Changing the shape of your hand or the part of your hand you strike with is also instrumental to the tones created.
The Cajon will generally have a large sound-hole through which the acoustics can escape when playing in a large band this will typically need a decent condenser placed nearby.
There are actually a number of electronic options creeping onto the market now some which are semi-acoustic and feature a built-in pre-amp and pick up much like an acoustic-electric guitar and others which are digitally interfaced allowing people to pick and choose tones like an electronic drum-kit.
The sound-hole can also be manipulated to change the tone acoustically.
What are the benefits of a Cajon?
The Cajon as discussed provides a great range of sounds allowing users to create complex rhythms and it has an incredibly small footprint compared to a drum-kit but still allows for almost as much scope. They also cost a fraction of the asking price of even a basic 3-piece.
Though they require quite a bit of natural rhythm and ability to play well, many argue that they are easier to play. This is because a drum-kit needs a certain amount of hand-eye coordination which, believe it or not, is a skill that not everyone has. Someone who can juggle really well, for example, might find that they can't play baseball or tennis.
Utilizing a racket or bat like a drumstick means that it becomes an extension of your arm and hand and there are some who have trouble with judging, which can make even those with great musical ability suck at finding their way around a drum-kit set-up.
Playing hand percussion is generally speaking a lot less of a foreign concept the instrument itself becomes an extension of the player themselves and people know and trust their hands well.
This familiarity can make the learning process easier because it comes much more naturally than having to hold an implement of any sort in the correct manner.
They are much more portable because of their smaller size and therefore easier to lug around from venue to venue. This also makes them a fab idea for traveling with for an impromptu jam.
Whilst it is true that hand drums have the same compact nature and portability, a Cajon arguably is far more versatility and it doubles as seating space for the user to play in fact the body weight helps with the tone and amplification as well.
It is also far more durable than a traditional hand-drum which can be pricey to re-skin especially if it is genuine hide.
One of its only drawbacks is some people find they get backache after long jam sessions and some high-end models can really set you back a fair few hundred bucks.
What to Look for When Buying a Cajon?
When it comes to what to look for in a Cajon there isn't too much to consider due to the simplistic functionality.
You want something well-made the soundboard must be additional and separate from the box itself. Ideally, you need something adjustable as the sound is very subjective and having the ability to tinker with the tone will mean you can shape it to your preference.
It should be good quality woods chosen in the construction, most cheaper models tend to be birch because it is lightweight and easy to work with other woods such as ash, cedar, and walnut are sometimes used and have great tonal qualities.
The snare strings should be good quality ideally metallic to give it a good buzz, sometimes cheaper models incorporate springs which still give a good buzz but they have a tendency to get floppy. Again it is better if they can be adjusted in the long run.
If you have a smaller stride you might fancy a more streamlined Cajon with a smaller footprint but you will still require some height.
If you are looking for a truly gig-worthy Cajon then look for something with a bigger build as opposed to a smaller option, It will not only be a comfier seat but have a larger space to resonate and produce a louder overall sound.
Conclusion
A Cajon is a breathtaking instrument when played professionally it can be truly astounding to listen to just what it can really do in the hands of someone who has mastered the art.
It is an idyllic acoustic accompaniment which can provide a more laid-back rhythm section that won't dominate the ambiance like a drum-kit sometimes can.
It is somewhat easier to play if you have a good natural rhythm and if you are someone who has the tendency to tap out on a table or two to pass the time it is a fun instrument to consider.
With its new-found popularity, there are now a number of models available which are priced accessibly in comparison to the leading brand options out there, such as the Pearl and Roland models which retail in excess of $3-400.
There really hasn't been a better time to buy and with hand Cajon models there is no real excuse not to take a punt and see how they suit you before you move onto the real deal.
Expert Tip
If you are struggling with mastering the backward lean to tilt the front without losing your balance you could try to source a Cajon with an angled soundboard to save yourself the effort and combat the issue, there is a range available out there and the price increase is pretty minimal.
Did you Know
The name Cajon comes from the Spanish wood caja which literally means box, and is used for everything from crates to drawers.
If you've enjoyed this review by Music Critic, please leave a positive rating:
[vc_separator