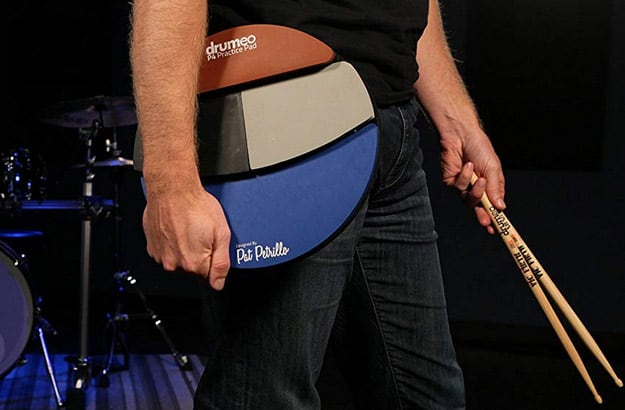 Finding the best drum practice pad for your needs is important so that you can practice without worrying about what other people will say.
Let's face it, acoustic drums are loud! And even though we as drummers don't have a problem with loud drums, our neighbors, parents, and spouses are not always thrilled to hear us practice.
Perhaps you found this article in search of a way to silence someone else's drums a bit? Drum practice pads are great gifts for drummers in need of one!
Even if the practice pads seem to be one-trick ponies we've managed to find ten different drum kit practice pads that we think you should take a closer look at. While reading our reviews you will notice that even though they are pretty much the same product there are probably some features that will make it possible for you to select one that best suits your needs.
So without further ado- here are the different drum music practice pads available on the market... Drumroll.
At a glance: Our top 3 picks
Your shortcut to our team's top 3 recommendations
What is the Best Drum Pad for Practicing?
Our first practice pad is available in 6 inch pad and 12 inch pad. The smaller drum pads are great for either a small kid just starting out or for somebody who wants to have a really small pad that is easy to bring when travelling. The 12" is the best size in many ways, since it fits inside a standard snare drum basket. Of course you can put it the pads on flat surface, like a table, but if you are practicing at home it's generally better to play on your practice pad as if it was a real drum with a real feel, getting the right angle and posture every time you go for a practice session, so that you don't develop any bad habits.
These double sided practice pads have neoprene on one side and gum rubber on the other. The neoprene surface is hard and is good if you're looking to get a proper workout without getting evicted and the soft rubber side gives you the best rebound.
Pros:
+ 6 or 12 inch pad
+ Double sided with neoprene and gum rubber
+ High-quality
Why We Liked It - The Evans 2sided practice pad is everything you need in a drum practice pad, everything else others might have is just something extra that you don't actually need.
With two different sizes to choose from you can have two pads, one that you can easily bring with you in your bag and a larger one that resembles a snare drum better. The two sides let you either get a tough workout or just practice normally.
Ready for something special? We thought so. That's why we've included this Drumeo P4 practice pad in our list. Drumeo themselves actually claim that it's the best practice pad on the planet! We're not sure why they don't go ahead and call it best in the universe, since we doubt there are any in space, anyway it's an extremely nice pad that does stand out from the others.
The Drumeo P4 practice pad has four playing surfaces on three skill level options and the idea is that having them all on one side allows you to move around as you would on a real drum set, just way smaller and quieter.
Just like the other pads the purpose of this one is to help you with your speed and control, but the different surfaces are meant to boost your creativity as well, which doesn't really happen much when you use the traditional pads. The top surface is pretty cool and reminds us of a ride cymbal, while the other does replicate the feel of a snare drum, a hi-tom and a floor tom.
Pros:
+ Best practice pad in the world - although many other great pads available!
+ 12 inch pad
+ Snare drum surface, Hi-tom surface, Floor tom surface, and Ride cymbal surface
Why We Liked It - Let's put it this way; there's a reason they call it the best pad on the planet. They have really thought outside the box for this one and the result is amazing! The more we think about it, the more sense it makes that this is the best way to practice, since drumming is about so much more than just beating a single practice drum. However, we know that practice makes perfect!
3. Remo Tunable RT-0008-00
If you don't feel like spending too much on drum practice pads this remo tunable practice pad might be the best for you. The pad is available in three different sizes, 6", 8" and 10".
It is tunable so that you can get exactly the bounce you want, and the bottom is gum rubber surface coated so that it doesn't slip or scratch the surface underneath it.
This remo practice pad is a good option for kids and beginners that just want something that works and don't really care about fancy materials and features. It's actually good that there are simple products like this one, because not everybody feels like spending a fortune on something that nobody else will ever hear be played.
Pros:
+ Available in 6", 8" or 10"
+ Tunable
+ Anti-slip/scratch rubber bottom
Why We Liked It - The Remo Tunable pad is a good budget option when you want to get a drum practice pad but at the same time don't feel like spending too much money on it. Choose which size you need depending on how often you will use it and if you need to bring it with you. The rubber bottom makes sure that you don't scratch any tables and it doesn't slip away when you're playing.
This one is a slim-line drum pad that rolls up to easily fit in your pocket or bag, which makes it extremely portable. There are drum rudiments dyed into the surface that helps you practice in the best way possible, learn new patterns and get reminded of familiar ones. They can also be helpful when coming up with fills. Since the drum rudiments are dyed in and not just printed on they don't rub off.
The pad is super durable, you can wash it in a washing machine and it's practically indestructible, using it for what it's supposed to won't ever break it.
It's 9" and made in the U.S.A. from the same material you find in a mouse pad. This means that you could actually use this as a mouse pad, and might we add, probably the best-looking mouse pad ever!
A really good product to always bring with you for when you suddenly feel like drumming.
Pros:
+ Rubber pad
+ 9 inches
+ Drum rudiments
+ Indestructible
Why We Liked It - Such a great product, this must be the best gift for any drummer. Just think about it, if they against all odds would feel like they don't need it, they can always use it as a mouse pad! The drum rudiments are both nice looking and functional, since they can help you improve and learn and the quality of the drum practice pad is amazing.
This drum practice pad is 10" and gives you a good bounce feeling. It is tunable and comes with a plastic rim and anti-slip bottom so that you can play without worrying about the pad sliding away. You get a pair of drum sticks and a carrying bag with it as well, so that you're good to go and play wherever you wish. The sticks unfortunately don't fit inside the bag.
A good, standard practice pad that's best for drummers that just want something simple that does what it's supposed to do.
Pros:
+ 10 inch pad
+ Affordable drum practice pad
+ Good for beginners
+ Anti-slip bottom
Why We Liked It - This feels like the classic, standard drum practice pad you probably had in mind when you started reading this list. There isn't anything special with it, but not anything bad either, it's just a simple drum practice pad, and sometimes that's all we need!
Next up is this drum practice pad from Tosnail. It's 12" and available in blue or grey. This is a one-sided drum practice pad with a sponge on the other side that will prevent slipping and also make the pad quieter - even for the heavy hitter! The rubber on the side you play on is environmental friendly and the best thing is that it's odorless.
A couple of 16" drum sticks are also included in size 5A, you can learn to improve your stick control! This is one of the top drum practice pads to buy if you want it to be as quiet as possible. It's pretty big and thick, so probably not the best if you're going to travel with it. However, that shouldn't be a problem if you're just going to practice at home.
Pros:
+ 12 inch
+ Quiet tones
+ Available in blue or grey
+ 5A drum sticks included
Why We Liked It - A sturdy drum practice pad that no doubt can take thousands of beatings. It's available in blue or grey and is really quiet because of the sponge that sound proofs it. It's 12" which is the best size to fit into a standard snare basket. It's pretty cheap as well!
The Ultra portable Practice Pad is the top drum practice pad for drummers who are always on the go. Whether you want to practice the drums in school, at the bus or in the park, this drum practice pad is everything you need. It's only 6" and is really quiet, it's probably the quietest we've tried, so if you want something quiet, this is the best.
The material is something extra, it's sticky and sticks to practically any playing surfaces. When it gets dusty you simply rinse it with water and dry it and it regains its stickiness.
This virtually silent drum practice pad weighs less than half a pound and seems to be very durable. The greatest drum practice pad to bring with you at all times! The fact that it's eco-friendly is a big plus as well.
Pros:
+ 6 inch
+ Super quiet tones
+ Sticks to any surface
+ Eco-friendly
+ Weighs less than half a pound
Why We Liked It - We really like this little drum practice pad because it's so easy to bring with you, since it's small and lightweight. It sticks to any surface which makes it possible to practice anywhere and it's really quiet so you don't disturb anyone. It's probably best to have this as your 'on the go-pad' and have another bigger one at home.
Number 7 is a 10 inch drum practice pad from Sabian with specially developed mesh drum heads that really feel like a real snare, just much quieter. This is an excellent option if you don't want to compromise the real drum feeling, but don't want to disturb your neighbors either. You can almost replicate the feel of a real snare.
It's tunable so that you can change the tension in the head, and even though you might not hear a big difference in pitch (which frankly is quite irrelevant when using a practice pad) you will feel the difference in the bounce. It's lightweight, and it feels like really great quality.
Pros:
+ 10 inch
+ Specially developed mesh
+ Very quiet
+ Tunable
Why We Liked It -This is the best choice for somebody who wants a simple practice pad that is high-quality and very quiet. It's tunable so that you can get the best tension for you and it feels much more like a real drum than most other drum practice pads.
Most of the practice pads for drummers we have looked at so far are made of rubber, so now it's time for something else. This pad is made with silicone instead of a gum rubber surface. The best things about the silicone is that it's non-toxic and it's very durable and quiet.
The drum practice pad is 12" so it fits inside a standard snare basket, meaning that you can practice at your drum set which is the best, but the dinner table works almost just as well. It's soft, bouncy and responsive, just like Tromme they describe it and it's available in grey and red. A carrying bag is included so that you can bring it with you.
Pros:
+ 12 inch
+ Available in grey and red
+ Silicone
+ Bag included
Why We Liked It - A silicone practice pad that is very quiet and the best quality. It's 12" and available in grey and red and feels really nice to practice quietly with. A bag is included, which is nice. The silicone it's made of is even more durable than a gum rubber pad that most others are made of, and this practice pad will definitely last you a long time.
We're going to finish with a really nice-looking practice pad from Scalze. It's double sided, and one side is yellow and the other is black. One side is soft and one hard, and both are useful in different situations. The soft side is quiet and is good for practicing speed, and the harder side is good for a workout when a little bit of sound doesn't hurt.
The practice pad is 8", so it's pretty small, and made of the best silicone and laminated wooden base to make it as strong and durable as possible. It's lightweight as well, which is the best when you bring it with you on the go. Overall a very good drum practice pad that doesn't disappoint!
Pros:
+ 8 inch
+ Yellow and black
+ Double sided
+ Silicone
Why We Liked It - A great practice tool that is double sided and made of silicone to make it last a lifetime. The design looks good and it has one yellow and one black side. It's pretty small and lightweight and easily fits into a bag when you need to take it with you for drum practice.
Drum Practice Pad Buyers Guide
Read below for our full buying guide on Portable Practice Pad tools for Drummers.
1. Top Pick: Evans realfeel 2Sided

When we selected our Top Pick we wanted to choose a practice pad that any drummer could be satisfied with, and we decided to go for Evans realfeel 2sided practice pad. We think it's really good that they offer this product in two sizes, namely 6" and 12". No matter if you want a small drum pad that you can easily bring with you or a larger drum practice pad set to practice at home this is one of the best ones out there. No matter if you want to practice new rudiments or have a proper workout this pad is the best - almighty realistic feels.
The practice pad has neoprene that is hard single sided and soft gum rubber on the other side, that feels a little bit more like a real drum. This is a really good product that works for any drummer, whether you're a beginner or a professional. Even if you might not need the harder rubbers side as a beginner, one day you will need it, and then it's good that you already have a double-sided drum practice pad so that you don't have to go and buy another one.
This practice pad is really high-quality and is fortunately pretty affordable. Totally worthy of being our Top Pick!
2. Premium Choice: P4 by Drumeo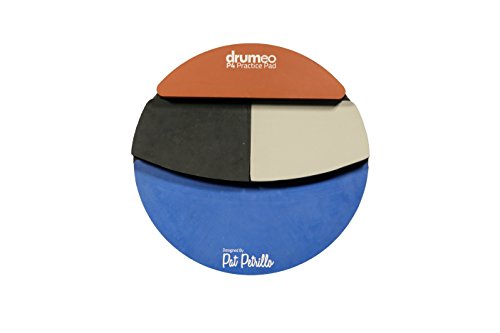 If you are a professional drummer (or desperately wants to become one), you might want to find the best premium choice that perhaps costs a little extra but is totally worth it.
What could be a better Premium Choice than the world's greatest drum practice pad? What is it that makes it the best?
It has four different surfaces with different qualities, resembling a snare drum, a hi-tom, a floor tom and a ride cymbal, it's like a miniature drum kit! This allows you not only to practice the same boring stuff over and over again but really helps you to be creative. It's 12", and is high-quality and really the only pad on the market (as far as we know) that offer so many different possibilities.
If you want to take your drumming to the next level, this is definitely the way to go! It's simply the best!
3. Great Value: Remo RT-0008-00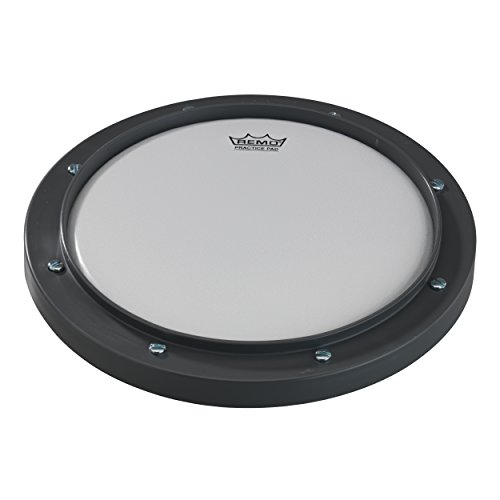 It's time for something cheap yet good! Our Great Value is this little pad from Remo that comes in three different sizes, 6", 8" and 10". You can get the right bounce easily since it's tunable and it feels good to practice on. It has rubber underneath so that it doesn't slip away when you're playing or scratches the surface it's on.
This is a practice pad that does what is says on the box, and even though it might not be as good as our Top Pick or Premium Choice, the price makes us forget about that in an instant. We always love a good bargain and we feel like we've definitely found one!
What is a good Drum Practice Pad for Beginners?
Number 5 on our list from Ammoon was specifically designed for new drummers. We also believe that number 7 would be good for beginners since they can bring it with them at all times and therefore manage to squeeze in as much practice as possible. Our Top Pick, number 1 is probably the best for beginners, since the double-sided practice pad will be useful as you get more advanced.
What size Drum Practice Pad do you need?
The sizes available are 6", 8", 10" and 12". What size you need depends on how often you're going to bring it to school, work, travel, etc. What's good to keep in mind is that if you want to be able to fit it inside a snare stand basket and use it as if it was a real drum and not just keep it on a table, you will be best off with a 12".
Why use a Drum Practice Pad?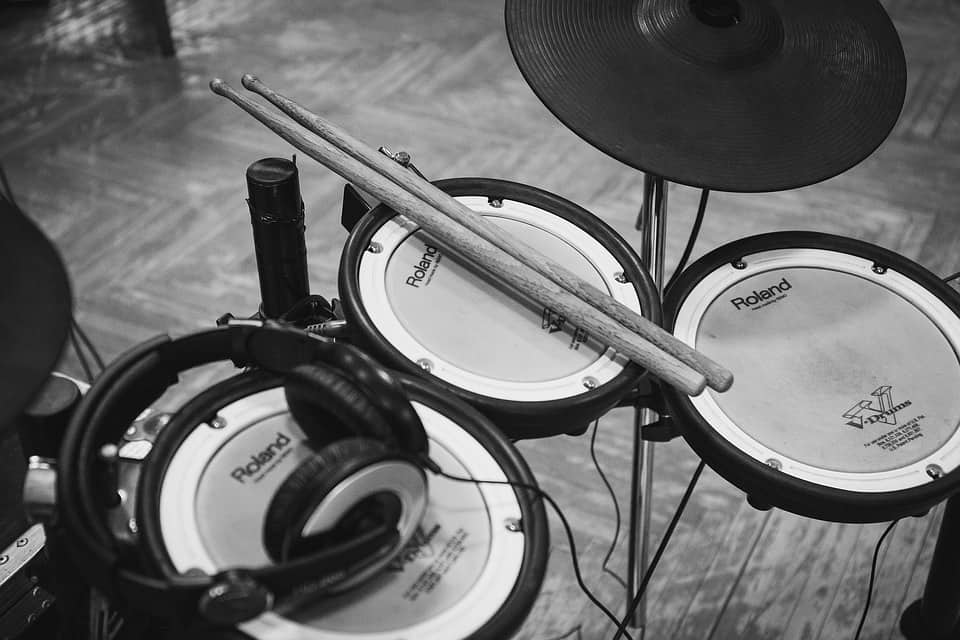 Some might feel like this is a silly question, while others seriously wonder why they should spend money on a pretend instrument nobody will ever hear. So why use a drum practice pedal? The fact is that every drummer who is serious about making progress should have a practice pad for obvious reasons.
Nobody wants to hear a drummer practice for one or two hours every day, so unless you live alone in the countryside without any neighbors you will need one. They're really good to practice new stuff on, so that you can get good at it before you start making some serious noise on your acoustic or electronic drum sets - click here for the guide.
How to clean a Drum Practice Pad?
The easiest way to clean it is with a glass cleaner and a rag, it doesn't have to be harder than that! If the pad has a bottom that sticks to surfaces and it has become dusty or dirty you can wash it with water when it's dry the stickiness will come back. You can also clean your practice pad with water and dish soap. Make sure that you clean it regularly and it will be easier to clean.
For the study incorporating six drum pads interactively - click here.
If you've enjoyed this review by Music Critic, please leave a positive rating: