Very few things last forever, and drum heads are no exception. It's probably no surprise that you have to replace them once in a while. But how can you find out what the best drum heads are? It can be a daunting task, since they all are pretty similar, but having good drum heads can change the sound of your drums dramatically!
We want to help you out! We've searched the world wide web thoroughly and have found ten different types of heads that have gotten the best reviews out there. We've both read about what professional drummers and amateurs think about them and listened to them in action to make sure that the sound is simply top-notch. Our reviews of these drum heads tell you everything there is to know about them in order to make a decision.
We've also thrown in some information that includes everything you need to know when making your purchase. We're hoping this will help you choose the perfect drum heads for you!
Let's take a look at ten of our favorite drum heads for drum kits! Try to find three or four that you can compare to each other and look them up on YouTube so that you can compare the sound as well!
At a glance:

Our top 3 picks
Our team's top 3 recommendations
Best Overall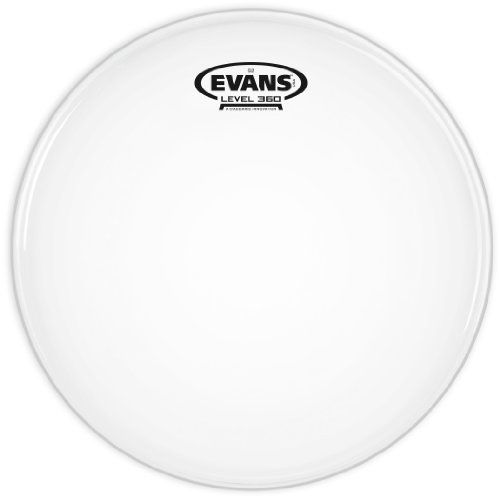 Evans G2 Coated Tompack

Many different sizes
Versatile
Durable
Premium Quality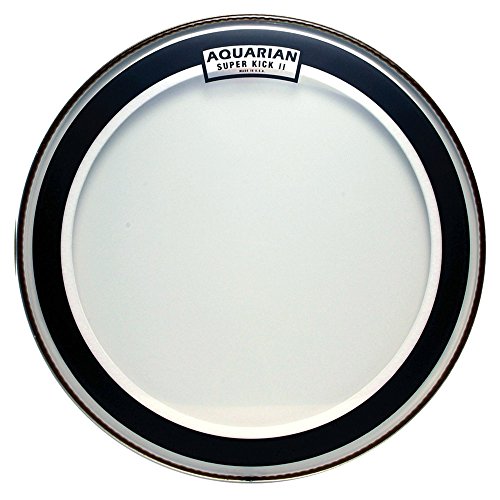 Aquarian SKII22 Super-Kick II

Many different sizes
Versatile
Durable
Great value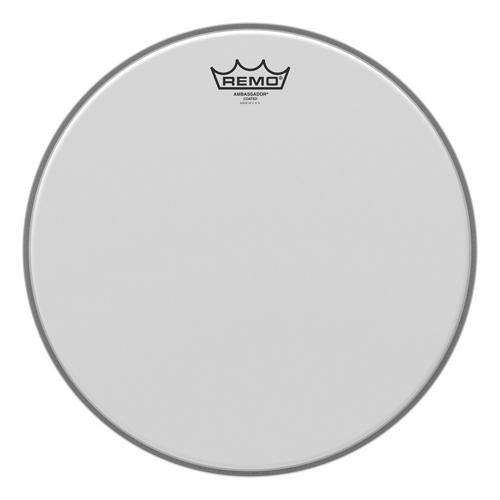 Remo Ambassador Coated

Many different sizes
Versatile
Durable
What are the Perfect Snare & Tom Heads for my Drum Kit?
1. Evans G2 Coated Tompack
We're starting out our list with really good all-round drum heads from Evans. They are many drummers' favorites since they're so versatile and have a good sound that works for most genres. They're perfect if you know that you need new drum heads but you're not sure about what you need.
Here is a YouTube video where you can listen to these drum heads!
Sound
The coated drum heads have a warm tone and lots of depth but still providing a good attack. This means that they have a nice tone that works well for most types of genres and drummers.
The clear ones will make your tone brighter and are perfect for jazz and other easy-going genres.
Features
The Evans G2 Tompack are 2-ply drum heads, which makes them durable and able to take a good beating! They are either coated, which makes the tone warm and nice, or clear for a brighter tone.
Size
You can get the Tompacks in three different packs of three. There is the Standard pack (12", 13" and 16"), Rock (10", 12" and 16") and Fusion (10", 12" and 14").
Suitable for
These drum heads are really good for drummers who don't really have a specific genre they always stick to but play a lot of different music. We're imagining a student that might play percussion in a symphonic orchestra one night, the next she's rehearsing with her rock band, and another day she is playing cheesy love songs at a friend's wedding.
Pros:
+ Many different sizes
+ Versatile
+ Durable
Why We Liked It - Evans G2 Tompack is the way to go if you want something that won't let you down, no matter what kind of music you like! We couldn't even find a single bad review online, only four and five-star reviews! You can get them as coated or clear and they're available in many different sizes so that you can be certain to find drum heads that works for your drums! Check out the Evans G1 as an alternative.
Did you know?
Evans drum heads are designed, engineered and manufactured in the USA, which is not just a sign of high quality, but also very environmental friendly since they haven't travelled across the globe.
Thick or thin - The thickness of the drum head plays a significant part in shaping the sound of the drum. If you want a sound with more projection and more sustain, go for a thinner drum head. The drawback of a thinner head is that it does produce more overtones. Thicker heads don't have the same sustain, but they offer a tighter sound with more control.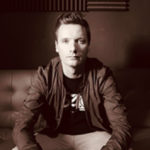 2. Aquarian SKII22 Super-Kick II
Let's talk about bass drums for a while. Are you tired of having a pillow in your bass drum? Get a Super-Kick II drum head and you will never have to worry about that ever again! This is the top bass drum head on the market. Aquarian themselves say that: "The patented "Floating Muffling System" is made of felt for a pre-dampened, yet natural sound. The felt moves and "breathes" with the drum head." In other words- this is what every drummer wants!
Check out videos on youtube where a guy working in a music shop explains a little bit more about the drum head and demonstrates it:
Aquarian Super Kick II Review - George's Music
Sound
The sound is everything you've ever wanted from a bass drum head. It's low and punchy with a perfect balance. It sounds really good and you won't have to use any kind of extra dampening.
Features
This is a clear, 2ply bass drum head with a built-in floating felt muffle ring that dampens the sound well. Or, simply put; you're going to want to double kick this bass drum head all day long and it will stay put and sound great every single time!
Size
The Super-Kicks are available for 16", 18", 20", 22", 24" and 26" bass drums.
Suitable for
This is an awesome bass drum head that is perfect for every drummer, no matter how skilled or what genre he/she plays with his or her drum sticks (click for top 10). If you have ever wished that you could get a nice-sounding bass drum without having to tamper with it, then this is the product for you, my friend! We are pretty sure that any drummer could fall in love with it! It's just incredibly good!
Pros:
+ Built-in floating felt muffle ring
+ Great tone
+ Durable for the heavy hitter
Why We Liked It - This is without a doubt one of the most amazing drum heads for bass drums you can lay your hands on! The felt muffle ring makes your tone sound exactly like a bass drum should sound, and you can finally remove that pillow and enjoy having a clear, see-through drum that sounds great and is extremely durable for the heavy hitter!
3. Remo Ambassador Coated
Let's take a look at number three, Remos Ambassador Coated drum head. If you're not quite sure what kind of drum head you need, why not go for the world's most popular drum head? At least this is what Remo themselves claim that the Ambassador Coated snare is. And we wouldn't be surprised if it's true since it's really good. Don't believe us? Watch this video and listen to a guy playing it!
Remo Coated Ambassador Snare Batter Head
Sound
The tone of this remos ambassador coated snare drum head is very warm and open due to the coating, and it has a bright attack and controlled short sustain. It works well for music that doesn't require too much hard playing and is perfect when you want a charming tone with lots of character.
Features
This is a 1-ply drum head with a 10-mil coated film. This means that it's pretty thin, so it's best for genres that don't require a lot of heavy playing.
Size
The Remo Ambassador Coated is available in all sizes between 6"-40" and can therefore be used for bass drums, snare and toms.
Suitable for
We have a feeling this might be the world's most popular drum head because it's so good for beginner's and amateurs. It's cheap and it works well for genres like pop, jazz and blues. This doesn't mean that it's not good for more advanced drummers though, as it's a high-quality drum head. We wouldn't recommend it for genres like heavy metal and other types of rock, but if you are more into playing a light accompaniment then it's perfect!
Pros:
+ World's most popular drum head
+ Cheap
+ Many sizes available for all your drums
Why We Liked It - If you want to find affordable drum heads for your whole drum set, this might very well be a great option! Especially if you're playing genres like pop or jazz and want a 1-ply, coated drum head that gives you a nice, living tone. Remo is a well-renowned brand that many drummers have great confidence in and that you can trust too.
Did you know?
Remo D Belli invented the first successful synthetic Mylar drum heads, which is standard today, in 1957!
Warmer sound - Lots of jazz, blues, and gospel drummers prefer a warmer sound from their kit. One of the things that help them get that warmer sound is the kind of drum heads they use. Clear drum heads tend to have more attack, while coated drum heads usually sound warmer and sing out a little more. If you want that warm sound, go for coated heads.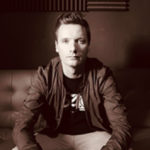 If you want to find a truly versatile bass drum head you should check out Evans EMAD2! This drum head has an externally mounted adjustable damping system that lets you achieve exactly the tone you need.
Sound
No matter what sound you're looking for chances are high you can achieve it with this drum head. You can choose to use either the wide or the thin ring to get different tones. It's one of the most versatile drum heads for bass drums.
Features
The drum head is 2-ply, the outer ply is 6,5mil and the inner ply 10mil. The externally mounted damping system lets you choose to use the thin ring if you want a good punch but still keep your resonance, and the wide ring maximizes the low end and attack.
Size
The EMAD2s are available in all sizes between 18"-26", suitable for any bass drum.
Suitable for
Any drummer who wants to have more control over the tone of their bass drum. Especially drummers that play lots of different genres will benefit from this drum head that lets them dampen the sound as much as they want. We would recommend this for more advanced drummers since we believe that beginners won't benefit too much from all the extra options.
Pros:
+ Available in all bass drum sizes
+ Adjustable damping system
+ Versatile
+ Considered much more easy to tune
Why We Liked It - This is a really good bas drum head for any drummer that wants to be able to change the dampening in an instant. If you play different genres and don't want your bass drum to always sound the same, this is the drum head to go for!
Did you know?
This drum head uses Evans Level 360 technology that makes it much more easy to tune and gives you the widest tonal range possible.
It's time to learn more about Remo's Ambassador Hazy! Up until now we've only been talking about the top drum heads that get the drum beating, but what about the other side of the drum? Which drum head you use there will also affect your tone. Look at this YouTube video and compare different types of heads, you will understand what we mean!
Sound
Remo drum heads will give you an open, resonant tone that is well balanced. It's amazing what a difference it makes even though it's not on the side you play.
Features
This is not the kind of drum head that you hit, but the type that goes on the opposite side. It's super thin and delicate and is not meant to be played but will simply make your tone sound better.
Size
The Remo Ambassador Hazy are made for snare drums and available in sizes 8"-16"
Suitable for
Any snare drum can benefit from these snare heads that will make anything you play sound a little bit better. It will give more life to your tone and a good resonance. This is a drum head for the picky drummer that really wants to get the best tone possible. It's not something that a beginner needs to care too much about, it's not a product you simply can't live without, but it will enhance your tone.
Pros:
+ 1-ply to help your resonance
+ Better sound from your snare drum
+ Cheap
Cons:
- Not everybody will notice a big difference
- Quite sensitive
Why We Liked It - This is a great product for drum nerds who want to do everything they can to make their snare drum sound perfect. It's not something that beginners need to think about, but more advanced drummers should definitely consider getting one! It's very affordable as well, so there's nothing to lose!
Did you know?
It's called hazy because it's somewhere between clear and coated.
Looking for an invention that will revolutionize your snare drum? Look no further, you've found it! The Genera HD is one of Evans most popular drum heads, and for a good reason!
Sound
This drum head provides you with a very controlled sound. All excessive overtones and extra resonance are eliminated and your snare drum will sound just like it's supposed to do.
Features
This is a 2-ply drum head with an outer ply of 5mil and an inner ply of 7,5mil film. This means that it's durable, which is, of course, essential for a snare drum head.
It also has a 2mil overtone control ring on the outside to eliminate excessive overtones and control short sustain. The dry version has small vent holes around the edge that will make your sound tighter.
Size
It's available in 12", 13" and 14".
Suitable for
Any drummer who wants to have a snare drum that sounds great would be happy to have this drum head. The overtone control ring makes sure that your tone is just that, controlled.
Pros:
+ Overtone control ring that eliminates excessive overtones
+ Durable
+ Great sound
Cons:
- We couldn't find any bad reviews for this drum head!
Did you know?
Evans have been owned by D'addario since 1996 and both are drum set brands we know well for delivering high-quality products.
Why We Liked It - We really like this drum head! It makes any snare drum sound a lot better and is good for any genre, really. The overtone control ring keeps your tone nice and tidy, so to speak. No clutter in the form of excessive overtones, just a nice, sharp sounding snare!
Perhaps you feel like trying something new? Maybe a reverse dot can be what you've been needing without even knowing it? This is a really cool drum head that feels like a step in the right direction in the evolution of drum heads!
Sound
Evans promises that Evan's 'Edge Control' technology will "eliminate the mid-range frequencies that muddy up the mix, leaving crisp highs and deep lows." The sound is controlled but has still got a nice resonance and good focus and attack.
Features
A double ply drum head that is very durable - great for a heavy hitter. The reverse dot in the middle helps to keep your tone focused and removes unwanted overtones. It's really good that the dot is on the inside of the drum head, especially if you use brushes from time to time.
Size
They're available in 10", 12", 13", 14".
Suitable for
This drum head is perfect for drummers who want to have a very controlled tone minimize overtones that will make the tone indistinct.
Pros:
+ Reverse dot to make your tone perfect
+ Available in many sizes
+ Easy to fit and tune
+ Durable
Cons:
- There have been cases where the reverse dot has fallen off
Did you know?
Evans Level 360 Drum head technology "Enables perfect transfer of vibration from the head to the shell."
Why We Liked It - This is a really good drum head for snare drums that will take away those annoying overtones that makes your tone muddy. You will be left with a nice, clear and crisp tone. The reverse dot is great since it's not in your way while playing. It's also available in a single ply version with a reversed dot and a 2-ply version without it.
Have you read through our reviews and wondered when the drum heads for really heavy music are coming? My friend, it is time. The Remo Emperor X Coated is perfect for drummers who hit really hard and need a super durable drum head that can really take a beating! Remo claims that it's the most durable Mylar head in the world!
Sound
This drum head has a lower end than all the other drum heads in this list, and it's really responsive no matter how hard you hit. It has a focused warm tone and a reverse dot that helps tackle any unwanted overtones.
Features
This is a really thick drum head with two plies of 10-mil coated films, so it's incredibly durable and able to tackle whatever music you play. It also has a reverse black dot that, without being in the way, will eliminate excessive overtones and make sure that the sound is incredible every single time.
Size
The Emperor X Coated is available in sizes 10"-14" and is designed for snare drums.
Suitable for
Drummers who play heavy music, like metal or different types of music, and need a drum head that lets them strike as hard as they like. With this drum head you will never again have to worry about it breaking!
Pros:
+ The most durable drum head in the world - heavy hitter drummers can rejoice!
+ Reverse black dot to eliminate unwanted overtones
+ Focused warm tone
Cons:
- A little pricey
Why We Liked It - There is no question about it; if you're a rock drummer and likes to strike as hard as you possibly can, then this is the drum head for you. It's just the way it is, we don't know about any other drum head that is this durable and will give you such a nice tone no matter how hard you strike. We promise you, you won't be disappointed!
Next up is this drum head from Evans, the Clear 300. This is a side drum head, so it's not the kind of head you hit, but the opposite, the bottom of the drum, if you will. This is Evans most versatile side drum head, so if you want to exchange the one you have for something better but have no idea what to go for, this is a safe choice.
Sound & Drum Tuning Tips
This drum head will improve your tone no matter the genre and works well for any dynamics and tunings. It will help you get a controlled snare response and it's a clear upgrade from the side drum heads usually included with a drum set.
Features
This drum head is also called hazy because it's neither clear nor coated, but something in between. It's 1-ply and thin and responsive.
Size
This drum head is available in many sizes; 8", 10", 12", 13", 14" and 15".
Suitable for
Drummers who want to make their tone even better but don't really know exactly what to do about it should consider getting one of these! It's easy to only focus on the surface you're actually hitting and forget about the opposite drum head, but that would be a mistake as that drum head also affects the sound.
Pros:
+ 1-ply (singleply)
+ Available in many sizes
+ Extremely versatile
Cons:
- Not everybody seems to notice a big difference, however there definitely is one…
Why We Liked It - A good drum head that enhances your tone and is better than most! It's a must if you really want to make your tone sound as good as possible! Sure, it doesn't make a remarkable difference, but there is clearly some improvement!
"Remember that big, fat, low tom tom sound you heard on the classic rock and roll records? The sound that you could never get on your own? Now you can!" This is the beginning of Aquarian's own description of this drum head. Sounds all good, but what does it actually mean? Let us break it down to you!
Sound
So Aquarian regulator promises a big, fat sound. Do they deliver? Yes, they do indeed! This tom head will give you a very warm, full tone that is focused and without excessive overtones, just like they promise.
Features
It's a double ply tom head that is very durable. They have used a type of vacuum process that makes sure that the two plies are attached to each other without any air bubbles or wrinkles, which is supposed to make the sound as good as possible. They are specifically designed for loose drum tuning and it's sealed around the edge, which gives you a really deep, fat sound.
Size
These drum heads come for all your drums and are available in sizes 6"-26".
Suitable for
Drummers who want a really full, fat tone that is perfect for rock n' roll! You will get a warm, deep sound without using any damping rings or gels.
Pros:
+ Full, fat tone
+ Durable
+ No air bubbles or wrinkles between the plies
Cons:
- Not very versatile
Did you know?
Rumor has it that Audie Desbrow from the hard rock band Great White like these drum heads! We haven't gotten it confirmed, but it's a nice thought and perfectly possible since they are really good!
Why We Liked It - This is the drum head to go for if you want to have a full, fat tone with as little overtones as possible. It's available in all sizes, so you can use them for all your drums if you like.
Snare tuning - Tuning your drums becomes a faster and easier process each time you do it. Once you have your snare nicely tuned in a high range, there's a little trick to make significant adjustments quickly. By adjusting only the two screws that are facing you as you sit, you can get a wide range of sounds. Everything from a fat disco backbeat to P-funk and beyond.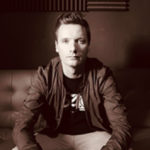 Drum Heads Buying Guide
What to Look for When Buying Drum heads?
Sound
There are a few things you should keep in mind when buying drum heads. There's the sound, the coating, whether it's a singleply head or double ply head, and if it has any dampening. But first things first! The most important thing when it comes to drum heads is, of course, the sound. If it wasn't for the sound you wouldn't even play the drums!
Which drum head you use can affect your sound to great lengths. It determines whether your tone is bright (high) or warm (low) and it also affects how many overtones you get. So this is clearly the most important aspect to keep in mind.
Without going into detail too much on how this actually works scientifically, we recommend you to consider how you prefer your drums to sound. If you have a favorite drummer, google what kind of drum heads he or she uses. Maybe you can buy the same ones and achieve the same kind of sound.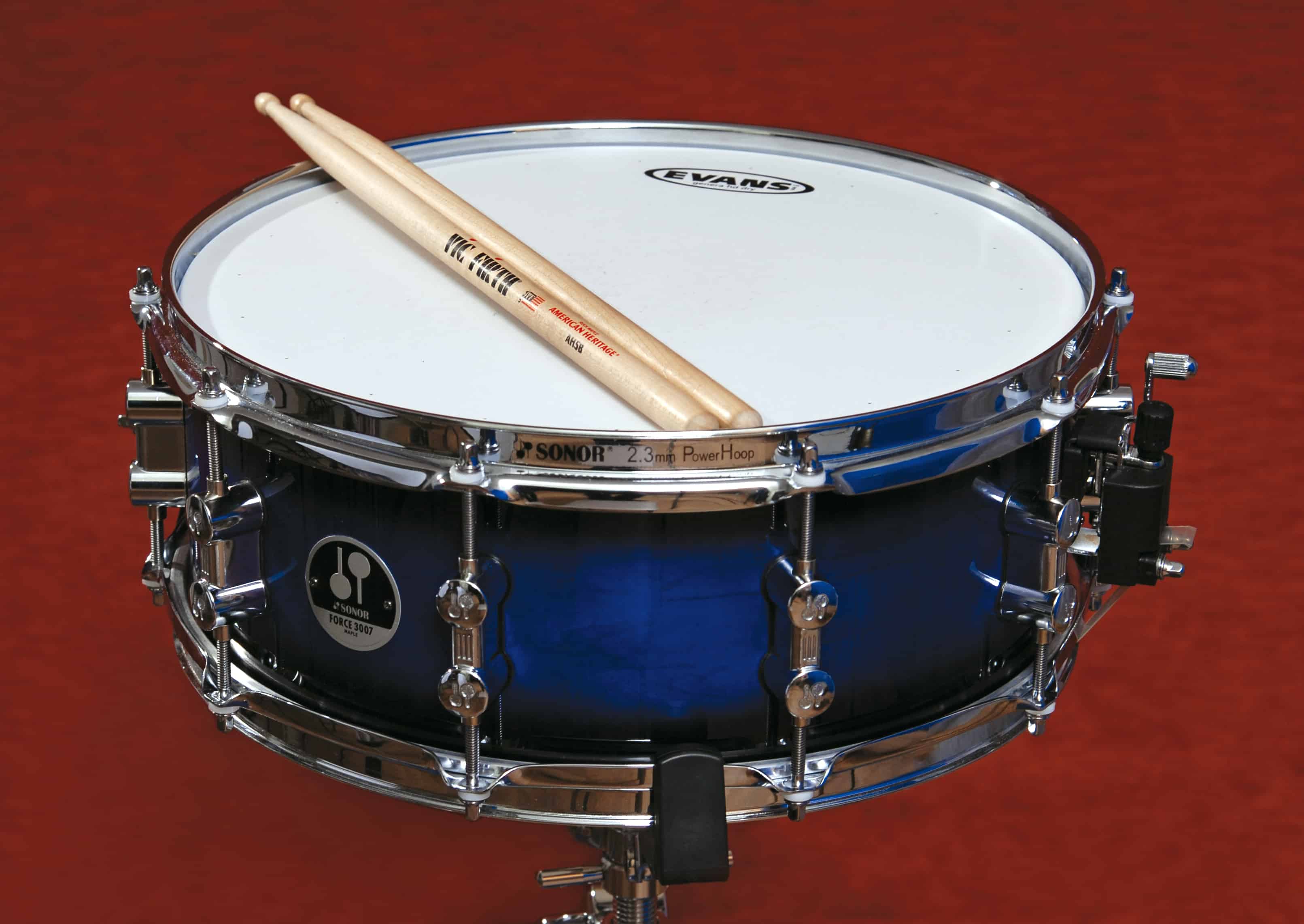 You can also try different types of heads for different musical styles in a music shop or perhaps try a friend's.
Some of the features that can alter your tone are different kinds of dampeners, that can limit your overtones, the thickness of the drum head and the coating.
Some drum heads have, for example, a reverse dot in the middle, that minimizes overtones. But, you might think. Overtones must be a good thing, right? Don't they add more dimension to your tone and make it fuller? Well, yes and no.
There is a risk that excessive overtones make your tone blurry and indistinct, which isn't really the tone you want your drums to have. Therefore it can be a really good thing to be able to minimize them a little bit to give you a clearer tone.
Singleply or doubleply
There are two different kinds of drum heads, 1-ply (single ply) and 2-ply (doubleply head). It's exactly what it sounds like, the 1-ply is just made of a single ply, while the double ply thicker. Having a thick, 2-ply drum head is always a good idea if you're playing genres that require heavy hitting, such as heavy metal, and thinner, 1-ply drum heads are better for lighter genres, such as jazz.
Coating
A drum head can either be coated or clear. A clear drum head is generally brighter and a coated warmer. The clear drum heads are suitable for lighter genres and the coated for tougher music, however, this isn't always the case.
What Drum heads Should I Use?
After reading about the different features of drum heads, you might feel a little bit confused. How can you know what drum heads you should use? Don't worry, we'll try to help you out!
What drum heads you should use depends a lot on what genre you're mostly playing. Ask yourself what genre you play the most and what your needs are. You need to pick drum heads that are designed for the particular playing style and that has a sound that you like and goes well with the music you're playing.
Think about the drum heads you already have or previous ones. What have you liked about them and what have you been annoyed by? This will give you a clue as to what to look for.
What Snare Drum heads for Rock?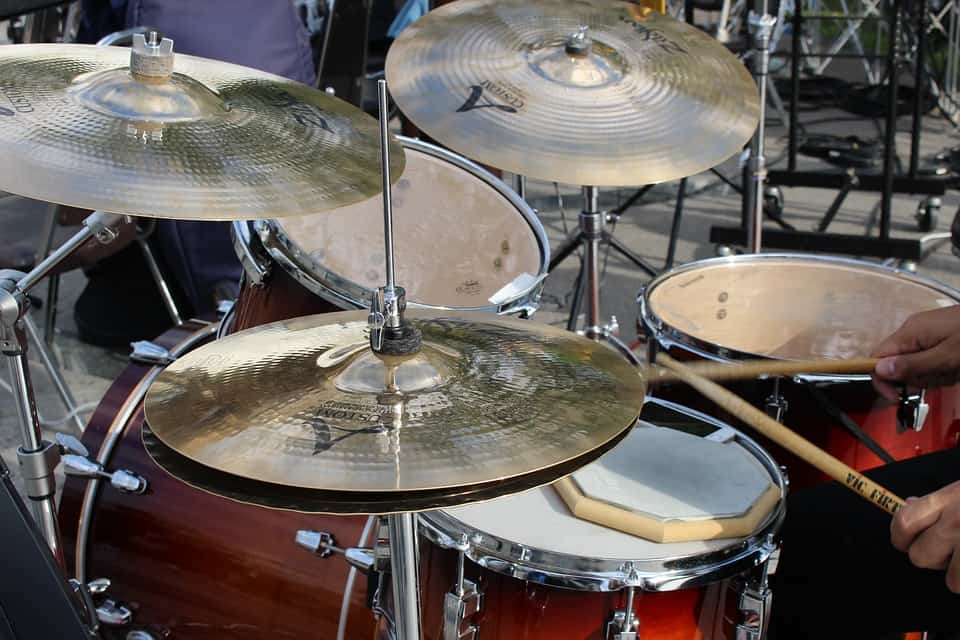 So, bearing the last question in mind, you might wonder what drum heads are best for rock, and particularly the snare drum heads, since they're so well-used in rock music.
We recommend that you get a coated 2-ply drum head for your snare drum if you are into rock music. We have a few on our list that will do the trick!
Especially number eight, Remo Emperor X Coated, is amazing for rock music. It's actually the most durable drum head in the world! At least this is what Remo themselves say, and we have no reason to believe it isn't true!
What Drum head for Metal?
How about drum heads for heavier music, like Metal? Heavy Metal is one of the genres that give your drums the worst (or best!) beating, and therefore you need drum heads that really can stand a lot but at the same time sound good. You will need 2-ply drum heads.
Once again we can't help it but recommend the Remo Emperor X Coated. It's just the best when it comes to music that requires lots of heavy playing, it's super durable and has a really nice tone! You wouldn't want to constantly worry about your drum head breaking, so why not go for the one less likely to break?!
What Drum head Should I Use for Worship?
Perhaps you are looking for drum heads to use for worship? You don't want the drums to sound too much in church. You need drum heads that will enable you to provide a light, suitable accompaniment. We recommend number one on this list, Evans G2 coated Tompack. They're very versatile and should do the trick! They're sold in packs of three, so that will make your drum head hunt easier!
Well, that was a lot of information. Did you read through all the reviews? Did you read the Buyer's Guide? Did you watch the YouTube videos? If not, go back and make sure you don't miss anything, we want you to be able to make a good decision! It might feel overwhelming, but it's definitely worth it!
Finished? Great! Hopefully, you feel a little bit more confident when it comes to choosing your drum heads now. If you have a couple that you can't decide between, make a list with your own pros and cons and make sure that you don't only compare the facts, but also the sound for the snare.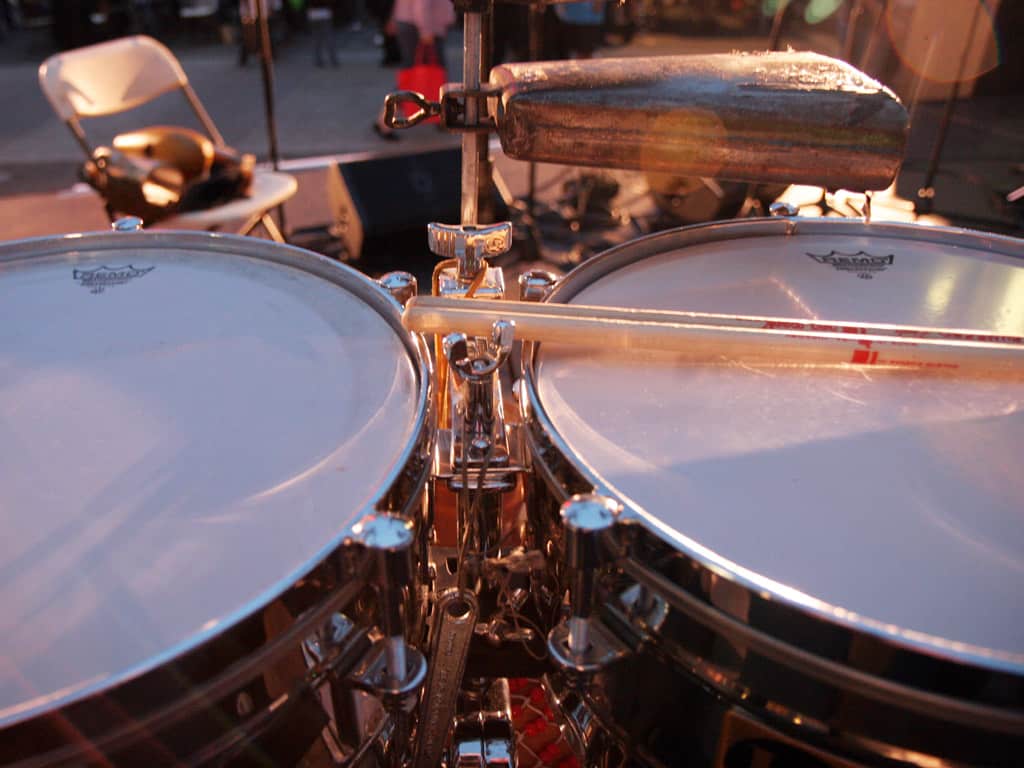 If you want to replace all your drum heads it might be a good idea to order one as a test, so that you don't buy them all and then realize that you don't want them. None of them are very expensive, so if you buy one that isn't perfect for you it's not the end of the world.
The sound is the most important thing, so make sure that you buy a drum head that is suitable for the genre you play the most.
Jazz drummers and metal drummers require different drum heads, so make sure that you read the reviews through thoroughly so that you get the right drum head for jazz or metal!
Thank you for your attention and good luck with your new drum heads!
Expert Tip:
The drum heads that came with your drum set when you first got it are probably not as durable and high-quality as the ones on this list. Even if they are from a good brand, they don't usually put the best stuff on the drum sets (really expensive drums are an exception).
If you've enjoyed this review by Music Critic, please leave a positive rating:
[vc_separator