Best ipad guitar interface
If we're searching for the best audio interfaces, the iPad is up there with other music production tools. In this article, we aim to give you a medium through which to plug your ax into your android.
Whether its to simply create a direct digital recording via a device you have on hand, or to get the most of the more advanced apps on offer, an iOS-compatible interface is quickly becoming a sought-after thing.
We've included a few versions of the same brand, to be able to give you a clear comparison of what the best types of audio interfaces for iPad are capable of and how they function, so you can work out what's best for the recording needs.
Most interfaces on the market are simply a bare-bones means to plug in and play. With them being relatively early in their development, these recording devices don't differ very heavily from one another.
Most are also fortunately enough, reasonably priced so there is no excuse not to give one a go, so let us compare.
At a glance:

Our top 3 picks
Our team's top 3 recommendations
Best Overall
Apogee Jam Plus

Easy Connectivity
No Battery Required
Excellent Sound Quality
24-Bit Recording
Compact Size
Premium Quality
Apogee JAM 96k

Easy Connectivity
No Battery Required
Excellent Sound Quality
24-Bit Recording
Compact Size
Great value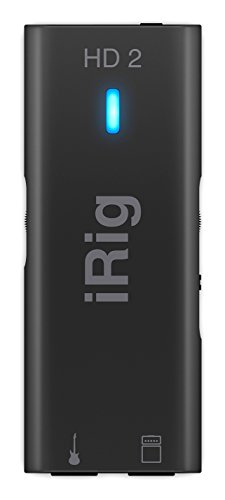 IK Multimedia iRig Guitar Interface

Easy Connectivity
No Battery Required
Excellent Sound Quality
24-Bit Recording
Compact Size
View The Best iPad Interface Below
Apogee Electronics is one of the few companies around that specializes primarily in audio interfaces. It's been focusing on this form of electronics for more than three decades. This product is a culmination of the expertise that Apogee Electronics has accumulated during this time.
The Jam + can be used easily with your iPad due to a USB and headphone output that's integrated into it. Your guitar's amp cable will input on the other end of the interface. As a result, you don't need a battery or external power source for this interface, as it will run off your iPad's power.
In terms of sound quality, it offers you 24-bit recording, which means smooth, crisp, and professional sounding audio. This interface also ensures that there is zero latency when you're using it either to monitor or record.
Weighing just 224 grams and having dimensions of 5" by 2.2" by 7.8", it's a portable, compact size and weight too.
Pros:
+ Easy Connectivity
+ No Battery Required
+ Excellent Sound Quality
+ 24-Bit Recording
+ Compact Size
Why We Liked It - It's an excellent little audio interface that delivers clear, crisp sound, as well as easy connectivity.
Efficiency - Convenience is key when it comes to working with ipad guitar interfaces. Your interface of choice should be compact enough so that it doesn't interfere with your recording set up. That being said, you'll also want to make sure that you have a long enough instrument chord as these interfaces primarily serve as adapters between the instrument and your ipad or iphone.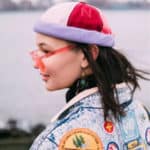 If the Jam+ that we've already looked at is a bit out of your budget, then the more basic Jam interface from Apogee Electronics is a worthy alternative. It is a more streamlined version that includes all the key features that you'll need.
There is an input for your guitar cable as well as a USB output that can connect to your IPad. This interface is compatible with all the other Apple devices you might have too, including the iPhone and Mac.
The sound quality is once again flawless. It provides you with HD recording, with a quality of 96Hz/24-Bit. The tone is smooth, clean, and we also found it to offer a lot of punch too.
If you're a multi-instrumentalist, then you'll likely be impressed by this interface's compatibility with electric basses and any acoustic instrument that has a pickup.
Pros:
+ USB Output
+ Compatible With Several Instruments
+ 96Hz/24-Bit Recording Quality
+ Punchy Tone
+ Easy To Use
Why We Liked It - It's a low-price alternative to the excellent Jam+ interface that's compatible with all Apple devices, as well as electric, acoustic, and bass guitars.
3. IK Multimedia iRig Guitar Interface
Next up we have an older version of the IK Multimedia iRig Pro, which has efficient engineering that works seamlessly with digital devices and ios devices. It has refined circuitry which provides high-definition signals that stay true to input.
The modern electronics of this audio interface allow it to have a streamlined high-tech appearance.
It's equipped to handle a range of guitars both passive and active. Like the Analog iRig above, this interface features a dual switch to select between and FX send and a clean Thru channel.
There is a ¼ inch input for your guitar and a dedicated ¼ inch output to send to your amplifier at the bottom, then at the top is an iOS device (Mac ) and PC in and out as, as well as a headphone mini aux out, meaning you'll always experience good sound quality.
It has a volume and audio dial for adjustable input gain from the get-go and comes with an iOS Mac, iPhone, and iPad copy of Amplitude, effectively giving you an entire recording studio in your pocket.
Pros:
+ Hi-Def.
+ DSP.
+ dedicated amp output.
Why We Liked It - It's a lot more capable than the company's entry-level model. The sound quality is better, the lag is undetectable, and it can be used far more freely in a live situation, thanks to the I/o combos.
Experimentation - Don't forget that you don't have to just use guitar with these interfaces! These interfaces are compatible with any instrument that supports a standard 1/4" cable. Experiment with amplifier and effects apps for some added flair, or simply record with Garageband to get the ball rolling.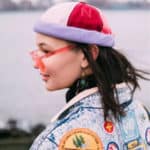 The Korg Plug KEY is another great audio interface. This is a stripped-back model that's easy to use and suitable for beginners.
This audio interface has a much better build quality than some of the basic options on the market and provides well-defined, true to signal sound quality and audio.
The ¼ inch connection is studio quality and is gold plated for better fidelity and quieter lines. It has a built-in iOS connection with a generous length and reinforced entry points, so you won't get a tear in the connection.
This audio interface features an input gain control and offers up a separate USB port so it can be used to charge your iOS devices directly during use. This feature is its saving graces, as it's something the others can't do, making the audio interfaces a little less practical in a live situation.
It can be used as a MIDI-in device, running between your remotes and your iOS iPad software, though we would say that it does suffer from a little MIDI choke, as they all seem to with iOS operation.
Pros:
+ Studio quality audio connections.
+ Built-in cable.
+ Charging port.
Why We Liked It - It is much higher quality, the layout is simple. It gives users good control and can be used whilst devices are charging, making it the best iPad MIDI interface for those whose device's power always run low.
The last option we're leaving you with is a flexible interface model from Tascam that offers up a little more versatility.
This interface is stocked with an XLR/TRS combo connection, which means it can be used for plugging in your guitar but also for using a microphone. This means it can be used for recording line and mic signals and, in conjunction with a decent DAW app, you can find yourself recording anything via your iPad with its help.
This iPad audio interface features a nice compact design that would fit in a pocket. The widest point is no bigger than a typical XLR connection. It has a switch to select instrument or mic and, of course, a phantom power switch to engage phantom power for condenser microphones.
As well as a phantom power switch, it is equipped with a volume and audio dial to give you input, gain adjustability, and has a headphone output for monitoring with, making it one of the best for music production.
Pros:
+ Versatile.
+ Phantom power.
+ Gain control.
Why We Liked It - It is surprisingly budget-friendly for its capabilities. It is a great iPad compatible audio interface option which handles, not just guitar, but vocals as well. We love the phantom power switch, with engages phantom power for condenser microphones.
iPad/iOS Audio Interface Buyers Guide
This week's buyers guide is simple, given that the functional nature of an iOS guitar audio interface is merely to act as a power go-between. Just like any other adapter, its primary job is to provide the correct connection for the device of choice - the best ones do this without any hassle. In this case, since the device is an iPad, it requires a lightening connection.
Your typical electric guitar emits its electronic audio and sound signals via a ¼ inch TS connection, which is often referred to as a jack.
Some devices allow for connection via a 3.5mm or 2.5mm TS or TRS (mini-jack), requiring an adapter that simply downsizes the tip of the Jack into a narrower form, similar to your headphone output. Except, obviously, an auxiliary input.
TRS is an acronym for Tip, Ring, and Sleeve. These are the names of the three incorporated conductors on the TRS cable.
A standard guitar cable has just two, having a tip-sleeve design, though they are sometimes mistakenly thought of as a TRS as well, as opposed to a TS cable.
Since Apple, along with a few other companies, decided to remove the once pretty handy and nigh-on universal mini-jack from their device designs completely, and replace it with a lightning connection, we now need a slightly more complex adapter with more power for your iOS iPad device. Who said music production was easy?
That is where audio interfaces come in and fortunately, a few are creeping onto the market to make life a little easier, and function as a middle man between your instrument and your iOS iPhone, iPad.
As you will have seen from our review highlights, they come in both digital and analog forms. The audio interface requires a little power to run and for recording, which is provided by the bus power nature of the lightning connection port.
Obviously, the end game is for a digital musical signal. Having an analog option means that greater fidelity to the original input is kept from the get-go, but a digital pathway has more power and is generally capable of a lot more in terms of enhancement and modification.
The fidelity of the signal is reliant on signal processing, digital processors tend to have more advanced and refined capabilities, allowing them to provide a higher-definition.
If you're playing or recording audio on your iPad for your personal enjoyment, bog-standard audio interfaces will probably suffice, but if you're looking to achieve something a little more professional, then you might want to pay the excess for a Hi-Def model to get the best of the best.
The best music production generally requires working at a higher resolution to start with because music is ultimately compressed when it's formatted for export.
Most music sharing and recording platforms require Wav or Mp3 formats that compress the file into a smaller size. This compression lessens the quality when recording, so its best to start higher.
Conclusion
There's no question, that the capabilities of iOS devices are becoming just as advanced as the functions of modern computer software.
With their portability and convenience, iOS devices are a quicker, more accessible route for many, and their intuitive touch-screen operation renders them a good tactile remote option as well.
We're getting to the point where we're seeing many iOS products run in conjunction with very impressive electronic instruments and equipment; the iOS audio is professional quality.
There are a lot of audio interfaces out there, such as the Focusrite iTrack, the Focusrite iTrack Solo, the IK Multimedia iRig Pro, the Shure MVI, Jam 96K, and Apogee Jam to name a few. The iRig Pro will differ and have different power options, features, and different ways of recording from the Focusrite iTrack Solo, so it's always important to find the best for you.
The best applications available for your guitars are less of a gimmick these days than they were previously considered, but if you wish to use one, you're going to have to cave and invest in a decent iOS compatible interface (whether that be Focusrite iTrack/Solo, or IK Multimedia iRig Pro).
We've shown you the best iOS audio interface options for music production and hope that they will have inspired you to shop. When it comes to audio interfaces, iPad and iOS have stepped up their game.
Expert Tip
If you are looking for an iOS audio solution with multiple channels, and have a significant budget allowance for recording, we would highly recommend the iConnectivity iConnectAudio4+ audio interface, as this might be the best iOS iPad interface for you and your recording.
Did you Know
The original ¼ inch jack connection is one of the oldest still in use today. It has largely remained unchanged since &1878.
If you've enjoyed this review by Music Critic, please leave a positive rating:
[vc_separator