The VT-1 came on to the market as a diverse piece of kit, skip forwards and we have the VT-3. It has become a staple for out of this world vocal transformations. That is to say, it is a pretty heavy-handed take, not ideal for most vocal applications but heaps of fun if you are on the hunt for a wilder range.
You can use this to produce a wide variety of synthesized effects, it takes the robot to the next level and you can easily find yourself lost for hours in hysterics with some of the more extreme settings. The VT-3 has met a lot of criticism for its onboard frivolity and because of this, there are a lot of mixed reviews. In our unbiased style, we are going to pick apart its capabilities and tell it like it is.
The VT-3 is a relatively simple device, suitable for inexperienced users as well as pros. It is hardily-manufactured with a traditional design featuring large controls. The sliders, encoder, and knobs have a durable, reassuring quality with just the right amount of resistance for the job.
It has a table-top profile and is pretty compact, so it will easily slip into any rig. It has a line-in and can be USB powered or used with an adapter, with the USB it is, in essence, a 24-bit audio interface and can be used as such on direct settings.
There are 5 main transformations with sub-settings that provide a total of 10 different transformations. They are controlled in a foolproof manner using just pitch and formant parameters. Both are manipulated by raising or lowering the fader controls. This makes operation super-simple and very intuitive.
The initial setting is labeled 'Direct', this is pretty much neutral the voice passes through without any real adjustments. You can adjust the direct mode with transposition altering your pitch with the lower adjustments thickening and the higher becoming airier until you have a chipmunk-like presence.
You can use the fader at the same time to help smooth things making it less synthetic. This gives it great versatility and means transitioning is far better than vintage models.
There are 2 pitch correction modes, that have an auto-tune style functionality. The first is fairly subtle and keeps up fairly well, so long as you aren't doing any diva-like, vocal gymnastics. The key is automatically pitched at C.
The second auto-tune is much more in the T-Pain territory, with much lower fidelity to the input and heavier correction. Again the delivery isn't slick enough to handle a run that jumps around a lot, you get an uncontrollable response if you tax it too much but this again could be viewed as a desirable transformation effect.
The Robot setting keeps things completely monotone as you would expect and you can again transpose up or down an octave incrementally.
Megaphone and radio provide fun filter settings, the former having a ringing-resonant vibe that is again very low-fidelity to your voice adding a special quality to it and the latter providing distortions.
The Vocoder setting is for completely artificial voices reminiscent of those early computerized readers or indeed, the late, Professor Hawking. The name for the transformer is a little misleading as you can't apply the settings to other signals in a traditional Vocoder style but it is a good fun tool for spoken voice ideal for DJs.
The Pad, Lead, and Bass transformers are all synth-based patches that add a drone to your voice. Finally, Scatter is an erratic unpredictable process, that gives your voice a glitch-like feel. We aren't sure exactly how you'll apply this one, as it so random but it is none-the-less pretty cool.
It has an XLR/TRS Combo jack and a powered 1/8'' mic jack. It also features a foot-switch connection, that you can use to toggle between the wet and dry bypass again useful for live settings.
Our Review of the Roland VT-3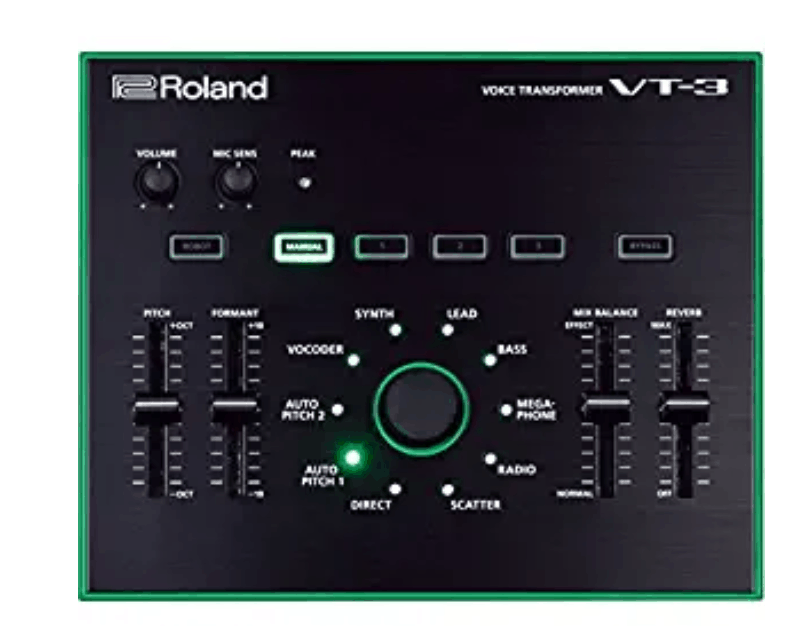 Summary
Despite the sillier sounds it can produce, in all seriousness, the VT-3 is an interesting piece of tech, that offers some advanced vocal processing capabilities. The wave-form manipulation on board is based on old-school Vocoders. It is a great investment if you want to be able to morph your voice in any manner on the fly.
It has easy functionality, the controls have been streamlined into a 2 parameter process, that keeps things simple and facilitates easy live-use. It offers a distinct variety of settings and is well-manufactured.
Pros
+ Durable build.
+ Facile operation.
+10 transformations.
+ Auto-tune.
+ Pitch and formant faders.
+ Designed for live use.
+ Foot-switch connection.
+ Reasonable price-tag.
Cons
- The Vocoder setting is a little disappointing, you cant produce chords with your voice, etc
Why We Like It
It is pretty sophisticated as vocal transformers go and whilst the Vocoder setting is somewhat lackluster, it does provide 9 other selections to play with. It has a great build quality and a small footprint. It is perfect for live use and ideal for DJ's you can achieve some classic Daft-Punk sounds and overall it has plenty to offer.
If you liked the article, please leave your feedback.