It's essential to work in an environment where you're comfortable. That's particularly true for producers, who need to be able to spend long hours at the work desk while perfecting new tracks. Having the best recording studio furniture for music-making can be as important as your instruments or DAW. That's why we've produced this article where you'll be introduced to some awesome pieces of furniture. For our review on comfortable studio chairs - click here.
As a music producer, then it's unlikely you're also a furniture expert. Fortunately, we've spent a significant amount of time researching this product so you don't need to. You'll find something for everyone on our list, with products in a variety of budgets, as well as different sizes and styles. The one feature that is consistent with each product on our list is that it will offer you good value for money.
We've also put an informative buyer's guide after our reviews. You'll find all the FAQs about this product there. By the end of the article, you'll be ready to make an informed purchase so you can create killer tracks in comfort.
Let's start with the reviews...
At a glance:

Our top 3 picks
Our team's top 3 recommendations
Best Overall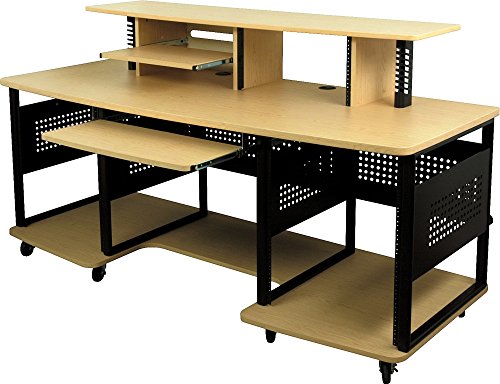 Studio RTA Producer Station

Ergonomic workspace.
5-Space top rack.
Dual 20-space racks.
Premium Quality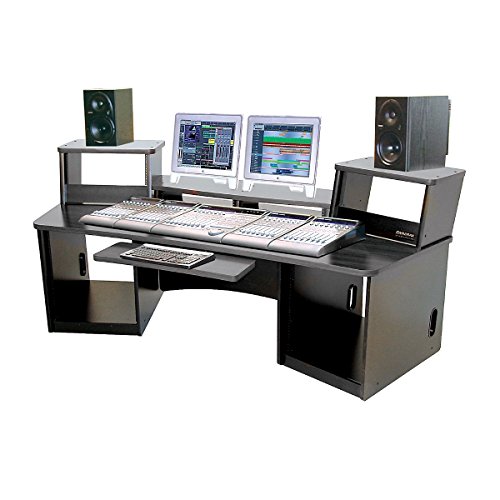 Omnirax Force Audio Workstation

Ergonomic workspace.
5-Space top rack.
Dual 20-space racks.
Great value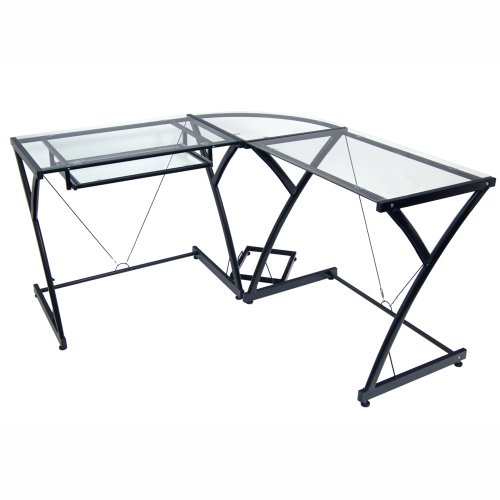 Walker Edison RTA Studio Desk

Ergonomic workspace.
5-Space top rack.
Dual 20-space racks.
What are the Greatest Recording Studio Producer Stations in 2023 ?
1. Studio RTA Producer Station
Sauder Woodworking Corporation is North America's leading producer of RTA (Ready To Assemble) furniture. From beds to studio workspaces this manufacturer builds it all. With state-of-the-art equipment and more than 2000 employees working in a 4 million square feet factory, this company is a reliable choice for furniture of all types.
This RTA producer station from Sauder delivers a huge amount of quality, which is why it tops our list. It offers you a huge amount of room for your gear, regardless of how much you have. The ergonomic design will also ensure that you don't get backache or fatigue during a long session.
As it's an RTA workstation, then you'll need to assemble it yourself. But as long as you follow the instructions in the manual carefully, then you'll find the process to be a breeze. You'll notice the solidity of the mahogany once you've put it together. It's simply a durable desk that can comfortably support all the weight of your equipment.
Let's have a look at some of its specs.
The main tier offers more than enough space for an 88-key keyboard. There are dual 20-space racks that deliver you space on your left and right to store other pieces of equipment. There's also an 8-space rack on the top of the station for further storage. CDs can be placed in the two 8-space holders that you also find on the station.
The main tier can also be used for an additional keyboard or monitor. There's enough room for a monitor stand too. If you want to keep your studio speakers safe then this sturdy workstation is ideal, in our opinion. For further keyboards, you can also use the two small, sliding tiers.
This product simply offers you a huge range of options. It will allow you to organize your gear in the most user-friendly manner so you can work effectively and in comfort.
Pros:
+ Ergonomic workspace.
+ 5-Space top rack.
+ Dual 20-space racks.
Why We Liked It - This product has it all. It's got a sturdy steel fame, hard-wearing sapele wood, and an ergonomic design, making it a versatile workstation that will perform well for a long time. A safe investment from a reliable manufacturer, in our opinion.
2. Omnirax Force Audio Workstation
Omnirax has come a long way since its early days as a small, point-of-purchase woodshop. The reason why it has managed to grow to such a size is down to its desire to research and analyze what its customers want. It's clear to see how that attention to detail has paid off with this superb product.
The Force Series from Omnirax is designed with music producers and video editors in mind. A focus on ergonomics is key to the quality that this product delivers. But it isn't just user-friendly. We think that it looks great too.
There's a wide monitor shelf that you can fit several monitors on at once. You also get 2-space bays that are ideal for speakers or similarly sized pieces of equipment. The base is sturdy and spacious enough for a keyboard as well as other gear beside it.
You get more than enough room for your computer on the 12-rack bottom bays. There's ample room between the bays for your legs too, which is ideal for taller producers.
We're also big fans of the non-removable, yet adjustable keyboard and mouse shelf. You can put it in the optimal position for comfort while you're working. This is particularly important for anyone working long hours as it will guard against you developing CTS.
It's surprising just how lightweight this workstation is, especially when you consider how much space it offers. At only 150lbs, you can easily move it around your studio. There are strong casters as well, so you don't even need to lift the desk if you want to change its position.
This is a professional-quality workstation that our team can highly recommend.
Pros:
+ Two 12-Space racks in the bottom end.
+ Wide monitor shelf for multiple displays.
+ Heavy-duty casters for mobility and easy cable management.
Why We Liked It - With wide monitor shelf, plenty of leg-room between the bottom racks and heavy-duty casters this workstation is a great investment, in our opinion.
3. Walker Edison RTA Studio Desk
Walker Edison is an innovative company that produces high-quality, stylish furniture that is very unique. The company's motto is "Live Outside The Box", and it's clear that this message is taken seriously. You only need to look at this wonderful workstation to see how different it is from the others we've already looked at.
It's a side, corner desk that has a sleek, minimalist design without extra shelves or drawers. If you're looking for style and simplicity, then this product should appeal, in our opinion. Some producers prefer to work in an uncluttered environment. That's what this product is perfect for. It's also ideal if you prefer to monitor your tracks via a headset instead of speakers, as you won't need lots of extra space for speakers - click here for great-sounding headphones.
There are two 21-inch rectangular desktops and a quarter-circle desktop for your gear to sit on. The desktops are made from tempered safety glass, which is both sturdy and durable, as well as enhancing the looks of this product.
To further enhance the durability of this product, it has strong steel legs that are powder-coated. There's also a computer stand and a sliding keyboard tray, which can be mounted on either side of the worktop, depending on what you prefer. If you work a lot with your computer when you're producing tracks, then we think you should consider investing in top-rated DAW software.
This attractive, yet simple L-shape corner worktop is a great option for a stylish home studio.
Pros:
+ Tempered safety glass desktops.
+ Strong, steel frame with powder coat finish.
+ Step by step assembling guide.
Why We Liked It - It's a gorgeous, sleek workstation that can help you save space thanks to its L-shaped design. The tempered glass worktops and steel frame combine to provide you with a lot of durability. This product is also remarkably cheap. It's a quality piece of furniture, we think.
4. Z-Line L-Shaped Computer Worktop
Next up we have another gorgeous piece of furniture that's made by an innovative company. Z-Line was founded back in 1995 with an aim to create ready to assemble furniture that's both functional and good-looking all for an affordable price. That's exactly what this product is too.
It's a simple, minimalist L-shaped workstation that you can put in the corner of your studio to make the most of the space inside the room. It's got a black, glossy frame and a tempered safety-glass work surface. Both these components combine to deliver the eye-catching looks.
These materials also contribute to the durability of this product. You won't need to worry about it buckling under the weight of your gear. It's also got reinforced plates on all welding joints, which provide you with even more strength.
The ergonomic design ensures that your monitor will be at a comfortable viewing angle thanks to the raised shelf you'll put it on. Your posture must be correct when working so you avoid back or neckache.
There's also a pull-out tray for your keyboard and mouse. It's also made from tempered safety glass, which means it is also durable and good-looking. Overall, this is a lovely workstation that is available for a very low price.
Pros:
+ Spacious desk.
+ Raised monitor shelf for comfortable viewing.
+ Desktops made from clear tempered glass for durability.
Why We Liked It - With a spacious desktop, a raised monitor shelf, and clear tempered glass this desk is a superb product. We can highly recommend it as an affordable, good-looking workstation.
5. On Stage WS7500 Music Workstation
This workstation has been made by The Music People. It's a company that designs furniture that's specifically for musicians and producers. This product proves that the company knows what it's doing.
The WS7500 music workstation desk is perfect for your recording studio. It delivers the key features that you'll need in terms of comfort, durability, and ergonomics. There's also ample space for you to put your equipment, despite the workstation being surprisingly compact.
It's got a rectangular, steel tube frame to deliver all-important sturdiness and durability. It can easily handle a significant amount of weight. You can load all your gear onto it without any worries, in our opinion.
The Z-frame helps to keep the workstation compact while offering you plenty of storage options. There's a slide-out keyboard tray, which is a good feature, in our opinion. We're also fans of the sleek design, which looks great.
This product has got it all. It's affordable, durable, and innovative.
Pros:
+ Perfect for a home studio.
+ Laminated surfaces.
+ Steel, ergonomic z-frame.
Why We Liked It - This compact workstation weighs just 40lbs but still offers you ample room for all your gear. The Z-frame has an ergonomic design to keep you comfy and free from back pain. It's quite simply an excellent product that we are happy to recommend.
6. Studio Trends Studio Desk
This is another desk that's designed by a company that specializes in furniture for musicians. Studio Trends has gained a solid reputation for its products over the years, and we think this desk is good proof of why.
It's a 46" recording station that's got maple work surfaces. There is ample space for you to put your gear, in our opinion. It's not the biggest desk we've reviewed, but if you're looking for something for a bedroom or study, for example, then it should do the job.
There is room for you to put your monitor on the top shelf. You also get two 4-space racks for your equipment. If you just want to have your monitor, computer, keyboard, and a few other bits of gear in front of you when you work, then there's more than enough space. It's also got an ergonomic design so that you can put your speakers at the optimal level for monitoring.
The ergonomic layout of the desk is also suitable for people who make YouTube videos or podcasts. It allows you to have your microphone at the ideal height for recording without you being in any discomfort.
You can easily move the desk around your room thanks to four casters. They can be used to roll the workstation over a carpet or hard flooring. When you've got it stationary, then you can use the lock mechanism to keep the desk in place.
The affordable price tag makes this a very good value-for-money choice, in our opinion.
Pros:
+ 46" wide workspace.
+ Desk shelf for computer monitors and speakers.
+ Adjustable height.
Why We Liked It - This affordable desk is loaded with lots of premium features. You get a solid, maple top, four casters for moving the desk, and an ergonomic design to keep you comfortable while you work. A superb desk, we think.
7. Z-Line Designs Cyrus Workstation
We've already looked at a workstation made by Z-Line so you should be aware of how highly we rate this excellent company. Once again, it's a state-of-the-art desk that's got an innovative design and an affordable price tag.
This workstation is one of the best-looking around. It's got a lovely, cherry finish with a black border, as well as a clear, tempered glass work surface. There's plenty of space for you to keep your computer and musical equipment.
It offers a raised platform where you can keep your printer, scanner, and accessories together. There's also a pull-out tray for your keyboard and mouse. The user-friendly design means that you can be organized and productive at the same time.
You can easily move this desk too. That's because it has four smooth casters that allow you to roll the desk over a variety of surfaces.
For the price, this product delivers excellent value for money, in our opinion.
Pros:
+ Cherry finish with black accents delivers professional looks.
+ Chrome cylinder glass support adds durability.
+ Clear tempered glass desktop for durability.
Why We Liked It - This is a superb, budget-priced desk that offers a huge amount of storage space. It's got chrome cylinder glass support, a spacious desktop, and a cherry finish that all combine effectively. If you want a bargain, then this is it.
8. Omnirax Presto 4 Studio Desk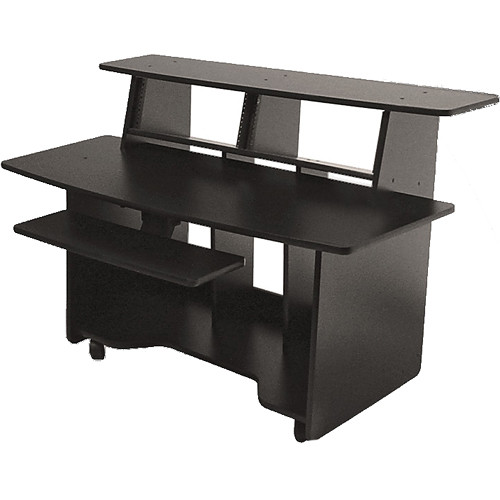 With more than four decades of experience, Omnirax is a reliable company when it comes to RTA furniture. This product has been designed for recording and producing music, and as a result, it delivers all the features you'll need.
There's more than enough room for DJ mixers, drum machines, synths, and keyboards thanks to the huge surface area. It's also got four rack spaces in two different bays that enhance the storage space available to you.
There's a shelf above the rack that's designed for your monitor. You could easily fit three monitors on this shelf if you need to. For new producers who are on the lookout for budget monitors, then we recommend that you click here for our guide. There's also a lower shelf that could be used for your computer tower or other equipment.
This workstation has heavy-duty casters that you can use to roll the desk around your studio. We're very impressed by how durable and sturdy the casters are. It's a breeze to move it around.
The Presto 4 by Omnirax delivers everything you need from a professional studio desk.
Pros:
+ Heavy-duty casters for easy movement.
+ Sliding computer keyboard shelf with room for a mouse.
+ 4 rack spaces in 2 bays within easy reach.
Why We Liked It - This affordable product is loaded with premium features, including heavy-dute casters and a sliding keyboard shelf. Perhaps its best feature, however, is the ample surface area that it offers.
9. Ultimate Support Nucleus Studio Furniture
Ultimate Support has excelled itself with this quality workstation. Then again, with more than four decades of experience, you would expect that this company knows what it's doing.
The reason why we love it so much is that it offers a great combination of durability and good looks. That's all down to the materials that have been used to make it. It features a unique, patented, powder-coated MDF that is sturdy, smooth, and sleek. It's also got an L-shaped design, which helps to make the most of the space inside your workroom. You can simply put it in a corner, then you've got the rest of the room free for playing music.
To ensure that it can handle a significant amount of weight, it's got interior channel legs. There's no risk of them buckling, even if you've got all your gear loaded on the work surface.
In terms of storage space, it ticks the right boxes too. There are two 24" extensions for the work surface so that you can fit just about anything you want on it. There's also a 12-space rack under the desk for your computer and other equipment. You can put your computer monitor on the 4-space rack at the top too, which is a good height too.
Quality, style, and sturdiness make this desk one of the best on the market.
Pros:
+ Lots of storage room.
+ Interior channel legs to support weight management and stability.
+ Stylish and sturdy L-shaped design.
Why We Liked It - It's a professional-grade, L-shaped desk that is very sturdy and offers a significant amount of storage room. When it comes to value for money, this workstation ticks the right boxes too.
10. Omnirax Force 24 Studio Desk
Last on our list is another superb product from Omnirax. This is a premium workstation that offers a huge amount of space for all your equipment. If you're a professional-level producer who needs a top-grade product then this is likely your best choice.
In terms of materials, everything used is high-grade. It features a combination of black melamine laminate and acajou mahogany, which look great together.
This desk doesn't just look good, though. It's been designed with ergonomics in mind. After all, you must be in a comfortable position with perfect posture when you work. We recommend that you get a quality stool like these to ensure you have good posture while working. As this study suggests, you need to sit correctly when you're working at a desk.
There's a separate shelf at the top that you can use for your monitors and speakers. It offers more than enough space for several units. There's also a shelf beneath the desk where you can put your computer tower.
The surface area of the desk is 86 inches. That also gives you a lot of room to work on. You can put mixers, keyboards, or controllers on there without it feeling cramped. There are also two 12-space racks that you can use for even more storage. This desk is also ideal for taller people as there is a lot of legroom between the floor cabinets.
This is a large, premium workstation that's ideal for professional or serious producers who need storage space and a lot of surface area.
Pros:
+ Plenty of legroom between the floor cabinets for a comfortable work session.
+ A separate riser that can hold numerous speakers and monitors.
+ Bottom shelf on the riser for a computer.
Why We Liked It - It's an awesome workstation that provides you with a huge amount of workspace and storage room. If you're serious about recording music, then this is the ideal piece of furniture, in our opinion.
Recording Studio Station Furniture Buyers Guide
We're going to begin our buyer's guide with some recommendations in key areas.
You'll find our Top Pick, which is our favorite product on the list.
Then we'll give you our Premium Choice, which is recommended to anyone willing to pay a bit extra for a top-quality product.
Last, we'll move onto our Great Value desk. That's the product that offers the best value for money, in our opinion.
Let's begin with the Top Pick!
Top Pick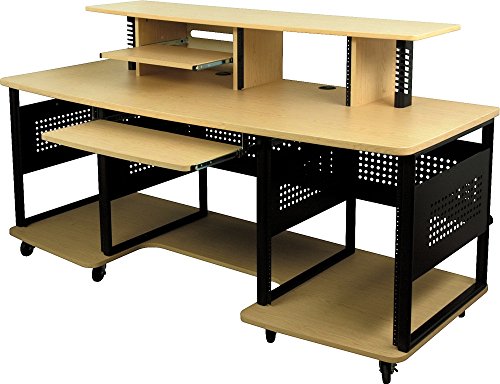 Our Top Pick is none other than the Studio RTA Producer Station. Why? Because everything about this product is superb. It's a quality desk, which can be assembled in less than two hours, and you don't need any DIY experience to be able to do so.
The RTA Producer Station is sturdy and built to last. It's a good purchase if you have large equipment and you're looking for something spacious with plenty of storage options. There are several racks for equipment, multiple work surfaces, and a good amount of legroom.
This desk is also designed thoughtfully. It allows you to keep all your wires out of the way, which is something we love. We all hate it when we get tangled in wires, don't we? There's no risk of that with this product.
Above all else, though, it is the ample storage room that makes this our Top Pick. It's also lightweight at 100lbs, so you can easily move it around thanks to the heavy-duty casters at the bottom.
We also must add that we think this is a gorgeous-looking workstation too. It will look perfect in a professional or amateur recording studio. Quite simply, it is a safe investment, we think.
Premium Choice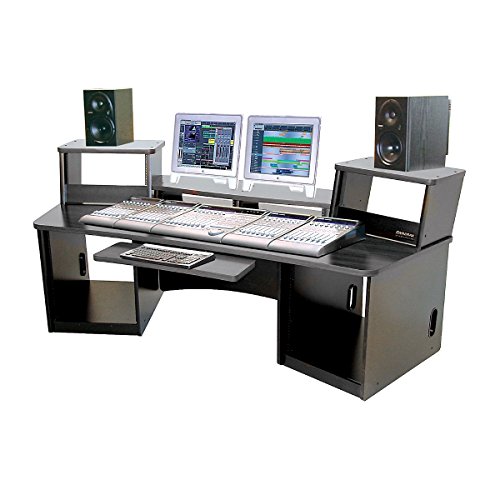 Our Premium Choice is the Omnirax Force Audio Workstation. You should go for this one if you can't afford to compromise on quality. This is not one of the cheapest workstations you will find on the market but if money isn't a concern, then we think it's worth the extra bucks.
It is a high-end workstation, which is ideal for a professional recording studio. It has two bays and four space rack bays to hold a large amount of equipment. The Omnirax Force Audio Workstation also has a monitor shelf that is 31.5 inches in height and 42.2 inches in depth. It can easily hold multiple monitors. It has a smooth and neatly designed keyboard and mouse shelf as well.
Another feature that impressed us was the huge amount of legroom that it offers. There's no better desk for a comfortable, productive work session, in our opinion. A product that's well worth the price, despite it being expensive.
Great Value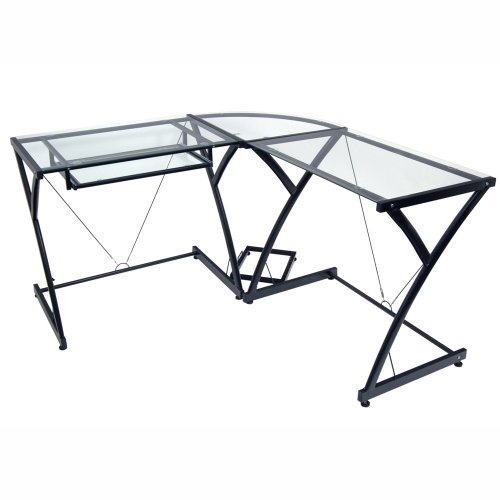 The Walker Edison Studio Desk is the best around when it comes to offering great value for money. It's got an L-shaped design that keeps it compact and allows you to maximize the space in your studio. The tempered glass surfaces make it appear modern and sleek, while this material also contributes to its durability. It's got a very sturdy steel frame too, which also looks good.
This desk has dimensions of 51" by 20" by 29". The minimalist design allows you to have ample legroom. There's also a stand for your computer, as well as a sliding keyboard tray. If you want room for the basics and you don't like clutter, then this affordable workstation is for you.
The installation process is a breeze. You just need to follow the instructions in the manual and you can assemble the desk in less than an hour.
If you're looking for a bargain for your home studio, then this gorgeous, functional workstation from Walker Edison is our recommendation.
FAQs
Now we move onto an important part of our article. It's time to answer some of the most commonly asked questions about this product. Make sure you read the answers carefully so you make a wise purchase.
What should you look for in Music Studio Furniture?
This isn't a simple question to answer. After all, there are so many features of a workstation that it's easier if we have a look at each of them in isolation. Let's begin.
Price
Furniture is expensive. There's no getting around that fact. We recommend that you set yourself a budget before you start looking at workstations. You don't want to spend time looking at products that you can't afford.
When you've decided how much you're willing to spend, then you want to focus your search only on products in your price range.
We recommend that if you're just setting up a home studio in your bedroom, then you can find good enough products in the budget price range. If, however, you're looking to spend a lot of time at your desk, then pay extra. It will be worth it in the long run.
Durability
Durability is another key feature of a piece of studio furniture. You want to look at the materials that the product is made from.
Strong materials like mahogany, tempered glass, or Sapele are ideal for a work surface.
The frame should be made from a metal that can withstand a lot of weight, such as steel.
Check the casters too, if the product has them. You want them to be heavy-duty. Ideally, they should be lockable too.
Remember, your workstation will have a lot of heavy equipment on it. You need to be sure that it will be durable enough to handle them all.
Storage Space and Surface Area
Unlike a simple office desk, a home studio workstation will have lots of shelves and racks for you to keep your gear.
Keep in mind that you'll want your computer tower out of the way. You'll also want your monitor at a good height. If you plan to have speakers and several monitors, then you need to pick a desk that can accommodate all this professional recording equipment.
A handy feature is also a slide-out tray for your keyboard and mouse.
The more storage space you have, the less cluttered your studio will be. You should also factor in that you'll likely be buying more gear as you go along. It's always better to have too much space than too little, in our opinion.
What other Recording Studio equipment needs to be factored in when sizing RTA Producer Stations?
Nowadays, most recording studios are fully digital. That means that you'll have quite a bit of equipment. Let's have a look at some of the key gear you'll need for your home studio.
You'll need a computer, a DAW, and studio monitors - click for the guide.
You're also going to need a studio microphone, a budget audio interface, cables, and pop filters - click for the full review.
It will, of course, depend on what you intend to do in your studio. But most of the equipment that we've just listed will be essential.
What are the advantages of Recording Studio Workstations over Regular Furniture?
It's quite simple. A recording studio workstation is designed with a specific purpose in mind. It's got space for monitors, a keyboard tray, and racks for storing equipment. Usually, it will also provide you with a lot of surface area, and it will be durable enough to handle a significant amount of weight.
A regular desk just won't offer you all these features. It will simply be an office desk that will have drawers and a small amount of surface area.
It's not possible to compare the two. We also recommend that you don't get a standard office desk for health reasons. Studio workstations are almost always ergonomically designed. They encourage good posture while you're working. This means that you won't have aches and pains at the end of a long recording session. That's just not the case with a standard desk.
Also, when it comes to the price, there often isn't a huge amount of difference between the two. It's a no-brainer, in our opinion. If you're furnishing a recording studio then use furniture that's designed for use in a studio.
Does buying on a budget affect quality?
No. It's possible to purchase excellent budget products these days. You only need to read our reviews to see how many superb recording studio workstations there are in the low-price category.
It's important, however, when you're buying a cheaper product that it is durable. We can vouch for any of the products on our list. If you buy a product that's not on our list, then you should do so at your own risk.
We also recommend that you always buy from a reputable brand. That's the best way of knowing that you're going to get a quality product.
What's the ideal Studio Furniture for Beginners?
If you're a beginner, we think that you should try to keep costs down. There's no need to buy a premium product with a huge amount of storage space or surface area, as you won't likely use it.
A sleek, lightweight, and compact desk that we can highly recommend for beginners is the Walker Edison Studio Desk. It's also available for a low price.
For beginners who are certain that they will be using the desk for the long-term, then you can go for something more expensive. Try to choose a product that has room for all the equipment you don't yet have but plan to get in the future. Also, ensure that the workstation is durable, has an ergonomic design, and offers you ample legroom.
Conclusion
There we have it. You've now been introduced to some awesome workstations for home recording. We can recommend all the products on our list, as they all offer great value for money.
We can't overstate how important it is for the desk to tick the all-important boxes when it comes to durability. Your gear can end up weighing a surprising amount so you want the desk to be able to take it without buckling.
We also suggest that you pick a desk with an ergonomic design. The last thing you want is an aching back or neck after a long recording session.
We've tried to provide you with a helpful guide and some good recommendations. We hope that we've succeeded and that you're now in a position to pick your new piece of furniture.
If you liked this review by Music Critic, please leave a positive rating:
[vc_separator