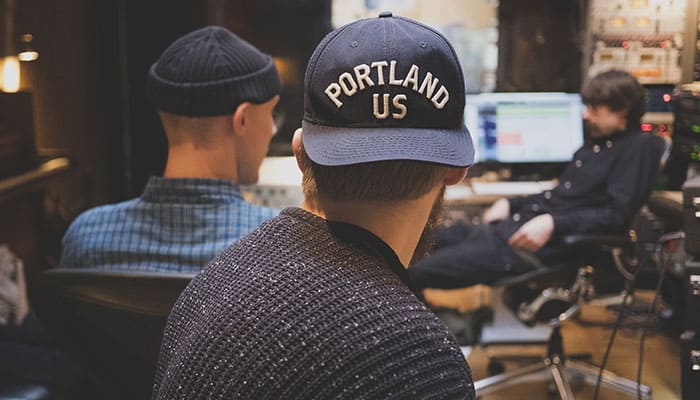 So, you have decided to work from home permanently. Working on a normal chair and a traditional table might be okay for a couple of months but in a longer run, you need to invest in some type of recording studio furniture. For our review on comfortable studio chairs - click here.
You might not take it too seriously but the environment we work in has a great impact on our work. Especially in a recording room setup, where there is immense pressure, and you can't afford to miss on those minute details - unsuitable working stations can be a dealbreaker. Now, we understand that you're a musician and not a furniture expert. Keeping this in mind, we have carefully devised a list of best recording station furnitures for you.
We know that different musicians have different requirements and through our deep research we bet that you will each find the best product for your needs in the list below.
Let's start with the reviews...
What are the Greatest Recording Studio Producer Stations in 2021 ?
1. Studio RTA Producer Station
Sauder woodworking corporation is North-America's leading producer of RTA (Ready To Assemble) station. From beds to studio work spaces this manufacturer builds it all to accompany your needs.
With state of the art equipment and over 2000 workers working in a 4 million square feet of space, one can think about the wonders that this company can provide.
To take your workspace to a whole new level this studio RTA producer station promises loads. With a lot of room for your every electronic gear, this studio RTA producer station will make the workspace more ergonomic.
Order this station, read the manual and you'll be able to put this thing up and running in no time. After all the hard work you'll feel that the mahogany material used in this station is solid and rattle-free.
Now moving on towards the specifications side, the main tier can easily hold up any 88-key keyboard so that you can put absolutely anything on your primary sound recording furniture. Similarly, dual 20-space racks on each side give you the ability to easily access anything inside it. On the top, you'll find an 8-space rack that can hold on to any additional equipment. Moreover, two 8-space CD holders give you easy access to your library.
For lining up an additional keyboard or a monitor you can use the main tier, you can also look into getting a monitor stand to sit alongside, and keep your studio speakers safe and in the optimum posistion. For high-end users, there are two smaller sliding tiers to hook up more keyboards.
Studio RTA Producer Station revamps the way you organize your workspace.
Pros:
+ Ergonomic workspace.
+ 5-Space top rack.
+ Dual 20-space racks.
Why We Liked It - With steel frame construction, all sapele wood built and an ergonomic design this studio fixture is a great choice for everyone out there.
2. Omnirax Force Audio Workstation
Who would have known that a little point of purchase wood shop will evolve into a recording furniture company? From the beginning this company analyzed many studios to built out something perfect for musicians.
From office products to audio workstations omnirax excels the game of providing ergonomic fixtures to all.
Force series by Omnirax targets the audio workstation sector to make video editing and music production ideal for every musician. Mashing up the elements of elegance and uniqueness this series was born.
On the top of this force 36 audio workstations, you get a wide monitor shelf to fit in multiple monitors. Similarly, you get 2-space bays for putting speakers on it or anything under it, whatever you might like! The base top can support pretty much any keyboard so that you can put in multiple types of equipment.
For accompanying your personal computer or any other equipment, you get two 12-space bottom rack bays. Similarly, there is plenty of room between the two 12-space bottom rack bays so that you have comfortable working experience.
Now you can rest your hand on the shelf! Non-removable yet adjustable mouse keyboard shelf has enough space to back up your hand alongside a full-fledged keyboard and mouse.
When it comes to weight this workstation is lighter than other competitors. With only 150 pounds of weight, one can easily move it anywhere around.
Omnirax force audio workstation is the choice of many professional out there.
Pros:
+ Two 12-Space racks in the bottom end.
+ Wide monitor shelf to add up multiple displays.
+ Heavy-duty casters for mobility and easy cable management.
Why We Liked It - With wide monitor shelf, plenty of leg-room between the bottom racks and heavy-duty casters this workstation is the perfect match to your studio.
3. Walker Edison RTA Studio Desk
Walker Edison is an innovative ready to assemble furniture manufacturer that aims to provide high-quality and stylish fixtures for every depart. The tagline "Live outside the box", shows the desire of this company to break away from the stereotypes and do something different.
From casual dining to worktop this manufacturer makes it all by pushing the boundaries of innovation.
People who are looking for a side corner desk might be interested in the Walker Edison's studio furniture for recording. No shelves and extra drawers give this studio furniture a simple three-piece corner design to make your workspace look and sound professional - click here for great sounding headphones.
Two 21-inch deep rectangular desktops and a quarter-circle shaped desktop merge together to give you a never before side corner workspace experience. Speaking more about the desktops, they are crafted from tempered safety glass to make sure that the base is durable and clean.
For supporting desktops the legs are made from powdered coated steel to make sure that they are long-lasting and durable. Similarly, the free CPU stand and a sliding keyboard tray can be mounted on any side of the worktop according to your needs. If you use your computer a lot for music making, consider investing in top-rated DAW software.
This attractive yet simple L-shape corner worktop is a great addition to your office or home.
Pros:
+ Tempered safety glass desktops.
+ Strong steel frame with powder coat finish.
+ Step by step assembling guide.
Why We Liked It - Walker Edison studio furniture hands down the most affordable yet best-looking option in the market. With durable built, sliding keyboard tray and tempered safety glass desktops, this desk is ruling its league.
4. Z-Line L-Shaped Computer Worktop
Established in 1995 with the soul mission of providing ready to assemble furniture, Z-Line designs is living the hype. Z-Line is the king of innovative designs providing quality products under an affordable price range.
This company meets the requirements of the consumer while delivering state of the art studio furniture according to the present.
People who are looking forward to buying a simple L workstation will surely praise z-line. The Belaire furniture worktop has a black glossy powder coat frame finish with a clear tempered safety glass desktop that gives out a perfect impression.
On the outside, you'll notice the contemporary black glossy powder coat frame that adds durability to the furniture. Furthermore, the desktop is made from clear tempered glass to make sure that safety concerns are efficiently backed up. Similarly, reinforced plates on all welding joints promise ultimate strength and durability.
Viewing the monitor from your equivalent angle creates a bizarre experience. This studio furniture features a raised monitor shelf for comfortable viewing angle making your encounter with the display more pleasant.
To accompany the mouse and keyboard this furniture has a pull-out tray that is also made up of tempered safety glass to make sure that things stay risk-free. Similarly, spacious worktop gives you the utmost feel of any high-end workspace.
Pros:
+ Spacious desk.
+ Raised monitor shelf for comfortable viewing.
+ Desktops made up of clear tempered glass for utmost safety.
Why We Liked It - This furniture is a sublime solution to give your workspace a touch of simplicity. With spacious desktop, raised monitor shelf and clear tempered glass this desk has some serious backing.
5. On Stage WS7500 Music Workstation
Owned by the well-known Music People, this company provide furniture for every type of use bringing in the ideas that are unmatchable.
By listening closely to the customers need and maximizing the effort, on stage delivers some great desks. With years of experience and passion, this company fulfills the dream of every consumer.
Home or studio, no matter where you fit the WS7500 music workstation desk it is ideal for everywhere. This desk proves the quality and experience that on stage products promise to carry out.
To create something special one need to have the utmost comfort and efficiency. WS7500 workstation is designed ergonomically to give you ultimate comfort and efficiency while you are creating history. Now stay comfortable and concentrate where it matters the most.
On most desks, it is a risk to add all equipment at once but that is not the case with W7500. This desk features a rectangular steel tube frame that is strong enough to support your whole gear. Similarly, this desk has a compact Z-frame and slide-out keyboard tray that looks clean and output a sleek design.
Affordability, durability, and innovation promised by on-stage is pinpoint on WS7500 music workstation.
Pros:
+ Perfect for home or studio.
+ Laminated surfaces.
+ Steel constructed ergonomic z-frame.
Why We Liked It - With only 40 pounds of weight, ergonomic design for utmost comfort and compact z-frame makes this studio desk an ideal choice for many audio creators out there.
6. Studio Trends Studio Desk
Growing demand of studio desks made studio trends to utilize their skills and experience to produce outstanding desks. With the soul aim of delivering only the best recording stations, this company has gained a huge audience.
Here at studio trends passion and consistency mash up to give you the best option available in the market.
Maple made 46" recording station by Studio Trends delivers a wide work area and plenty of rack space to accommodate your everyday editing needs. This station matches your day to day work requirements to give out the best experience.
On the top of the monitor, you get two elegantly designed 4-space racks to put your equipment aligned at one once place. Similarly, 46" wide monitor workspace allows you to work with full comfort.
Most desks have no separate shelf for monitors and speakers that make them aligned uniform to human height. This recording station has a shelf over 4-space racks so that you can put the speakers and monitors for a comfortable viewing angle.
Workspace and shelf for monitors are made up of maple wood that has medium pores and an even texture. This makes the desk look and sound good.
On the bottom, you'll find four casters that help to move the station with maximum ease. Similarly, one can also lock down the recording station at one place as the four casters feature lock mechanism so that your workspace stays fasten.
This recording station holds great value for the price making it the top choice for many consumers out there.
Pros:
+ 46" wide workspace.
+ Desk shelf for computer monitors and speakers.
+ Height adjustable.
Why We Liked It - With maple wood top, four casters for ease of moving and shelf for monitors this furniture has some serious potential locked inside for audio creators.
7. Z-Line Designs Cyrus Workstation
Z-Line designs are amongst the leading manufacturers of ready to assemble furniture providing customers with innovative designs under an affordable price tag.
By listening to every customer's need this company creates state of the art furniture for everyone. Home decoration to office fixtures, Z-Line design manufactures it all to give you a taste of paradise.
Getting the best in less workstation is made possible by z-line designs. Cyrus workstation is finished in an astonishing cherry finish with a black border and clear tempered glass desktop. Now keeping your computer components and office products is made easy with this spacious workstation.
This ideal yet spacious desktop workstation has raised platform shelves so you can align your printers, scanners and other accessories at one place. Moreover, you get a pull-out tray to put mouse and keyboard at one place.
On the outside, this contemporary style desk features a cherry finish with black accents that add a touch of professionalism to your workspace. Similarly, clear tempered glass desktop with black border keeps safety measures high.
For mobility, this desk is equipped with four casters so you can set it up anywhere without any hassle.
On the whole, this desk is exactly what you would expect for the price.
Pros:
+ Cherry finish with black accents output a professional impression.
+ Chrome cylinder glass support adds durability.
+ Clear tempered glass desktop with black border for full safety.
Why We Liked It - Cyrus workstation beats other contenders to top the budget desk league. With chrome cylinder glass support, spacious desktop work-space and cherry finish this desk is worth investing in.
8. Omnirax Presto 4 Studio Desk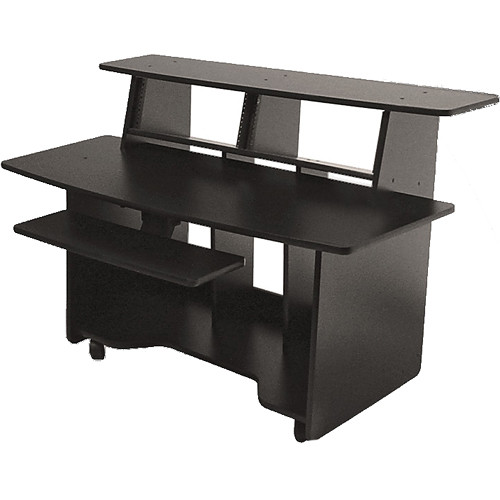 When opportunity knocked the door of omnirax they answered the call to make history. Four decades have passed away and all that experience is making omnirax better and better.
Omnirax had the mission of providing an elite fixture to every sector in the least price possible. Making history since it started, presto 4 recording station is made with the same consistency and love.
Control surfaces, keyboard controllers, or small DJing mixers what you might throw at this desk it can accompany all with its wide enough surface desktop. Similarly, four rack spaces in 2 bays within easy reach allow you to stay flexible.
To hold up computer monitors and other displays users can use the shelf above the rack spaces that are enough for backing up to three monitors. If you're looking to buy monitors in bulk, it's best to start off with budget monitors (click for our guide). Similarly, the lower shelf can be used to store equipment or a computer.
Moving studio desk from one place to another is always frustrating as casters don't hold up to their quality. Presto 4 features heavy-duty casters that promote mobility and easy cable management. Adjusting the desk wasn't that easy before!
Presto 4 features every single element that you can expect from a professional studio desk.
Pros:
+ Heavy-duty casters for easy adjusting.
+ Sliding computer keyboard shelf with mouse room.
+ 4 rack spaces in 2 bays within easy reach.
Why We Liked It - This desk is hands down amongst the best studio furniture currently available in stores. With wide enough desktop surface, heavy-duty casters and good built quality this desk gives you more than what you actually pay.
9. Ultimate Support Nucleus Studio Furniture
For more than 40 years ultimate support systems are providing musicians with one-stop-shop support solutions. Innovation, quality and super customer services are just a few glimpses of what you get with ultimate support products.
This company has always rethink of what a support solution can actually do making it the smartest solution point out there
Nuclear series by Ultimate support target solutions for modular studio workstation. Nucleus 4 packs up high-quality material allowing you to expand the possibilities of what a studio fixture can do.
This studio fixture gives out style along with sturdiness. Thanks to unique patented powder coated MDF this desk can handle almost every abuse you throw at it. This L shaped desk has a full sleek modular design giving you the full feel of a professional workspace.
To handle the weight and stability this desk features interior channel inside legs. Now you can crowd this thing with every equipment you have in the gig. Similarly, two 24" extensions give you a wide space to work on.
Now you can put your computer or any other equipment in the huge 12-space under-desk rack without adjusting other matters. Similarly, a 4-space rack on the top can also be used to hold down a desktop computer efficiently.
Quality, style, and sturdiness make this desk one of a few considerable options available in the stores.
Pros:
+ Sonic Isolation and decoupling on support legs.
+ Interior channel legs to support weight management and stability.
+ Stylish and sturdy l shaped design.
Why We Liked It - With sleek modular design, sonic isolation on support legs and interior channel legs this studio fixture is the choice of many professionals out there.
10. Omnirax Force 24 Studio Desk
The ultimate recording station solution is here to serve you with best possible hospitality. Force 24 Studio desk by Omnirax comes right in when you need an elegant music production workstation for your studio.
Force 24 is built using black melamine laminate with acajou mahogany wood that outputs a premium look. Believe us, when one sits near it and work he/she is mesmerized into the moment. Having the correct desk is very important for productivity, you must insure you are comfortable and not slouching - you may wish to invest in a quality stool like these as your sitting posture is paramount as this study suggests.
Force 24 isn't like any other studio desk as it has a separate riser for holding numerous monitors and speakers. Similarly, at the bottom of the riser, you'll find a shelf that can be used to fit in a computer.
Desk surface is measured at 86 inches giving you the ideal space to work and create history.
Similarly, on the bottom side of the desk, you'll find two 12 space rack bays that can accompany a whole lot of equipment. Moreover, the legroom between the two cabinets is more than enough that gives you a comfortable work session.
Renowned by the masses, force 24 recording station has surely some serious craftsmen's team backing it up.
Pros:
+ Plenty of leg-room in between cabinets for a comfortable working session.
+ A separate riser that can hold numerous speakers and monitors.
+ Bottom shelf on the riser for holding up a computer.
Why We Liked It - With two 12-space rack bays below the desk, separate riser and heavy duty casters this studio fixture shine brightly in its league.
Recording Studio Station Furniture Buyers Guide
In this section of our review we have tried to hand pick the best of the best from the list above. It consists of or Top Pick - the one which we have liked to most as it offers a complete package. Premium Choice - a product which is ideal for people looking to get the most of their purchase. And last but not the least there is Great Value - a product that offers the best value for money. So, let's get exploring...
Top Pick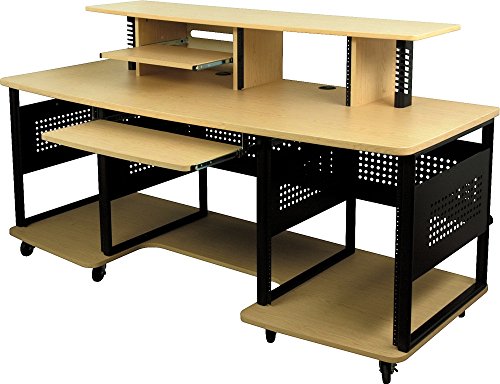 Our top pick is none other than Studio RTA Producer Station - Why? Because everything about this product is superlative. It's a quality desk, which can be assembled in less than 2 hours and you don't need a helping hand for that. RTA Producer Station is pretty sturdy and yet could be easily moved on almost any kind of surface. It's a really good buy if you have big equipment and you're looking for something spacious. On either side of this workstation, you will find a spacious rackspace, which is good enough to adjust all your outboard gears.
Are you always tangled in wires? Well, buying this station would adjust and hold all the wires so that they don't get in your way, keeping the overall environment very tidy. With such an accommodating power, you must be wondering how big is the station itself. Let us surprise you here, as this unit only measures around 4 inches in height, 33 inches in width and 65 inches in length when fully assembled. The overall weight of this fixture is only 100 pounds.
Premium Choice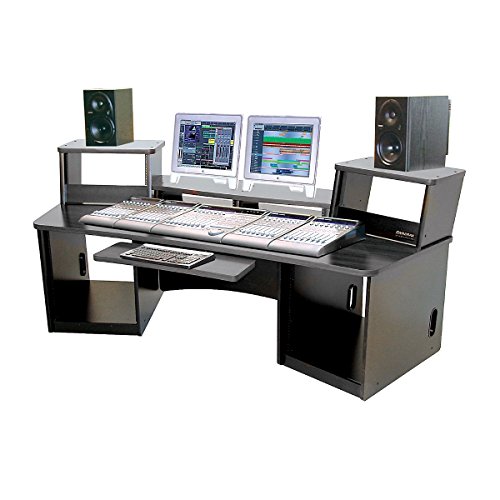 Our premium choice amongst all the ukelele mentioned above is the Omnirax Force Audio Workstation. You should go for this one if you can't afford to compromise on quality. This is not one of the cheapest workstations you will find in the market but it is definitely something that can produce remarkable results.
It is a high-end workstation, which is ideally suited for professionals looking to add some extra spice and ease to their recording room. It has 2 space bays and 4 space rack bays to hold almost any kind of equipment easily. Omnirax Force Audio Workstation also has a monitor shelf which is 31.5 inches in height, 13.5 inches in depth and 42.2 inches in depth, which can easily hold multiple video monitors. Other than that it has a smooth and neatly designed keyboard and mouse shelf as well.
What we simply loved about this great product is the fact that it has ample legroom for those long and tiring sessions.
Great Value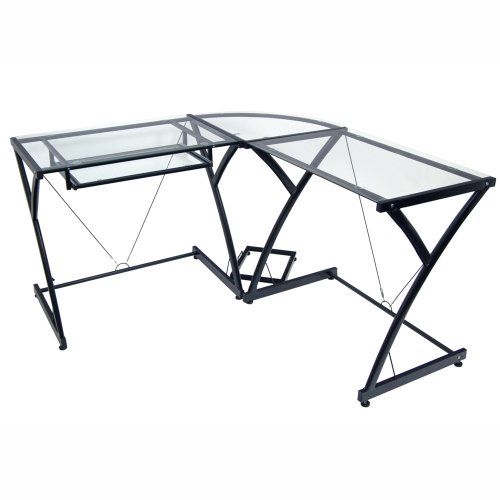 When it comes to offering great value for your money nothing can really beat the Walker Edison Studio Desk. This recording station is not a huge one but has all the options you are looking for. The tempered glass, which is nicely polished and beveled looks really elegant on the desk. A strong steel frame holding the entire structure is also well polished and looks pretty smooth. It measures 51 inches in width, 20 inches in depth and 29 inches in height. These ideal measurements mean that it can be installed easily in a corner of your studio. The CPU stand and a sliding keyboard tray ensure that you don't have to look for other alternatives to hold your important equipment.
The installation guide is included in the package, which contains easy to understand instruction on how to assemble this studio desk. There is one thing guaranteed with this item - the simple fact that it offers more than what you are paying for!
FAQs
Now it's time to move on towards the most important part of our review. This is where we answer some of the most commonly asked questions from the audience and buyers
What should you look for in Music Studio Furniture?
This is not an easy question to answer as there are so many things you should look for when buying your recording audio fixture. In this answer, we will try to list down the most important consideration.
The price tag it carries must be the number one thing you should look for in your fixture. You may find an excellent one with a heavy price tag attached to it. For a beginner, it might not be the right choice but for a professional artist, it might be. Similarly, the value for money aspect should always be kept in mind, no matter what your skill level or budget is.
The durability is another factor you should consider when buying your studio furniture. Usually, these units are quite bulky and once you set up your equipment in it, it becomes pretty cumbersome. So, ideally, you wouldn't want your new studio fixture to wear off within a couple of years. Make sure you buy something that is solid inbuilt and is covered by some kind of a warranty from the manufacturers.
Depending upon your skills level, you would like to adjust all your equipment in your studio fixture. So, we advise our readers to keep your hunt as per your requirements. Buying a huge set will not do you any good if you only have a monitor and a few extra stuff in your arsenal. Similarly, if you have a lot of professional recording equipment you should be looking for those bigger desks with a few extra shelves.
What other Recording Studio equipment needs to be factored in when sizing RTA Producer Stations?
As almost all recording studios are digital now, here are a few things you might also need when sizing your recording furniture. A computer, microphone stands, DAW, cables, studio monitors - click for the guide. We should also mention, this is all as well as your studio microphone, budget audio interface, cables, and great pop filters - click for the full review.
Remember that you might not need all of them. What you need depends upon the requirements and your skill level.
What are the advantages of Recording Studio Workstations over standard Furniture?
One of the biggest advantages of using a professionally designed studio fixture is that normal fixture is not made for these requirements. The standard fixture might be able to hold your monitor or a computer but for everything else, you will need other arrangements. The standard furniture are also not built to withstand long hours of professional audio recording. They just can't handle it. However, professional studio fixture is built keeping in view the actual requirements. The recording studio fixture is more relaxing helping you to focus on where it matters the most. They are also more durable and cost-effective in the longer run.
Does buying on a budget affect quality?
Not al all! Buying on a budget actually means that you are thinking more about paying for something that you really need and not for something that you're not going to use. It's just called smart buying. It has nothing to do with the quality of output you will be producing. In our list above, even the cheapest alternatives are right up there in terms of quality. Yes, you might not get all the functionalities with them but the quality will never be sacrificed.
What's the ideal Studio Furniture for Beginners?
To be honest, if you're a beginner you can live without having to invest in studio furniture. You can do most things without it but when you feel that things are getting real you should get one. Mostly when you realize that you can become a pro in this field, you find yourself out of cash and investing in furniture seems like an uphill task. For all these times, we are your savior as we have something very special for you. Walker Edison Studio Desk is your best companion when the budget is tight but the aims are high.
If you liked this review by Music Critic, please leave a positive rating: