Finding the best guitar stool may not be something that is often thought about by guitar players yet it definitely should be. With the guitarist being naturally creative, expressive and sometimes downright flamboyant, consideration of the less glamorous, more functional aspects of playing the instrument can be a rare occurrence. For an overall music chair for your studio, you'll want to get an ergonomic music studio chair (click here for the studio chair buying guide).
Guitar stools are not just important for comfort and convenience though. Think about how many thousands of hours you have spent sitting playing your instrument over the years, especially those of you who favour acoustic and classical guitar over electric. Good bar stools not only prevent bad posture and back injuries, but as a result - will also improve your playing and ability to access notes, particularly those located on the higher frets.
You may not even be a musician yet you could be interested in these bar stools, anyone who owns a live music bar, practice and rehearsal space or recording studio would be wise to invest in one to meet the needs of their customers and performers.
We have sourced the 10 best stools on Amazon 2023 and have compiled an extensive rundown for you. We have taken into consideration all of the major elements most commonly scrutinized by consumers such as price, material, brand, design, build and many more.
Like many of the more functional product categories in the music world the most important thing to bear in mind is to be on the lookout for a music throne that is robust, will last for many years to come and yet is something you will not have to spend vast amounts of money on. No frills guitar stools that do exactly as they say they should from respectable companies are often a good place to start. Read on below and let us help you make the best buying decision you possibly can and find the best chair for you.
At a glance:

Our top 3 picks
Our team's top 3 recommendations
Best Overall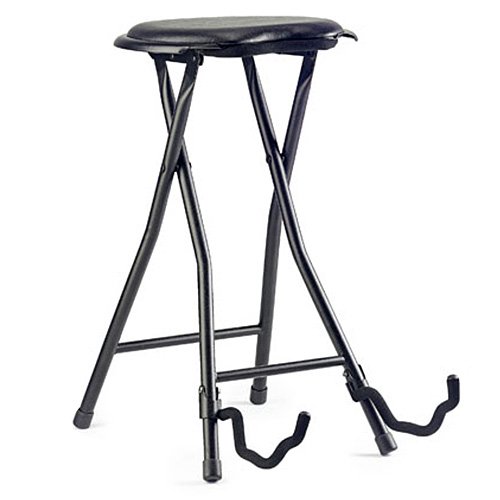 Stagg GIST-300 Foldable Guitar Stool with Built-In Guitar Stand

Foldable
Integrated guitar stand
Super lightweight steel build
Premium Quality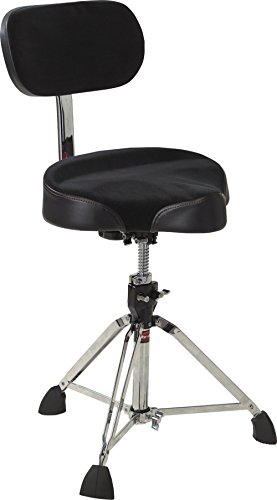 Gibraltar 9608MB Cordura Guitar Stool with Backrest

Foldable
Integrated guitar stand
Super lightweight steel build
Great value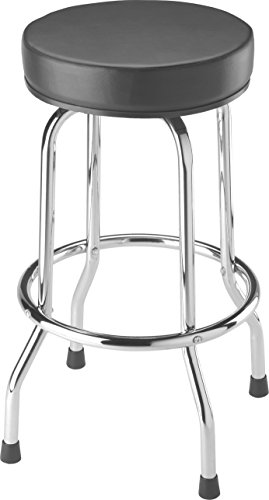 Torin TRP6185 Swivel Shop Guitar Stool

Foldable
Integrated guitar stand
Super lightweight steel build
The Top 10 Best Stools for Guitar Players:
1. Stagg GIST-300 Foldable Guitar Stool with Built-In Guitar Stand
Stagg Music will be a familiar brand to many music players. They are not by any means the number one music equipment manufacturer there is yet they are known for producing a wide range of products at a decent level.
They were established in Belgium in 1995 and turn out a variety of musical instruments and associated gear, they also produce products for the pro-audio market. Their brand is most commonly associated with guitars, basses, drums and cymbals. You will even see their name on brass instruments, mandolins and various instruments within the percussion section.
As Stools go, the GIST-300 is a very good, and definitely falls into the category of great value for money. Not only is it a wonderful looking product it is also highly convenient as it doubles as a stand for both acoustic and electric guitars - click for the full electronic guitar buying guide.
Guitar stools are excellent for retaining a superb posture to improve quality of playing your acoustic guitar - click for our acoustic guitar guide, note access, fretting and if you are a singer, projection of voice. The GIST-300 certainly does this with a solid and sturdy build, constructed to a high standard. It is designed all in black and sports a padded vinyl throne top for maximum comfort.
Height wise this barstool clocks in at a shade over the 2ft mark and is extremely lightweight. Also it is foldable meaning that transportation and storage could not be easier. The supports are built to last with reinforced covers added to the leg bottoms. This is a well made chair and for a reasonable price too coming in around the region of $40.
Pros:
+ Foldable
+ Integrated guitar stand
+ Super lightweight steel build
Why We Liked It - Overall a really solid product. Well built and sturdy yet very lightweight and foldable. The built-in guitar stand really is the best addition. A very good barstool for a very reasonable price.
On-the-go - Portability is important, especially if you plan on performing while on the go. If you're hoping to perform outside your home, look for a guitar stool that's foldable and lightweight. You can also keep an eye out for other features like a built-in guitar stand or footrest.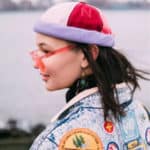 2. Gibraltar 9608MB Cordura Guitar Stool with Backrest
Gibraltar Hardware may not be that well known to many guitar players. They were founded in 1993 and are a company more commonly associated with bar stools in the world of drumming rather than guitar. Their drum gear is actually really good with them producing everything you will need from stands to stools. Also it is interesting to note that Lamb of God's Chris Adler uses their gear.
The 9606MB is actually a drum throne, yet it's large and versatile design allows it to be used as a guitar chair as well. It is a sizeable barstool and stands out from its competitors with adjustable backrest and an extra-wide motorcycle style top. The padded Moto-seat sports a Cordura top and the sides and bottom are reinforced with vinyl.
Adjustability is a key feature of this barstool. The locking mechanism allows you to leave it open for a swivel ability if you like more movement while playing the guitar, or it can be locked to remain stationary. Height adjustment is done by way of the robust threaded steel spindle. It can be adjusted to a maximum of around 2 feet high which is a common seat height with these products and is usually ideal unless you are very tall.
The stool is supported by a 3 legged, double braced support and feels sturdy. Despite the tri-support, it does not impede leg movement, even when swiveling which is one of the best features for musicians. The backrest is solid and well built however there are quite a few parts with it which can take some time to assemble upon initial purchase. Also, it should be noted that the backrest is stationary.
Pros:
+ Extra wide moto-chair
+ Sturdy backrest
+ Highly adjustable
Why We Liked It - A professionally built barstool indeed. Does exactly as it says it does and is super comfy with the extra large chair, backrest and all round adjustability. Overall a great choice when looking at guitar chairs however, it does come with a higher price tag.
3. Torin TRP6185 Swivel Shop Guitar Stool
This is a chair that would not look out of place in a bar, rehearsal space, recording studio, shop or garage. It has a super slick classic look and design and should take no longer than 10-15 minutes to put together with a screwdriver after purchasing.
The chair is a luxurious jet black vinyl that not only looks awesome but is also extremely comfortable, sporting a 14 ½" dense foam padding. Also, it can swivel a full 360 degrees which is absolutely perfect for guitar players, giving you the freedom of movement required for guitar playing comfortably and singing.
The TRP6185 is flawlessly sturdy. The chrome, heavy duty steel supports are absolutely solid. They consist of 4 robust legs bottomed with rubber anti-slip protective caps and finished with a strong stabilization ring for extra strength. Also, the legs of this chair are famously easy to assemble and really anyone should be able to do so in a matter of minutes with just a screwdriver.
The seat height of this Torin bar stool is 28 inches tall and the maximum weight bearing capacity is 250lb's. It also comes in 1 of 2 designs - A black chair and chrome steel combination which is described above, or with a yellow pattern and black steel combo.
Price wise this guitar chair comes in at just over the $30 mark. This really is a respectable price for the build quality of this barstool, useful for guitarists to jam. It is a no frills chair that does exactly what it says it does. The strong support and comfortable, 360 swivel seat is everything you will need from a guitar stool, whether you are a performer or just want one for your bar or studio.
Pros:
+ Dense foam padded seat
+ Seat swivels full 360 degrees
+ Extremely solid
Why We Liked It - Overall a good quality stool. Definitely one for those of you seeking value for money and a decent level of product for a budget price tag.
Long-lasting Comfort - Are you hoping to put in long practice hours on your guitar stool? In which case, it may make sense to opt for a stool with back support. However, keep in mind that you'll always want to sit fully upright while performing or practice guitar. Stools with backrests may encourage you to lean back which isn't necessarily proper form while playing, but they can offer support whenever you take a break.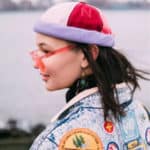 4. ProRock Gear Player's Guitar Stool and Stand
ProRock Gear are a new outfit who have featured in other reviews of ours. They were established by a rag tag group of hardy music industry veterans, roadies and gear nerds. The musical equipment and accessory market is the backbone of their business and they have been turning out some very good products. From cases to stands, guitar chairs and even plectrums you can get it from these guys.
PRG's Players Guitar Stool and Stand is another good release from these guys and is quite similar in build, design and build quality to the Stagg barstool we reviewed above. The main feature obviously is the built-in guitar stand.
The legs of the chair are a sturdy steel build in a stylish black color. Also, the legs are finished with protective rubber anti-slip caps. The PRG Players is also a very good height, clocking in at 27 ½" meaning it will be suitable for taller people who love playing guitars, while not being too big that it is uncomfortable for others. The load-bearing capacity is 300lbs and the support also features a solid horizontal bar, which improves stability and is also great to rest your feet on while playing the guitar for superior posture.
The guitar performance seat is a black vinyl covered padding, is a convenient size and very comfy. Located just below the ergonomic seat is a brilliant addition in the form of an adjustable neck yoke complete with a safety lock. This is, of course, part of the integrated stand feature, it is very impressive and something the similar Stagg chair does not have. Also, this model is foldable for convenience in transportation and storage.
In regards to cost, this PRG guitar stool is very reasonable and in a comparable price bracket to the Stagg. Similarly, this is a value for money purchase. This is definitely for those of you seeking a decent enough guitar barstool but do not have the need or desire to splash out on a higher end model.
Pros:
+ Integrated guitar stand
+ Adjustable neck yoke and safety latch
+ Foldable for easy storage and transport
+ Strong and stable build
Why We Liked It - A decent chair overall. Like we said above this is very similar to the Stagg guitar chair we reviewed in a number of ways. The built-in guitar stand is useful and the addition of the yoke and safety latch are more brilliant features.
5. Rockville RDS40 Portable DJ/Guitar/Drum/Keyboard Padded Stool Adjustable
Rockville are a company founded in the USA who do not just stick to stands, guitar chairs and cases like many of their competitors do. They have established themselves throughout the audio industry with products in a variety of categories from pro and home audio to speciality niches like marine and powersports audio and even karaoke.
The Rockville RDS40 is a premium stool designed to be as versatile as possible and belongs to no single discipline of musicianship. This is highlighted by the fact that Rockville cross-market this to DJ's, guitarists, Drummers and Keyboard players alike to achieve success, which in itself speaks volumes about the quality of the product.
The chair comes in a striking all-black finish and is ultra lightweight and foldable for super simple transportation and storage ability. It is supported by a very robust steel tubing with a load-bearing capacity of over 300lbs while the height is adjustable from 21" to 30"
The guitar performance seat is 12" in circumference and boasts extra comfortable padding to ensure comfort during prolonged and sustained use. The highly adjustable and removable backrest is also generously cushioned and boasts a lean-in design to improve playing posture. In addition to this is a soft rubber footrest for added comfort and convenience.
The professional design means that assembly could not be easier. Simply start by opening the base and inserting the L-bracket, set this with the bolt knob then slide the musician's char over the L-bracket. Once tightened attach the backrest in place from under the seat then fix the cushion and tighten. Job did. It really could not be easier, you can have this chair assembled and be playing the guitar in minutes.
Pros:
+ Extra padded seat and backrest for maximum comfort
+ Super easy assembly
+ "Fold and go" design
Why We Liked It - The RDS40 is one of the best products, without a doubt it's best feature is how comfortable it is due to the added comfortable padding. This is a quality chair with a price tag of something far inferior.
6. Fender 30 Guitar Barstool
Fender are obviously a brand that needs no introduction. Along with Gibson they are without question a giant of the guitar industry with an absolutely endless list of celebrity musicians utilising their products. They are an outfit famous the world over for their guitars and other gear such as amps, leads and even chairs.
Fender guitar chairs are premium and create high build quality chairs with a slick retro design. The support is absolutely solid. This particular chair is made from sturdy steel tubing that is 1" thick and chrome plated the professional construction of this guitar chair really shines through.
It consists of a 4 leg build, finished with rubber caps for protection and slip reduction. Also, there is a supporting circle bar for added strength and stability. This also acts as a brilliant footrest which is all important for guitarists for the best playing style while seated.
The musician's chair is the highlight of this chair and the eye is automatically drawn to the extremely striking red and black finish with the timeless Fender logo. The foam padding is very thick and comfortable, covered in a high-quality vinyl. Also, the top swivels a full 360 degrees which are essential for the best playing posture and maneuverability during the performance.
This swivel seat is 30" tall which is best and means it has pretty much everyone covered regardless of height and size. Price wise it is in the region of $100. At first glance this may seem expensive however this is a supremely high-quality chair and after all is an official Fender product so you can be sure, that you, the guitarist, are buying from the best.
Pros:
+ Official Fender product
+ Seat swivels 360 degrees
+ Solid, high quality steel
+ Professionally finished seat top designed with Fender logo
Why We Liked It - What can we say, a guitarist just cannot go wrong with Fender. This swivel seat looks incredible and is the epitome of quality from the solid steel construction to the beautifully finished seat top.
7. On Stage DT8500 Guitar/Keyboard Throne
On-Stage are veterans in this game. They have been around for over 36 years now and pride themselves on product innovation. They are a leading global supplier or instrument and microphone stands and a whole host of other music equipment. As well as innovation they aim for durability and affordability. It is this company ethos that has resulted in people using their products every single day the world over, and as they cover 8 different categories and carry over 300 different products it's easy to see why.
As we mentioned above these guys pride themselves of their innovative products. The 8 categories they cover are Guitar, Keyboard, Microphone, Band and Orchestra, Amp and Mixers, Lighting and speakers. Within the vast range of specialties their forward-thinking designers have been responsible for countless world firsts such as speaker stand to lock pins, quick connect mic stands, the very first ever double/triple lock guitar stands and many, many more.
The On-Stage DT8500 Guitar/Keyboard Throne is an excellent chair consisting of a strong, well thought out and highly adjustable design. The frame is made up of a dual lean-to construction that is super sturdy and has the ends capped with anti-slip rubber. There is also a footrest which is best for players to enhance comfort and playing comfortably posture.
The On-Stage DT8500 Guitar/Keyboard Throne is extremely comfortable, 12 ⅖ inches high and made up of vinyl covered padded foam. The entire thing is adjustable through the super simple line up holes, moveable between 21-30 inches tall. Finally, there is the best backrest, adjustable by way of 2 dual tension adjustment knobs to suit all players. It also generously cushioned for convenience and comfort.
Pros:
+ Strong construction
+ Comfortable seat and backrest
+ Highly adjustable in all aspects
Why We Liked It - The On Stage DT8500 Guitar/Keyboard Throne is one of the best chairs around. On-stage are known for turning out exceptional gear and they have done it again with this chair, suitable for guitarists and keyboard players.
8. Proline 24 Inch Faux Leather Guitar Stool
Proline may not be the most well known musical equipment company in the world but they have been in this game long enough to know what they are doing. They were first established in 1984 and cater to touring and recording musicians for the most part. Much of their gear is targeted towards guitarists and keyboard players with products such as stands, chairs and even music and lighting effects. Their drum utility stands and microphone stands are also worth mentioning.
Everything Proline do is about helping out the average working musician so you can be sure their products are always affordable. Due to this support of working musicians their gear is also built to last. Strength and durability is what they go for and they also carry a wide range of accessories and replacement parts.
The PLS24 chair is exactly what you would expect from them, hard wearing and best value for money. The musician's chair is very comfortable, sporting extra foam padding and as the name suggests, covered in a high-quality faux leather. Our measurements put the comfortable padding at more than 2 and ¾" thick which is very impressive. The guitar performance seat also swivels to ensure maximum comfort and freedom of movement.
The frame is also excellent. An inflated design and super strong construction ensure the best support. It consists of robust steel legs and is enclosed by a stabilization ring which improves stability and also acts as a brilliant footrest which increases comfort and quality of playing posture for free access.
As we stated above this is a chair that is excellent value for money. Coming in at just under 90 bucks this is by no means the most expensive bit of gear of its kind on the market. This is an almost flawless chair at a very affordable current price.
Pros:
+ Extremely well padded seat
+ Solid build
+ Excellent value for money stool
Why We Liked It - Proline have really made a wonderful chair here. It is everything you would ever want from a guitar chair - Comfort, strength, stability, style and won't break the bank.
9. Budget Barstools 0-1950BLK24 Guitar Stool, Professional Guitarist's Stage Stool
Now as the title of this product may suggest this is for those of you on a budget. In fact it is not too different in the current price from the Proline above, so if that peaked your interest then you should definitely check out this guitar chair as well to contrast and compare. The key to making a good buying decision is information and the ability to compare like for like.
We will start with the seat. Right off the bat the similarities begin as the seat padding thickness' are very close, although the Proline's dimensions are slightly larger. The seat can be purchased in a variety of different colors including black, vintage red, green, blue, royal blue and yellow. It is 14 ½" across and the chair itself stands at 24" high. Like the PLS24 the seat also swivels for the best possible maneuverability while playing the guitar.
This is a product that would look best in a bar or music club yet also in your bedroom or kitchen. As well as looking the best, it is completely solid. It consists of steel, 18 gauge legs and has been constructed in the same inflated design as the Proline above. It boasts an added steel ring which doubles as secondary support and also a stylish and comfortable footrest. The legs are finished with rubber anti-slip feet.
As we said before the current price is very similar to Proline's chair, which is attractive. You cannot really go wrong with this guitar stool, it looks good, is comfortable and very robust. Also, we really love the wide range of color options available.
Pros:
+ 24" high stool
+ Solid construction
+ Comfortable, swivel top with multiple color options available
Why We Liked It - Not a thing wrong with this chair, does exactly as it says it does. Stylish, comfortable, it's solid as a rock and price wise there is nothing to complain about. Best value for money.
10. K&M Guitar Performance Stool
Konig & Meyer are easily one of the most professional outfits of any industry, not just the musical equipment industry. They have been world leaders in their field for over 65 years now having been established in 1949. K&M produce pretty much everything you would ever need in terms of musical equipment such as microphone, instrument and music stands, speaker stands, seats, stools, lighting equipment and a whole range of other equipment and accessories.
It really is hard not to be impressed by this company. They have the best innovative, self-sufficient ethos that has resulted in them acquiring countless patents. Their gear is sold in over 80 countries around the world and their manufacturing output is jaw-dropping for a music equipment company with over 1500 stands being produced in the 2 German facilities. On top of all this, they create all metal and plastic components in house and have an honorable environmental policy.
After an intro like that, you would be correct in assuming that the stool we reviewed of theirs is top of the line. The musician's chair has an ergonomic 'bike seat' design and is extremely comfortable due to its thick padding, imitation leather cover, and adjustability, sporting a lever to alter both height and angle.
This K&M Guitar Performance Stool is built using ultra high-quality steel. However the most impressive part of it is the pneumatic, spring-loaded adjuster which makes the adjustment of seat height absolutely flawless. The adjustability does not stop there. Attached to the supports is a stylish and comfortable footrest which can also be altered in height to suit your size and posture. The super strong lean-to design is finished with large anti-slip rubber feet.
Pros:
+ Highly professional build and design throughout
+ Excellent adjustability
+ Comfortable and a strong, robust construction
Why We Liked It - An elite ergonomic seat or guitar chair with unrivalled adjustability. Every inch of this has been built to the highest of standards. If you have the money to spend then look no further than this. Possibly the best guitar chair on the market.
Stretching - Having a supportive guitar stool is important, but another commonly neglected area for guitarists is taking care to stretch your fingers, wrists, and arms. While this may seem unnecessary, doing so can help prevent fatigue and devastating carpal tunnel syndrome over time. Make a habit of stretching for 10-15 minutes before working with your instrument.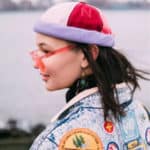 Guitar Stools Buyers Guide
What is a guitar stool?
A guitar stool is a specially designed chair used by guitar players. They are most often found in musical venues such as clubs or bars, in fact some of them look very similar to barstools. They can also be purchased for home use and some very good models can be found at reasonable prices.
What's the difference between a guitar chair and an ordinary chair or stool?
In many ways, guitar stools and chairs are very similar, as we said above some can look quite like barstools, and often referred to as such. The main difference is the design features that have been specifically implemented for guitar players.
For the most part, all guitar stools share the same basic DNA - A raised and well-padded seat covered in a material such as vinyl or leather that will swivel to give the guitarist maximum maneuverability. Below this will be a strong and robust frame for support and stability. Part of this will be a footrest of some description which has been added to improve playing posture.
Why is posture so important when playing or practicing guitar?
Posture is extremely important when playing guitar for a number of reasons, mainly comfort, injury prevention (click to read the study) and fret access. Comfort is self-explanatory however you may be wondering how you can injure yourself playing guitar. Many guitarists play their instruments for hours at a time, day after day, year after year which can easily result in repetitive strain injuries if an incorrect posture is being used, mainly to the back or wrists - view the topical investigation here.
Playing posture for note access is vital and this is where the barstool and its footrest really come into play. Sitting on a guitar chair and utilizing the footrest will give a guitar player a posture that vastly improves access to all frets and notes on the neck of the guitar, including even the highest ones.
Does the guitar stool size depend on the size of the guitar being played?
In a word, no. Not at all actually, if anything the only factor determining what size of chair you should get would be the size of the person. Taller people may prefer taller stools and vice versa. Yet the fact of the matter is that the majority of stools are created around the same height region and should be fine for the most part for people of all shapes and sizes. The only way this could be an issue is for stools with built-in guitar stands, but yet again the majority of these are suitable for the vast majority of model sizes.
Top Pick
Stagg GIST-300 Foldable Guitar Stool with Built-In Guitar Stand
Stagg is a great company who are very well known in the music industry. They are well established, well respected and have also turned their hand to instruments, but most would agree it is in the musical equipment category where they really shine.
The GIST-300 is quite simply an all-round brilliant guitar stool. This would be the best purchase for an amateur guitarist's bedroom but also look the part on stage in music venues around the world. It is well padded and comfortable, has a strong and stylish construction and the built-in guitar stand is an excellent additional feature. You cannot go wrong with this Stagg guitar stool.
Premium Choice
Gibraltar 9608MB Large Cordura Guitar Throne with Backrest 
This guitar stool from Gibraltar Hardware is without a doubt a premium choice. Comfort, stability, and adjustability are in abundance with this model. What really separates it from the competition is the backrest and is what makes it equally adept for use as a drum throne or keyboard chair.
It is very comfortable due to the large motorcycle style seat. The stool's height is adjustable (adjustable backrests), as is the backrest and also the seat which can swivel or be made stationary by a special locking mechanism. The barstool is absolutely solid thanks to a highly robust construction. This chair will cost you well into 3 figures, however, if you have the money to spend then it is worth every penny. A supremely professional product.
Great Value
Torin TRP6185 Swivel Shop Guitar Stool
This chair is the very definition of value for money. For an unbelievable price, this would look quite at home in any club or music bar. Simple and effective is what Torin have gone for here with the TRP6185 and it has been a huge success.
It has a classic look and feels with a minimalist jet black vinyl covered seat and a strong chrome plated steel construction. Also, the support ring makes for the best footrest. The simplicity even extends to the product assembly with countless glowing reviews about how quick and easy construction is. All of this for a chair in the region of 30 bucks is absolutely unbeatable value for money.
Conclusion
Considering guitar stools are so often overlooked there is actually a very good selection on the market. You will find some premium models with rather steep price tags and likewise very cheap releases that may be lacking somewhat in the quality department. However, for the most part, it is a product category that seems to hover around a very similar price level.
The main things to look out for are a well padded, comfortable seat and a solid construction that will support you and be capable of taking punishment for years to come. A good footrest to improve posture and overall just a stylish design are equally important. Set your budget, cover these bases and you are well on your way to finding the best guitar chair for you.
If you liked this review by Music Critic, please leave a positive rating:
[vc_separator