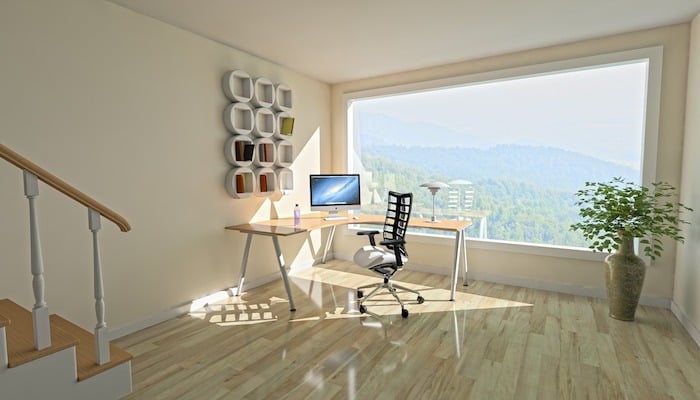 If you will be spending 80%-90% of your time sitting down recording, jamming, or practicing, it's only natural that you invest in the best studio chair to keep you comfy through all of those trials and tribulations. Are you a guitarist? Head over to our guide on the top guitar stools.
Many budding artists usually get so hung up on choosing some of the most popular instruments and recording gear, that it completely slips their mind that there is one other object that they will need- a studio chair! If you are starting to build up your studio, make sure to get the right studio insulation with high quality bass traps (click here for the guide).
Many people seem to put little thought into choosing a good chair, after all, how exciting can it be? Make sure you have the right studio furniture to go with your new music producers chair!
Since we know how daunting it must be to go through this process of searching and choosing on your own, we condensed all the valuable information into bite-size chunks so that you can choose your ideal music producers chair, as soon as possible. While on the side we take a bit of time to answer the most frequently asked questions, too!
Are you building up your music studio? Check out our review on the top monitor stands.
At a glance: Our top 3 picks
Your shortcut to our team's top 3 recommendations
What Are The Greatest Music Studio Chairs & Stools on the Market this year?
AmazonBasics doesn't cease to impress with their producers chair collections; their products are some of the best looking chairs out there. This chair, covered in lush brown leather, gives off a particular vintage feel and would certainly fit into any environment that it could compliment. 

Unlike many other chairs that usually just have a wire-frame and a thin layer of material put on top, this chair has padded seat and back areas to support your back accordingly. With this chair, you will be able to lean back and feel the foam surrounding you, causing the comfort everyone needs in their daily lives.
This seat comes with an assembly instruction manual and can hold people up to even 250 pounds of weight. It's made from a PVC material, has an adjustable seat height to make sure you can make it fit with your favorite studio desk, and also possesses a 360-degree swivel with wheels to allow you to reach for things effortlessly.
Pros:
+ padded back and seat areas
+ adjustable seat-height
+ 360-degree swivel
Why We Liked It - AmazonBasics has been satisfying customers for a long time now with one of the greatest chairs available out there. It looks modern, attractive, and has many features that allow for an easier experience when combined with a desk! The padding integrated into the design will make sure you are comfy all day, every day!
Herman Miller is one of those brands that you turn to when you want to get something a bit more on the expensive side. Their products usually range in price between 500$-800$, but it's good to assume that you will definitely be having this chair for years, and it will easily retain its shape and features without giving out on you.
Herman Miller's chair not only allows you to choose between sizes (small, medium, large), but has a stunning variety of 16 designs. When provided with such extensive choices, you will definitely spend a bit of time rummaging through all the designs, and no doubt you will find something appealing just to you!
This chair has a posture fit back support to make sure you maintain a healthy posture even when sitting, padded arms that can be adjusted at will, a forward tilt, and a tilt limiter.
Pros:
+ 16 designs to choose from
+ available in various sizes
+ posture fit back support
Why We Liked It - Herman Miller has provided the customer with a unique variety of options out there when it comes to music chairs; not only do you get to choose the size (something uncommon with other chairs), but also one of the 16 designs. You will not be bored mix and matching this seat to your other equipment!
BestOffice's producers chair is able to flawlessly attract the customer from upon the first sight- it looks extremely comfortable and adequately padded even from its appearance alone. It also boasts a fantastic price for anyone that is on a lower budget or doesn't want to spend hundreds or thousands of dollars on a chair.
The brand offers a selection of three colors: black, brown, and white. It is in the Top 5 category of music chairs on Amazon and has over 2,000 reviews- when buying this product you can be sure you won't be going into the dark. It also comes in 4 sizes, has an adjustable seat height, and a smoothly working 360-degree swivel.
This chair is also resistant to any oil or water-based liquids, therefore you will not have to worry about stains or moisture being retained within.
Pros:
+ resistant to liquids
+ arm padding
+ soft PU leather material
Why We Liked It - Their producers chair is a reminder that even chairs that don't cost hundreds or thousands can be worthy contestants that can last a long time and provide suitable comfort. This chair is a fantastic choice if you are looking for something that won't rob your pockets and will provide you with comfort through your working hours!
Modway is another brand that provides us with a quality chair that both looks fashionable and could fit into any modern or vintage looking room while still being available to be bought at a very attractive price that doesn't exceed 100$.

Modway's seat comes in three colors: black, white and red. It has ergonomic support that is very sought after in chairs since it provides support to the lower lumber area that usually causes people that sit a lot of trouble. With this feature added, you can relax and enjoy the comfort.
You will be able to adjust the height of this seat without any trouble and has a 360-degree swivel to ease access to other parts of the room at a moment's glance. It has easy mobility both over carpets and hardwood floors thanks to the dual-wheeled casters.
Pros:

+ ergonomic support
+ modern and fashionable design
+ mobility across all floor types
Why We Liked It - Thanks to the ergonomic support that Modway incorporated into this chair, you can be surrounded by comfort through all of your work hours. You won't need to worry that your back is not getting the finest treatment it can, and you will be able to swivel anywhere to grab any stray notepads, instruments, or to adjust an amp or two!
5. Flash Furniture Multifunction Swivel
Flash Furniture is another brand that is able to surprise the customer by the overwhelming amount of choices that they provide when offering and advertising their product. With a stunning amount of 10 colors to choose from, each vastly different from the other, you will be able to mix and match these designs to suit your studio space, instead of being grounded with one default color offered by any other companies.
This chair has a flexible mesh material and built-in lumbar support to ensure you will not feel uncomfortable nor be hurting your back while spending countless hours playing, recording or writing. The back is adjustable and sturdy, thanks to which you won't have to worry about leaning back. The padding here is more than adequate. There are three paddles that you can use to adjust the seat itself, too.
Pros:
+ flexible mesh material
+ sturdy and firm
+ easy to assemble
Why We Liked It - Flash Furniture has given us a seat that is both comfortable and sturdy at an affordable and fair price. You will not have to worry about an aching back or hard, uncomfortable seats anymore. If you end up going with this product, you will certainly be glad you did so!
Space Seating is a brand that made it their goal to make a simple yet very functional product that wouldn't cramp up the workspace while still looking attractive. It's needless to say that they succeeded in their endeavor. 

The breathable air grid makes sure to offer you long-lasting and sturdy support through all of the hours you will end up sitting for and the wheels are specifically tailored to be used on carpets. This may however mean that they are not too great on other floored surfaces, Space Seating, however, has alternative casters that can be used with this chair so that you can swap and switch at will.
This chair is highly adjustable and you will be able to adjust the tilt of the back and seat at the same time- a fantastic, convenient feature. There are also four main designs to choose from for when you will be picking your final purchase product!
Pros:
+ synchronized tilt option
+ usable with carpets and other floors on demand
+ breathable back mesh
Why We Liked It - Space Seating has put out a fantastic chair at a great price with great features and designs to choose from. You will be able to move this chair through carpeted areas, not feel stuffy thanks to the breathable back mesh and adjust the tilt to suit you perfectly!
CMO has proven that it's a brand fully capable of acquiring all-around five-star reviews while having an affordable product that has suitable features that will fit just about anyone who is going to be sitting for a long amount of time.

CMO's chair allows you to have full control of the tilt angles so that you can get the ideal position that you need for working. You can alter it anytime and control the amount of effort you need to put in to recline the chair, too. You can also lock the seat and the tilt so that it stays at a straight position without any tilt or recline whatsoever.
The seat is padded with high-density foam that will give your rear end the comfort it deserves! The wheelbase is made from heavy-duty nylon which will help you keep your chair mobile to not keep you back from other tasks. The 360-degree swivel will allow you to turn to your bandmates without twisting your neck too hard and to wheel over to your other instruments or music notes!
Pros:
+ heavy-duty nylon wheels
+ lockable tilt
+ padded with high-density foam
Why We Liked It - CMO has given their customers a chair that has both amazingly comfortable high-density foam to sit on, and heavy-duty nylon bases to make sure you will have your new seat for a long time yet. You will be able to wheel over anywhere you like while still keeping the ultimate comfort!
Office Factor is another brand that allows the customer to choose a design from a vast pool of options. They know how to entice their targeted audience, and thanks to that they produce very durable and sturdy chairs that have many features to choose from.
This music seat is available in 7 variations, some of which include casters, and some of them which are stationary. They can support up to 250 pounds of weight, the back is adjustable, and can twist in four different directions to encourage easy communication and comfort.

This is a big chair that will allow you to get lost in your world of music without making you feel overwhelmed by the size. It has good lumbar support that will retain its position and effectiveness even if you recline the chair. The arms are also able to be folded up, which is a great feature for anyone that likes playing the bass or guitar without the inconvenience of two plastic rods sticking out on the sides.
Pros:
+ foldable armrests
+ 7 variations of chair
+ adjustable and flexible back
Why We Liked It - Office Factor's music chair is one fantastic investment. The price is fair, and the features included here are the ideal alternatives to normal chairs, since you will be able to fold up the armrests and jam along with your guitar or bass without any trouble!
9. TOPSKY Mesh Synchronous
Topsky's producer chair can be caught at very good deals, sometimes even 25% off! However even at its full price it's fully worthy of purchase. It comes in two design, a gray and black alternative. The back is covered with a high-density mesh that will help you keep an upright and healthy position when working without subduing you to any lumbar back pain thanks to the lumbar cushion.
Topsky also gives its customers the comfort of one fantastic feature- a headrest! If you are ever feeling like your neck is getting too much strain and pressure, you can lean back for a minute or two and regain your posture. The thick sponge is a fantastic material to help you feel comfortable all throughout your working and training hours.

This chair also comes with a 1 year warranty to ensure you will be covered if any accidents should happen. The mesh is fully breathable and allows for air circulation both in winter and summer and all the seasons in-between, which makes for a versatile seat!
Pros:
+ included headrest
+ breathable mesh
+ thick and comfy sponge
Why We Liked It - Topsky has proven that they can provide ultimately one of the leading producer chairs- they give you all of the features to make you feel comfy while still keeping your back straight and in a healthy position. The headrest is a great addition for anyone that wants to lean back every once in a while!
Herman Miller makes their way to our list for the second time now, this time with a very original design. Like with their previous product, we are highly impressed by the variation available when choosing to purchase this chair. You will be given a stunning amount of 23 color options for the foam cushion, while the frame remains to be chosen between a gray, black, and white color. If you are picky about what color all of your gear is or what chair would be ideal for your studio, Herman Miller will give you the top options you could ask for, both color and feature-wise.
The original design allows for a sense of freedom when working without being bound to a specific area, which sometimes may make the user feel a bit crowded. The breathable back keeps you ventilated and cool so that you won't get sweaty when you decide to lean back for a while.
Pros:

+ original design of back mesh
+ 23 variations of color
+ breathable back mesh
Why We Liked It - Herman Miller doesn't cease to impress the market with their original design and their amazing variety of choices when it comes to picking your final product. This chair is stable and allows for lots of freedom when moving, something that is vital if you are working with a couple of instruments and recording!
Buyers Guide
What is the Best Chair Type for a Music Studio?
When choosing a producers seat, you will want to take into consideration a few factors. Getting a chair for a studio means that you will need to feel comfortable in it, it will probably have to have a breathable mesh back or a padded alternative, depending on how you prefer sitting and where you will store your chair, and what your climate is, and in our opinion the most important feature of all, foldable armrests! Any chair that has ergonomic support will help you be relieved of any pain that long-duration sitting could possibly end up exposing you to.
What features should you look for in a Studio Chair?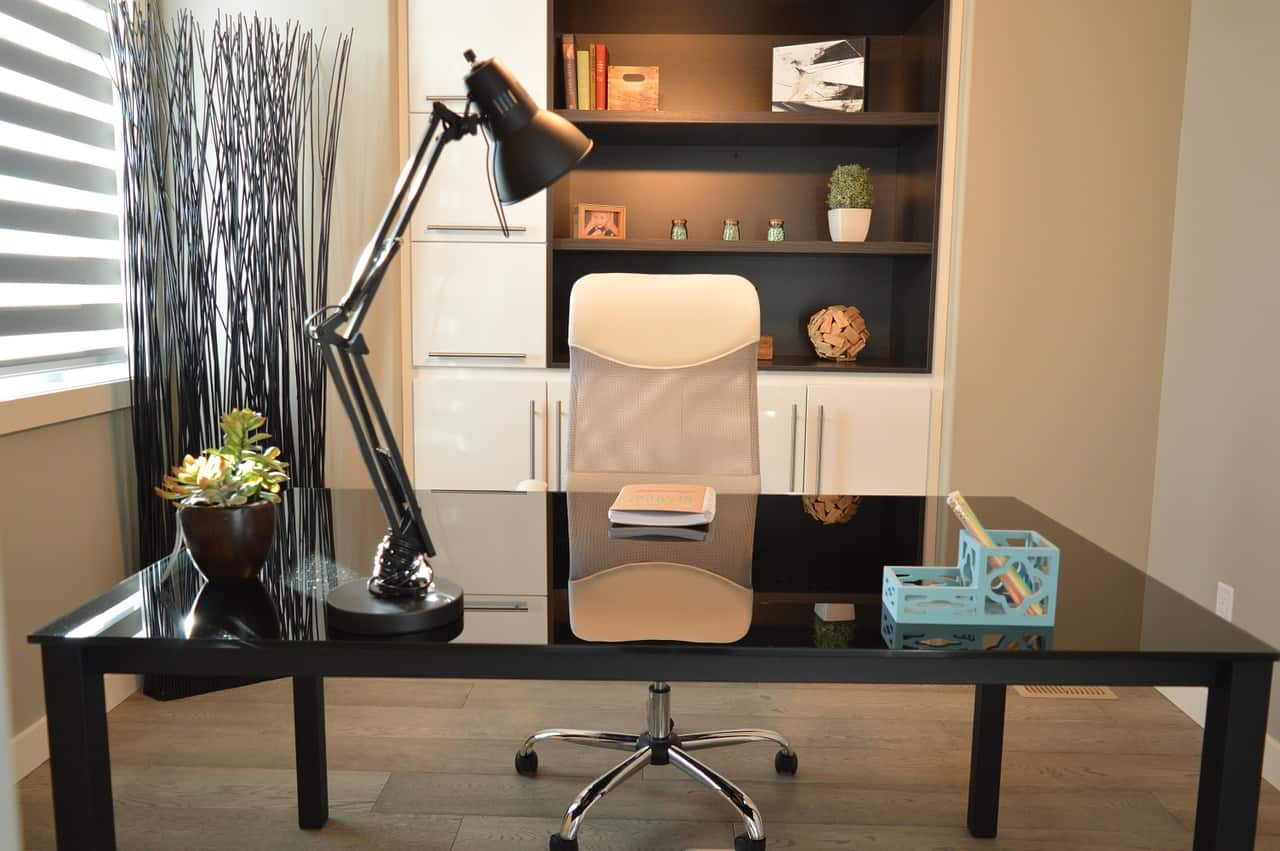 If you are going to play guitar or bass, the ideal solution is to buy a music producers chair that can fold up its armrests. This way you don't have to sit on the edge and play and hope you won't fall off, but you can actually be comfortable and have full access to your instrument from all kinds of directions.
While recording you may have also noticed that you move around a lot- you have to grab music notes here, write notes on a desk, grab a few instruments from different parts of the room, and it might be frustrating to have to get up every two minutes when you have already made yourself comfortable. Getting a seat that has wheels integrated into the designs (better yet, wheels that work on carpeted areas) is a vital feature for anyone that wants to get high-efficiency work done.
What is the Best Chair for Studio Mixing with Removable Arms?
For this occasion, you would have to go with Herman Miller's Aeron. It is the most popular chair among professionals and is most often seen on pictures of pro recording environments.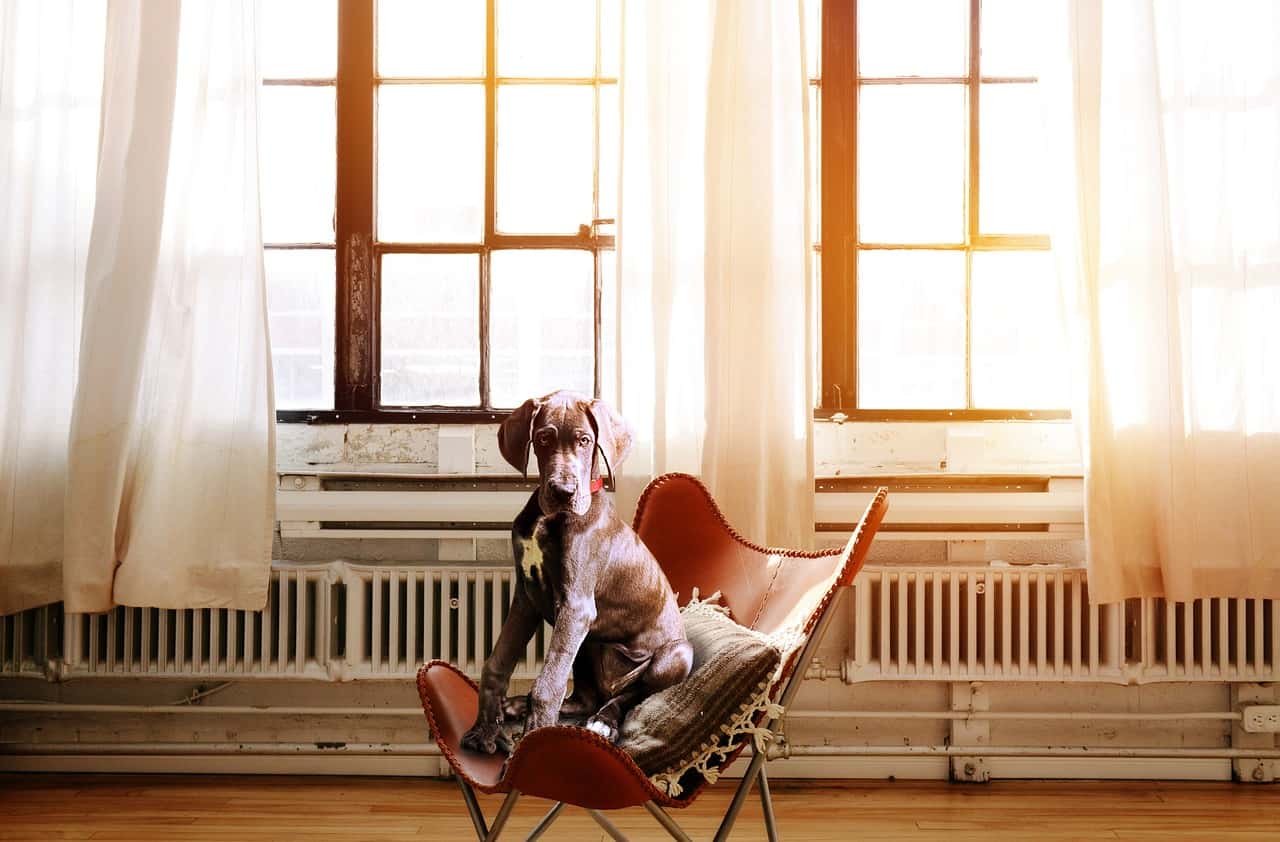 It has been the leading between recording artists for years now and it's simply the top choice for its purpose. It has removable arms, 12-year warranty in case accidents happen, a mesh back to help encourage ventilation and air flow, many variations of design and color and overall great durability!
Thanks to the support the Aeron provides to the lumbar regions of your spine, you will be able to mix in your room for hours on end without feeling fatigued!
Does ergonomic design really matter in a Studio Chair?
The simple answer is: yes. If you sit for a long amount of time, sometimes hours on end, during your practice, jam, or recording sessions, you most definitely need a chair with ergonomic support - see the study. If you are not looking to have serious back problems in the future, like strain injuries or skeletal disorders, you certainly need to invest in a chair that will support your back accordingly.
You may end up thinking that your back feels fine like it is now, but the problem with skeletal disorders develop over long periods of time, and at first, you may not notice the effects. If you want to stay on the safe side and keep your spine safe from something that may inevitably happen if you are not careful, it would be ideal to invest in a suitable seat.
It's a smart option to not risk a long-term disability if you can prevent it!
Top Choice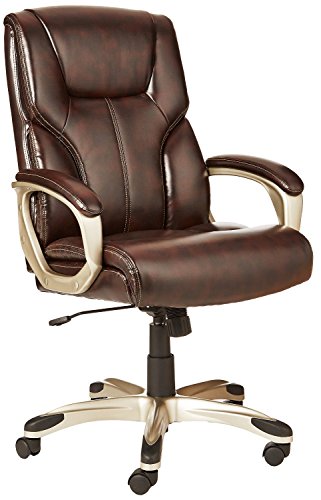 Our Top Choice spot has to go to AmazonBasics- simply because it has an extremely high-ranking reputation and it has made its way to be the public's favorite product. The 5-star reviews and the 5th place in the Top producer's chairs on Amazon make it one of the most sought after products in its category! 

The modern design will fit into any surrounding, the leather coming in both a black and brown variation. The pads included within the seat and back are fantastic for anyone that likes a bit more support. You will be able to wheel over anywhere you like to grab or check anything you like thanks to the casters that smoothly allow you to relocate at your own leisure.
AmazonBasic's seat has to be our Top Choice thanks to the positive feedback it has gained from the customers over the years, and it definitely lives up to its reputation!
Premium Choice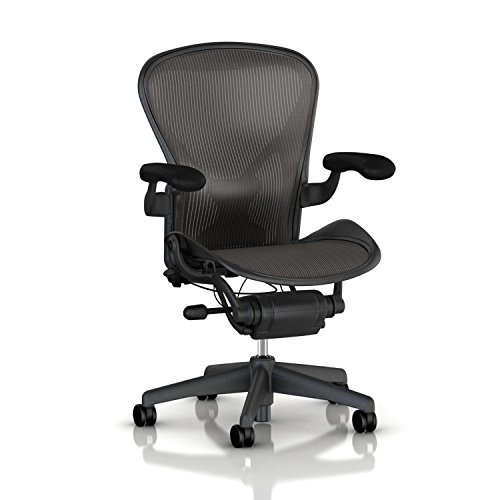 Our Premium Choice spot has to go to none other than Herman Miller! They have given us a great variety of options when it comes to design and color choices, and even different sizes to suit just about anyone. Even though the price is rather hefty, you will be satisfied if you invest in this chair. It's no secret that Herman Miller is one of the leading brands out on the market out today, and their chairs reflect their reputation.
There is a 12-year warranty included within the price to make sure that if you face any accidents, Herman Miller will be able to come to aid quickly and help sort out the problem. The padded arms allow for a comfy armrest for when you will be leaning back to rest from your work.
Herman Miller's product is a great choice- they have fantastic padding and boast many features and variations that some brands just cannot rival!
Great Value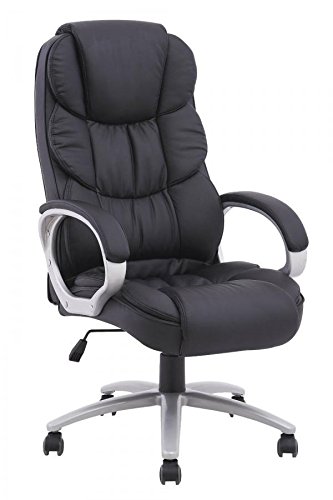 Our Great Value spot has to go to Modway's product- they have one of the most affordable products out there and the craftsmanship is one of a kind. There are three colors available when purchasing this chair: black, red and white. You will also have full ergonomic support (click here for the study), which means that all of your back, especially the lumbar regions, will be supported adequately to keep your back straight and healthy to avoid any pain during your working hours. 

The design of the chair itself is very appealing to many people and it should fit into your room without any problem- it's a stylish choice for anyone that wants to make their workspace a bit more lively and attractive. The seat is also able to support up to 330lbs, and the casters are capable of working both on carpeted and hardwood surfaces without resisting.
Modway has to take the spotlight when it comes to a Great Value investment, the have one of the leading deals on the market with a fantastic set of features, combined with a stylish and modern design!
There is no doubt about it- it's hard to find the ideal gear, especially when you know that you will be using it for a few months, if not years on end. Whichever product you will end up choosing, we hope that you will end up finding something that is most suitable to your needs and that our bite-size reviews and questions made this process a little bit less confusing!
If you liked this review by Music Critic, please leave a positive rating: