Most people would say that it's only kings and queens that sit on thrones, but you as a drummer obviously know better! Many drummers know that what you sit on actually is really important, but some may be surprised to find an entire article about the best drum throne. They might reason that it doesn't really matter that much and that they rather spend money on good drumheads and drum sticks, but the thing is that your drum throne actually can make a big difference.
One aspect of it is that you need to sit on something that is ergonomic and good for your back and being comfortable is something that can only be good for your playing, especially if you practice for long periods of time. Another thing many don't consider is that which drum throne you sit on also affects your footwork.
So you can do this the easy way or the hard way. Either get a good drum throne or regret it. This is not a threat, but more like a promise, because we know what it feels like to buy something cheap to save money only to realize one week later that you should have gone for a better option.
We have decided to help you find the perfect drum throne for you, so we'll give you some reviews of ten great ones, together with the answers to some of the most frequently asked questions about drum thrones.
Ready to find out more about what we think might be some of the world's greatest drum thrones? We've searched far and wide for reviews and information about these so that you can save some time and find everything in one place- here! So let's start what we like to call 'Game of Thrones'!
At a glance:

Our top 3 picks
Our team's top 3 recommendations
Best Overall
DW Drum Workshop CP9120AL

Comfortable
Backrest available (but not included)
Very sturdy
Premium Quality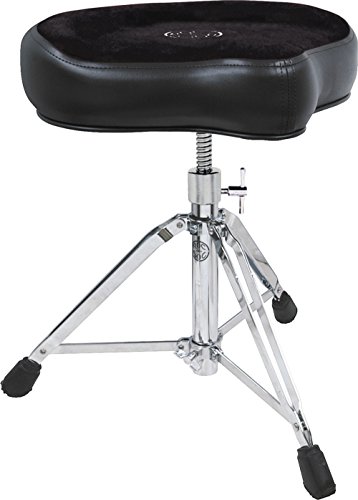 Original Saddle ROC-N-SOC Drum Throne

Comfortable
Backrest available (but not included)
Very sturdy
Great value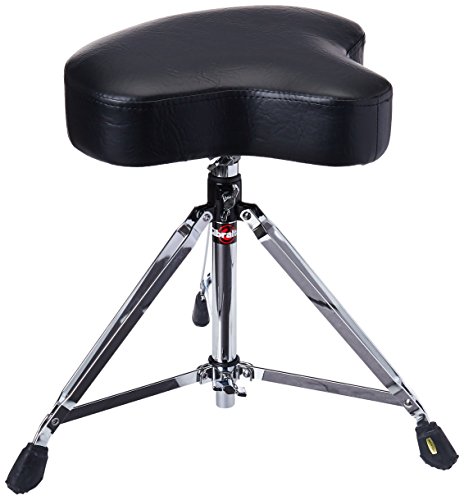 Gibraltar Drum Throne 6608

Comfortable
Backrest available (but not included)
Very sturdy
See the Best Drum Thrones of 2023, Below:
1. DW Drum Workshop CP9120AL
We're going to start out by looking at a really sturdy construction that also is super comfortable. This Drum Workshop drum throne has a so-called dual foam tractor style throne top and the padding is firm but it's still comfy. You can also buy a backrest if you want to, but unfortunately, that's not included when you buy the Drum Workshop drum throne.
People seem to really like this drum throne, and reviews tell stories of drummers who never knew what they were missing out on until they purchased it and now feel an incredible difference. We even read one review from a professional pianist that uses it because it's so good for the back!
It comes with a 5-year warranty, but that doesn't cover the soft parts, so you still need to be careful with it. It has hydraulic height adjustment that slides easily to wished height.
This Drum Workshop seat is the kind of drum throne that you'll probably never have to replace, it's high-quality and very durable.
Pros:
+ Comfortable
+ Backrest available (but not included)
+ Very sturdy
Why We Liked It - If you are serious about playing the drums and want a drum throne that is really comfortable and high quality, then this is the one for you. This is one of the best drum thrones on the market and you can also buy a backrest to make it even more comfortable. If quality, comfort and stability are important to you, and you're willing to spend as much as it takes to get the perfect drum throne, then you're going to love it. Try the Drum Workshop DWCP3100 as an alternative.
Portability - When picking out the best drum throne for your needs, you'll certainly want to take portability into account so that you can easily move your equipment from one venue to the next. Ideally, your throne should be foldable while still providing plenty of support. You may have to experiment with different saddle types to find what option works best for you.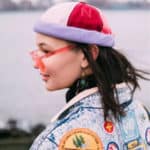 2. Original Saddle ROC-N-SOC Drum Throne
Some products seem to sell themselves and just jump off the shelves right down into your shopping cart, and we must say, this saddle drum throne seems to be exactly that kind of product. People seem to be extremely pleased with it and most reviews say that this is the one to go for, don't even bother looking into other drum thrones.
While we don't believe that it's much better than most drum thrones in the same price range, we believe that it's a good product that definitely does the job. It has a motorcycle seat which is great and makes you sit tall with good posture, which is both going to help your technique as well as save your back and neck. It also looks very good, which might not be very important, but still.
The saddle drum throne has double braced throne legs and swivel height adjustment and is very stable overall. It also features a collar lock on the swivel height adjustment to make it extra stable.
To conclude; if you want a drum throne that will help with your posture but at the same time is comfortable, this might be the one!
Pros:
+ Motorcycle seat
+ Stable
+ Comfortable
+ Makes it easy to sit tall
Why We Liked It - Any drummer who wants something comfortable to sit on with a motorcycle seat design which enables you to sit upright could benefit from these drum stools. It's really easy to adjust the height as well, so if there are several people that are going to be using it, this is a perfect drum throne. Sure, this saddle drum throne does cost more than some other drum seats, but it is really good and is going to last for many years to come.
3. Gibraltar Drum Throne 6608
We know, playing the drums can be expensive, and even though we recommend that you spend as much as you can afford so that you get a proper, amazing drum throne that will last you forever, we know that it's not always possible. So if you want to find a real bargain, where should you go? To Gibraltar, of course! Well, not to the actual Gibraltar, because that might be even more expensive, but we're talking about this drum throne from the brand Gibraltar.
This is an excellent budget option, and we especially have beginners in mind that perhaps need to buy all the equipment at once and want to save money for that reason. And then there's always the reason that you might not know how much you will actually use it. There is no reason to invest in a really pricey drum throne if you don't even know if you will use it in a few months from now.
So what's good about this one? Well, obviously the price, but also the motorcycle seat and the fact that you can adjust the height from 18-24 inches. The drum throne seat has nice foam that is quite comfortable to sit on, but since it's so cheap it's not the most ergonomic stool out there. But on the other hand, if you're a beginner and might only practice drums 15 minutes a day or less, you don't have to worry too much about that.
Pros:
+ Affordable
+ Adjusts from 18-24 inches
+ Good for beginners
Why We Liked It - Most cheap drum thrones are round, but if you want to find a bargain and get one that has a motorcycle seat, then this is the one to go for (or the Gibraltar 9608mb). It's quite comfortable as well, as long as you don't use it for many hours. Beginners and intermediate players should consider buying it if they want to get good value for money.
Adjustability -A great drum throne is fairly adjustable. If you're looking for a throne to use in a studio setting or environment where multiple musicians will be utilizing the equipment, look for a drum throne with an easily adjusted design so that you'll have no trouble switching between set ups.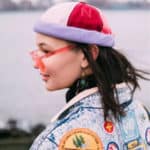 4. Mapex Double Brace Round Top
If you liked the idea of a bargain when you read through the previous review but would like a drum throne that is round, and not motorcycle-shaped, you might want to take a look at this one from Mapex. It's really affordable and does what it says on the box, without being particularly good or bad. The Mapex Double Brace Round Top drum throne is cushioned and pretty comfy but doesn't offer anything extra that makes it more ergonomic than other round drum thrones.
It has double-braced throne quad legs and slip-proof rubber feet, so it's quite sturdy and stable. You can adjust the height of this round throne, but it's not super easy to do so as you have to remove a retaining bolt to do it. But if you're the only one using the throne this isn't really something you need to worry too much about.
Pros:
+ Cheap
+ Round seat
+ Sturdy
+ Rubber feet
Why We Liked It - This round top drum throne can be a good option if you're the only one that's going to be using the throne so that you don't have to adjust the height from time to time. It's very affordable, with a round top and sturdy, so it can be really good for beginners. Round drum thrones are hard to go wrong with, as long as you're not aiming to become a professional drummer.
Next up is this throne from DW which is like a budget version of number 1 on our list. It's sturdy and has rubber feet and it's lightweight but still very stable.
It's comfortable to sit on and people seem to be pleased with it except for two things that we've found in several reviews. The first thing is that it's not very easy to adjust the height. The second thing is that it doesn't swivel, but if you're used to a throne that does, you might actually cause it to break if you don't sit still. If you don't feel like any of these two things apply to you, then go for it! It's a good but cheap drum throne that probably suits beginners best.
Pros:
+ Affordable
+ Sturdy
+ Comfortable
+ Lightweight
Why We Liked It - We think that this drum throne probably is aimed at beginners and intermediate players who want something that is really comfortable but don't really need the throne to swivel, which might be something that is going to be annoying when you've been playing for a few years. But if you don't care about that you can save quite a bit of money without compromising the quality. It's a really good drum throne!
6. Rockville RDS30 Deluxe
If you have limited space and need a small throne that's easy to fold and put away and doesn't take up much space even when it's used, then chances are you're going to love this one from Rockville.
It's a budget option that does what it says on the box, but perhaps not much more. It doesn't swivel, but it is easier to adjust the height on than many other budget alternatives. It has shock absorbing rubber feet that provide great stability and it's lightweight but sturdy. It seems that sturdiness and durability have been the most important things for Rockville when they designed it, and it seems like they've accomplished what they set out to do.
A good drum throne for beginners and people who only play the drums occasionally and doesn't want to spend too much but want to be comfortable when they do get the chance to play.
Pros:
+ Affordable
+ Foldable
+ Lightweight
+ Durable
+ Rubber feet
+ Shock absorber
Why We Liked It - We imagine the perfect customer for this throne to be somebody who lives in an apartment and doesn't have much space and needs to be able to fold the throne up in between uses, and who also wants to buy a throne that is affordable as well as durable, in case they have to bring it with them or they move a lot. This is probably not a stool that advanced drummers would buy, but it works well for people who play once in a while.
For some people, the definition of the best throne would simply be: the cheapest drum throne you can find that still works well enough and doesn't break as soon as you assemble it. If that's a definition you agree with, and you don't really care about fancy features and getting the highest quality, you can just as well settle for this drum throne from Flexzion.
It's really cheap, but has everything a beginner needs, and could also work well for guitarists or keyboardists. It has anti-slip rubber feet so that it doesn't slide all over the place and it seems to be pretty sturdy and stable, despite the low price. It also has double braced throne legs and folds up so that it takes up minimal space when you transport or store it.
The height is adjustable and you can both adjust the height of the legs and the seat. It ranges from 18.5" to 23.6", which is enough for most people. Even though it's a very affordable throne, you can weigh up to 275 lbs and still use it, which is great. One con is that the drum throne seat doesn't swivel, which you will want it to do as you become a better drummer, but if you just want to buy something really cheap, then go for it, you can always upgrade later when you feel the need for it.
Pros:
+ Cheap
+ Rubber feet
+ Durable
+ 275 lbs weight capacity
Why We Liked It - Anybody who for any reason wants to save money could buy this drum throne. If you don't want to spend money on fancy drum stuff that hardly ever gets used, then this might be the drum throne for you! Sure, it's not the highest quality, but it does what it's supposed to do, and sometimes and for some people, that's enough. Some people would rather spend money on stuff like drum sticks and drum heads, and you know what? That's ok!
What's that you're saying? Do you want to find a drum throne that is even cheaper than what we've already looked at? The question is, is it possible? Well, if you ask the people from Spectrum, they will probably say yes. This is one of the cheapest drum thrones you can find and it is actually pretty popular. Why is it so popular? Well, only because of the price!
This is not a high-quality product, it's just something you buy when you really can't afford to get something better or really don't want to waste money on something that will only occasionally be used. If you are serious at all about your drumming, you won't buy this throne, but then there are actually many people who are not serious about it and would rather spend as little as possible since they're not going to sit much on it anyway.
It's got some good things about it like rubber feet, adjustable height and a weight capacity of 250 lbs. And the best part, according to some people, is that you don't have to assemble it yourself. It also swivels, which is really surprising for such a cheap piece of equipment.
Another thing that might make you want to purchase this particular drum throne is that Spectrum seems to have excellent customer service and really seem to care about their customers and want to keep them happy.
Pros:
+ Very cheap
+ Swivels
+ Rubber feet
Why We Liked It - Again, this is not a product for people who are looking for a high-quality drum throne to use for a couple of hours a day for 15 years, but more the kind of throne you buy for a kid that's likely to quit playing drums in less than a year. One really good thing about it is that it swivels, which not all budget alternatives do, so we have to give it that. But to be completely honest, nobody is ever going to say that this is the best throne ever, but it does the trick if you're only going to sit on it from time to time.
9. ROC-N-SOC Nitro Throne
There are many amazing things to love about this drum throne. For example, you can use it no matter how tall you are, as you can adjust the height of the ROC-N-SOC from 18 inches to 24.
Every aspect of this drum throne is made with the comfort of the user in mind. The movement of the throne feels natural, with free-spinning that helps reduce strain on the spine. The bicycle-style seat cushion is soft yet stable, making it perfect for those long music sessions. If you're looking for extra stability, or if you tend to suffer from back and leg fatigue when playing, this drum throne comes with a nitrogen gas shock-absorber for extra comfort, meaning you can play for hours and remain comfortable.
Pros:
+ Shock-absorber for comfort
+ Free-spinning
Why We Liked It - We recommend this drum throne if you experience leg and back fatigue when playing, as ROC-N-SOC have made their Nitro Throne with the comfort of the user in mind.
Are you a risk taker? Then TopStage Universal drum seat might be the low-price drum throne for you. Reviews for this one seems to either be 5-star or 1-star, and while we're not 100% sure if that just has to do with people's expectations, it might very well be that some of these drum seats are ok, and some are not, which is a risk we often have to take when we buy cheap stuff to save a few bucks.
It might be good to remember that most often when we try to save money, we actually end up spending more in the long run, since we then have to go and replace the cheap stuff that breaks easily with something better that we could just as well have bought from the start.
You can't really adjust the height on this universal drum throne, except for the legs, but not much. At least it has rubber feet, which makes it slightly sturdier.
Pros:
+ Cheap
+ Rubber feet
Why We Liked It - To be completely honest we're not really sure anybody should buy this universal drum chair, since it seems to be pretty common that something is wrong with it. On the other hand, the customers who do get a functioning throne seem to be really pleased and happy to have made a bargain. So if you're daring and wanting to save money, sure go for it, but don't say we didn't warn you!
Comfort is Key - Above all, prioritize comfort. If you plan to put in serious hours with your instrument, you don't want something as simple as a saddle type to detract from your playing. You can also look for models that have optional backrests for added support.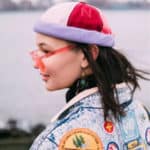 Drum Throne Buying Guide
Conclusion
You might have noticed that most drum thrones on our list are budget options that are quite affordable, and the reason for this is that they are so popular. But we would still recommend that you check out the ones that aren't super cheap and ask yourself how much you're willing to spend. If you spend lots of time practicing the drums and percussion, it's definitely a good investment to buy a drum throne that is ergonomic, comfortable and that you can adjust the height on.
We really hope that this article has helped you to find a great drum throne that is comfortable enough to take your drumming to the next level!
What Is A Drum Throne?
If you've never heard the word drum throne before you might be really confused and picture a royal, golden throne with a snare drum on it, but it's really not that complicated. A drum throne is simply the stool you sit on when you play the drums and percussion.
What Is the Most Comfortable Drum Throne?
Number one on our list, from DW is by far the most comfortable drum throne we've come across, there doesn't seem to be any doubt, people love it. It's more expensive than the rest of them, but we figure it's worth it because it's going to help you to be relaxed when you play and be good for your back. You can also expect it to last for a very long time since it's so high-quality. The fact that you can buy a backrest to put on it as well only adds to the comfort.
Best Drum Throne for Back Problems?
The top drum throne for back problems is probably also number 1 on our list from DW. It seems to be the most ergonomic option, and you can even attach a backrest to it, which might be nice if you have back problems. It also makes it easy to sit with good posture.
Best Drum Throne with Backrest?
Number one, from DW is great and you can buy a separate backrest to put on it if you want to. There are a few rare cases where you can get a drum throne with backrest included.
Top Drum Throne Under 100 Dollars?
Check out number 7 on our list, which is a great drum throne from DW which is way cheaper than the first one we looked at, but still is really good. By just spending about $30 more than the cheap, bad budget options, you can get this drum throne which is actually really good and comfortable.
Expert Tip:
A drum throne that swivels will make it easier to play and develop your technique.
Did you know?:
You can also use drum thrones when you play the guitar, the keyboard, and other musical instruments.
If you've enjoyed this review by Music Critic, please leave a positive rating:
[vc_separator