There's a certain criteria when it comes to sourcing the best beginner drum set. For starters, age is a big consideration.
Did you know that drums are the fourth most popular instrument to learn to play, trumping electric guitars? They have a loud, luring appeal and the desire for one starts young.
Drum-kits can be one of the biggest investments to make in terms of price, space, and commitment. As a very loud acoustic instrument, they also might take some convincing as far as the household and neighbors are concerned.
Drumming takes a fair amount of practice and, while it is something that can be taught, it does rely on a healthy dose of natural rhythm and co-ordination.
The complexity of playing with your hands, and then your legs taking on different rhythms can be tough for some, causing them to quit early on, so you don't want to find yourself shelling out too much if it's just a fad.
With that in mind, we have selected some affordable starter sets for a range of ages, so let's review.
At a glance:

Our top 3 picks
Our team's top 3 recommendations
Best Overall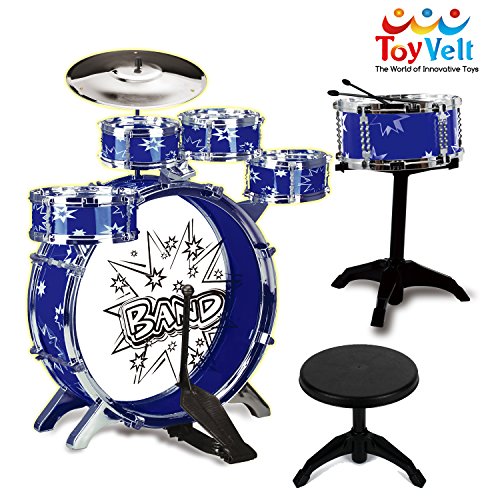 12 Piece Kids Jazz Drum Set – 6 Drums

Realistic toy drum-kit.
Comes with everything.
Low-price.
Premium Quality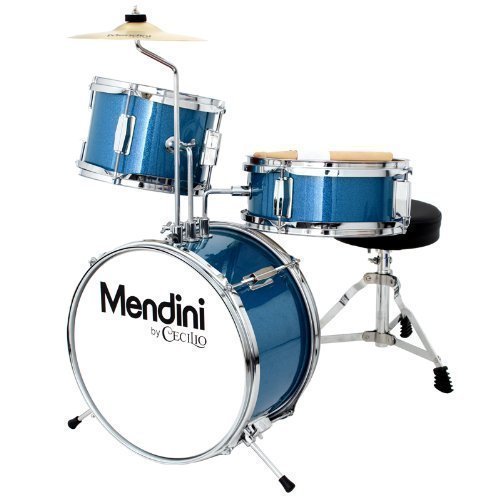 Mendini 3 Drum Set

Realistic toy drum-kit.
Comes with everything.
Low-price.
Great value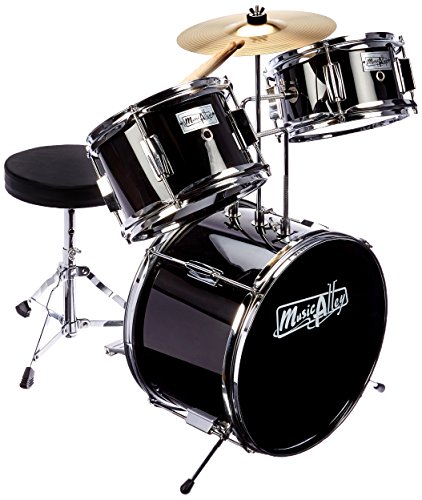 Music Alley Kids 3 Piece

Realistic toy drum-kit.
Comes with everything.
Low-price.
View The Best Beginner Drum Set Below
1. 12 Piece Kids Jazz Drum Set – 6 Drums
Our first selection is a toy drum set, intended for much younger users. The nice thing about them is that the're not loud enough to drive you up the wall. They have a good traditional layout, which makes transitioning to a real junior kit an easy step-up.
We are not recommending these for any adult beginner; we specifically stress that they are a great low-cost play-kit to test the water with. If your toddlers show any aptitude, you can think about saving the money for an authentic junior drum-kit.
Everything you need is included in this kit, with 6 total drums (bass, snare, and 4 toms), as well as a sturdy plastic throne, perfect for your children's smaller stature.
There is a cymbal included, as well as the sticks and a plastic one-piece bass pedal which, while it isn't mechanical like the real-deal, it's still good for practicing your baby steps. It's easy to set up and has a good resonance that will excite your kids.
Pros:
+ Realistic toy drum-kit.
+ Comes with everything.
+ Low-price.
Why We Liked It - If money is tight, and you aren't sure if your child is the next Ringo Starr, this is a good warm-up item for under 5's. It won't break the bank and won't cost a lot to replace, should they turn into animals.
This next set is, again, for the younger user. This is a miniature 3 piece drum-kit with a mounted snare, rather than a free-standing one, for easier use.
Mendini makes some great junior starter models. This one is more like the genuine article; it features real wood shells with proper lugs.
The bass drum measures 13 inches in diameter and has a spring-tethered, metallic pedal with good friction and response.
The snare is 4 x10 inches and the tom is deeper at 6 x 8 inches. The 8-inch cymbal is pretty good quality - much better than the toy set we opened with - but the resonance isn't superb.
Luckily, as it's made in the same manner as a traditional drum-kit, you could upgrade it for a proper splash cymbal without affecting the balance.
The skins have triple-flanged hoops and can be changed if they need repairing.
The drum throne is padded for comfort. Sticks are provided, and they come in a range of colors.
Pros:
+ Wooden shells.
+ Triple flanged hoops.
+ Under $100.
Why We Liked It - It retails with a realistic beginner price. It has a good composition with genuine wooden shells. It's also well-constructed, perfect for learning on, and is relatively easy to assemble as well.
3. Music Alley Kids 3 Piece
Next, we have a similarly matched 3-piece kids' kit that, again, has a good traditional build quality and retails for a similar price.
It has the same dimensions, except that the cymbal stocked is slightly larger at 10-inches, and the bass drum is also a little bigger, measuring 14 inches. This means it stands a little higher. The age recommendation is extended to 7 years old.
It features wooden shells with chrome hardware and, like the Mendini model, it has a mounted snare. The stool is sturdy with a cushioned leather-look top to keep it comfortable.
This kit comes come in a blue, red or black finish. It's well balanced and stands sturdily, with rubber non-slip feet to help keep them at the foot of the player.
Pros:
+ Wooden shells.
+ Real hardware.
+ Comfy throne
+ Competitively priced.
Why We Liked It - It genuinely is just a scaled-down version of a standard adult kit. It plays well, and has an appealing price-tag.
4. Gammon Percussion Full Size Complete
Now for an adult starter option that won't break the bank. This set from Gammon is a great affordable place to start when learning to drum. It is a full-size adult kit that provides a good core, which you can upgrade along the way as you progress.
It is a five-piece kit that gives you the heart of a traditional set. Its layout includes a 22x14 inch bass drum with 12 lugs at its core. It supports 2 mounted toms that feature adjustable tilt memory locks, to help keep them in your preferred position.
They both measure 10-inches in diameter, one with a depth of 12-inches and the other, 13. The snare is free-standing. It's 14-inches with a depth of 5.5-inches. It's adjustable and has a solid quality stand.
Also, you get a floor tom that is 16x16-inches, with a great tone and a free-standing hi-hat with 12-inch cymbals. The crash and ride cymbal is 14-inches and has good resonance.
It has wooden shells with a glossy black finish. It comes with a good quality chain-driven pedal, throne, sticks, and a bonus instructional DVD.
Pros:
+ 5 piece full-size drum-kit.
+ well manufactured.
+ Everything you need.
+ Great value for money.
Why We Liked It - It's an idyllic adult starter kit which won't set you back too much in terms of investment. The instructional DVD will help you along the way as well.
5. Alesis CompactKit 4 | Portable
If you don't have the space to indulge your drumming desires, then your solution could be an electronic desktop drum set. While they are never going to compare to the real deal, they do provide a good means to practice some techniques with.
They are especially good if you are learning in a school environment with a real drum-kit, but need something to use at home that doesn't hog any space.
This option from Alesis is ultra-compact, but still keeps the four onboard drum pads separate enough to co-ordinate between. The pads have a good response and they are programmed to be velocity-sensitive, like a real drum skin.
You can assign the sounds to the pads from 70 different samples and, although you have no bass drum, you can tap your foot as you play. It's loaded with 50 practice tracks to jam along with, and a skills coach feature that guides you with its LCD screen.
It's equipped with a headphone output so you can drum without disturbing those around you too much. It comes with its own AC adapter but can also run on 6 C-cell batteries.
Pros:
+ Electronic Desktop drums.
+ Velocity sensitive pads.
+ Skills coach feature.
+ Headphone output.
Why We Liked It - It's the only solution for those who live in a small apartment. It's ideal for bedroom practice.
6. Mendini by Cecilio 16 inch 3-Piece
Back to junior kits this time for a wider age group than the first Mendini model we looked at. The MJDS-3-BR has a 16-inch bass drum which gives it a decent core for users up to a maximum of 5 ft tall.
It's also the first kit in Mendini's line which offers the traditional, individually mounted snare drum usually found on an adult drum. The snare has a good sound and is adjustable with a dial. It promotes correct drumming posture and practice. The only thing missing from this kit is a free-standing hi-hat, but your kid really will have the best start in their art.
It has been well manufactured like the others in the series, utilizing wooden shells. It has great quality hardware and the skins can take a beating. They are traditionally fixed in place with hoops so they can also be replaced as time goes on.
It has a comfortable throne which is adjustable in height which means it can grow with your youngster.
It is relatively simple to put together and comes in glittered black, blue, red, green, purple, and silver.
Pros:
+ Real wood shells.
+ Free-standing adjustable snare
+ Good quality mounting system.
Why We Liked It - It is well-constructed, has good tonal qualities the snare is free-standing and can be adjusted. We would recommend this one for 8-13 year-olds.
7. Alesis Drums Nitro Mesh Kit
Our next option is a full electronic drum kit, an electric kit is a little more compact than an acoustic one and it offers a quieter practice solution as it can be used with headphones.
They are typically much more expensive but they are a good long-term investment. The software hubs can often be updated or expanded upon in terms of sampled sounds and they suit adult players.
Some people argue that they aren't as realistic to play with, but the Alesis Nitro Mesh kit benefits from the company's mesh drum heads that provide a better response. Many people are touring and gigging with electronic sets in modern times, and the Nitro kit is a good entry-level model.
It features a sturdy aluminum post-rack with 4 supports. It gives users a fuller kit to work with. The configuration consists of an 8-inch dual-zone snare pad which produces 2 different tones and 3 tom pads, complemented by 3 cymbals.
The toms all measure 8-inches, which is a sufficient surface area and the cymbals are 10-inches. You get a crash which features a choke, a ride, and a hi-hat. It also, quite-rightly, has a free-standing bass drum trigger pad.
The drum module itself is pretty impressive. It harbors 385 sampled sounds, arranged as 40 preset kits, and also has 60 different play-along tracks that users can learn to play along with. It features a headphone out and also an auxiliary in so you can even play along to personal tracks.
Pros:
+ 8 piece drum-kit.
+ Mesh heads.
+ Great module.
Why We Liked It - If you already play the drums this could be a good one to help pass the torch with. It is great for teen and adult beginners. It has a lot to offer and the mesh heads have a pretty authentic response, as far as electronic drums go.
8. Electronic Drum Set, 9 Pads Electric
If your budget doesn't stretch to an electronic kit, or you don't trust your youngsters with something expensive until they have shown some responsibility, then perhaps desktop pads are the way to go.
Our last two choices are for the Paxcess RockPals roll-up pads which are another highly-popular choice for learning to drum. First up their original model, shortly followed by their upgraded set.
Their primary model features 7 individual pads that are configured to act as a snare, 3 toms, and 1 ride along with a hi-hat. Also, two foot pedals take care of the bass.
They are arranged with a true-to-kit layout to promote crossed hands and access in the correct areas.
The pads are soft and flexible so that the mat can roll-up and store away compactly. They have a good response, interacting with the sticks without any delay. They can also be played with fingers and hands should you fancy it.
The electronic center has 2 good quality bass-capable speakers. The volume adjustment room is good; it ranges from very soft to room-filling. You can also plug in headphones and practice silently.
It has a built-in metronome to help you keep the tempo and an auxiliary in for your MP3 player. It offers up 5 different timbres and has 8 built-in demo songs. It has a high-capacity rechargeable battery and can be connected with a USB and used for key-mapping to play games!
Pros:
+ Roll-up pads.
+ Built-in speakers.
+ Headphone output.
Why We Liked It - It's an inexpensive, compact option for beginners that presents a traditional layout for learning and a silent practice solution that you can roll-away for storage.
9. PAXCESS Electronic Drum Set
Lastly, we have the upgraded Rock Pals roll-up pads from Paxcess that gives users 2 additional pads to play with and offers a little more versatility than the first model.
It, again, has a good configuration for drum transitioning, but they have opted to include a kick drum trigger pad onboard. The desktop layout for younger users who haven't got hand and foot co-ordination down quite so well yet.
The other additional pad is a second hi-hat, which gives you one for open and one for a closed sound presenting timbre far-closer to the real thing.
It features the same essential set-up as the original model, with the same flexible non-toxic silicone pads, though they have been thickened up a few millimeters in density.
They can again be used with headphones and allow for an auxiliary input to practice along with. The DSP circuitry has been updated, so you can change the layout if you want to, as well as the styles.
It has a more extensive bank with pop, Latin, and electronic styles. The battery lasts for up to 8-hours and the speakers have good clarity and volume attenuation. It comes with 2-foot pedals and sticks like the other model.
Pros:
+ 9 pads and foot pedal.
+ Headphone out.
+ Aux in.
Why We Liked It - It gives a little more range to play with and is ideal for a wider range of learners. It takes up next to no space in terms of storage and is a great alternative to a traditional kit. It won't break the bank or your eardrums.
Beginner Drum Set Buyers Guide
When buying a drum for a beginner age is, of course, important. Younger children might not have the respect required to handle a high-end set of drums.
The price of drums can soon rack-up, so a fair few of our choices have been based on constrictive parameters. We decided on "Drum sets" as a more fitting title than kits.
Regardless of your age or the type of drum set you end up choosing, there will always be plenty of things to consider.
What to Look For in a Drum Set?
If you want an acoustic kit then make sure to get an appropriate size for your age. We have demonstrated that there is a beginners kit out there for everyone.
We would generally avoid plastic kits but the first model is specifically tailored for toddlers, in which case, a plastic drum set is perfectly fit for purpose. It won't blow anyone away in terms of sound or long-term durability, but it will spark an interest in them and help develop early coordination and rhythm.
A 3-piece junior kit can be built-upon. A 2-piece, as we have shown, has fixed snares, which isn't perfect but, again, for a younger user, this makes for a great starter model.
An adult should be setting their sights on a 3-5 piece with a separate snare and maybe a floor tom to boot, but this can always be added at a later date once you are comfortable with what you have.
If you decide to go with an electric kit then keep in mind that the transition between an acoustic and electric can be a lot stranger than you might at first think.
Choose one which is compact but not restrictive, where possible. Save up for a more expensive set as the sampling, processing, and response all tend to be miles better in the upper-regions.
If you go for a desktop option, then you have to decide between hard or soft. Softer mat-style drum sets allow for convenient storage but if they aren't good quality. The triggers can get damaged more easily than a hard version.
Conclusion
The best drum kit for a beginner can take many forms, as you will have gleaned from today's diverse selection.
We have aimed to cover all our bases but, granted, we have leaned towards the more affordable options. If you are an adult looking for an acoustic beginner drum set, you may feel a little disappointed that we only included one option in this article. But, never fear, we have plenty of drum-kit reviews stashed away for a read.
When buying for someone younger, you have to be realistic when living in smaller accommodation or in built-up areas. You have to consider your neighbors as well as your available space. Hopefully, some of our suggestions will have proven that there are some savvy solutions available.
Expert Tip
The 3-piece junior models we looked at today are a great starting point for a youngster but could do with the addition of a hi-hat for realistic practice.
Did You Know?
Hi-hats have a higher timbre than a vintage low-boy cymbal. They also give the appearance of someone raising their hat in greeting when they are foot operated, hence the name.
If you've enjoyed this review by Music Critic, please leave a positive rating:
[vc_separator