The Alesis Nitro Mesh Electronic Drum Set is an affordable, 5-piece set that's fun to play. It comes with all the necessary accessories to play right out of the box. A 4-post aluminum stand, three toms, a snare, a bass pedal, hi-hat, ride, and crash cymbals are all included.
The playing surfaces can be tuned to give drummers a customizable experience. With an affordable price tag, this electronic drum set may be the perfect way to help you work at home without disturbing your and family members and neighbors.
Alesis Nitro Mesh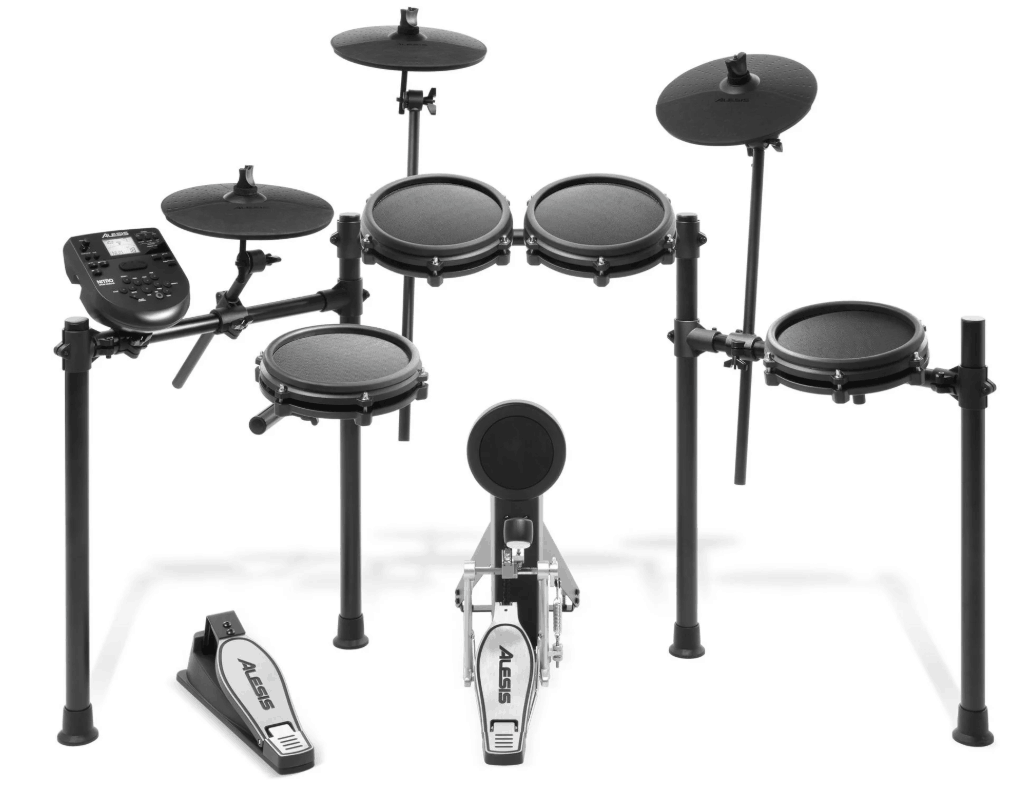 Summary
The Electronic Mesh Drum Set from Alesis is a lightweight and versatile set for your home. It's affordable and fits nicely in any practice room. Because it's electronic, you can turn it up as loud as you want, or keep it as quiet as you wish. If you listen through your headphones, the only external sound will be the soft hitting of the pads, which is much quieter than hitting live acoustic drums.
This set comes with everything you need to start playing right out of the box. It comes with your snare, bass pedal, and kick-pad, hi-hat, crash, and ride cymbals, two tom drums, and the necessary hardware. A 4-post aluminum frame holds everything together and adds a sense of stability and durability to the whole ensemble.
The mesh pads are tunable, meaning you can change the sound of them, as well as the level of response you get from each hit. If you like a lower response kickback, you can loosen up the mesh pads. If you wish to have a more firm response, then you can tighten the mesh for a harder surface.
The Alesis Nitro Mesh Electronic Drum Set comes stocked with 40 different drum sounds preloaded into the programming. You can choose from a variety of kit sounds, including your typical acoustic kit, rock kits, heavy metal, and many more. You can have a lot of fun navigating and playing around with your favorite sounds. The whole package houses up to 385 drum sounds in total, giving you a decent variety of sounds to play with.
The kit also comes with some dynamic properties. Just like on an acoustic drum kit, you can change the sound you get from it, depending on where you hit individual drums or cymbals. The snare, for example, emits a typical snare sound if caught in the center of the pad.
You can get a high-attack rim sound if you strike the side of it. Similarly, the crash and ride cymbals allow you to choose whether you want a light riding sound or a definitive crash sound, depending on where you hit it.
You can hook up the drum kit using a USB or MIDI controller to play along with your favorite tunes, giving you the feeling that you're playing along with the band in real-time. It's also pretty good for everyday practice with the metronome that's built-in to the programming.
The kit includes drum sticks, power supply, cables, and a drum key. It's one of the most affordable ways for new players to work on their drumming without making too much noise, or taking too much money out of pocket.
Pros
+ Affordable
+ Versatile
+ Tunable mesh pads
+ Dynamic heads
+ All accessories included
Cons
- Only two cymbals
- Not as durable as higher-end kits
Why We Like It
Whether you've been drumming for a lifetime, or you're just getting started, the Alesis Nitro Mesh Drum set is a reasonably good way to go. It's affordable and straightforward, yet still offers a level of versatility that makes it fun to play. It's durable and sturdy while also being lightweight and portable.
It doesn't take up as much space as a regular acoustic drum set does. The dynamic pads and cymbals help make this kit feel like an acoustic one, as you can vary your sounds based on where you hit the kit. Also, not many electric packages offer a cymbal choke option. That's a bonus with the Nitro Kit from Alesis.
It comes with everything you need, right out of the box, which is relatively convenient — no need to go out and buy sticks or extra pads to get going. Being able to tune the drum heads to your desired response is pretty cool. It allows individual drum players the opportunity to fix the kit to their playing preference.
The Electronic Mesh Drum Set might not have a ton of drum sounds, but 40 is plenty to get you started. Especially at this price tag, you can't go wrong. We would recommend the Alesis Nitro Kit for anyone who wants an affordable but reliable electronic kit for their home.
If you liked the article, please leave your feedback.