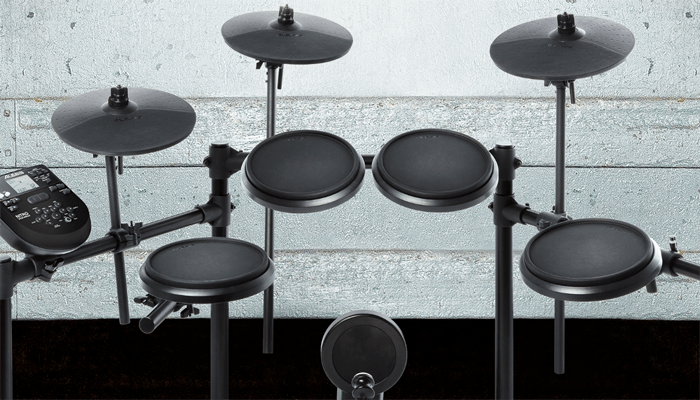 The Alesis DM6 kit was one of the best electric drum kits on the market that came at a very low price. It was incredibly popular because of its low price point, as well as offering drummers a module that was really easy to use, as well as its excellent sound quality. Alesis discontinued this kit, though, and have replaced it with the Alesis Drums Nitro.
The Alesis Drums Nitro kit has a far more extensive range of sounds than its predecessor, with this kit offering 385 sounds, compared to the 108 that you used to get with the DM6. You also get 40 slots for preset kits, while the DM6 only gave you 15 slots.
Another big plus for the Alesis Drums Nitro is that it has a built-in training function, which is really useful for new and intermediate drummers. It's also possible to connect up an extra tom and cymbal to the Alesis Drums Nitro kit, whereas this wasn't possible to do with the Alesis DM6.
Just because the Alesis Drums Nitro is the successor to the Alesis DM6 doesn't necessarily mean that it is an improvement on the previous, extremely popular kit, but in this case, the Alesis Drums Nitro really is a step up, with a lot of extra features, as well as keeping the things that drummers loved from the Alesis DM6.
Key Features
Here are the key features of the Alesis Drums Nitro:
Mesh Drumheads: Mesh drumheads are the most intuitive, natural feeling drumheads that you can get on an electric drumkit, and the ones on the Alesis Drums Nitro are premium quality.
Eight Piece Configuration: This is made up of an 8" snare pad, three 8" tom pads, three 10" cymbals, a hi-hat, and a crash that has a choke.
40 Drumkits: You can choose from one of the amazing 40 kits that come as standard on the Alesis Drums Nitro, which ranges from classic kits to modern kits.
385 Sounds: These voices allow you more control over the sound of your kit, as well as the freedom to create and experiment.
Learning Feature: The learning feature includes over 60 play-along tracks, which will help you improve your drumming.
Headphone Output: This allows for silent practices, which means there are no more restrictions to when you want to play.
Pros
+ The Alesis Drums Nitro is a marked improvement on what came before it. While the Alesis DM6 was a great kit, and it was a bestseller for a good reason, the Alesis Drums Nitro is a much better kit that offers more premium quality features for a similarly low price as the Alesis DM6.
+ The range of choice when it comes to sounds is remarkable. With 385 sounds and 40 preset kits, then you've really got a complete choice over your sound.
+ The learning feature wasn't available on the Alesis DM6, and its inclusion on the Alesis Drums Nitro is a huge plus for this kit, as it allows you to not only practice but to learn and improve your drumming from the comfort of your own home.
+ The mesh drumheads are the best drumheads you can find on an electric drumkit. They feel just like an acoustic kit to play, giving you the same rebound you're used to, which makes it a perfect practice kit.
Cons
- It is difficult to find a con for the Alesis Drums Nitro, as it truly is an exceptional electric drumkit. The only slight negative in comparison to the Alesis DM6 is that it costs a little bit more, but for the improvements, like the mesh drumheads and the learning feature, then it is well worth the extra money.
Who Is It Suitable For?
The mesh drumheads are pro-quality, and the range of sounds and kits is exhaustive. This means that this electric drumkit will appeal to drummers of all levels. Beginners can grow with it, especially because of the learning feature, and more advanced drummers will love it too.
Why We Like It
The Alesis DM6 was one of the bestselling electric drumkits for a reason. And Alesis have built on this previous model, and created an outstanding drumkit, with excellent mesh drumheads, as well as a huge range of voices, as well as a learning feature. It is an outstanding electric kit.
Other related product
Alesis Surge Mesh Kit
If you liked the article, please leave your feedback.