The Behringer Model D is a commendable low-cost analog synthesizer that divides opinion. Not because it has any particularly stand-out flaws, but because of the company's bold decision to lift the looks of the high-end Moog, that it has surely pilfered its designs from.
With a remarkably similar layout, in spite of a few additions and key changes, Behringer has even been cocky enough to borrow the color pallet. And, most brazen of all, named their synth the Model D. So there should be no doubt that the creation of this one was for the sole purpose of creating an affordable re-imagining of the MiniMoog Model D.
The MiniMoog in question was, of course, a modern-day re-release (2016) of the original legendary analog synth. Short of the fact that the Moog sported a key-bed of its own, the 2 are strikingly similar. When you buy the Behringer Model D (BMD), you, in essence, have the technical half of the MiniMoog Model D.
Fortunately, for the most part, it's a great homage, rather than a crappy knock-off, because the engineers at Behringer have plenty of experience with synths. Without the keys themselves, you are missing the velocity sensitivity and After-touch effects, but you can convert the MIDI messages for touch sensitivity. It also responds to modulation, something the MiniMoog isn't capable of.
The model seems pretty solid - the chassis is enclosed with wooden end cheeks, that give it a vintage aesthetic. The dials are lower quality, which is to be expected, given the significantly reduced price, but they have good resistance and function perfectly well.
It presents three voltage-controlled oscillators, and all pathways are purely analog. The circuitry is high-end, with JFET transistors, and is practically identical to the model it is inspired by. The oscillators have accurate pitch and can be scaled across 5 octaves.
They are monophonic, but you can chain up to sixteen of them together for effective polyphony. There are five classic waveform shapes to choose from, and a triangle/square wave LFO.
There are a total of 48 on-board controls that include a noise generation bay and overdrive circuitry. The total CVs and gates on offer include pitch (1V/oct), LFO frequency, Filter cutoff frequency, Amplifier gain, Filter contour gate, and Loudness contour gate.
The 24dB/octave VC filter has resonance parameters. You can dial in a great portamento and dirty things up with the overdrive circuits.
This gives you plenty of sounds to explore, and although some might use alternate tweaking, you really can duplicate all of the Minimoogs' presence and synth tones. The basses are punchy and allow you to sculpt hefty pulses. You achieve cutting lead sounds and other-worldly choral pads.
It has CV connectivity that lends it semi-modular flexibility that some of the newer euro-rack models on the market are offering.
Behringer Model D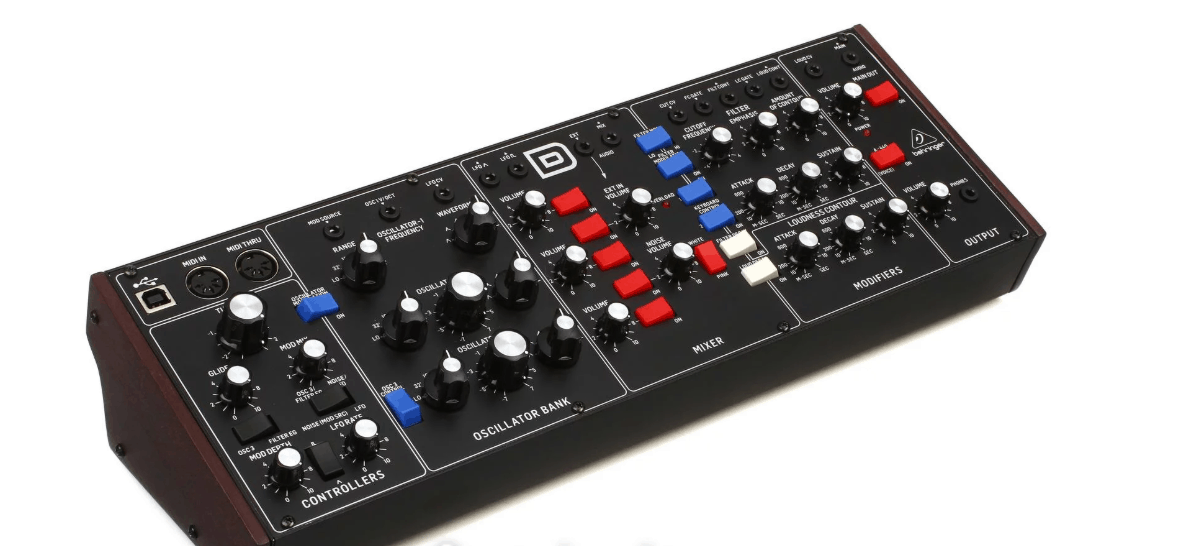 Summary
The Behringer Model D is an affordable all-analog synthesizer with three impressive mono-symphonic, voltage-controlled oscillators, and a VCF with resonance. It is equipped with high and low-pass filtering variables, and it presents an overdrive circuit and a noise generator to color your sound with.
It has a glide function for portamento effects and grants you a range of fat and nostalgic sounds alongside the new age and celestial.
It has good I/O options and is very well built, with gorgeous wooden ends. With familiar features and functionality, some feel a little uneasy about the cheeky manufacturing of this tribute synthesizer, but it does present a serious synth to think about. In all honesty, it does have a few perks of its own, like the fact that it is a euro-rack dimension, and the MIDI can be modulated.
There is a ton of new semi-modular units making waves, but not all of them are completely analog nor voltage controlled. This one is, and to be fair, it is probably the most viable option for those who would love to get their hands on the MiniMoog but can't justify the expenditure.
Pros
+ Well Manufactured with wooden ends.
+ 3 Voltage Controlled Oscillators.
+ Voltage Controlled Filtering with resonance.
+ Lowpass and highpass filtering.
+ Noise generator with 2 options.
+ Overdrive circuit.
+ Glide (portamento).
+ MIDI Modulation.
+ USB-MIDI / 5-pin In and Thru.
+ CV connectivity.
+ External connections.
+ Reasonably priced.
Cons
- The 3.5mm I/O sockets might irritate some users.
- We would recommend using it with an external MIDI keyboard, as some users have found triggering issues.
Why We Like It
Controversial, copy-cat characteristics aside, the BMD is a superb low-cost synth with Euro-rack dimensions for easy integration into your set-up. It can be poly-chained (up-to 16), which also gives it a little identity of its own.
It has CV connectivity, which gives it a semi-modular style edge and makes for a great addition to your rig. The MIDI control is impressive, the VCO's are well-attenuated, and the VCF with its resonance and envelope generators give you a vast range of scope over your sound.
If you liked the article, please leave your feedback.