Mackie is a renowned mixer manufacturer. Their new Onyx preamps, featured in the ProFX range, take their low-budget models to the next level. The new series goes from 6 to 30 channels. We're focusing on their 12V3 model today, mostly for its fantastic versatility.
Currently in its third resurrection, the PROFX12V2 has plenty to offer. It's an excellent quality analog mixe,r with a design that's focused on ease-of-use. Mackie has developed it with the user in mind.
The dimensions are unobtrusive, and it has an ergonomic incline to help give you a good overview of all the controls. All hardware is arranged sensibly. It provides an impressive total of 12 channels, as the name suggests, seven of which sport Onyx preamps.
On the surface, the PROFX12V2 seems like most Mackie mixers, but the routing has been intuitively re-tweaked. It also features modern digital-ready upgrades to keep with the times. The analog to digital converter (24-bit/192kHz A/D) is of high quality and lets you work at a professional resolution.
It comes with a USB-B out in addition to 2 x XLR, 2 x ¼" for your main left and right, 2 x ¼" to hook-up to the control room, and 2 x 1/4" for your subgroup out. You also have headphones, as well as a post-FX Send and a dedicated monitor send.
Your first two channels have a combo-style input as well as a regular quarter-inch jack. They have Hi-Z switching to cope with high-gain guitars. You then have five more XLR hook-ups. With 7 Onyx preamps, it's more than suitable for plugging in some overheads and catching the timbre of your toms.
All seven are fit for condenser use because they each have a supply of phantom powering ready and waiting.
Channels 3 and 4 are unbalanced/balanced inputs, as well as regular line-in connections. 5/6, 7/8, and 9/10 are stereo input channels. All the channels are equipped with a 100 Hz lo-cut filter switch, except for channel 11/2.
11/12 is a solitary stereo mini-jack connection for connecting your devices. You can use this for playing music through, while you set-up. It features a USB switch in place of the low-cut filter.
Every channel has a dedicated gain dial, master volume 3-band equalization, FX dials, and individual monitor send level controls on hand. Channels 1-4 also have single knob compression to make processing a doddle. You can left or right pan the lot and mute any channel immediately as you see fit.
You can use the FX send to assign and mix in any of the 24 effects that are on offer from the glorious GigFX Engine. They can be applied as whole or independently. Here, you have a wide but utilizable set of sound manipulation elements to explore. None are too wild; many are ambient or on the subtler side, so you will likely find each practical rather than a waste.
You have access to nine distinct reverb options, including room and plate types and all your other favorites. There are some great chorus and modulation settings, as well as time-based effects for experimentation. The slap-back is particularly pleasing on bass and percussion.
All control dials are color-coordinated to make live use easier. The master volume has an LED clipping indicator that helps with setting the levels.
Mackie Profx12V3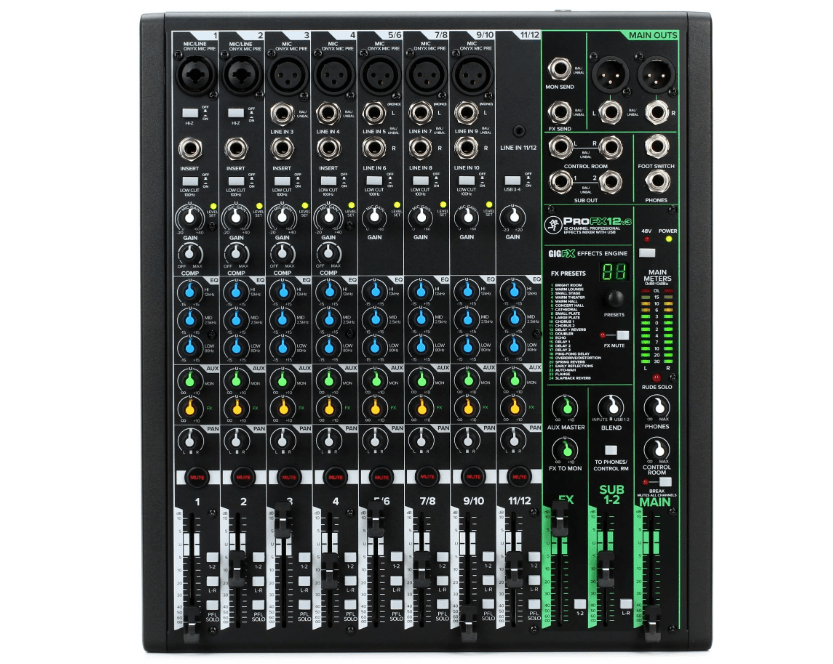 Summary
The ProFX12V3 from the engineers at Mackie is an excellent desktop-style analog mixer. Harboring the company's famed Onyx preamps, and a total of 12 inputs, this mixer is ideal for musicians on a budget who want a generous range. The bus-grouping and I/O options on offer lend it a little more flexibility than competitive desktop mixers.
With a user-friendly layout and intuitive push-button routing, it also presents a beginner-friendly option as well. It benefits from a great built-in sound effects engine with a good range of useful tools — none which twist or warp your sound ridiculously.
It has a sensible variety of outputs, too, including a dedicated monitor out as well as a USB so that you can send your analog instruments as a digital format.
Pros
+ Very capable 12 channel mixer.
+ Strong Desktop design.
+ Very user-friendly.
+ Good mix of I/O.
+ Low-cut filtering.
+ Bus-group send.
+ FX send.
+ GigFX engine with 24 reverb/chorus/modulation and time effects.
Cons
- The compression doesn't have particularly wide-room for changes.
Why We Like It
We are impressed with the entire ProFX range for its Onyx preamps. It comes with hi-resolution analog to digital conversion and an integrated GIGFX engine. The 12V3 offers such a sweet mix of input and output options that we can't help but be a little biased.
Catering for most needs and then some, it's a very capable piece of kit. Well-designed and easy to use, you couldn't ask for much more, and the price-tag is also pretty hard to beat.
If you liked the article, please leave your feedback.