Summary
Bose has a reputation, unlike any other. Its name has become synonymous with exceptional sound quality. Serious audiophiles know that Bose equipment is capable of flawless sound reproduction, which is why they are willing to pay extra to get that impeccable quality.
This PA system bundle is recommended to musicians and DJs and venues where there is public speaking, such as for comedy, political rallies, or preaching. It's well-suited to audiences of 500 people or less.
Key to the bundle is the Bose L1 Model II, which includes 24 small drivers that help to produce a balanced sound that will be evenly reproduced across a wide space. This means that every area inside a room receives a clear sound. That uniformity is important for an immersive listening experience and enhances the impression of professionality.
Besides the L1 Model II, this bundle also includes dual B2 bass modules, which produce deep, strong bass, and offer much more power than you'd expect, considering each driver is just 10".
The third element of the bundle is the Packlite A1 power amplifier. It's another portable, lightweight component designed for high bass output, such as you might use for dance music or even for bass instruments, like an electric bass or a bass drum.
Together, all the products in this Bose bundle create an exceptional, balanced PA system that's highly portable. It's an excellent choice if you want your PA to deliver powerful, deep bass.
About the Bose L1 Model II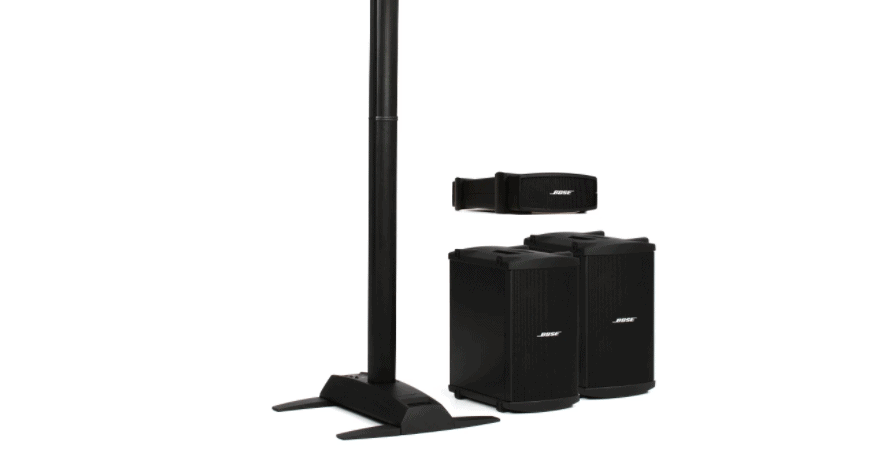 Key Features
This Bose L1 Model II bundle has a lot going for it. Let's have a look at some of the key features that make it such a high-quality product.
Complete PA System: On top of the Bose L1 Model II line array, you get two B2 subwoofers and a Paclite A1 power amplifier.
180-Degree Horizontal Sound Coverage: Thanks to the 24 drivers inside the L1 Model II, you get room-filling, even sound coverage.
Lightweight: At just 41lbs, this PA system is one of the lightest in the market when the power capabilities and sound coverage are taken into account.
Line Level Input: This input allows you to hook up a range of devices and instruments, from mixers to laptops and everything in between.
Pros
+ The broad sound coverage is one of the greatest advantages of this Bose PA system. It allows for uniform coverage that will fill a room containing an audience of up to 500 people. On top of the coverage, you get high-quality sound – as you'd expect from Bose – that is crystal clear, which means that it can be used for various applications.
+ Portability is a huge plus for the Bose L1 Model II bundle. The whole system weighs just 41lbs, and there is no need for unwieldy, heavy stands. For mobile DJs or touring public speakers, this is a big advantage, as the system can be easily fitted inside the trunk of your car or the back of your van. Despite its lightweight construction, each component of this PA system is robust, rugged, and offers long-term durability.
+ The two B2 bass modules produce powerful, deep bass that remains clear at high volumes. This doesn't just suit DJs or musicians. Public speakers will find the timbre of their voice to sound more natural, allowing an audience to properly focus on your words, which will sound crystal clear.
Cons
- The biggest drawback of this bundle is the price. But it must be remembered that the bundle contains all you need for a complete PA system. If the components were bought separately, then it would cost more. And it's also a professional-quality system, which you would expect to pay a little extra for.
Who Is It Suitable For?
This is a professional PA system that delivers outstanding sound quality and room-filling sound dispersion. That makes it an ideal PA system for a variety of uses.
Mobile DJs will adore the subwoofers. Vocalists will love the clear sound quality, meaning it can also be used for monitoring purposes. Public speakers will notice how superior this system is compared to the standard PA systems inside 99% of venues.
To summarize, this bundle is suitable for just about anyone who wants a high-quality, professional PA system.
Why We Like It
There's so much to like about the Bose L1 Model II with Dual B2 Bass Modules and Packlite A1 Power Amplifier bundle.
It combines a line array that offers 180-degree sound coverage, with dual subwoofers that produce deep, powerful bass, as well as a power amplifier that ensures the subwoofers perform to the best of their ability.
On top of the sound quality and sound coverage, the whole system is designed to be portable and lightweight. This makes setting it up, taking it down, and transporting it an easy, efficient process that touring speakers, DJs, and musicians will be very grateful for.
Even though the price tag might seem a little high, when you consider what this bundle contains, then you realize that it offers very good value-for-money, as each component purchased separately would amount to a bigger bill. Also, Bose products are designed to perform in the long-term, so this bundle will pay itself off within a few years or less.
For anyone who wants a professional PA system, then you simply cannot go wrong with the Bose L1 Model II with Dual B2 Bass Modules and Packlite A1 Power Amplifier bundle.
If you liked the article, please leave your feedback.