The Yamaha HS7 Powered Studio Monitors are designed to provide accuracy and detail for engineers and audio mixers. They come with a well-designed mounting system and intricate magnets that inspire excellent frequency response on the low and high ends. Since the late 70s, Yamaha's studio monitors have been aiding engineers all over the world, creating some of the most iconic music ever.
The HS series comes from a long line of innovation and experience, resulting in studio monitors that top the industry in terms of performance. If you're looking for incredible tonal depiction with inordinately low distortion and coloration, the Yamaha HS7 Powered Monitors may be right for you.
Specifications
· Powered monitors
· Bi-amped power configuration
· 6.5" driver
· 95-watts total power
· XLR and 1/4" inputs
· 13.1x11.2x8.3"
· 18.1lbs
Yamaha Hs7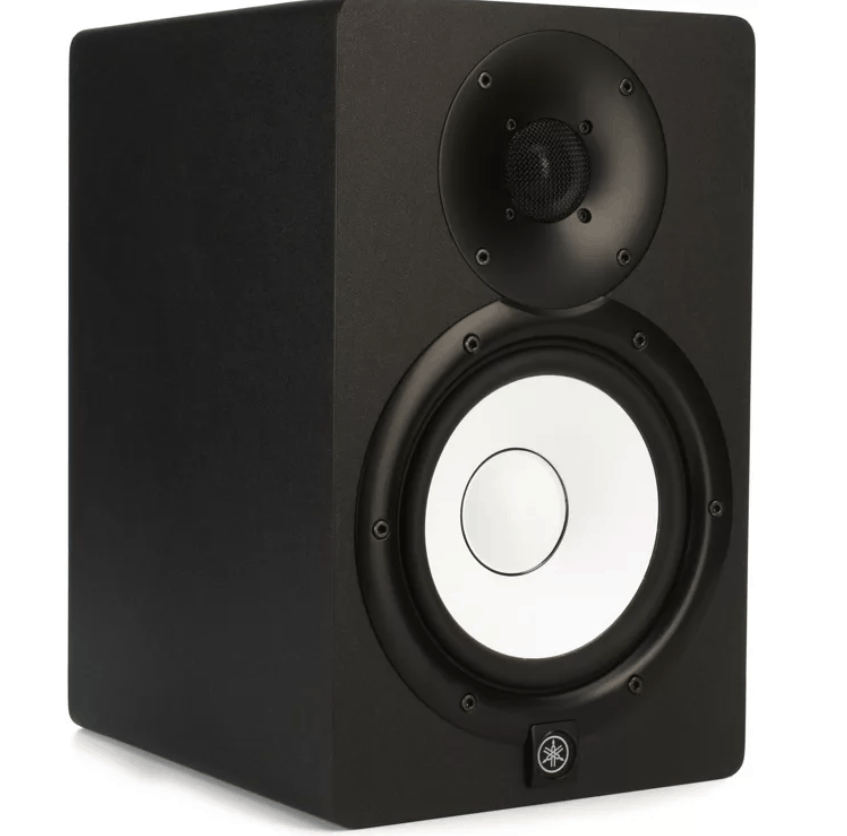 Summary
With the Yamaha HS7 6.5" powered studio monitors, you won't be leaving anything to chance. When you're mixing the track to perfection, you need to make sure you have all of the detail necessary to create the best possible sound.
With 95-watts of total power, 60 in the low-frequency power amp, and 35 in the high-frequency power amp, you'll have all the volume and bass you need.
The mounting system uses a scientific design that places screws and the mounting ring in the most optimal position to ensure a tight frame, resulting in extremely low distortion. It has been designed to offer virtually no vibration. Therefore, when you're working on a track with a ton of bass, you will experience the sound exactly the way you're supposed to without any unwanted noise.
The magnets have been selected to offer an exceptional low-end response. The Yamaha HS7's also have a smooth contour design on the tweeter frames, serving up unparalleled high-frequency response. The monitors offer the most excellent deal of sonic capability, giving you every inch of detail you need when mixing.
Extra-large magnets have been outfitted in the HS7 studio monitors. These large magnets, coupled with the magnetic circuit design, work together to create a refreshingly smooth dynamic range.
Most of the time, your monitors will be staying in the same studio. However, if you're looking for a setup that can work in any acoustic environment, then the HS7's have you covered. With room control and high-trim response controls, you can tailor the monitors to suit any room in which you're working appropriately. That way, you'll always be able to adjust your monitors to perform for your specific acoustic environment.
These aren't the most massive monitors in the world, either. They will save you a little extra desk space in your studio so you can pile up the coffee cups as much as you wish.
They are well-priced for a set of monitors that may be the last ones you'll ever need to buy for a home studio. This level of accuracy and noiselessness is hard to come by. This is unless you're working with the stellar design that's outfitted on the HS7's.
Pros
+ Scientific mounting design
+ Excellent dynamic range
+ Awesome detailed response
+ Smaller cab size
+ Super low distortion
Why We Like It
The Yamaha HS7 monitors are exceedingly impressive. Working with these monitors may change the way you mix. It may also change the way you listen to music. The clarity and dynamic range is something to behold. There's no guesswork involved when you're working with these monitors as they leave nothing to the imagination and serve it all up for you.
In comparison to the other monitors in the HS series, the HS7's are a fantastic choice. They offer that extra low-end that you'll want, which the 5's don't have. The HS8's may be better for larger studio rooms and professional mixing studios. However, for a home studio in a bedroom-sized place, they're perfect and give you precisely the volume, bass, and high-frequency you need.
These studio monitors have received tons of positive reviews from engineers and sound designers from all over the world. The conclusion is that if you're unsure of whether or not the investment is worth it, buy them, and you'll know in seconds that it was the right choice to make. You may find yourself taking old mixes you've previously worked on and remix them on the HS7's. The overall ability to allow you to mix with this level of accuracy will allow you to create a mix that will sound excellent on any speaker.
They are not the cheapest monitors you'll find, but they are well worth the investment. They are durable, and they look great as well. Pair them with your woofer, and you'll have a bass boost that will scare away the neighbors. If you're looking for potentially the last studio monitors you will ever need to buy, the Yamaha HS7 Powered Studio Monitors may be what you're after. Get ready to change the way you listen to music and mix your tracks.
If you liked the article, please leave your feedback.