With an increase in the number of home captured audio tracks finding their way into the charts, many of us are turning to USB audio interfaces for the simple, affordable solution they present. We are living in an astonishing age where almost everyone has the accessibility to record their musical creativity with next to no experience, and for a relatively low outlay.
The market for plug and play, studio-in-a-box style audio interfaces is awash with products. This week we have our eyes on the AudioBox USB 96 from PreSonus. While it is true that the box doesn't offer anything that sets it apart in particular from the rest of the ready-made recording hubs retailing below the hundred dollar mark, it does offer a build-quality that caught our attention.
It is well-manufactured, much smaller than similar units available, such as the Scarlett series from Focusrite. The compact dimensions could be a big advantage if you are in small bedroom spaces, or need to travel with your kit. It measures 5.5" in height, with a width of 5.5" and a 1.75"depth; it's very lightweight.
It is built with a sturdy metal shell and presents two combination inputs that allow you to hook up an XLR or jack (¼ inch TS/TRS) connection. They feature Class A mic preamps and can provide 48 volts of phantom power to the channels, meaning using a condenser mic is not an issue. This is great because condensers are the best route to go for recording both vocals and acoustic instruments in a studio setting.
Each channel has an input dial, which lets you set their gain before sending the signal. As well as this, there is a mixer volume dial, a mains volume dial, and a separate volume for the headphones auxiliary. The circuitry is analog; you can use both channels simultaneously, and it allows for playback at the same time. It is super-low latency, allowing you to use it for detailed monitoring or live playbacks while you record the next track-line.
Each channel has an LED visual to help you adjust the levels and prevent clipping. It will turn red when your gain is too high, so make sure it's settled before you hit record. The headphones output is located on the rear panel, where you will also find the MIDI in and out, and the Main out (left and right), as well as the USB connection to power it.
It has an Audio/Digital resolution of 24-bits over 96kHz, which is what incidentally gives it the 96 in its name. This is a professional resolution for recording, and it runs pretty well even with USB 2.0 bus powering.
The box comes with a full version of PreSonus's DAW software 'Studio One Artist,' rather than a 'lite' package a lot of other products sell with it. The software is a little cluttered but still very user-friendly, making it easy for a newbie to plug-in and start making music.
It has unrestricted tracks limitations, meaning you can record as many takes as you need to, and layer up entire orchestral compositions. The DAW software also comes with 6GB of Studio Magic plug-in suite content providing you with 26 effects as well as virtual instruments.
Presonus Audiobox Usb 96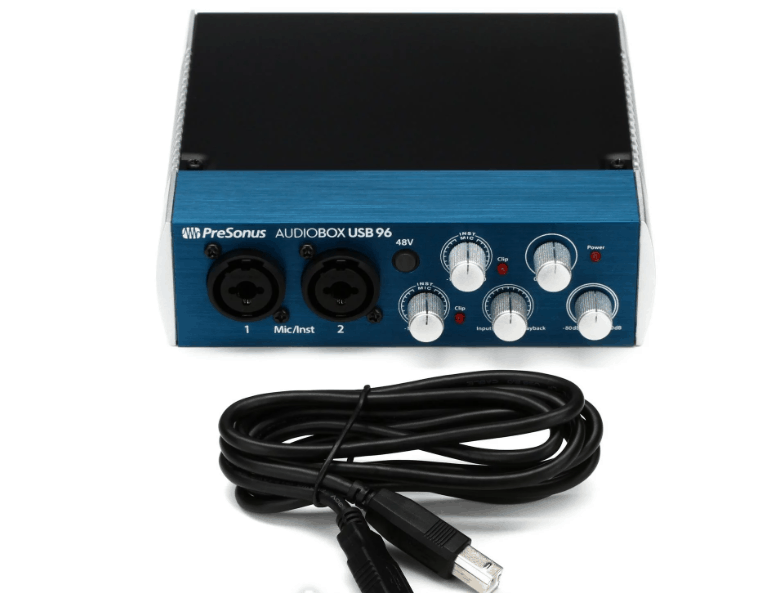 Summary
If you want a simple, low-cost solution, then there are plenty of plug and play AI's on the market. The PreSonus AudioBox96 provides high-quality preamps for its combination inputs.
The staggering level dials and rear headphone output mean it's smaller than others. Another bonus is that it is extra value for money; it sells with a full version of Studio One, complete with Studio Magic effects and instruments. It is incredibly easy to get started creating your own songs. Plus, it will last a long time, making it a great entry-level investment until you are ready to expand.
Pros
+ Durable chassis.
+ Smaller footprint than many competitors.
+ 2 combination inputs with Class-A mic preamps.
+ Own level dials with clipping indicators.
+ low latency headphone monitoring.
+ 24-bit/96kHz resolution for professional recording.
+ Full version of Studio One.
+ 6GB of extra content.
+ Driver-less installation.
+ Value for money
Cons
- You will have to splash out a little more to get the Microphone and Headphone version if you don't already have them.
Why We Like It
The plug and play AI market is very competitive these days. Now that the capabilities have been streamlined and bus-powered, you don't need a lot of cash to start creating. The PreSonus Audiobox 96 has a few attributes that work as a selling point.
Though much of the hardware and circuitry matches similarly priced units, the Audiobox is a little smaller and has a far more durable chassis. It also offers excellent value with its DAW software and a plug-in suite.
If you liked the article, please leave your feedback.