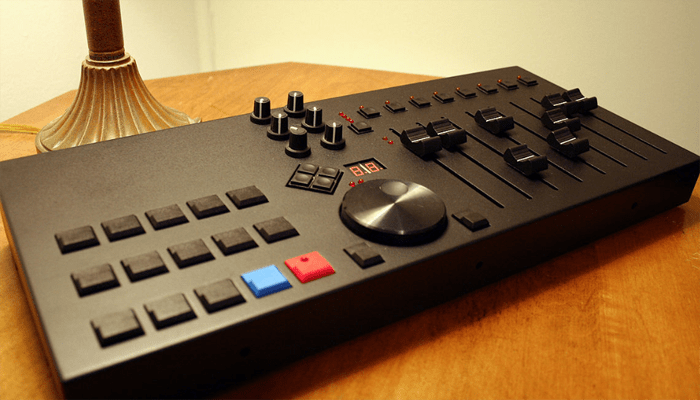 We are back on the case to coax out some inexpensive DAW remotes to crown as the 8 best budget MIDI controllers in 2020.
There is an extensive range of options when it comes to MIDI controls, which come in a variety of forms with different tactile manual functionality.
With a lot of solutions that present an array of choices, it can be difficult to know what to look for so we have provided a detailed buyers' guide to go with our MIDI controller reviews.
Adding to the complex capabilities on offer a smaller budget limitation can make the task of finding your ideal controller all the more daunting so let's have a look at some budget-friendly contenders and see what they bring to the table.
1.  Korg nanoKONTROL2 Slim-Line USB Control Surface
Our starter option is also one of the most streamlined pieces of kit on the market. The Kontrol 2 Slim-line USB control surface from Korg has been downsized in proportions to offer everything you need in a compact format.
Naturally, it is a little more cluttered, but once you have the functionality down, it is easy to use and a clever space-saving remote solution.
It presents eight channels with a set of dedicated transport controls and is tailored to be compatible with the majority of DAWs.
Each channel has a knob, a fader, and three switches to control your panning and volume or mute and solo at the touch of a button.
It is bus-powered and uses one dual-function connection point for the power and MIDI signal sending which is efficient. It can be mapped however you like for use with a software synthesizer etc.
Pros:
+ 8 channels.
+ Good DAW remote.
+ Affordable.
Why We Liked It - It isn't as hands-on as some MIDI controllers there is no real instrumental functionality. You can control all aspects of your DAW remotely, assign your own limits, and it has a portable, compact foot-print.
2.  Novation Launchkey 49 Mk2 USB Keyboard Controller for Ableton Live
The Novation Launchkey Mk2 is a smaller model from Novation which was developed for use with Ableton Live perfectly mapping with instant recognition of its parameters but it is widely compatible with all major DAWs.
If you are shopping on a lower budget it presents a sensible solution for those who need a MIDI piano for their home studio set-up but can't afford a full set of keys.
It is a traditional MIDI controller that has a keyboard /piano at its heart. It serves up 49 velocity-sensitive keys which give users artistic-license to perform with dynamics.
In addition to the 49 keys, there are 16 velocity-sensitive RGB pads to handle your drum patterns, 8 knobs to fine-tune a range of parameters, 8 channel sliders, and dedicated navigation controls.
The keys also have a pitch-bend and modulation wheel to use during recordings.
It is well-manufactured, completely bus-powered and has connections to hook up an extra sustain pedal if you fancy.
Pros:
+ Keys, pads, knobs, sliders, and wheels.
+ Well-made.
+ Great value for money.
Why We Liked It - It gives users a lot of freedom and can handle practically any application if the price is on the higher side for your budget they make a 25 key version which still provides the pads, navigation, and wheels. The only thing missing is the separate sliders that have been downsized to one which needs channel selecting to use.
3.  Arturia KeyStep Controller Sequencer
Next up, we have a polyphonic, piano-key style, step-controller which is great for handling your MIDI sequencing needs.
It features 32 streamlined keys that allow for polyphonic step sequencing. The keys can be transposed up and down the octave.
It has 2 separate modes of play, one for chords and the other is a built-in arpeggio function. There are 8 different settings to choose from including incremental, up, down, and even random.
It offers pitch-bend and modulation control in the form of two responsive touchpad ribbons. On top of that, you get your all-important navigation and transport buttons to remotely control your DAW.
It has a CV/Gate output (mod, gate, pitch) for an analog hook-up, MIDI in and out, as well as synchronized input/output options. It requires a power adapter which is sold separately.
Pros:
+ Polyphonic step-sequencer.
+ 32 keys.
+ Built-in arpeggiator.
+ Versatile I/O.
Why We Liked It - It is a well-manufactured, advanced step-sequencer, it has a lot of functions the arpeggio settings are fun and have a real scope.
4.  Arturia MiniLab MkII 25 Slim-Key Controller
Now for another budget MIDI controller from Arturia well worth a look at. It is another compact option that is highly portable for those on the go with pop-up production requirements.
It features 25 mini keys that are highly responsive and record the playing style accurately. They are subject to 2 capacitive touch sensors that can modulate the note as well as pitch-bend.
There are 16 rotary encoders that are fully assignable. Two of them can be used as click switches. There are 16 pressure pads which are velocity-sensitive and separated into 2 banks of 8 for sequencing use. They are RGB backlit and provide visual cues during use.
It comes with several presets, with 21 Keyboard instruments fully mapped. It has a complimentary copy of Ableton Live Lite and Analog Lab Lite which serves up 500 synthesized sounds and also has a free grand piano VST (UVI Grand Piano).
Pros:
+ Keys, pads, rotary dials, capacitive touchpads.
+ Fully assignable.
+ Free software.
Why We Liked It - It is compact but presents a lot to manipulate and it sells with a bundle of software that adds good value to the product for the outlay.
5.  Korg Midi Controller (NANOKEY-ST)
Now for another versatile alternative that is again kept compact in dimension for a portable solution that runs on 2 AAA batteries.
It is incredibly lightweight and has an easy to navigate layout. It can be used wired (USB) or run without via its Bluetooth connectivity making it one of our iPad/iOS compatible options.
Its layout consists of a contemporary 25-key keyboard that allows for easy step-by-step recording. The keys illuminate during use with their back-lighting to make the process fool-proof. They are programmed with a unique Scale Guide function that highlights recommended scale notes, making it ideal for beginners or those with little music theory knowledge.
The keys are somewhat clunkier than some of the more traditional models we have gathered for examination. They are hardier for durability purposes, some users dislike the audible sound they give off but we don't think they detract from the sought-after capabilities of the product.
At the center is a large touch-pad for one finger synthesizer control. There are soft velocity-sensitive pads and 8 fully assignable knobs that are versatile enough for any DAW plug-in application or even DJ performance use.
Pros:
+ Highly portable.
+ Mixed mediums.
+ iOS compatible.
Why We Liked It - It is really well-constructed, we don't have any issues with the hardened buttons, it is a modern model and takes a little getting used to but is perfectly fit for function. It serves-up a mixed bag of mediums within its array of controllers and comes with a code to unlock a couple of Korg Gadget LE app extras, which is pretty sweet.
6.  Novation Launch Control XL MIDI USB Ableton Live Controller
Another innovative option from Novation is the Launch Control XL which seamlessly integrates with Ableton Live but once again is full-assignable rendering it widely compatible.
It is again a bus-powered model which installs instantly without a driver, it is also iOS compatible.
It has a cool color-coded layout which is easy to use. It features 16 multi-color buttons for immediate along with key mixer controls.
There are 24 rotary pots with 300-degree motion allowing for fine tweaking. Each pot has a multi-color indicator LED and you can tailor the color mapping as well everything can be customized.
There are 8 added fader-style controls for navigation and 8 extra assignable pads in addition to the 16 primary sets.
Whilst it can function as a stand-alone product it is designed with link-up use in mind. Once paired to Novation's Launchpad S it gives absolute freedom of control, allowing you to trigger clips, use entire drum-racks, and combine further extra units for a mega-expansion.
Pros:
+ Good pot adjustability.
+ Range of mediums.
+ iOS compatible.
Why We Liked It - It is another versatile piece of kit that gives users many ways to control their audio production.
7.  Akai Professional MPK Mini Play
Next up we have an entry from Akai which makes for a jam-packed compact solution. The Mini Play K has a traditional design that features 25 velocity-sensitive keyboard synth-action keys.
It is actually built as a standalone device so harbors a built-in set of speakers allowing you to toy with an idea when the mood strikes. It has 128 sampled sounds and 10 on-board drum-kits to choose from. It has a headphone output and works with batteries.
In addition to its keyboard core, it has 2 banks of MPC-style pads providing 16 total triggers. They have note repeat and full-level functionality.
There are also 2 banks of dials as well, which offer 8 total effects adjustments that can be mapped to your DAW. In the stand-alone mode, they are predesignated to act as chorus, reverb, filter, EQ, and envelope controls.
It is now retailing on the market with a range of software goodies such as Splice, Loopcloud, and Serato Studio.
Pros:
+ Good mixture of controls.
+ Works without hookup.
+ Extensive built-in library of sample sounds
Why We Liked It - We like that it has stand-alone capabilities. It might be a good one for songwriters who like to jam to get their creative juices flowing.
8. Nektar, 49-Key (Impact GX49)
Before we part ways we are leaving you with one last awesome option from Nektar developed for use with their software, but not exclusively.
It is a well-crafted 49 key generic MIDI controller perfect for beginners who are after some authenticity.
The keys have a fuller form and the key-bed is calibrated in a sophisticated way, to really stay true the characteristics of the players' style.
It allows users to select between 4 different velocity settings 3 which are preset and one which you can tailor. The keys can be transposed and there are 2 wheels for modulation and pitch-bending.
It has 8 transport and navigation buttons and a large dial that allow it to remote control your DAW via the Nektar integration software. There is a port for a foot-operated switch or pedal, and it is another bus-powered option. It has wide compatibility and works with Windows, OSX, Linux, and iOS devices.
Pros:
+ 49 well-calibrated, velocity-sensitive keys.
+ Transport and navigation controls.
+ Widely compatible.
Why We Liked It - It's a well-engineered MIDI controller that retails accessibly and offers fully assignable freedom in a traditional, no-fuss format.
Budget MIDI Controller Buyers Guide
This week's guide is a little more concise but we aim to answer a few of your most pressing FAQs to help you sniff-out what to set your sights on.
What to Look For in a Budget MIDI Controller?
What to look for in a MIDI controller is dependent on your needs and how you like to work. Sliders work well as they translate easily for raising and lowering the amount of any factor but some people prefer a rotary option instead.
Those who are familiar with pianos and keyboards will probably prefer a traditional MIDI controller over a modern trigger pad option, although both are easy to get the hang of.
There are a few questions you should ask yourself when you are shopping for a MIDI controller which we are now going to discuss.
Is This Unit USB Bus-Powered?
Bus-powered MIDI controllers are an easy addition for a small home studio set-up. If you work with a DAW on a PC or Mac then they make sense. However, bus-power does have its limitations and you will want to ensure you have a higher-output USB connection.
Will This Controller Work With my Phone?
If you write on the go or use a lot of apps, then you will probably need an iOS-compatible MIDI controller.
We have done our best to highlight those that are capable of today's shortlist.
App-based VST and Effects racks are really starting to compete with their PC and Mac-based counterparts in recent years, so iOS compatibility may be something to consider.
Is a Power Unit Required?
This really ties into the USB question we have already covered but it bears repeating as you would be surprised how many models sell their power cables separately. We have made sure to give you a heads-up with today's top picks.
Is the Keyboard Velocity Sensitive?
We would argue that both keyboard and pad velocity response is probably one of the most important specs to look for. Producing digital music has the risk of sounding too synthetic.
This is because when a real musician plays there is an expression in the way they play. These dynamics are difficult to reproduce without the response a velocity-sensitive trigger can give.
Software Accessories
Lastly, most MIDI remote controls will sell with a few bonus software goodies but our advice to you is to do a little research into what you are getting, as some add great value to the product and others may just be filler which you simply won't end up using.
Are Budget MIDI Controllers Reliable?
As with most consumer electronics you do to a certain extent, get what you pay for but there are a large number of MIDI controllers on the market at accessible price-levels that are reliable.
Below the hundred-dollar mark, you shouldn't expect too much. Some will offer-up velocity-sensitive triggers, but the accuracy of the sensitivity won't be on par with a pricier set.
If your budget can stretch to the $150-$200 then there are some pretty impressive models and some great deals to be had in terms of software accessories.
There are essentially 2 different routes for a budget MIDI controller, some have cut costs within the construction which is not good. Given that it is to be used as a physical way to control your DAW you are going to want some longevity.
The buttons and knobs are going to be the most likely parts to break on you, as with any electronic device. This is because they often get the most wear and tear, so you need to look for a durable model made with quality materials.
The other way to cut costs is to reduce the circuitry and functions. While there are many complex MIDI remote options on the market, the map-assignable nature of MIDI devices and your DAWs means that you can function on far fewer controls than you might think you need.
Conclusion
What to go for boils down to a balance of personal preference and of course the task at hand. Beat-makers and musicians are going to have a whole different set of parameters prioritized when it comes to the controls, with one probably favoring pads, and the other preferring traditional keys.
The tactile qualities that different mediums offer you as a user give a physical reality to the DAW navigation but it is important to consider your needs if your funds are low.
A solidly constructed mini MIDI keyboard with some navigation buttons and an assignable will give you pretty good access to the bare necessities. You should be sensible and go for bare-bones over bells and whistles that are poorly constructed every time.
Whatever your controller requirements we hope today's reviews and guide section will have given you some insight and a nudge in the right direction.
Expert Tip
If you plan on making music from scratch and want a sensible low-cost solution we highly recommend the Akai MPK miniplay model reviewed today it fits the bill as a great standalone with a lot of scopes.
Did you Know
The first MIDI controllers were invented in the early 1980's they began as synthesizers and moved rapidly into step-sequencing. The first Universal protocol MIDI device was conceived in 1983.
If you liked this review by Music Critic, please leave a positive rating: