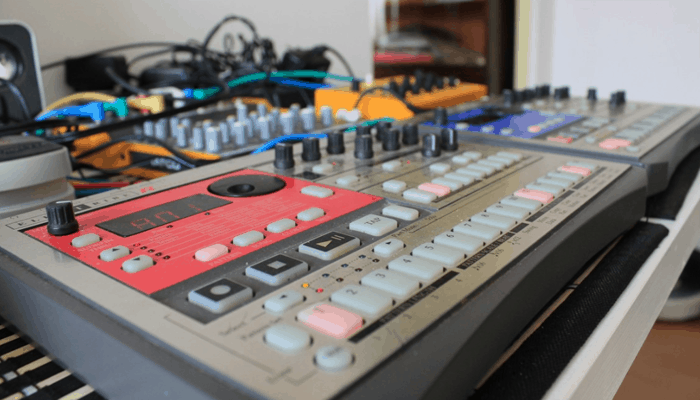 Another audio-interface which has seen many upgrades along the way and changed the way in which we control and create musical compositions is the sequencer.
In this article we aim to shed light on some of the best sequencers in 2020, which are top-rated and widely-available on the web to showcase their selling-points. Modern sequencers are equipped with impressive processing powers and make for a great digital remote to your chosen DAW.
Whether it is for controlling your VST plug-ins or capturing your own samples for toying around with we have a few beauties up our sleeves which make life easier and give users artistic license over their musical creativity, so let's crack on with our sequencer reviews.
At a glance: Our top 3 picks
Your shortcut to our team's top 3 recommendations
View The Best Sequencers Below
1. Korg CV Sequencer and Sync Box (SQ1)
First up a surprisingly simple but hands-on 8-step sequencer for hooking to your synthesizer. It gives users two notes per step and allows them to adjust pitch or voltage of each note via one dial.
It has a well-thought-out configuration, the pads are good quality rubber and present a good tactile feel. They are actually the same set which was on the well-loved Volca model. There are light indicators to help keep you visually informed mid-process.
It can also be switched into other modes (active step, slide, and jump step) which allows for expanded 16-note control. It is fitted with a gate in and a gate out as well as midi in and out, though they can only be used in an either/or functionality which may be impractical for some.
In addition, it also has USB midi and CV in/out connections it has versatile compatibility and requires no set-up as it is a plug and play device.
Pros:
+ Easy to use.
+ Different modes.
+ Reasonably versatile.
Why We Liked It - It is best for beginners as it drives just about any synth and has basic functionality keeping it straightforward.
2. Arturia KeyStep Controller Sequencer
This second sequencer is another step-sequence controller from Arturia. It is competitively priced and comparatively to the first actually features a traditional MIDI keyboard.
It has 32 slimmed down keys which allow users polyphonic-step sequencing control. They have pitch-bend and modulation ribbon wheels and plenty of options for tweaking your sound. Most notably is its built-in 'arpeggiator' which is awesome.
This model features transport keys and can be used to control your DAW directly in totality.
It has CV I/O connections as well as the USB MIDI and is very well-constructed.
Pros:
+ Traditional MIDI keyboard sequencer.
+ Polyphonic sequencing.
+ Built-in arpeggiator.
Why We Liked It - It has some great setting to play with and we prefer its piano key layout, the slimmer size allows for a few more to play with but they are far-from-fiddly like a mini-key option which sometimes present a drawback.
3. Novation Circuit Groove Box
Next-up, another impressive option which combines a 2-part synthesizer/4-part drum machine with a 4 by 8 step sequencer.
It has an innovative arrangement which enables users to drop 16 in a spontaneous fashion. It is great for quickly fixing down an idea and it can be used in real-time.
You can separate it into 2 separate sequences of 8 with the top set showing you what you have previously and the second set hot to play with. Users can perform up to 128 steps sequentially with the Sample Flip which enables 16 different samples per sequence over 8 separate patterns.
The trigger pad quality is great, the velocity sensitivity allows you to build drum patterns with a natural-sounding expressive quality to them. You can load up to 64 additional samples.
The 2 synths are mono and polyphonic and let you lay down everything from bass-lines to chords or melody sections using the pads or leads.
Each patch can be sculpted via the macro knobs. There are 8 which can be tweaked to manipulate the pitch, tone, distortion, and the equalization blend as well as the decay.
One of our favorite features is that it doesn't even need to be synced to your DAW as it is battery powered, full of drum samples, and has adequate built-in speakers, so you can just pick it up when an idea strikes.
Pros:
+ Drum machine/synth step-sequencer.
+ Range of adjustment controls.
+ Can be used independently.
Why We Liked It - It is an intricate piece of kit which is pretty simple to master, it provides a lot of playroom and covers all your sequencing needs.
4. Roland VP-03 Boutique Series
Our final model up for consideration brings a great mix of mediums together and gives users the ability to sequence vocal samples as it features an XLR connection for voice-step-sequencing.
It is a scaled-down version of Roland's glorious, classic VoCoder which has a tonne of transformation options on-board from the intelligible to the robo-ridiculous.
It is a polyphonic digital VoCoder which works on the companies ACB (analog circuit behavior) as well as being vocally capable it contains a choir and synth string section.
It comes with a proprietary goose-neck mic that can be easily angled and plugs straight in but is compatible with any studio condenser or directional mic. We would recommend something with a much larger diaphragm for more wiggle room on how your voice transforms.
It has a balance section for mixing and a vibrato bar as well as one for strings, choir, and vocals respectively. The sections can be switched between by sliding the bar.
There are two touchpad style ribbon sliders with an adjustable response, one which flattens or sharpens and one for tempo.
The vocal section has a built-in male voice which can be layered poly-phonically into chords and the range can be widened with the chorus control.
The vibrato section gives users modulation options utilizing the depth and rate sliders in conjunction with the rate control to contort the time, depth, and speed of the vibrato pulse.
It has additional controls for fine-tuning your attack, tone control for filtering the brightness of your EQ.
All of this can be applied to the mic in real-time to transform your vocals. On top of this, it has a 16-step sequencer with tempo controls via the secondary ribbon slider.
It has a hardy construction and can be connected to an external MIDI keyboard and it can interface with the majority of popular DAWS.
Pros:
+ VoCoder come step-sequencer.
+ Compact but elaborate.
+ Impeccable circuitry.
Why We Liked It - It is a great digital homage to the analog vintage VoCoders which transformed the synth-music genres of eras gone by.
Sequencer Buyers Guide
What Is A Sequencer?
The term sequencer is a bit of a catch-all as it can refer to several things. They began life as analog manual sequencers which were essentially synthesizer keyboards and rack mounts with programmable keys or switches that allowed users to take a sample of literally anything and tweak it in a number of ways which led to a lot of early experimentation.
After a bit of fun, their practical functions were considered a bit more seriously.
Eventually, it became clear that being able to use them in a real-time sequence to program a beat for example with a range of percussive instruments dropping in and out at different beats of the bar was far more useful.
This meant many sequencers broke away from keyboard keys and we saw pads and other triggers replacing them. This led to early drum machines then the same principle was applied to synthesizer control. They allowed for the synthesizer to be controlled step-by-step and became known as step-sequencers to try and help distinguish the difference.
There are also software sequencers that are technically applications withing software programs usually in the form of a plugin.
Of course, your DAW will probably have a few of its own virtual sequencers as this is indeed how a beat is created within a program. Drawing it in on relying on your computer peripherals can be problematic for better command and control. So it is generally accepted that having a physical sequencer connected is the best solution.
Power-sequencers are another type of sequencer which you will come across in a recording situation they are for the ease of switching between different power outlet settings and protecting your system from surges.
What to Look For in a Sequencer?
This is truly dependent on your musical needs, there is a range on the market and for the most part, they have a variety of applications.
Those we have highlighted all make for great solutions and their abilities are pretty self-explanatory in terms of what they can be used for.
Conclusion
Sequencers have evolved alongside the more digitally focused music industry. There is a wealth around to choose from.
We have selected some great contenders with capabilities that impress and in our research for the reviews, we have tried to be considerate of lower-budget buyers-as always.
Which sequencer to settle on is down to the individual and you have to consider the manner in which you work best and what exactly you hope to get out of the addition to your peripherals.
We hope our buyers' guide has been an interesting read and wish you luck with your next purchase.
Expert Tip
If you are looking for a DAW controller that offers more than just step-sequencing needs you may find our Best MIDI controller article very helpful.
Did you Know
The very earliest form of sequencer could technically be considered the mechanical organs or player pianos which played music in an automated fashion, in fact, some automated musical-box instruments with similar mechanisms date back to the 9th century where water and steam-powered instruments were in use.
If you've enjoyed this review by Music Critic, please leave a positive rating: