The trumpet is one of the oldest instruments that is still currently in use. It has, of course, altered a bit through the years, but it is still essentially the same. From classical music to jazz, it is an adaptable and versatile instrument that offers a huge amount of range.
But what are the best trumpet brands for beginner, intermediate, and professional level trumpeters on the market today? And which one is right for you?
We decided to find ten of the best professional and student trumpet brands for musicians of all different levels. Each product on our list deserves a closer look, as we have decided that it's a high-quality product. We'll also provide links to YouTube videos so that you can hear the horns in action.
Choosing a quality instrument can and should take time because it's an important investment, so make sure that you have time to read through the reviews carefully. Why not pour yourself a cup of coffee and put on some Miles Davies while you read this article?
Ready to find your dream trumpet? We thought so! Just a quick tip before we start. Why not make a list of your own as you go through these reviews? Write pros and cons for all the trumpets that you are interested in, that way it will be easier to choose! Looking for a Sax instead? Try our alto saxophone review here.
Bandmaster Recommendation:
Are you looking for a Trumpet good enough for use in a band? If so, the advice we have received from a music educator and professional bandmaster is to strongly consider the Yamaha, Getzen, and Bach Strad. The Bach Stradivarius, Getzen 590S-S and Yamaha YTR-2330S cost a bit more upfront but are recommended both for the purity of sound they deliver, as well as for durability, which they provide a lot more of when compared to brands like John Paul and Mendini. This is especially important for music students or band members who are likely to put the instrument to serious use.
At a glance:

Our top 3 picks
Our team's top 3 recommendations
Best Overall
YAMAHA YTR-3335S

Excellent Tone
Easy Playability
Ideal For Students
B Flat
Includes Case and Mouthpiece
Premium Quality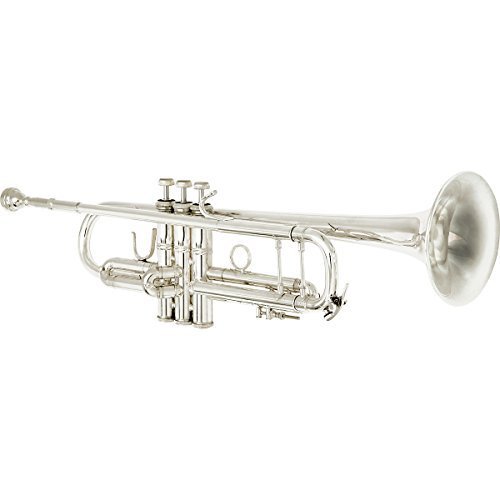 Bach Stradivarius 180S37

Excellent Tone
Easy Playability
Ideal For Students
B Flat
Includes Case and Mouthpiece
Great value
Jupiter JTR700

Excellent Tone
Easy Playability
Ideal For Students
B Flat
Includes Case and Mouthpiece
View the Best Trumpet Brands for Students & Professional Players:
Yamaha isn't just a trusted brand for trumpets. It's a name that's synonymous with quality when it comes to countless other instruments, as well as electrical products, such as speakers and subwoofers.
The YTR-3335S is a wonderful trumpet that exemplifies why Yamaha finds itself so high on our list. It's a mid-priced horn that comes in the key of B Flat. This silver-plated product looks just as good as it sounds. It is highly recommended to students who have learned the basics and now want an instrument to match their more advanced skills, as well as allow them to grow unhindered by their horn.
Playability is a dream with this product too. The response is smooth and easy, which is down to the reverse lead pipe integrated into it.
It also includes a durable hard case to keep it protected, as well as a mouthpiece.
Pros:
+ Excellent Tone
+ Easy Playability
+ Ideal For Students
+ B Flat
+ Includes Case and Mouthpiece
Why We Liked It - Yamaha has enduring popularity because it offers high-quality instruments at a range of prices and for all levels. This product is a premium trumpet that shows what Yamaha is good at.
Type - If you're a beginner trumpet player, you'll have to start out by deciding what kind of trumpet you want. There are trumpets in Bb, C, D/Eb, and piccolo trumpet, but I recommend a trumpet in Bb if you're just starting out and looking for the most common option. Trumpets in Bb are the default for orchestras.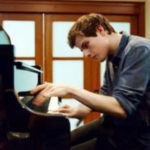 2. Bach Stradivarius 180S37
When it comes to quality, few trumpets are in the same category as the Bach Stradivarius 180S37. This brand has countless satisfied customers that are absolutely in love with its trumpets. You can find lots of reviews online written by trumpeters who have played this Bach Stradivarius 180S37 for decades and don't ever plan to use anything else. It is perfect if you want to achieve a beautiful, clear tone, and it is especially good at being able to reach high notes properly.
If you want to buy one of the best trumpets on the market, which is still reasonably priced, then this Bach Stradivarius 180S37 is the one to go for!
Learn More
Don't just take our word for it. Watch this video so that you can hear this gorgeous instrument for yourself! Note the clarity of the tone and how effortlessly the musician plays, which is thanks to the design of this user-friendly instrument. The Stradivarius Series Bb trumpet is great for all genres.
Living with the Jean Paul TR-430 Trumpet
Pros:
+ Beautiful sound quality
+ High-quality brand
+ Good for professional-level trumpeters
Why We Liked It - This Stradivarius Series Bb trumpet is perfect for advanced trumpeters who are seeking an instrument to last them indefinitely. This is not a trumpet that you'll eventually have to upgrade from, but one that you will love to play for decades to come. Sure, it costs a bit more than others, but remember that you get what you pay for. An instrument is an investment and an item that you are going to keep for many years, so it makes sense to get the best one you can afford!
If you read through this list to find the best trumpet out there, then you've found it! The quality of this Professional Series Bb trumpet is amazing and it sounds wonderful.
Jupiter Band Instruments is a subsidiary of the Taiwanese company, KHS Musical Instruments, which was founded with student musicians in mind. Jupiter produces woodwind instruments that include parts sourced from around the world, including lacquer from the United Kingdom and the USA.
This trumpet is an ideal choice for students, in our opinion. It is affordable for a product of its type, but the quality hasn't been compromised by Jupiter to keep the price so low. This quality is evident from the parts. It's got pistons made from stainless steel, for example.
If you're seeking a trumpet that offers free blowing and easy playability, then this product has to be considered too. The tone it offers is hard to fault too.
It comes with a wood-framed case, which will keep the trumpet protected when taking it to and from rehearsals.
Pros:
+ Low Price
+ Perfect For Students
+ Quality Case
+ Stainless Steel Pistons
+ High-Grade Materials
Why We Liked It - Jupiter has been around for decades now, while its parent company is almost a century old. It makes instruments that are perfect for students, of which this B Flat trumpet is a solid example.
Quality - The more expensive your trumpet is, the better quality it will be, which is an intuitive concept. However, the more expensive it is, the more unique the design is, which will make damage, misplacement, and states of disrepair a lot more stressful. Expensive instruments entail a greater sense of responsibility.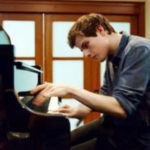 4. Mendini by Cecilio MTT-L
Are you looking for a bargain? Are you a beginner, or are you buying a student trumpet for your child to learn on? Then Mendini by Cecilio MTT-L might be the instrument that you're looking for! Its got an affordable price tag. It looks nice. And it is surprisingly good too. Even though this is a beginner trumpet, we read one review saying that one lady bought one for her husband, who's an experienced trumpeter and has tried many trumpets over the years. He likes it a lot and has even started using it for concerts.
This is quite unusual because most advanced musicians would not think much of beginner-level instruments, simply because they are most often quite basic. So the fact that an advanced trumpet player recommends it, and even uses it himself is a very good sign.
This Cecilio horn comes in quite a few different colors. You can choose between black, blue, purple, gold, red, silver, and sky blue. This is especially fun for kids who play, as they might be more encouraged to practice if they have a trumpet in a fun color.
You also get a case to keep and carry it in, valve oil, a polishing cloth, and a pair of white gloves. It is protected by a 1-year warranty against manufacturer's defects too, which makes it a low-risk choice, especially when the price is considered.
Learn More
If you want to know more about this great bargain, we suggest that you watch this YouTube video that will teach you more!
$99 Chinese Cecilio Trumpet Review
Pros:
+ Bb Trumpet
+ Affordable price
+ Many different colors
+ 1-year warranty
+ Everything you need to get started is included
Why We Liked It - This Cecilio trumpet is a true bargain and any beginner should consider it! It's fun that there are so many colors to choose from, but the trumpet is not just pretty, it's more than playable as well! We like that there is a 1-year warranty, because sometimes when things are budget-priced, then we get worried that something might break, but that's all taken care of as long as you treat the Cecilio trumpet well, so there is no reason to worry!
Let's move on to number 4 on our list! Jean Paul prides itself on making professional instruments that are good for all levels, from student to professional players, while selling them at an affordable price so that anybody can afford them. Does the low price mean that they're poor quality? No! The TR-330 is everything a beginner needs from a trumpet, and the tone is smooth and warm. It's an easy horn to play. It also looks beautiful with a nice gold lacquer finish.
Everything a beginner needs to get started is included. You get a lovely carrying case, trumpet valve oil, a cleaning cloth, and gloves. If you need to buy a trumpet for a beginner, then go for this one! You won't be disappointed. It's suited to all genres of music, which is good because a beginner will most often play many different styles before they find their specialty. Therefore, it's good to get a trumpet such as this one, which is very versatile and works for almost anything.
Learn More
We found a great video review for this trumpet that a professional trumpeter has made. He demonstrates different genres - including classical music, jazz, and Latin music - and the trumpet sounds great for all of them! Turn up your sound for this one, because the volume is unfortunately very low.
Jean Paul Trumpet TR-330 Review By professional Trumpeter Carlos Puig
Pros:
+ Bb trumpet
+ Affordable
+ Perfect for beginners
+ Everything you need is included
Why We Liked It - Sometimes it feels like a gamble to buy beginner-level instruments. But there's no risk with this trumpet. It works like a charm and sounds great. You'll be happy you bought it! Everything you need is included so that you can start playing straight away and you don't need to order lots of extra accessories before you can get started too, which is a good feature, in our opinion.
The time has come for us to take a look at our sixth trumpet, which is the Jean Paul USA TR-430. It's another all-rounder that ticked all our boxes, especially in terms of value-for-money.
This is a five-star trumpet that has impressed lots of musicians because of the full, rich tone that it offers. This advanced student trumpet has an adjustable third trigger which is great because it means that you can adjust it so that you can have a natural hand position, which is not only ergonomic but will also aid improving your technique.
This Bb trumpet has a rose brass lead pipe. It comes with a sturdy carrying case, a 7C mouthpiece, a polishing cloth, valve oil, and gloves so that you don't smudge the trumpet when you're cleaning it.
It's hard to go wrong with this trumpet. It's affordable, high-quality, and comes with all the necessary accessories you'll need to start practicing or rehearsing with a band.
Learn More
The most important thing when it comes to any musical instrument is the sound. If you want to know more about this trumpet and hear it being played, then head over to YouTube and watch this video review. The reviewer has been using it for six months and still highly recommends it. This is good because it's easy to like an instrument when it's new, but then realize that it might not be as good as you thought it was when you've been using it for a while.
Living with the Jean Paul TR-430 Trumpet
Pros:
+ Bb trumpet
+ Nice tone
+ Adjustable third trigger
+ Accessories included
Why We Liked It - This advanced student trumpet is great for trumpeters who are moving from being a beginner to learning more complicated techniques. The adjustable third trigger will make it easier to play fast pieces and reach high notes and develop your skills. It sounds great and everything you need is included.
If you are a fan of gold, silver, and rose brass, this is the trumpet for you. It looks great and is a good instrument for intermediate players.
A case, pocketbook, chromatic tuner, valve oil, a polishing cloth, a stand, and a pair of white gloves are included. The trumpet stand is foldable and can be stored inside the bell, which means that it's easy to take it with you wherever you go.
This horn is perfect when you don't want to spend big but want every cent to count. There is nothing about it that looks or feels cheap either. The construction is solid, and high-grade materials have been used.
Pros:
+ Bb trumpet
+ Looks amazing
+ Affordable
+ Great for intermediate players
Why We Liked It - It is a trendy, modern-looking instrument that will certainly receive some admiring glances. The different metals look great together and would suit any millennial perfectly! Another thing we like about this trumpet is that it comes with a 1-year manufacturer's warranty. It's affordable so you have nothing to lose.
If you want to begin playing the trumpet but aren't 100% sure if it's the instrument for you, check out this trumpet from Kaizer. It comes with a 45-day free trial. If you don't like it, you can send it back and get a full refund. Also, Kaizer offers a lifetime warranty, which means that there really is zero risk involved with purchasing this instrument.
A case, polishing cloth, trumpet valve oil, and white gloves are included. This quality trumpet is very sturdy and will continue to perform to the utmost of its ability even if it takes a few bangs or knocks. It is available in four different colors, which are nickel, blue, lacquered brass, and purple. Having a trumpet in an eye-catching color is can encourage children to practice more. And playing this instrument will certainly make them stand out from their fellow band members.
This quality trumpet is great for beginners, whether they are an adult or child. It has a third valve slide ring which makes it easy to hold and helps to ensure correct technique.
Pros:
+ 45-day free trial - You get a full refund if you don't like it
+ Lifetime warranty
+ Four different colors
+ Everything you need included
Why We Liked It - There is nothing that beats a lifetime warranty, and a 45-day free trial is just awesome. We really like the idea of trying the horn out properly before you commit to it. This quality product is also great for children since it's built to be extra durable so that it won't break when kids handle it roughly. The ability to choose from a range of colors is another plus for kids.
Sometimes when people start playing an instrument -  especially children - they don't know how long they will continue with it. For this reason, they prefer to buy a cheap instrument. That way, it's not a disaster if it ends up in the attic.
If this sounds familiar, and you don't want to spend too much on your new instrument, then this one from Sky might be a good option. It's cheap and, let's face it, not professional-quality, but it's at least something to get you started until you decide if this is the instrument for you.
It comes in several different colors, including black, green, gold, nickel, silver, purple, or red. A case is included, as well as valve oil, a polishing cloth, and white gloves. Sky offers a 1-year manufacturer's warranty, so there is no risk involved when purchasing it.
Pros:
+ Bb trumpet
+ Cheap
+ Many fun colors
Why We Liked It - Even though it might not be the best on the market, we think it is a solid budget choice for novices who are looking to experiment with the instrument. As it comes with all the necessary accessories and is available in a range of colors, then it still offers great value for the super low price, in our opinion.
If you're seeking a compact, easily transportable horn that won't take up much room in your backpack, then why not buy a pocket trumpet? Take this one from Mendini, for example. It's about half the length of full-sized trumpet and even though it doesn't actually fit in your pocket, at least it will fit in most bags!
A case is included, as well as a chromatic tuner, a pocketbook, valve oil, a polishing cloth, white gloves, and a stand. It comes with a 1-year manufacturer's warranty. There are a few different colors to choose from too, including black, blue, gold, green, nickel, and red.
Even though the tone might not compare to a full-sized version, it still delivers impressive sound quality and projection. It's perfect for practicing or for impromptu gigs in the park, but might not be what you want to use for a concert in a hall. The price is hard to argue with too.
Learn More
Curious about this cool little trumpet? Check out this video to find out just how good it is!
Yamaha YTR-2330 Student Trumpet
Pros:
+ Bb pocket trumpet
+ Nice colors
+ Affordable
+ Easy to transport
Why We Liked It - Every trumpeter should own one of these, in our opinion. The compact size makes it easy to transport, and you'll be able to practice every single day, even when you're on vacation. We like the fun colors, and also the fact that so many things are included, even though you might already have a few of them for your regular horn. The 1-year warranty doesn't hurt either!
Maintenance - Trumpets require a lot of maintenance in order to use the instruments regularly. Trumpets have to be frequently taken apart to wash, dry, and oil, and then they must be put back together again afterward. Plastic trumpets are cheaper and do not have to be maintained with the same rigor, so these are a better choice for beginners and students.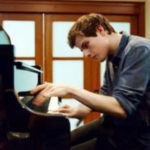 Trumpet Brands Buyers Guide
After reading all these reviews, you might be wondering which trumpet is the best for you, as there are so many great ones to choose from. The truth is that there are a few things that you need to focus on so that you can make the right choice. Let's have a look at what they are.
First, you should ask yourself a few questions. These are:
How long and how often will you play it?
Do you want a trumpet that suits your current skill level or one that you can grow with and continue to play for years?
What is your budget and how important is value-for-money?
Thinking about these questions will help you decide how much you should invest.
It's important to note, however, that while bargains are available - and many of them can be found on our list - when you purchase a musical instrument then you do generally get what you pay for. The cheaper it is, the more limited it will be. Then again, it's only worthwhile spending the big bucks if you're an advanced trumpeter or know for certain that you will reach this level.
Where Did the Trumpet Originate?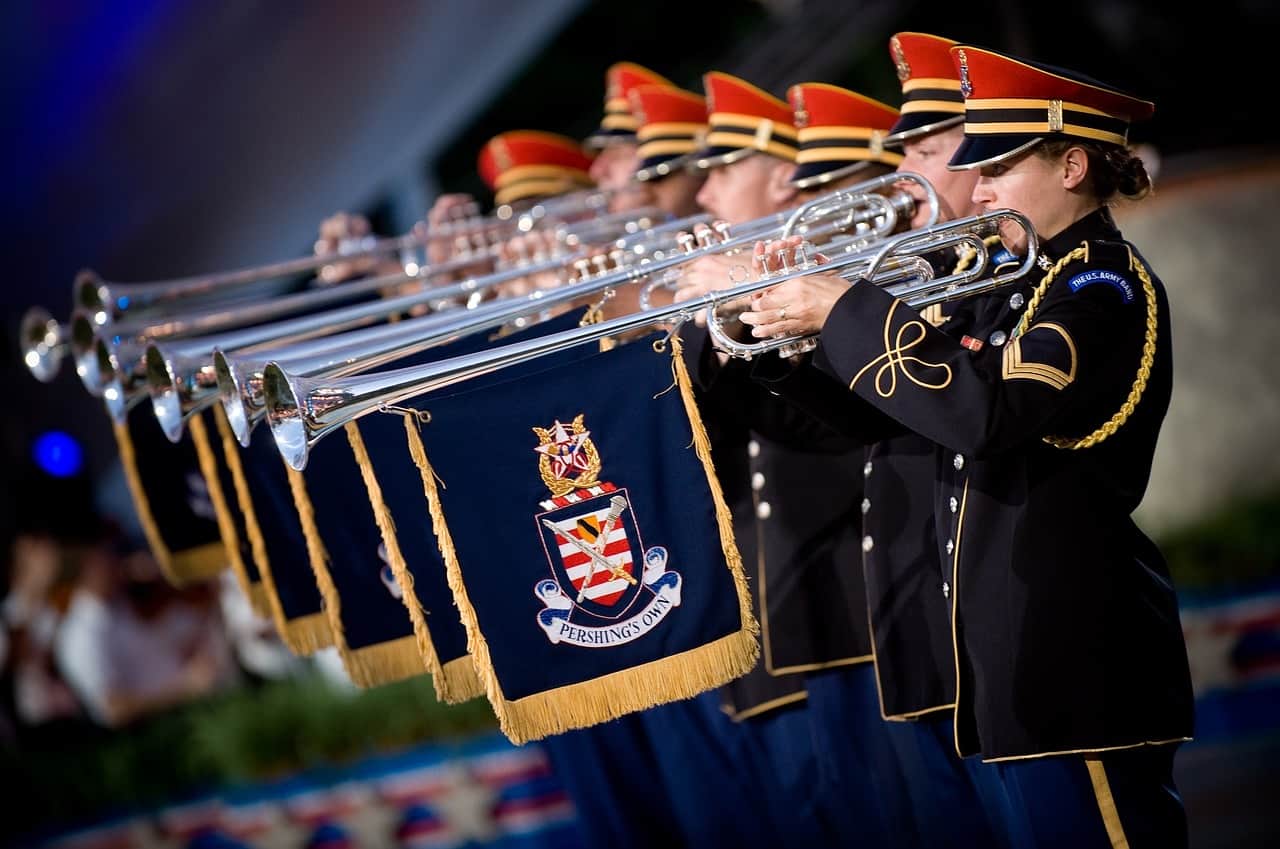 Few instruments have such an interesting history as the trumpet. It's been around for thousands of years in some form or another. In the beginning, it was used in battle or while hunting, simply for signaling, but in the late 14th or early 15th century, it began to be used as a musical instrument used for entertainment.
Bronze and silver trumpets were discovered in Tutankhamun's grave, but it was not just in ancient Egypt that they had trumpets, as we know that they were also used in China and Scandinavia. The Bible also mentions trumpets and they were used in Solomon's temple and the battle of Jericho.
How Has the Trumpet Changed Over Time?
At first, there were only natural trumpets, which were made of a single coiled tube. There were no valves and the trumpeter could only use a single overtone series. It was possible to change the key by changing the crooks of the instrument. During the baroque era, trumpets were incredibly popular and a lot of music was composed for this instrument.
In 1818, everything would change when the box valve was invented. This was the start of the trumpet that we know today. It took some time for this novelty to become completely established, and many held on to the older version for quite a long time, but at the beginning of the 20th century everybody had realized how great this instrument was in its new shape, and it became extremely important in jazz music and other genres.
How Many Types of Trumpets Are There?
The most common type of trumpet is the Bb, which is used in most genres. Next in line is the C, which is very similar to the Bb. A C is used if a Bb is unsuitable for the music, which might be the case when it comes to certain finger combinations or other technical aspects. The C also has a slightly brighter tone. There are also Eb and D trumpets, which are great if you are looking for an even brighter tone since they are smaller. There are also E, F, and G trumpets, but they are quite unusual.
There is also a piccolo version, which is small and very high and mostly used in orchestras. You can also get pocket trumpets, which are designed to be easy to travel with so that you can practice anywhere.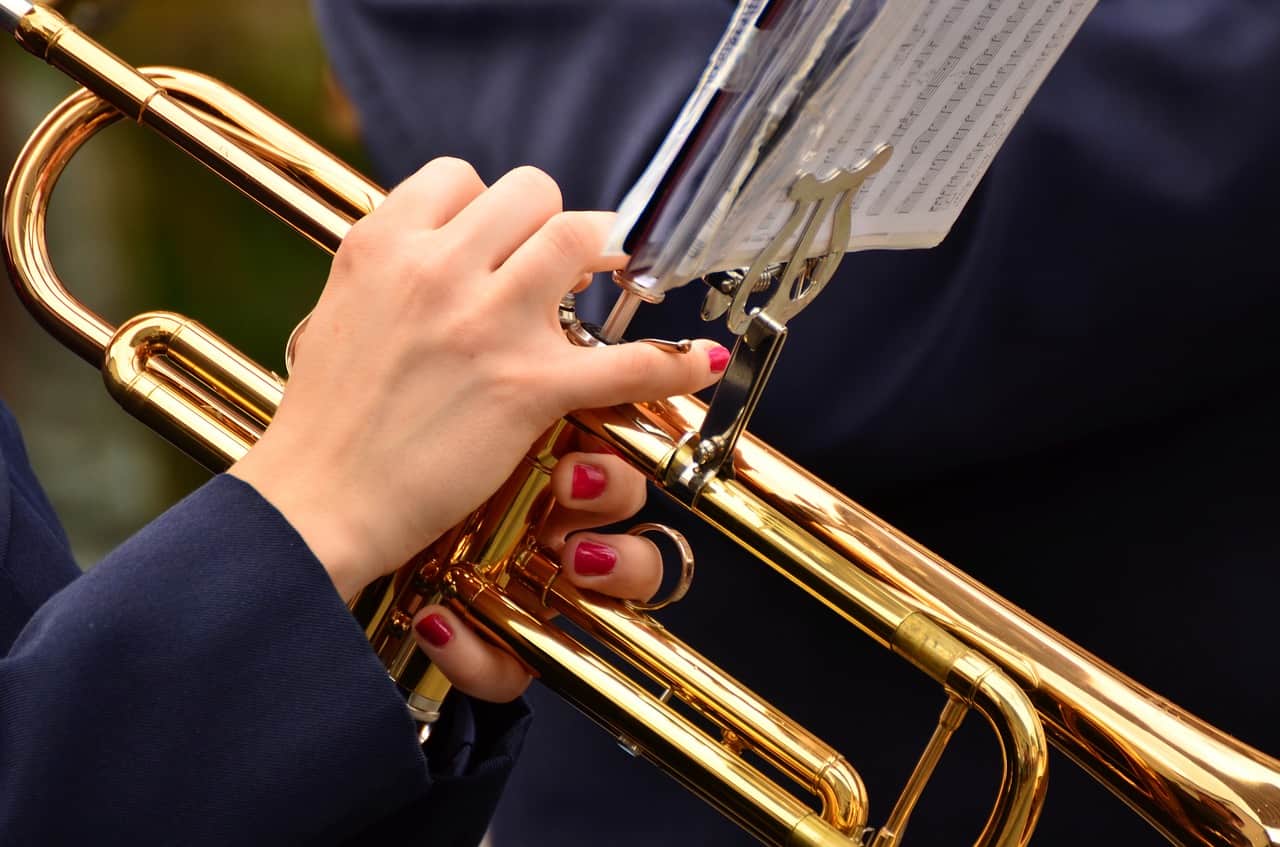 Expert Tip:
It's important to take good care of your instrument. See this progressive trumpet playing guide for help.
Did you know?
At first, only singing was allowed in the Catholic church, and slide trumpets were the very first musical instruments that were given permission to be used inside the church.
If you've enjoyed this review by Music Critic, please leave a positive rating:
[vc_separator