Miles Davies, Louis Armstrong, and Chet Baker are just three legendary jazz musicians who have played the trumpet. This instrument is integral to the genre, and it has been used on many classic recordings. It's a wonderfully expressive instrument that offers a lot of versatility in tone. If you dream of emulating these iconic figures, then you're going to need to buy one of the best jazz trumpets in 2023.
In this article, we're going to show you our ten favorites, which will appeal to budding musicians with different budgets and requirements. Each product on our list delivers superb value for money, regardless of how much it costs. Our recommendations also tick the key boxes in terms of durability, usability, and sound quality.
After we've gone through our reviews, we've also provided you with essential information about this instrument so that you can be in the best position to make an informed purchase.
No matter if you're a beginner, student or an experienced player, we're positive that your next trumpet is somewhere on this list! Now, let's get started with the reviews!
At a glance:

Our top 3 picks
Our team's top 3 recommendations
Best Overall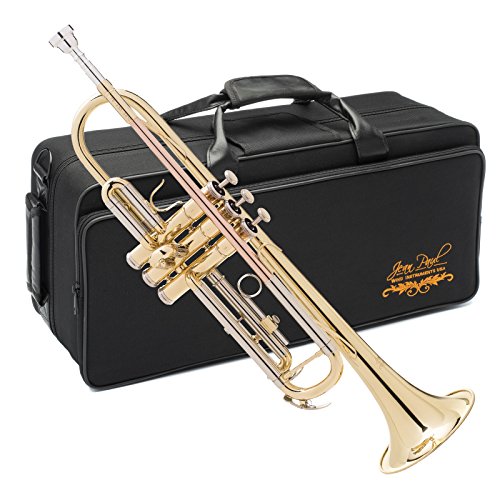 Jean Paul TR-430

Bb trumpet
Lovely tone
Adjustable third trigger
Accessories included
Premium Quality

Bach 19037 Stradivarius Series 50th Anniversary

Bb trumpet
Lovely tone
Adjustable third trigger
Accessories included
Great value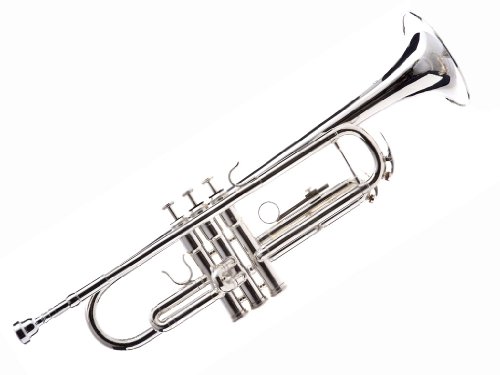 Hawk WD-T313

Bb trumpet
Lovely tone
Adjustable third trigger
Accessories included
View The Best Jazz Trumpet Below
The first trumpet we're going to take a look at is Jean-Paul's TR-430 model. It's a superb, crowd-pleaser that will suit musicians of a range of levels. Why? Because it's easy to play, and because it has a lovely tone that is very full and rich. The price is accessible too, making it a good option for beginners.
It is a Bb trumpet that features a rose brass lead pipe. One great thing about this product is its adjustable third trigger. This is very helpful as it allows you to keep your hand in a natural position. The ergonomic design also means that you can practice for hours without finger fatigue. This design will help with your technique and speed too, so you can find your skills improving rapidly with regular practice sessions.
What's included in the package? You get a carrying case of high quality, and a 7C mouthpiece so that you can start playing straight away. A polishing cloth, valve oil, and gloves to wear when you're handling the instrument are also included.
Pros:
+ Bb trumpet
+ Lovely tone
+ Adjustable third trigger
+ Accessories included
Why We Liked It - If you want to take the next step with your trumpet playing and develop your technique and start practicing more, then this is a great choice. The adjustable third trigger will make it much easier to increase your speed and play more complex pieces. The ergonomic, thoughtful design will also help you reach high notes, which you may not be able to with a less user-friendly product. Overall, it delivers ample quality, and will help you to take your abilities to the next level.
2. Bach 19037 Stradivarius Series 50th Anniversary
Bach has decided to celebrate the fiftieth anniversary of its founding by creating this incredible instrument. Anyone who knows about trumpets will tell you that Bach Stradivarious models are some of the best around. And this product is particularly impressive, as it is an improvement on previous versions, which is something that you might not think as being possible.
Typically for a Back product, this trumpet is designed for long-term usability. You will likely be able to play it for years, if not decades. The attention to detail of the design and construction, as well as the level of materials that are used to manufacture it, all combine to create a highly durable, great-sounding instrument.
The tone is simply wonderful. It has to be heard to be appreciated. It's also a very user-friendly instrument, with the high notes being easy to achieve. With this anniversary edition, you get a 3C mouthpiece and a special wood shell case that is available in silver or lacquer. We think that the silver case goes very well with the silver trumpet.
Learn More
Do you want to know what this instrument sounds like? Of course, you do! Head over to YouTube and watch and listen to a video if you're considering buying it!
Pros:
+ Bb trumpet
+ Beautiful sound
+ High-quality brand
+ Good for advanced players
Why We Liked It - This Bach trumpet sounds great and is of the very highest quality. It will please more advanced trumpeters because of the advanced design and more expensive price tag. But, if you're a novice or intermediate player who wants an instrument that will last a lifetime, then you cannot go wrong with this gorgeous Bach Stradivarius.
Next up is a trumpet that's targeted at a younger musician. Instead of being a serious instrument that's intended to be used for a live performance, this product is all about having fun. It's a great option for kids, as well as for novices who simply want an affordable instrument to get to grips with before deciding if to invest in a more advanced and expensive product.
It comes in a wide range of different colors, which is something that lots of kids will love. You can stick with classic options like gold, silver, and nickel, or you can go for something more unique, such as black, blue, green, purple, red, or white. It's always important for children to want to practice with an instrument. We think that the bright colors that this product comes in, could help a child to fall in love with it, and that will translate into more practice hours with their beloved instrument.
It's also designed with playability in mind. Of course, once your skill levels improve, you'll want something more advanced, but we think this is a fantastic choice for kids or beginners.
Pros:
+ Bb trumpet
+ Cheap
+ Lots of fun colors to choose from
+ Great for beginners and children
Why We Liked It - It's easy to play and it sounds good, but the best thing about it is its design. That's because it comes in so many gorgeous colors, which is something that can make a child more enthusiastic about practicing. Sure, you'll need to upgrade in a few years when your kid has moved on to more difficult pieces, but until then he or she is going to have lots of fun with the Hawk trumpet.
If you're a trumpeter who is looking for a more advanced instrument, then this is an ideal product, we think. Why? Because it features a reversed tuning slide, hand-lapped slides, and Monel pistons, as well as lots of other fantastic attributes. It's made by Yamaha too, so you know you can be assured of excellent build quality and durable, long-lasting performance.
The key characteristic of this trumpet - and the reason why it is so highly regarded - is the gorgeous tone that it delivers. It's bright and warm, making it perfect for jazz, in our opinion. It's also versatile. By changing the mouthpiece, you can open up lots of new tonal possibilities when playing this instrument too.
Playability is another top feature of this product. It's got a single, main, tuning, slide brace and this combines perfectly with the effective finger ring design. It's an absolute dream to play. You could easily find yourself practicing for hours without noticing how the time has flown.
It's a Xeno trumpet, which means that it's designed to enhance power and projection. It's developed using more than 30 years of research. Many of the finest trumpeters of our time have offered Yamaha their opinions so that improvements could be made. We love the weight of the trumpet too. It helps to contribute to better control over tone, we think. It's quite simply a flawless instrument that will live up to the most discerning musician's requirements.
Pros:
+ Great Bb trumpet for professional and advanced musicians
+ Great tone
+ High quality
+ Xeno trumpet developed with the help of over 30 years of research
Why We Liked It - It's got it all. The tone is stunning. It's built to last. It looks gorgeous. And the design is flawless. What's more, is that this excellent instrument is surprisingly affordable too. If you're an advanced trumpeter on a shoe-string then this product is your best choice.
Now we have another exceptional product from Bach. It's a one-piece trumpet that's got a yellow brass, hand-hammered bell. The bell has an innovative taper design that helps to produce a bright, lovely tone. This product also includes a standard lead pipe that offers solid resistance, as well as long-term durability. As you'd expect from Bach, this product is made from the finest quality materials, and it has been built with an incredible amount of attention to detail.
If you're an advanced or professional jazz trumpeter, perhaps even a soloist who performs regularly on stage, then we think you'll adore this instrument. Considering how advanced your skills are, you won't need us to tell you just how good Bach products are.
Pros:
+ Great Bb trumpet for professionals
+ One-piece, yellow brass hand hammered bell
+ Wonderful tone that's perfect for jazz
Why We Liked It - What trumpeter would not want one of these? It's a great instrument, and is specifically designed for jazz music. Of course, you have to pay a lot for a Bach product, but it is well worth it, in our opinion. It's true what many trumpeters say, once you've played a Bach, you can't go back to another trumpet. It's quite simply an exceptional instrument.
6. Kaizer Gold TRP-1000LQ
If you're a complete novice and want a low-risk, affordable instrument to experiment with before deciding if the trumpet is for you, then this product from Kaizer is an excellent choice, in our opinion. It comes with a 45-day free trial. That means that you get a full refund if you decide that it isn't the right instrument for you. It also comes with a lifetime warranty. There's nothing to lose with this product at all!
Everything you need to get started is included. It comes with a case, valve oil, white gloves, and a polishing cloth. But this is not the only reason why it's good for beginners and children. It's specifically designed to be sturdy enough to be handled roughly, which means that you don't need to handle it carefully, something that makes it even better for youngsters.
Another feature that makes it great for kids is the colors that it's available in. You can choose between nickel, blue, lacquer, and purple. It also has a third valve slide ring, which is good because it makes it easier to play with proper technique, and it's also easier to hold.
Pros:
+ 45-day free trial, meaning you get a full refund if you don't like it
+ Lifetime warranty
+ Four colors to choose from
+ Everything you need is included
Why We Liked It - This trumpet is an excellent choice for beginners, especially kids, who want a colorful trumpet that is sturdy and durable. We like the 45-day free trial, which should be enough time to try it out and decide if it is for you. The lifetime warranty is another big plus. It's also handy that everything you need to start playing is included in the package. It's a truly low-risk, affordable choice for anyone who wants to experiment with this gorgeous instrument.
7. Sky Band Approved Black Nickel
For anyone looking for a bargain, then this is a superb option. It is very low priced, which makes it ideal for someone unsure if they will stick with this instrument in the long run. Don't let the low price fool you, though, this is a serviceable trumpet that still offers good value for money despite the low price tag. Of course, the sound quality, durability, and level of construction cannot compare to a premium model. But if you're a complete novice, then you don't need those advanced features.
One fun thing about it is that it's available in many different colors. You can choose between black, green, gold, nickel, silver, purple, and red. Everything you need to get started is included in the package. It comes with a case, white gloves, a polishing cloth, and valve oil. It also comes with a one-year manufacturer's warranty.
Pros: 
+ Bb trumpet
+ Cheap
+ Many fun colors
+ One-year manufacturer's warranty
Why We Liked It - Above all else, the most impressive feature of this product is the very low price tag. If you're looking for a bargain, then it certainly delivers. It comes in lots of lovely colors and includes everything you need to get started. It's covered by a one-year manufacturer's warranty, so you don't have to worry about it breaking, at least in the first year.
If you're an intermediate player and have been reading through our reviews you might wonder: where are all the trumpets for people who don't identify as a beginner or an advanced player? Well, here it is! This trumpet from Legacy is great for intermediate players. It comes in a case that can be used both as a regular case and a backpack, which is very handy for taking it to school and lessons.
This instrument is made by one of the best trumpet brands in the world, which is Legacy. The fact that it's made by such a well-regarded brand means that you can be assured long-term performance. If reliability is key for you and you'd describe yourself as being an intermediate trumpeter, then we think you should check out this superb product.
Pros:
+ Bb trumpet for intermediate players
+ Good case
+ High quality
Why We Liked It - It's perfect for intermediate-level trumpeters and has been made by a respectable brand. We're big fans of the included case too, as the fact that it doubles as a backpack is a very useful feature. If you're keen to invest in a product that's better suited to your improved abilities, then we think this is an excellent option.
9. Mendini by Cecilio MTT-L
If you are a beginner looking for a bargain trumpet to start learning with, then we suggest Mendini by Cecilio MTT-L. Cecilio makes great musical instruments for beginners that do exactly what you need them to do and do that well. Not only does this trumpet make playing easier thanks to its user-friendly design, but it also looks and feels good. Even intermediate players can use it if they want to save a few bucks.
This trumpet is great for kids as well, as it comes in lots of fun colors. There is sky blue, silver, red, gold, purple, blue, and black. Having a cool trumpet like this one can make a child practice more often, as it looks almost like a toy.
A carrying case is included, as well as valve oil, a polishing cloth, and white gloves. It is covered by a 1-year warranty against defects.
Learn More
Does this seem like the trumpet for you? Perhaps you're not 100% convinced yet? This video might help you make up your mind!
https://www.youtube.com/watch?v=DgNlezATIEk
Pros:
+ Bb Trumpet
+ Affordable
+ Many different colors
+ One-year warranty against defects
+ Everything you need to get started is included in the package
Why We Liked It - Who doesn't love a bargain? This is one of the best beginner trumpets around. Not only is it affordable, but it also delivers gorgeous tone that is a pleasure to listen to. We like that it comes with everything you need as a beginner, as well as a 1-year warranty. For a novice, you can't go wrong with this product. And you certainly won't be the first aspiring musician to learn on a Cellino instrument. This brand is designed for beginners, which we think is a huge plus.
Yamaha is another brand that's popular with beginners, as well as musicians of all different levels. It produces such a wide range of products that few other manufacturers can compete with it. One reason why it's such a popular company is that it is able to offer excellent instruments for remarkably affordable prices.
And that's exactly what this product delivers too. It offers a clear, bright tone that's perfect for jazz. It also has an adjustable third trigger, which makes for much easier playability, and it also allows you to develop and improve your technique too. It's a great instrument because it will suit beginners but it will continue to offer quality as your skills advanced and you become an intermediate player. If you would already describe your skill level as intermediate but you're unhappy with your current trumpet, then this one would also make for a good upgrade, in our opinion.
Pros:
+ Bb trumpet
+ Mid price range
+ Great tone
Why We Liked It - Who is this trumpet for? The answer is for beginners and intermediate players who want an instrument that they won't have to exchange for something better any time soon. It can accompany you through your early years practicing in your bedroom all the way to performances on stage. The user-friendly design will also allow you to practice for long periods, and this will result in your skills improving quickly too. As with all Yamaha instruments, it is reliable and delivers excellent value for money.
Best Jazz Trumpet Buyers Guide
Have you found your next trumpet? We hope so. All of the products on our list have passed our rigorous testing procedure. You can be assured of their quality. If you're still not sure which one is best for you, then you might want to consider choosing a selection from our list, and then heading over to your local music store. You should be able to have a look at them, and you might be able to play them too. That way, you'll be able to check the build quality and ensure that they meet your requirements in terms of looks too.
Remember that sound is the single most important thing when it comes to choosing an instrument. It is, however, also important that it is comfortable to play. If the instrument features an ergonomic design that enhances playability, then you can practice for as many hours as you like without any fatigue or pain in your hands or lips.
Jazz is a wonderful genre. The trumpet is an essential element of it too. One of the reasons why this horn is so well-suited to the genre is its versatility. It also allows for improvisation and experimentation. Remember, anyone who becomes an expert playing an instrument reaches this level after years of practice. Don't get downhearted if you can't play your favorite jazz standard after mere weeks of playing. It will take time, but with dedication, you'll get there. We're certain of it!
Who Are the Best Jazz Trumpet Players?
Some of the best jazz trumpeters of all time are Louis Armstrong, Miles Davis, and Dizzy Gillespie. Unfortunately, these three legends are no longer with us. But there are still lots of fantastic jazz trumpeters who are performing and recording today, including Wynton Marsalis and Arturo Sandoval.
What Is the Jazz Method for Trumpet?
It's a method book that will help you learn how to play jazz. A CD with accompaniment is also included.
Expert Tip:
The mouthpiece you use can make a big difference over everything from playability to tone. Make sure that you try out different mouthpieces before you decide to upgrade from your old trumpet.
Did you know?
Miles Davis didn't start playing the trumpet until he was 13!
If you've enjoyed this review by Music Critic, please leave a positive rating:
[vc_separator