Below we take a look at the Best Alto Saxophone. Finding the best Alto Saxophone, or Alto Sax as it is commonly referred to as being challenging. This is mainly because of the number of sax brands on the market producing very similar models, meaning it can be hard to find stand out products.
Saxophones were first invented in the 1840s by Adolphe Sax, an instrument designer from Belgium. The Alto Saxophone is by far the most popular Saxophone and is used in almost every relevant musical genre and category you can think of from classical and concert to swing, jazz, soul, and funk.
The alto saxophone is always on an E flat pitch and one of the greatest things about the saxophone is the fact that the fingerings are the same on every single model. This means that if you can play one Saxophone you can play them all, making it one of the most accessible instruments to learn and play. While learning, it's also important to ensure you are learning correctly, and in time. You can do this with the help of a metronome for instruments.
We have done extensive research into Amazon 2023 and sourced 10 alto saxophones we think are the top models on the market right now. As always we have taken into consideration a wide range of factors including price, design, build, brand integrity, overall performance, and have reviewed them all to arm you with as much information as we can for your purchase.
Buying an Alto Saxophone can be a complicated endeavor, particularly if doing so for the first time. Many young students of the sax fall into this category and can often become confused and overwhelmed with information, especially if they have parents who do not know the horn either. Want to start smaller? Try a new harmonica to get the windpipes going!
As well as our reviews you will find detailed buyers guide to further assist you with your purchasing decision. So be sure to read on to find the best Alto Saxophone for you.
Bandmaster Recommendation:
Are you looking for a Saxophone good enough for use in a band? If so, the advice we have received from a Music Educator and professional Band Master is to go for one of the Yamahas. The Yamaha YAS-280 Saxophones Student Alto and Yamaha YAS-82ZII Custom Z Saxophone are a little more pricey but are recommended both for the purity of sound and durability, for which they score considerably higher than brands like Mendini. This is especially important for music students or band members who are likely to put the instrument to serious use.
At a glance:

Our top 3 picks
Our team's top 3 recommendations
Best Overall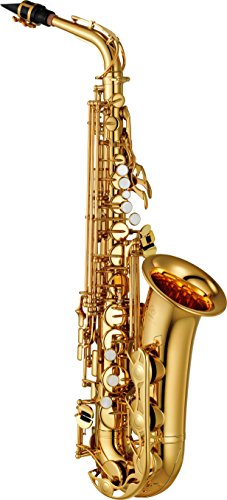 YAMAHA YAS-280 Saxophones Student Alto

Yamaha branded product
One of the better beginner saxophones on the market
Super simple to play and sounds great
Premium Quality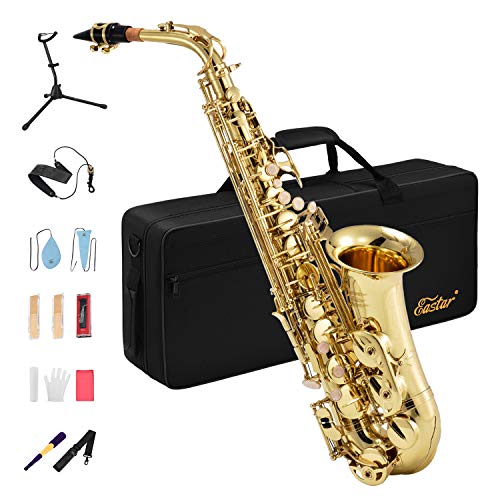 Eastar AS-Ⅱ Student Alto Saxophone

Yamaha branded product
One of the better beginner saxophones on the market
Super simple to play and sounds great
Great value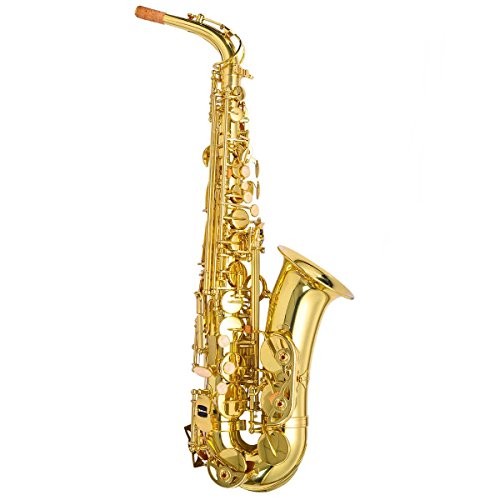 Costzon New Professional Alto Eb Sax Saxophone

Yamaha branded product
One of the better beginner saxophones on the market
Super simple to play and sounds great
Here is our Review of the Top 10 Alto Saxophones for 2023
1.  YAMAHA YAS-280 Saxophones Student Alto
Yamaha is a name that is familiar to people across the world whether you play a musical instrument or not. The Yamaha corporation is based in Japan and offers an enormous list of products and services. Easily one of the biggest companies in the world and a household name.
Their musical instruments are known for their quality and style and cover countless categories like guitar and bass, drums, violins for beginners, brass, and woodwind. Their pianos and keyboards, in particular, are very famous and are known the world over for being innovative and of the highest quality.
The YAS-280 is Yamaha's student and beginner offering. It sports a professional and elegant design and robust build, there really is a quality feel throughout this saxophone that you would expect from a company like Yamaha. It also boasts superb intonation and is wonderfully lightweight and simple to play making it absolutely perfect for beginners and students.
This saxophone is regarded as one of the top entry-level models that money can buy. It is highly responsive and very easy to play with free-flowing keys and a great sound. Another great feature is the Yamaha 4C mouthpiece which is a quality bit of kit in its own right. As mentioned above it is elegantly designed and has a beautiful class golden lacquer finish.
Accessory wise it comes with a great case that is rugged and generously padded for maximum protection. The case also features backpack style straps for easy and convenient transportation of your sax.
Pros:
+ Yamaha branded product
+ One of the better beginner saxophones on the market
+ Super simple to play and sounds great
Why We Liked It - As close to a must buy saxophone for beginners as you can get. It ticks all the boxes in terms of what to look for in a student saxophone with the added peace of mind that it bears the Yamaha brand name.
Brand - If you're an experienced saxophonist looking for your next instrument purchase, you'll want to go with a high-recognition name brand such as Yamaha, Selmer, Yanagisawa, Keilwerth, or P.Mauriat. Though these well-established legacy brands will certainly drive up the price due to their high profile, but it's a worthwhile investment for strong players.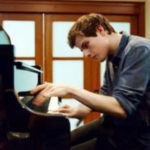 2. Eastar AS-Ⅱ Student Alto Saxophone
The single most important attribute of the best alto saxophones is beautiful tone, and the Eastar AS-II provides you with stunning tone. It arrives already adjusted and ready-to-play. And this is an alto saxophone you won't want to put down. It is constructed from top-quality materials, with brass connecting rods and blue copper needle spring.
The keys feature a mother of pearl inlay that gives this alto saxophone a classic, gorgeous appearance. A lot of attention to detail has clearly occurred during the manufacturing process, which will please saxophone players of all levels who want to be sure that pure, quality sound without noise is what they get.
Pros:
+ Beautiful tone
+ High-grade materials
+ Noise-free
+ Stunning looks
+ Affordable price
Why We Liked It - This is one of the best alto saxophones for someone to learn on and build up their skills thanks to the beautiful tone and affordable price.
3.  Costzon New Professional Alto Eb Sax Saxophone
The New Professional is going to be the alto saxophone of choice for anyone reading this who is on the lookout for a budget priced sax. Coming in at well under the $200 mark this is definitely one for the bargain hunters. Keeping costs down is all well and fine, however, it is important to ensure you are still getting a decent quality product that is worth your while purchasing in the first place.
This alto saxophone has been marketed as a beginner alto saxophone but in actual fact, it is equally suited to intermediate level players. It boasts solid brass construction and is surprisingly elegant and durable for the price. It is lightweight and assembly is very easy making it ideal for younger musicians. Also, it has a real easy playing feel with forgiving fingerings and a very nice warm and resonating sound.
The New Professional comes with a very impressive range of accessories and gear. The most impressive of which is a high quality carry case sporting dimensions of 6x10x24". There is also cork grease, a reed, an aglet, strap, and much more again making it a great choice for younger players.
This saxophones packaging is great. Similar to our sentiments above it comes in a surprisingly impressive condition with needle springs in place, pads evenly seated and no leaks present. One of the common fears among players when opting for lower-end horns is the trouble they can sometimes have hitting the full note range. However, that does not seem to be a problem with this product with E flat through to F sharp resonating full, warm, and clear.
One suggestion we do have with this alto saxophone is that you may want to consider purchasing an upgraded mouthpiece should you decide on this sax. The one that comes with the New Professional will do the job however it is often a good idea to buy a higher-end piece with lower-end saxophones to really bring out the full sound.
Pros:
+ Budget price tag
+ Surprisingly high quality
+ Comes with a great range of accessories
Why We Liked It - Overall a decent horn for the price, ta number of accessories it comes with is a real bonus. Ideal for beginners or intermediate players on a budget.
Durability - Though you may save on the price of your alto saxophone if you're willing to compromise on the quality of the material, you might end up with an alto sax that will not stand up to the test of time if you play it frequently or travel from gig to gig with it.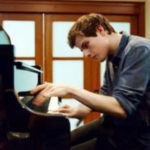 4.  Mendini by Cecilio MAS-L+92D+PB E Flat Alto Saxophone with Tuner, Case, Mouthpiece, 10 Reeds
Cecilio Musical Instruments were founded in 2004 and their products are known for their suitability for players of all levels, from young beginners to seasoned Pros. They hold themselves to ruthless quality standards with every single one of their saxophones being thoroughly tested and examined at their overseas factories and also at their LA distribution center upon arrival in the United States.
Their alto saxophones are handcrafted with pride and precision and are approved by instructor bodies around the globe for use in solo, band and orchestra capacities. Upon starting Cecilio the founders believed there was a gap in the market for quality horns at affordable prices. They have since then established their company with this ethos at the forefront of everything they do.
The Mendini is ideal for beginners yet also suitable for accomplished players. It is pitched at E flat with a high F sharp and boasts an impressive construction. It has a ribbed build and high-quality stainless steel tone boosters. The low B flat spatula keys have been designed in a tilted style making it exceptionally easy to play and wonderfully simple for new saxophonists to achieve a great sound.
This alto saxophone comes with a whole host of accessories, again making it perfect for beginners. These saxophones extras consist of a highly durable hard shell case, neck strap, 10x 2.5" reeds, a cloth and rod for essential cleaning, and a pair of gloves. Also as a bonus, Cecilio has thrown in a 92-D tuner and a pocketbook.
The warranty on the Mendini is for 1 year covering manufacturing defects. It is made of a rose brass body and weighs around 12 pounds meaning it shouldn't be too heavy at all for young players.
Pros:
+ Quality construction and sound
+ Comes with an excellent range of accessories
+ Lightweight and durable
Why We Liked It - A good quality saxophone complete with a wonderful range of accessories. This really is a great alto saxophone that is without a doubt a must buy for beginners.
5.  Roy Benson RBAS302 Eb Professional Alto Saxophone
Roy Benson are well known for their high quality, German engineered saxophones. They have been releasing fantastic horns for over 15 years now and their products are famous for their great craftsmanship and affordable price tags.
The RBAS302 really is an impressive alto saxophone and is full of great features. It boasts an RND (relaxed neck design) neck, bar mounted keys, an elegantly designed brass body, and brass keys that are joyfully easy to play. The high range is F sharp and it sports a C sharp - B flat connected table key and hardened steel springs for a great playing feel.
This alto saxophone utilized PISONI pads which are the most widely used, trusted, and well respected in the industry, reassuring you that this a saxophone of the highest caliber. The lacquered finish is nothing short of gorgeous and the USA mouthpiece is very professional, coming with a ligature and cap.
The sax stands at 28 inches tall and comes with a small range of brilliant accessories including a professional Roy Benson Saxophones carrying case which is lightweight and highly durable to protect your investment. Also, the RBAS302 comes with a padded strap and cleaning rods for the essentials.
There is much debate in the alto saxophone world regarding saxophones being manufactured in China. The fact of the matter is that this is not always a bad thing and you cannot let a few bad examples ruin it for all. This is especially true when you consider the fact that Yamaha manufacture all of their saxophones in China and they are a company synonymous with quality and professionalism.
The RBAS302 separates itself entirely from the bad apples of the Chinese manufactured alto saxophones. Roy Benson has retained their German engineering excellence and core company values to ensure all of their horns are of the highest quality yet remain affordable to the average player.
Pros:
+ High-quality alto saxophone
+ Very affordable
+ Excellent accessories
Why We Liked It - This would be a good purchase for nearly any player. The quality of the sax combined with the price tag means it is a great 'every-man' alto saxophone.
6.  Ammoon Professional Bend Eb E-flat Alto Saxophone
This alto saxophone from Ammoon is one of the most elegant looking horns on the market right now which is staggering considering its price tag. It is made of a gorgeous red bronze with a striking antique finish and a carved pattern surface that really make this sax stand out.
It is designed for professional and novice saxophonists alike and is suitable for solo players and also use within jazz bands and classical music accompaniment. It boasts water-resistant pads and a bluing steel needle for maximum durability. The abalone shell key inlays are super comfortable and make playing easy and free-flowing.  This alto saxophones range is E flat to F sharp and it hits the full complement flawlessly.
In terms of accessories and associated equipment, Ammoon has outdone themselves. It comes with a professional carrying case measuring 24x6x11" which is generously padded for maximum protection. There is also a high-quality mouthpiece, cleaning cloth, straps, gloves, cork grease, and much more. Should you opt for this alto saxophone you will not only be getting a quality product but also a whole host of essential supplies to keep you stocked up for the foreseeable future.
With alto saxophones in this price range, many players can be hesitant, and rightfully so as there are enough horror stories out there to put anyone off. However, for many, they have no choice as horns in the high hundreds or even thousands of dollars are just not feasible. You can rest assured however with this release from Ammoon, it would be a tremendous first saxophone for fledgling players of any age yet has the quality and durability to continue impressing you as you improve and progress.
Pros:
+ Gorgeous design and build
+ Great accessory range
+ Excellent value for money
Why We Liked It - A beautiful horn for the money. Suitable for players of all levels this could easily be a beginner purchase that lasts you a lifetime.
7.  Merano GWD510BL E Flat Alto Saxophone
Merano Musical Instruments are a wonderful company and were established in the year 2000. Their company ethos is to create beautifully designed instruments accessible to everyone. Many of the original members of the company have years of personal experience playing in orchestras and bands meaning they know these instruments intimately. Brass, wind and bowed string instruments are their areas of expertise and each product is finely crafted with pride and care.
Price-wise they are extremely competitive within the marketplace. Many of their products go for below wholesale price and they pride themselves on the highest caliber of customer service. Merano has a wonderful personable quality that really shines through with their customers often sharing musical anecdotes with those who get in touch.
This particular release from Merano is outstanding. There is professionalism in every inch of this alto saxophone and the blue lacquered finish is striking and gorgeous. It stands at 29 inches tall yet weighs just 9.6 pounds so it is a great, lightweight alto saxophone.
The GWD comes with a professional velvet lined, zippered hard case which will keep your sax perfectly protected. It also comes with a screwdriver, nipper, pair of gloves, cleaning cloth, and a bonus 10 reeds.
Price-wise this item comes in just under the $240 range and according to most, it seems to be most suited to beginners. It is lightweight with a great, warm sound, is easy to play and the blue finish will really make you stand out from the crowd.
Pros:
+ Elegant design
+ Striking blue lacquer finish
+ Reasonably priced
Why We Liked It - A great beginner saxophone. Middle of the road in terms of price and quality and the blue finish is absolutely brilliant.
8.  Kaizer Student Alto Saxophone
Kaizer musical instruments are based in California and are an all American company. They are extremely proud of their brand and specialize in the student instrument market in the brass, strings and woodwind categories.
Kaizer offers a level of quality to beginners typically found in horns designed for professionals. Reliability is without a doubt their strong point and they produce highly durable saxophones aimed at young beginners, those of you just starting out, and students who play in school bands and orchestras.
It has been designed with the beginner in mind and extra attention has been placed on ease of playing and increased response and intonation. It boasts high-quality steel springs for quick action, a wonderfully sensitive response, and premium leatherette pads. It also boasts a solid brass body and robust construction, available in either the traditional golden lacquer finish or in a silver lacquer finish.
The list of accessories that come with this saxophone is almost as impressive as the sax itself. There is a superb molded case to protect your horn, an excellent mouthpiece and ligature set, and an essential saxophone maintenance kit consisting of a cleaning cloth, rods, gloves, and lubricant.
There is however 1 final wonderful surprise with this product. A special offer of a 1080p HD high-action camera complete with the waterproof casing so you can record yourself playing and progress and share it with your friends and family or with the world via YouTube. This is an amazing bonus and really highlights that Kaizer understands the student and young beginner market like no other.
Pros:
+ Absolutely perfect for students and beginners
+ Looks and sounds great
+ Easy and fun to play
+ Great accessory range - comes with a camera!
Why We Liked It - Just the perfect saxophone for young beginners and anybody of any age looking to learn the horn. Great sound and feel and playing are wonderfully simple and fun. Almost unbelievably it comes with a camera.
9.  Jean Paul USA AS-400 Student Alto Saxophone
Jean Paul USA is a company that has been building a very good reputation for themselves in recent years. They are specialists of saxophones for beginner and intermediate level players. They mix affordability with reliability, meaning you can pick yourself up a premium quality saxophone at a very reasonable price.
The AS-400  is an ideal saxophone for those of you looking for great value for money and also those of you who are still students of the horn. It comes in traditional brass color with a gold lacquer finish or in silver for an increased price.
It is a beautifully designed horn with a carefully constructed neck, wonderful body etchings, and mother of pearl keys. As we said above this horn is all about reliability and quality and this is evident with the highly durable power-forged keys. The bell brace is absolutely solid and the Pivot keys tapered to make playing joyfully simple, another reason why this one of the most popular saxophones for beginners.
Range and intonation are very good, in fact, many of the AS-400's features, both audible and physical are usually found on much more expensive alto saxophones. It is capable of warmer, more subtle tones which make it great for use within a band. Yet is equally capable of producing the raw, gritty alto saxophone sound that is so often utilized by a solo player, holding the attention of a mesmerized audience.
One of the main reasons why Jean-Paul USA saxophones are synonymous with high quality is there 2 phase testing process. What this means is that every single one of their horns is tested upon completion of manufacture prior to leaving the factory and then again prior to shipping.
Pros:
+ Ideal for beginners
+ High-quality product
+ Very reasonably priced
Why We Liked It - An excellent product from an excellent company. The AS-400 is lightweight, reliable and easy to play. Ideal for beginners yet also suitable for alto saxophone veterans due to its high-quality build, range, and power.
10. Yamaha YAS-82ZII Custom Z Saxophone
Another Yamaha addition to this list and this time it is a much more complex model. The custom Z series have recently hit their 10th-anniversary milestone and as a result, they have been re-visited with some new features added while the classic features we all know and love have remained or have been improved upon.
The Custom Z series saxophones were always very well known for their easy, expressive playing, flow, and great intonation. They have been a 'go-to' of the working musician for years thanks to their highly professional build, design, and sound and also their robust construction, meaning they can easily handle the wear and tear and rigors of constant performance.
One of the impressive new features is the one-piece bell design. This is a huge improvement and dramatically increases the warmth of tone and the resonating ability of the saxophone, particularly on the low end. There have also been vast improvements in the style department with a gorgeous classical engraving around the bell adding to its already timeless design.
It comes with a great solid rubber mouthpiece which only adds to the Custom Z series' easy playing feel and big sound. It also boasts the V1 wide bore neck for that wonderful free-blowing feel all saxophone players love. The keys have an ergonomic design and are highly responsive.
What's more, the Custom Z series comes with Yamaha's industry-leading 5-year warranty that is the main stay with their products and really highlights why Yamaha is such a highly respected household name.
Pros:
+ Supreme quality in sound and build
+ Industry leading 5-year warranty
+ Official Yamaha product
Why We Liked It - Without a doubt one of the most impressive alto saxophones on the market right now. The Custom Z series is the go-to saxophone for working musicians and professionals. The sound and overall product quality are simply unbeatable.
Accessories - As long as you're splurging on a brand new alto sax, you might as well make sure you're getting the most bang for your buck by checking out what comes with your purchase. Many alto saxophones will come with a case, a set of reeds, cork grease, a strap, and more.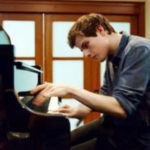 Alto Saxophone Buyers Guide
Top Pick
Jean Paul USA AS-400 Student Alto Saxophone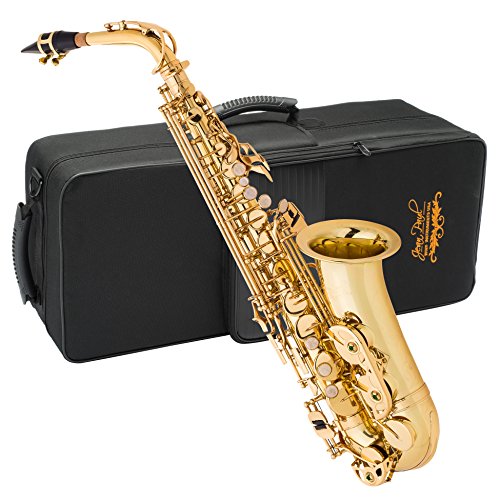 Jean Paul USA is the company of choice for young beginners, students, and intermediate level players. Their AS-400 is everything you want from a saxophone designed for this level with an easy, free-flowing, and responsive playing feel. The sound is wonderful and it boasts superb intonation. Design-wise it is equally impressive with an elegantly crafted construction and gorgeous classic, golden lacquered finish.
Another great aspect of this saxophone for beginners is the range of accessories it comes with. When first starting out it can take a while to build your stockpile of associated essentials so it is great to get so many as part of our purchase with this instrument. It comes with a hardy and durable case, reeds, cork grease, a cloth for cleaning, gloves, and swabs.
Premium Choice
Mauriat PMXA-67R Series Professional Saxophone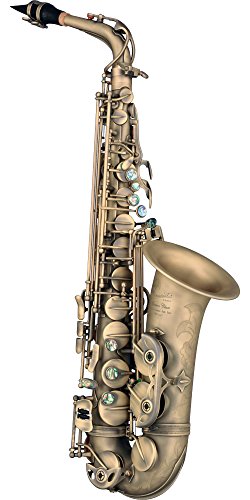 Mauriat is a company with a rich history and reputation for producing some of the most beautiful horns in the world. They take extreme pride in their work and craftsmanship. As a result, they have become the 'go-to' brand for musicians looking for a product that is of a superior class and caliber.
The PMXA-67R is a wonderful saxophone that has a beautiful yet very robust construction. Their 'hard hammering' process means that the metal for each instrument can be hammered as many as 400 times.
In terms of sound, it continues to impress with a warmth of tone and resonance that is simply unparalleled.
Great Value
Mendini by Cecilio MAS-L+92D+PB E Flat Saxophone with Tuner, Case, 10 Reeds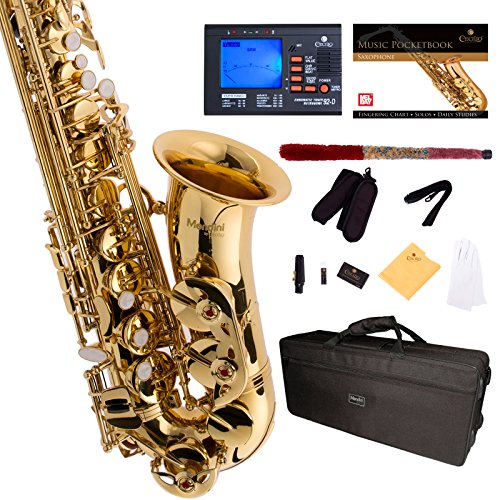 Cecilio is the epitome of value for money. They have incredibly high standards when it comes to quality. Their company was founded on the principle that every musician should be able to afford a great instrument. Their high standards mixed with this brilliant company ethos means they are an organization synonymous with value for money.
The Mendini is a wonderful saxophone for all levels with accessible ease of playing for beginners and yet has enough power and features to offer seasoned Pros. Elegant design and superb sound all for a very respectable price.
What is an Alto Saxophone?
The alto saxophone is most commonly referred to as the alto sax and is undeniably the most popular and commonly played saxophone there is and is always pitched at E flat. It works like other saxophones and clarinets with the mouthpiece and cane connected by way of the ligature when blown into the reed vibrates against it which blocks the air and projects sound.
How do you test a Saxophone?
Many of the better and more respected musical instrument companies test their saxophones multiple times prior to any consumer ever receiving them. Most commonly they have tested after manufacture in the factory then again at the company's distribution center before shipping to local retailers.
There is nothing convoluted at all about the saxophone testing process, it simply going through the key components of the horn and ensuring everything is in working order. The main areas to cover are intonation, key function and to check for leaking pads.
To check intonation you basically are looking to see if the saxophone can be tuned properly. To tune a saxophone you move the mouthpiece further into the neck for sharper sounds and pull it from the neck to play flatter. Checking key function is quite simple; just press down the keys and check for a quick response back to the starting position, also check the sound quality of each individual key while playing. Checking for leaking pads is easily down by way of a quick visual.
How do you clean and care for a Saxophone?
The main areas to keep clean on a saxophone are the mouthpiece, neck, and body, both interior and exterior.  The mouthpiece should be cleaned at regular intervals for reasons of sanitation and obstruction. It is easily cleaned by removing it and wiping the interior with a cloth.
The interior of the neck body should be cleaned regularly as well. Do this by disassembling as required to gain access then clean the inside using a cloth and specialist cleaning rods. These rods come as part of an accessory range with many saxophones, however, if you do not have any they are a must-buy and you should take a look online or in your local musical instrument store.
The saxophone exterior is much simpler to clean and doesn't require the same level of attention of frequency. Simply wipe down the outside of your instrument every once in a while to keep it free of general dirt, grease, and dust, etc.
What are the different parts that make up a Saxophone and are they replaceable?
The main parts of a saxophone are the reed, which is attached to the mouthpiece via the ligature which creates sound. The mouthpiece which you blow into, the neck connects the mouthpiece to the body, and the body itself is the largest part of the instrument and contains the bell where sound protrudes from. All parts are replaceable however it can prove expensive. Speak to the manufacturer of your specific saxophone for more information.
How do you select the best Alto Saxophone?
This can be tough as there are so many similar models available. However, if you ask yourself some questions and do some simple information gathering then you should have a good starting point.
The first and biggest determining factor is what level you are at. If you are a beginner, student, or intermediate level player then there are a plethora of choices open to you, we have reviewed quite a few above so be sure to check them out. If you are a professional musician or experienced player then it would be worth your while to further research into that area of the market.
Combine this info with other factors such as your budget etc and you should have a good foundation to start from. Our list above should also help you as there are models covered to suit all players of all levels.
Conclusion
Saxophonists are a category of musicians who are very lucky to have so many incredible instruments available to them. Many brands in this area take unbelievable pride in the craftsmanship that goes into their products and the sounds they create are just wonderful.
However, it is this ubiquity of saxophones that can make the task of selecting one rather difficult. In this category of horns, it more often than not comes down to playing level and budget. Combine your personal circumstances in regards to these factors and you will be able to find the best alto saxophone specifically for you.
If you liked this review by Music Critic, please leave a positive rating:
[vc_separator