In early 2018 PRS first introduced their John Mayer inspired Silver Sky model. On the surface, It may appear to be just another Strat remake, but under the hood offers a heck of a lot more. It is beautifully crafted, like many of the guitars to have come before and after it. We expect nothing less from the esteemed, Maryland based company.
It is modeled with a Stratocaster shaped body, to reflect the instruments that John Mayers first played on. With the iconic, smooth, 1960s curves we have all come to know and love, a molded metal pick-guard, and a heavy-duty build worthy of handling a tough tour, you are sure to get your money's worth. It is a little different from previous models. Though it is visually similar to the PRS DC3, there are a few contours that have been altered.
The treble cut-away features PRS's trademarked scoop, but the bass cut-away is a little shallower with a curve. It has a beveled top side that provides more knuckle room at the neck-body junction. It is fixed firmly, with a bolt-on neck.
The neck sports shortened narrow frets in comparison to your typical PRS model. It is fair to say that in the neck department, the Silver Sky is much more like a Fender than a PRS, with a radius of 184mm (7.5 inches) but slightly taller frets.
This gives it excellent playability. You will find that scaling the neck with big sweeps is a real doddle. This facilitates faster finger work, extended arpeggios, and insane shredding during solos. They are accurately measured and idyllically sunken throughout the entire neck, but they may take a little getting used to if you're accustomed to the larger frets that a PRS usually provides.
The body is made from Alder, and the neck is carved from a single, solid piece of maple, which gives the guitar great balance. This alleviates some shoulder stress, making it ideal for lengthy concerts.
With such an iconic body, it is difficult to ignore the three by three PRS headstock that this (otherwise) vintage beauty has been given. The headstock is one of the biggest eyesores by far on the Silver Sky; it has split opinions on the instrument right down the middle.
Despite how the headstock affects the overall look, it does bring the instrument into the modern age, with its vintage-inspired, closed-back tuners. They have good resistance that helps keep impeccable intonation, as does the PRS's double-action truss rod that lets you adjust the action until it's perfection.
Frankenstein-like looks aside, the sound is wholeheartedly retro, which you can expect from a collaboration between John Mayer and Paul Reed Smith. The PRS 635JM pick-ups deliver impressive vintage tones and capture the sounds of a memorable era. They are modern renditions of vintage single-coils that have a glassy response, capturing well-defined notes. They also have a twangy edge. The refinement ensures that they have a reduced signal to noise ratio, and between the three, they have a widespread consistency.
The bridge has a dazzling treble tone, and the neck adds superb warmth to your tonality. They are standard-sized and have plastic covers with rounded edges. The magnet poles that are on display are staggered, protruding at the G string to give you a fuller mid-frequency equalization. It has 300k pot-values for the volume and 250k for the tones.
All pick-ups, hit the sweet spot with the neck, instantly balancing the low, and filling it when equalized in its favor.
It is equipped with one of PRS's un-threaded tremolo arms, that again keeps the vintage style model fresh. It can be adjusted via the screw, so you can position it exactly where you want it. It rests flush with the body when not in use, a design decision that was another of John's personal requests. This means the tremolo only affects the pitch.
John Mayer Silver Sky Tungsten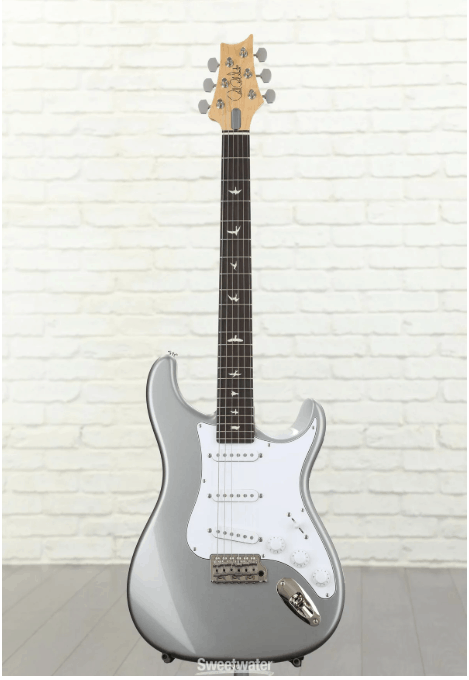 Summary
The Silver Sky by PRS is a beautifully made, premium guitar. It has a few aesthetical design decisions that some may disagree with, such as the pairing of a vintage body with a thoroughly modern neck. In all honesty, the neck provides reliable, modern-day intonation with its locking tuners, which is essential for gigging and touring. It is easy to see why they updated the otherwise old-school ax.
It is a well-built alder and maple guitar with great balance and weight. It has three modern-day noise-canceling, staggered-pole pick-ups with great consistency, and a classic tone throughout the range. It is fitted with custom-designed, PRS un-threaded tremolo arm, and plays well with a variety of gloriously vintage tones.
Pros
+ Vintage tones, modern upgrades.
+ Alder Strat-like body.
+ Strong bolt-on maple neck.
+ Locking-tuners.
+ 3 single-coil pickups.
+ Low signal to noise ratio.
+ Classic tones.
+ Tremolo.
Cons
- The narrower neck may be a tough transition for some.
Why We Like It
It is an excellent electric guitar for live use. It sounds great through just about any amp, helping you create those iconic sounds. It is a vintage-sounding instrument, updated to fit the modern music industry. Although its Strat/PRS looks don't sit well with everyone, in our minds, it is a great example of just how deceiving looks can be.
If you liked the article, please leave your feedback.