The Eboy Electronic Bow is a tool for guitar players that can change the way you play and write. When your playing routine becomes too dry, sometimes it's great to switch it up and add some new textures and tones to your playing. The Ebow allows you to do just that. It's an electronic vibrating bow that will give you incredible sustain, new tones, and new sounds that you've never otherwise been able to create with your ax.
It is an affordable and fun way to add a new dimension to your playing. It's a simple and useful little tool that can be a riot to mess around with in the practice room or on stage. If you're looking for a way to spice up your style, Ebow electronic bow for guitar may be just the gizmo you've been looking for.
Ebow Plus Electronic Bow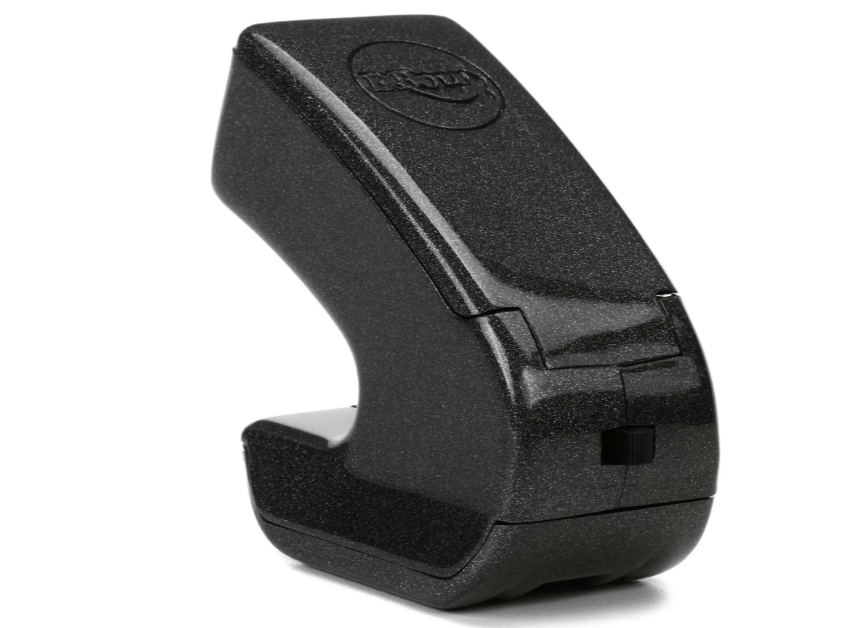 Specifications
Electronic bow for guitar
Powered by a 9-volt battery
Variety of sounds such as sustain, fades, tonal texture, and bowing
Replaces pick in your picking hand
Small, ergonomically designed for comfort and ease of use
Summary
If you've ever seen Jimmy Page lay live with Led Zeppelin using his bow, then you may be like many other guitar players who want to create the exciting and unique sound that a bow can produce.
This electronic bow from Ebow is an exciting and neat way to create sounds that you may have ever been able to before with a simple pick or your fingers. Although you may be ready to rip around the fretboard easily, the amount of sustain and tones you can get with the Ebow otherwise would not be possible.
It's a compact and small design that is comfortable in hand and easy to pick up in a flash when you're in the middle of a set. All you do is turn it on with the switch! Hold it over the strings to create the tones you're looking for. It vibrates each string, creating the type of sound that a cello or violin bow would produce.
In situations where you want to create unique and exciting tonal textures, Ebow is perfect. It can allow you to create resonant, sustainable tones that can act as a backing for your mix if you're using a looper pedal. Or, it can simply add to the mystique and ambiance of your live show.
Using the Ebow can also spruce up your writing process a little bit. Sometimes all you need is a little bit of variation in your practice. Having this new tone sculptor in your hands could be precisely what you need to inspire yourself to create some intriguing compositions.
It's affordable as far as a high-tech guitar accessory goes. It makes for a decently affordable way to get some new sounds that other musicians may not have access to.
It's powered by a 9-Volt battery, which will last a decent amount of time and is cheap to replace.
It's small and comfortable to hold and will be easy enough to grab at a moment's notice if you're on stage and suddenly want a new sound creation tool in your hand. It may be just what the song needs to truly captivate your audience ad allow your act to stand out among the rest.
There is a very little learning curve time with the Ebow. Unlike many instrument accessories, you can pick it up and get going right away without any need to learn how to use it. You could be confident enough with the Ebow to pick it up ad play in front of your bandmates right away and create some fantastic sounds!
Add a few effects and delays to your tone and turn up the distortion, and you will be creating some of the most captivating music of your career right away. This lightweight little tool is super fun to use and will give you what you need to be set apart from your former self.
Pros
+ Small, comfortable to hold
+ Easy to use - almost no learning curve
+ Powered by a 9-volt battery
+ Creates some amazingly unusual sounds
+ Affordable price
Why We Like It
This is such a fun little tool to play with. It'll help you get some unique and exciting tones out of the guitar. It is super easy to figure out with a minimal learning curve. It's also an affordable way to add a lot of spunk to your playing! Your audience and your bandmates are going to be excited about your new sound - there's no doubt about that.
If you're looking for a way to change up the direction of your playing, then Ebow electronic bow for guitar may be exactly what you're looking for. It may be just what you need to take your playing from stale to sensational in a matter of moments.
If you liked the article, please leave your feedback.