An easy way to transform your guitar is with a quick pick-up replacement, so in our usual round-up style we've trawled through the options to find the best electric guitar pickups on the market for the sound and tone you need.
All too often an electronic upgrade is undervalued by many guitarists who would much rather swap their instrument for a shiny new one, but a fresh set of guitar pickups can make a huge difference.
Any guitar can be improved with a decent amplifier that's chocked full of EQ settings and effects, but an amplifier can only work with what it's given. The guitar pickups are primarily responsible for the original input, which makes them the best place to start when you want to give your guitar a new lease of life.
There are plenty available to choose from and, while you may have a few model or budgetary limitations, you should be able to find a decent set of pickups to give your ax an overhaul. We've found a good mix of the best electric guitar pickups for comparison, so let's get started.
At a glance:

Our top 3 picks
Our team's top 3 recommendations
Best Overall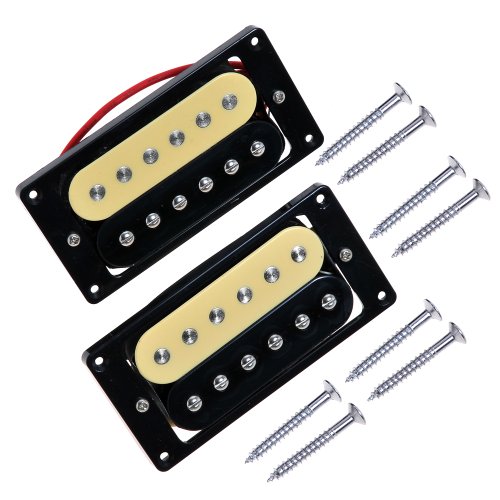 Lotmusic Electric Guitar Pickups Zebra

Dual coil humbucker.
Wax-potted.
Affordably priced.
Premium Quality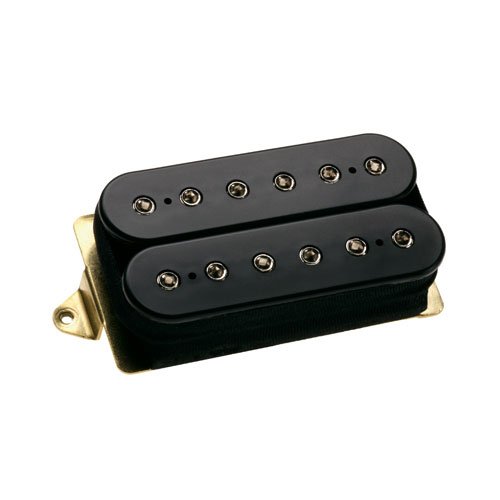 DiMarzio DP100 Super Distortion Humbucker

Dual coil humbucker.
Wax-potted.
Affordably priced.
Great value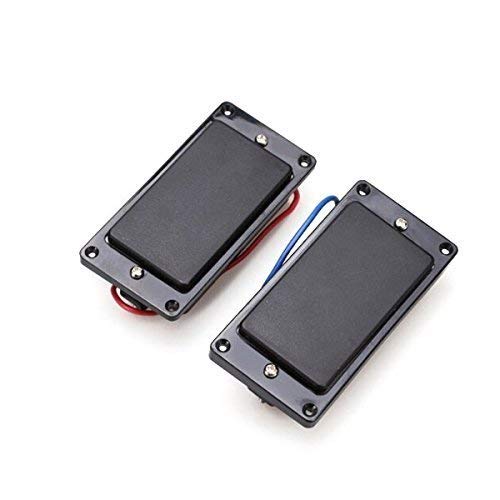 FOXNOVO Professional Sealed

Dual coil humbucker.
Wax-potted.
Affordably priced.
View The Best Electric Guitar Pickup
1. Lotmusic Electric Guitar Pickups Zebra
First off, we have a pair of double coil humbuckers from Lotmusic, These pickups are styled in a cream and black coloring that gives them their Zebra name.
They're an open-style guitar pickup - you can see each solid nickel pole piece. They are well-made and come with a decent length of wiring for an easy install.
The pole spacing is 50mm on one and 52mm on the other. They're completely wax-potted to calm their movement and isolate the different signals from one another.
These pickups have a well-constructed neck pickup and bridge, and they come with the necessary screws to fix them into place. They're exactly the correct measurements for a Les Paul style replacement. The neck pickup even has an 8k DC resistance, and the bridge 15k, making them some of the best.
Pros:
+ Dual coil humbucker.
+ Wax-potted.
+ Affordably priced.
Why We Liked It - These pickups are an affordable alternative to kit out any Les Paul style guitar with they give a retro warmth to your tone and sound.
2. DiMarzio DP100 Super Distortion Humbucker
Next in our sights is a Super Distortion model for the heavier guitarist from DiMarzio. The DP100 is a red hot pickup with a significant mid-boost.
It's F-spaced, one of the widest spacings, to fit in Fenders and modern Gibson models, and it's compatible with the majority of guitars with Floyd Rose bridges.
It's very powerful and has great harmonics between the string fields. This guitar pickup has been configured with a focus on the bass and mids, rather than your typical well-balanced pickup or you're thickened mid. The low-end emphasis gives it a far heavier driven edge. Even the trebles are fattened by its attenuation.
It's intended for bridge mounting and has a high resistance of 13.68k ohms. It features 4 conductors for split and series-parallel models, so it'll be fine in Strat or Strat-clone.
Pros:
+ Best beefy tones.
+ High-output.
+ Well-manufactured.
+ Can be split.
Why We Liked It - It's an absolute beast of a guitarpick. It has a personal sound, and has been a popular choice on the market for over three decades, with the likes of Ace Frehly and Paul Gilbert sporting it on stage. The low-end tones are meaty and mighty, and the output is very high.
3. FOXNOVO Professional Sealed
Next up is a passive circuitry, sealed set of neck and bridge replacement pickups with great construction and a high-quality finish for better fidelity.
The FOXNOVO pair is a high output set, best for those who like it loud. They provide a punchier clean and a fat crunch. They are, again, the right size for a Les Paul, Gibson, or Epiphone style pickup placement, and they won't break the bank.
These pickups are made from copper with plastic covers and surrounds. They are triple-dipped for a protective wax pot finish and completely vacuum sealed for signal clarity. The plastic gives the guitar pick ups great protection and doesn't interfere with their currents as metal covers can.
Both pickups are rated for an 8.5-9k DC resistance for classic vintage tone warmth that packs a punch. They feature two wires rather than four, so are far easier to install, but don't allow for coil splitting. This means it's a bit of a toss-up for those of you who prefer your EQ a little fancier.
Pros:
+ High output passive pair.
+ Triple wax-potted and vacuum sealed.
+ Easy install.
Why We Liked It - These pickups are very well manufactured, the sound is impressive, the cleans are high fidelity and the crunch is powerful. We like the simple wiring but that could be a double-edged sword that steers some people away from them. Best if you're looking for something vintage.
We have looked at the Fender Tex-Mex set before, as they provide an interesting range of tones and as single-coil pickups go, they are a great all-rounder set.
These single coils are a neck middle and bridge kit for your traditional Stratocaster or Strat modeled guitar. They are well-manufactured, with staggered pole-pieces that give better middle clarity and maintain a good cross-spectrum balance. The pole-pieces are Alnico V and the magnet wires on these single coils are polysol coated.
The bridge pickup has been over-wound to amp-up the high output. They have excellent response and are a very versatile set in terms of sound and tone dynamics. They suit a wider range of genres and playing styles, as they have a perfect blend of modern tones and a vintage tone. The brighter highs have that classic Strat twang, the cleans have great sustain, and they can be tweaked for a grittier edge.
These single-coil pickups have modern aesthetics, vinyl-coated lead wires, and plastic bobbins. They are an impressive upgrade and are easy to install.
Pros:
+ Versatile tones set.
+ Hot over-wound bridge.
+ Quality finish.
Why We Liked It - They are a great low-cost set of new pickups that will improve factory stock sets on any import. They are well made, easy to install, and the bridge is super-hot.
5. Ammoon 3-ply SSH Loaded
This loaded package from Ammoon provides the classically adopted humbucker single set-up that the majority of us opt for.
Rather than just the pickups for installation, this humbucker set comes pre-wired to a Stratocaster pickguard, which might be a preferable option for some. The fiddlier task has been done for you, although you will have to remove your guitar's previous guard to install.
The pickguard is made with sturdy triple-ply wood, and pickups are copper and plastic. Now, while they won't blow you away, they make for a great new pickups upgrade for any Strat clone.
They offer a diverse range of tones the hot bridge is great. The single-coils are not noise-free like some modern sets. They do have a bit of a hum, which is acceptable if you want a vintage tone, but they aren't great for precision playing. That said, the clean is bright, just not impeccable.
Pros:
+ H-S-S set of pickups pre-mounted and wired.
+ Solid soldering.
+ Unbelievably low price.
Why We Liked It - They are incredibly low cost, you get the faceplate, pots, switches and 3 pickups for next to nothing, the soldering quality is surprising given its a low-budget Chinese import, the installation may require new drill-holes though as one size does not suit all.
Now for something with a little more freedom. From Seymour Duncan, this premium quality dual set of humbuckers are two of their most popular-selling models that make up the ultimate Hot Rod set.
One is their infamous SH-4 JB juicy jazz-blues bridge pickup, and the second set is their SH-2n Jazz Model which, between them, offer-up a smorgasbord of vintage higher output tones to play with.
They both have hot double coils that are wound to the company's guidelines. They feature alnico five bar magnets for a bold attack and articulated low-end response.
These pickups provide a scooped mid-range, full of character and the highs have a superb, unmatched ring and rich trebles with great character. Together, they are flexible enough to cover a wide range of genres from the jazz and blues they were intended for, to the dirtiest, gritty rock and metal.
Each is handcrafted in Santa Barbara. They have silver nickel bottom plates, and 4-conductor lead wires for versatile wiring options. They come vacuum-sealed and wax potted to prevent feedback.
Pros:
+ Hand-crafted to high standards.
+ Dual jazz-blues humbuckers.
+ Versatile tones and wiring options.
Why We Liked It - They are premium pair which have been highly popular since the mid-seventies. They are extremely well-made and provide awesome character.
7. Seymour Duncan Distortion Mayhem
Now for another great Seymour Duncan set, this time with a slightly more realistic price-tag for most of us. They are a distortion focused pair that provides a heavier sound.
They are specifically designed to complement each other and are therefore perfectly paired to provide an aggressive attack. They are one of the company's original best-sellers.
They are very well-made in house by hand, and harbor high-quality ceramic magnets; they're also high output.
These electric guitar pickups have the right attenuation for rhythmic attention, percussive tones, and muting. They serve-up pristine pick-work, highlighting player nuances in a fluid, high-gain lead break. Despite being a distortion set, the clean is pretty great.
Pros:
+ Ceramic magnets.
+ Heavier distortion.
+ Powerful bass and aggressive mids.
Why We Liked It - They are the perfect pair for metal-heads. They have insane sustain at high-gain and the lows are great for dropped tunings.
The JH-N is a modernized version of the James Hetfield signature, which was developed with direct input from the man himself.
These are made in the U.S.A and provide James Hetfield's iconic tone with a higher output sound. They are well-manufactured, with individual ceramic poles and large-core bobbins, and are a little taller than the original model. This is what gives them their impactive attack.
They have less induction than your typical EMG-81. The neck model has a richer depth in the low-end pickup fields. They produce a great clean with good articulation and wailing resonance.
They come with all the mounting parts and benefit from a solder-free installation, with wires that snap into place. They also sell with a fresh set of pots for a complete overhaul.
They are available in a variety of colors, including, gold, chrome, brushed gold, brushed chrome, and brushed black Chrome finishes for an edgier stealth-look to go with the tone.
Pros:
+ Signature sound.
+ High output, low induction.
+ Modern finishes.
Why We Liked It - They have a great clean that can be adjusted to create a gnarling animalistic beast.
9. EMG ZW Zakk Wylde Signature Humbucker
Another good EMG active Humbucker from their signature series is their exclusive Zakk Wylde model, which gives players a grizzlier option. Zakk famously uses an EMG-81, matched with an 85, which is what this modern rendition presents.
It again benefits from the company's Quik-Connect cables that make installation a doddle. The wires have headers and mating cables so they snap together effortlessly. All components are featured, including a fresh set of long-shaft pots for volume, sound and tone, and a battery bus.
These pickups are well-manufactured in a modern stealth style like the sets above. They feature plastic vacuum-sealed cases. One pickup is ceramic and the other Alnico 5.
They have high output and provide a range of killer tones. These active pickups have good attack and a great crispness; they are an aggressive pair ideal for heavy metal.
Pros:
+1 ceramic/1 Alnico 5.
+ Vacuum sealed.
+ Heavy metal sound.
Why We Liked It - They are an edgy driven pair of guitar pickups with heavy characteristics that provide the signature Ozzy Osbourne sound. If you're mounting in a thinner bodied guitar, you might find the long-shaft pots problematic.
10. Musiclily Dual Hot Rail Guitar
Our final entry is a hot-rail style pickups guitar that replaces the traditional six separate pole pieces with a single rail. As this is a hot Humbucker it features dual rails side by side.
Whilst a rail pickup doesn't allow for a string by string adjustment it means it's better for bending notes - this pickup can often have a distinct tone change or even a volume drop as it is bent out of one field and into another.
A rail requires far less space, and so it's possible to place two parallel with one another in on a surround that will fit a single coil pickup placement hole. This effectively allows you to install a Humbucker pickup in a single coil slot.
This pickup is well-made and affordably priced to provide an accessible rail model, where many sit in higher regions. The rails are chrome, the magnets ceramic and high-output with a DC resistance of 10k ohms.
The pickup has 4 conductors for wiring; it's fairly simple to install but might require some modification, so be sure to check the dimensions of this pickup.
The plastic surround plate is 83mm at its longest points (which are rounded), and the screws are drilled 77mm apart. It's 23mm wide at its largest; the rails take up 16mm together and are 62mm long.
Pros:
+ Single coil sized rail Humbucker pickup
+ High-output.
+ 4 conductors.
Why We Liked It - It is a good solution for those who want a meatier sound and don't have space for a traditional Humbucker.
Electric Guitar Pickups Buyers Guide
Why Change Your Guitar Pickups?
The typical reason for changing pickups is usually to replace a broken set and repair the instrument. But, as our introduction suggests, guitar modification is the next top reason.
Some guitars have fantastic playability, great balance, a comfortable weight distribution, sexy curves, and fantastic action, but the sound simply lets them down. A pickup upgrade can be just the trick to take an average guitar to the next level, improving the sound and tone.
Many of us have our interests in guitar kindles by the genres we enjoy, but sometimes we progress as players along the way. Maybe you played a punk rock sound in your youth but are now exploring more technical styles.
Versatility can be another good reason for changing your pickups.
Sometimes the sound might not just be a preference thing either. Cheaper models are notoriously less reliable at a louder output.
If you have a knockabout instrument that threatens feedback if you let loose, then you're going to find your inner artist subdued as you play with trepidation.
You have to have a guitar you can trust to gig with. This is especially true when it comes to older models because guitar pickups have significantly improved in the manufacturing department over the last couple of decades.
A newer pickup can also offer a wider variety of tone qualities than older, cheaper or more basic models. This gives a greater degree of control over your sound and tone.
Whatever the reason, you needn't fret too much. Switching your pickups or pickup for a better model is a relatively simple wiring task.
How to Install New Guitar Pickups?
First, you need to know which is neck and which is bridge. Your higher output is typically put in bridge position unless you prefer rhythm to lead.
You also need to ensure to shop for passive pickups if your guitar is passive, and active pickups if it's active. Use active pickups if it has active circuitry, or you will have more to consider.
Once you've worked out whether to use active pickups or passive pickups, you can move on to find the best pickups for you. The installation is not a complex process. You will require wire-strippers, a soldering iron, and a small screwdriver in most cases. While pickup installations vary, we can give you a rough idea.
You'll need to completely remove the strings, which is a good chance to give your guitar a spring clean.
You'll need to remove your control-plate, which may be separate or part of your pickguard. In some cases, the pickguard will also need removing. Some active models have a separate place at the back for the battery, so if you are installing active pickups this will also need unscrewing.
When installing a bridge pickup you'll have to take apart the bridge. Be careful not to lose any of the small parts.
Push the pickup into place and screw it tightly. Run the wires through the hole to the control panel, and put the bridge back together.
Trim away the insulation to expose the internal wires, and solder them to the corresponding parts. The wiring will often be color-coded but the colors differ from model to model. The majority of those we have reviewed come with wiring instructions.
The bare wire always to goes to ground regardless of the make or model. Your other wires will be a north start and finish, and a south start and finish. Which controls they run to is down to whether you have two or three pickups. There are tons of diagrams online. However, if you are not sure, seek a professional.
Conclusion
Pickups serve a very important purpose, and the results of a fresh upgrade can be underestimated.
There are many reasons for committing to a new set of best electric guitar pickups, and whether its to modernize an antiquated instrument, broaden your tone, or improve an entry-level ax, a pickup replacement is a simple and effective way to enhance your guitar.
You won't be short of options; the best guitar pickup doesn't cost the earth, and pickups are a relatively easy modification. There's no reason not to invest in the best.
We've gathered a great collection and tried to include a decent range of the best pickups for your guitar. We're pretty confident that with our guide and recommendations finding the set for your pride and joy should be straightforward and gratifying. Don't forget to get an active guitar pickup for an active guitar! With this, hopefully, you can create the tone and sound you need.
Expert Tip
If you're looking for something unique, Seymour Duncan has a custom shop that will specially make you a set of pickups to specification. You can use the Seymour Duncan Tone Wizard tool to narrow down your preferences and hone in on exactly what type of pickup you want for your baby - you can find the best for you.
Did You Know?
The most widely used pickup type is a single-coil pickup, which has been used by all the greats. Many people lean towards a Humbucker unnecessarily to satisfy their volume cravings.
If you've enjoyed this review by Music Critic, please leave a positive rating:
[vc_separator