Fender is a coveted name in the guitar and music industry. The company has pioneered every genre from rock and roll to pop for decades now. As a budding bass guitarist yourself, whether you play just because you enjoy making music, or if you're looking to go the mile with your band and talent, you're going to need a guitar that allows you to express yourself fully.
Introducing the Fender Mustang PJ Bass.
The Fender Mustang PJ is an interesting guitar because it allows you enjoy all the benefits of a short-scale bass guitar that's remained hugely popular for years, but has the iconic PJ pickup experience as well, giving you a ton of opportunity to get creative with the sounds you're making.
Diving into what actually makes this guitar what it is, the two pickups are P and J, which are a single-coil and maximize on two things; clarity and flexibility. The duo is fully capable of delivering and creating incredibly intense tones, but also fat, harmonic tones, which will shock you with how rich they are.
Don't worry; this guitar doesn't just keep you stuck in the bass tone area. You'll also find a Jazz pickup in the bridge position, which is ideal for generating a powerful midrange sound that's going to blow you and your listeners away.
As we've already mentioned, this is a short-scale guitar, which makes it an incredibly suitable guitar for beginners. The fretboard is insanely easy to navigate, and picking up this guitar and playing it if you have experience with literally any other guitar is a breeze. For beginners, this guitar is perfect.
Going a bit deeper on what we were saying earlier, short-scale guitars, like the Mustang here, do sound different in tone compared with other full-scale guitars. In this case, the differences tend to be a thicker, more mellow tone when compared to a traditional sized guitar.
While this might not be what everyone is looking for, there's no denying the sound is beautiful. At the end of the day, this is Fender we're talking about, and they're not going to give you a guitar that doesn't sound great.
Personally, we love the fact that this is shorter than your generic guitar because the size also ensures the guitar is super easy to hold and incredibly comfortable to play. If you're up on the stage for several hours, you'll relish in the fact this 30-inch guitar is not only lightweight, but also doesn't inhibit your performance, nor feel strenuous to keep holding.
Fender Mustang Pj Bass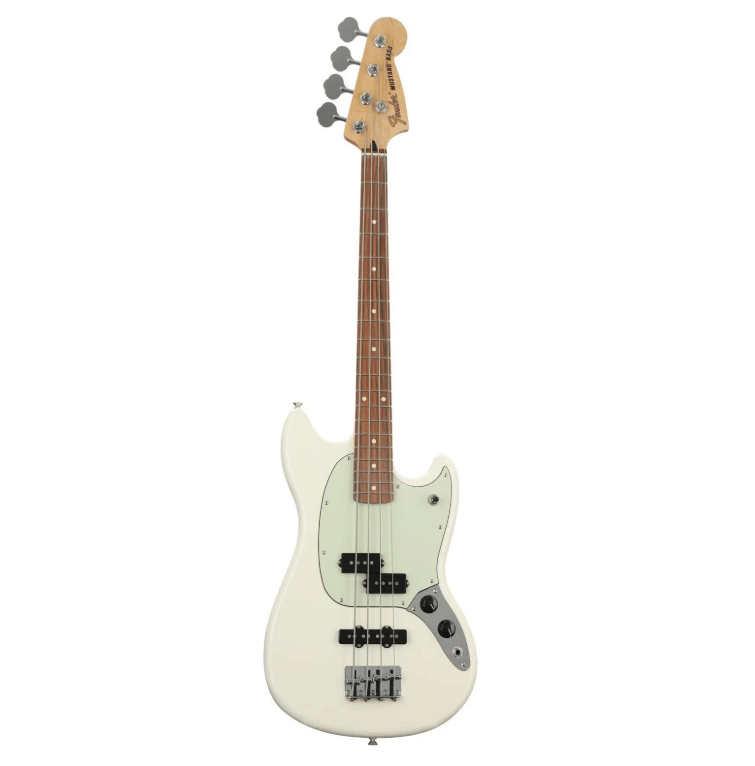 Summary
Every aspect of this guitar oozes quality, from the fact it's professionally carved from Alder wood to the fully glistening chrome finish on all of the parts, such as the vintage tuners, bridge, and neck plate. In short, Fender has really outdone themselves once again, and have easily raised the bar when it comes to what short-scale guitars have to offer.
Pros
+ This is one of the most versatile short-scale guitars that offer warm and punchy sounds. With both P and J pickups, you have full control over the kind of bass and midrange sounds you're playing and what kind of music you want to make.
+ Every aspect of the guitar has been designed and crafted with quality in mind. From the stunning chrome finish on all key areas of the guitar to the fact it's carved from specially sourced Alder wood, this guitar is hard not to fall in love with.
+ Since this is a short-scale 30-inch guitar, it's much more lightweight than traditional guitars and really comfortable to hold while playing, making it ideal for beginners or playing for extended periods of time.
+ Each pickup can be individually adjusted using the custom volume controls so you can create the sound you want and have a ton of headspace for exploring numerous creative avenues.
+ This guitar is designed and created by Fender, one of the most well-known, most reputable, and most coveted manufacturers of audio equipment in the world, and has pioneered the music industry for several decades with what they have to offer.
Cons
- None! This guitar has been enjoyed by musicians all over the world and is one of the highest-rated guitars among hobbyists and critics alike. When it comes to short-scale bass guitars, there's no denying this is one of the best.
Why We Like It
While this is a 4-stringed bass guitar, it's important to note that even if you're looking for a six-stringed bass guitar, this guitar is still going to have something to offer you. The quality and richness of the sound are literally that good, and you're not going to feel disappointed in pretty much any aspect. This guitar is a truly unique experience, and you'll be hard-pressed to find anything else like it.
If you liked the article, please leave your feedback.