The Epiphone Less Paul 100 is an affordable guitar that offers excellent tone and playability. It is made of mahogany, okoume, maple, and rosewood. It has a slimmer body, which makes it extra comfortable to play when sitting or standing.
The Les Paul has been played for generations by some of the most recognizable guitar players in history. The Les Paull 100 is a way to bring that style and tone to beginners and budget-seekers.
Specifications
• Mahogany body, maple top, rosewood fingerboard, okoume neck
• Lightweight and slim design
• Open-coil humbuckers
• Solid-body
• Tone and volume knobs for each pickup
• Cherry sunburst finish
Epiphone Les Paul 100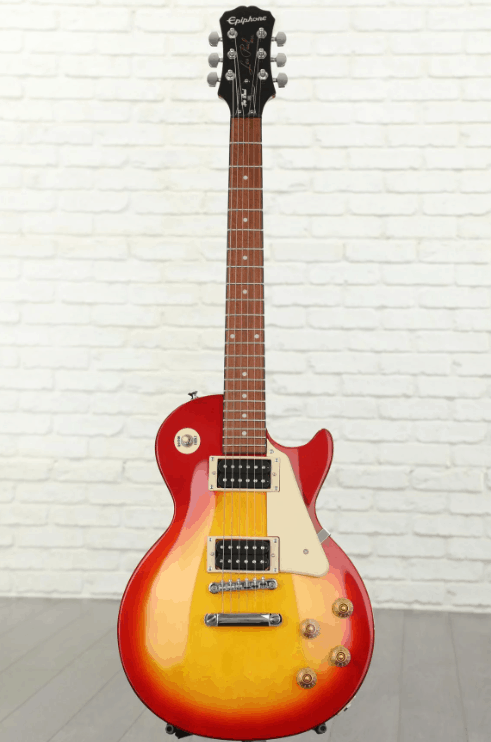 Summary
The Gibson Les Paul is one of the most recognizable guitars in music history. Players like Slash, Jimi Page, and Zakk Wylde, among many others, have wielded a Les Paul in their days. Gibson created Epiphone guitars as a way for budget-seekers to get the level of quality and stability that their original brand was providing.
The Les Paul 100 is the perfect beginner guitar. It is beautifully affordable with a pleasant finish and solid construction, resulting in a playable and comfortable lead or rhythm guitar. That is one of the most beautiful things about Les Paul 100.
It has enough tonal versatility to be played in any scenario. The 100 doesn't have quite the level of material quality that some other more expensive guitars have, but it offers players the ability to have that legendary Les Paul feel.
It is equipped with open-coil humbucker pickups on the bridge and the neck. Each pickup has tone and volume knobs, allowing you to fine-tune the sound to exactly what you're looking for. In the middle position on the toggle switch, you get a good mix of bright and clean tones as well as warm, smooth notes.
The mahogany body with a maple top makes this guitar very sustainable and stable. There is no thinning out of the tone at any point. It is a smooth and comfortable guitar to play, whether you're sitting or standing. Some Les Paul models are known to be a little heavier. That isn't always a bad thing because it adds to the sustain and purity of the tone.
However, on the Les Paul 100, the body is a little slimmed down, making it lighter than its big brother. You won't quite get the level of sustain that an original Les Paul can give you, but it will still be better than many other guitars in this price range.
The rosewood fingerboard atop an okoume neck is lovely to play. Rosewood is a go-to wood for fingerboards because of its resilience against oils and its smooth finish. Also, a locking and tunable bridge allow you to find the perfect intonation for your guitar so it can stay in tune better.
The affordability of this guitar is one of the standout features. Many guitars of this quality and playability will cost a lot more. Of course, it doesn't use the highest quality materials that Gibson is known for. However, the quality you get is still impressive and pleasing enough to offer a fantastic playing experience.
Pros
+ Affordable price point
+ Mahogany body, rosewood fingerboard
+ open-coil humbuckers
+ Solid body
+ Cherry sunburst finish
Cons
- Lower quality than some Les Pauls
- Slightly less sustain
Why We Like It
The Epiphone Les Paul 100 is a perfect starter guitar for people who want a beautiful Les Paul. The Epiphone Les Paul 100 offers budget-seeking guitar players a consistent touch to their playing without taking too much out of pocket. The slimmed-down body makes this guitar extra comfortable to practice on for hours at a time. Whether you're standing or sitting, you won't have any problem with getting weighed down.
The open-coil humbucker pickups offer a round and versatile tone. You have a ton of control over the sound you get out of this guitar with the tone and volume knobs for each pickup position. Whether you're working on becoming a standout lead player or you're interested in being a solid rhythm player, this is a guitar that can give you everything you're looking for.
The rosewood fingerboard plays smooth and comfortable. Whether you're playing chords or ripping lead lines, it lets you maneuver seamlessly along the frets to give you the playing experience that you're looking for. It doesn't hold you back and allows you to experience the full range of tone that Epiphone is proud to offer.
Even though it is a slightly slimmer body than some other Les Pauls, it still provides a respectable level of sustain and tonal strength. It is a beautiful guitar, with a cherry sunburst finish, that will stand out on stage. If you're just starting out or looking for an excellent gift for a new guitar player, this may be the best value for money that you'll find in a solid-body electric guitar.
If you liked the article, please leave your feedback.