The PRS SE is an astonishing guitar of playability and tone. As one of the sleekest designed guitars you'll find, PRS's look just as good as they sound. The SE Custom 24 "Lefty" will only work well for southpaws, and it is a terrific choice for ax wielders who want to shred the gnar and melt faces.
It's well-priced and has a tonal diversity pleasing to rockers, metalheads, and punk musicians alike. With a molded tremolo bridge, bird inlays, a wide thin neck, and a flamed maple top, this is a beautiful guitar that fits right in on a large stage of a small venue. If you want to look the part and sound incredible while playing a super fun electric guitar, the PRS SE is an excellent way to go.
Specifications
· Electric guitar
· Left-handed
· 24-frets
· 85/15 "S" Humbucker pickups
· Wide thin neck
· Flamed maple top
· Mahogany body
· 3-part rosewood fingerboard
· Maple neck
· Trampas green color
Prs Se Custom 24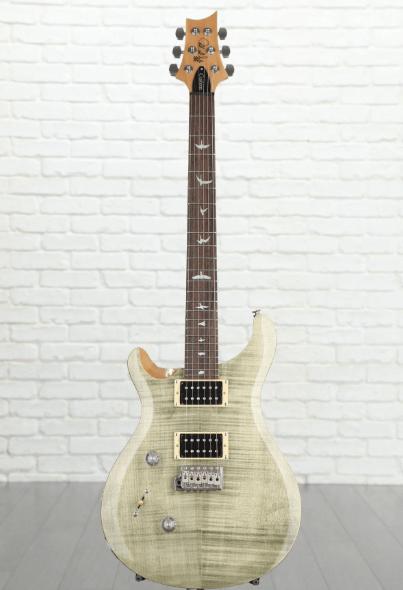 Summary
Paul Reed Smith guitars have been manufactured for some of the most renowned guitarists in the world since 1985. The level of quality carried within the PRS guitars is formidable, and these guitars belong in studios and on stages.
The PRS SE custom is made from high-quality tonewoods, such as mahogany, maple, and rosewood. The mahogany body sports a flamed maple top with a smooth veneer and a Trampas green color.
The rosewood fingerboard is a massive staple in the guitar world and offers a smooth and comfortable playing surface. Pair that with a wide thin neck, and you've got an intriguingly easy and fun to play neck style. The wider neck allows you a little more room to move between the strings, and it's thinner, allowing for more dexterity.
The fretwork is impressive, with no buzzing or hot spots. The tone is smooth across all 24 frets. Speaking of, you get an additional three frets compared to many other guitars, making the SE Custom a go-to for soloists everywhere.
A mahogany body offers a sustainable tone that doesn't quit. It's super solid and sturdy, holding onto the sound and releasing it like a firecracker. You won't have to worry about thinning out the tone with this solid body.
It's essential to mention that this model is a left-handed guitar. Unless you're interested in doing a backward Jimi Hendrix style of playing, then you'll need to be a left-hander to make this machine truly squeal.
The pickups used in the PRS SE are interesting. They are 85/15 "S" pickups that act as Humbuckers in the "down" position, and when you pull them away from the pots, they become a single-coil. This type of tonal diversity is hard to come by. The Humbuckers offer a sustainable, smooth tone while the single coils allow you to get an incredibly raw, punchy drive.
The Tremolo bridge will let you get some serious vibrato going if you want to emulate those great 80s' metal guitarists who knew how to make the guitar scream.
All-in-all, this PRS guitar stands out among the competition, especially at this price level. Many guitars can match the quality of the PRS SE Custom, but they are generally about twice the price. If you're looking for professional-level quality for a "closer-to budget" level, then this may be the guitar for you.
Pros
+ Mahogany body, maple neck, rosewood fingerboard
+ PRS 85/15 "S" pickups
+ Wide thin neck
+ Flamed maple top
Why We Like It
This is a truly remarkable guitar to play. If you've never picked up a PRS before, then you may not know how extraordinary they can be. PRS guitars are some of the most comfortable and fun instruments you may ever play. For left-handers, this may be one of the best decisions you make as far as a guitar goes. PRS's have a certain feel to them that many guitars are not able to match. Sure it's not a Gibson Les Paul, but it doesn't need to be. It is it's own thing, and it's lovely.
The price of this guitar is quite tempting. Compared to other guitars that leave an impression on you, it's quite a bit cheaper than most. Even though it's reasonably priced, there are no punches pulled when it comes to the ability and quality of this guitar. It sounds good enough to be in a professional studio and on stage.
On top of that, it looks terrific and is incredibly fun and easy to play. Whether you're a beginner, intermediate, or a musical prodigy, a PRS guitar like the SE Custom 24 is an excellent choice and will be calling your name from the practice room daily. This is a guitar that's set apart from much of the competition. If you're looking for one that will change the playing game, it may be the one.
If you liked the article, please leave your feedback.