The Taylor 214CE is an acoustic guitar that has six strings. It's possible to plug in this acoustic guitar to be amplified, thanks to the ES-2 amplification system. The Taylor 214CE has 20 frets, an ebony fingerboard, as well as a Sitka spruce top.
Taylor 214CE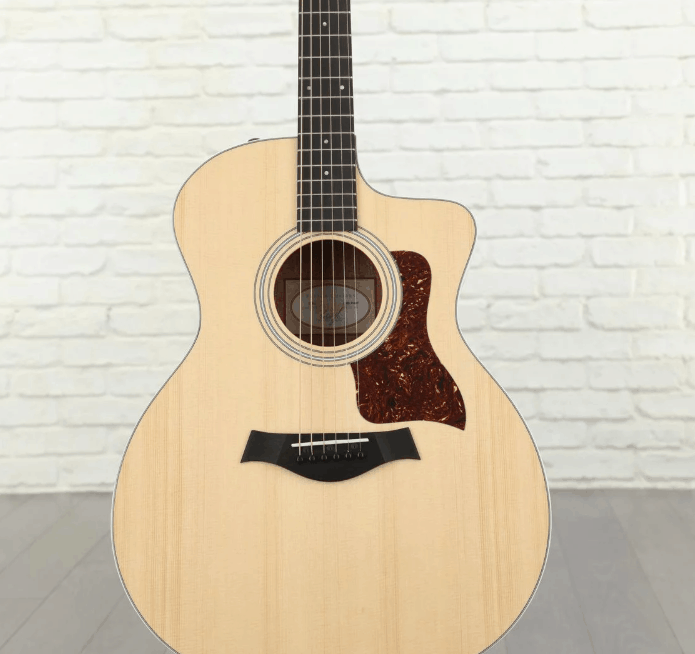 Summary
There's a good chance you've seen or heard one of your favorite musicians playing a Taylor guitar. After all, everyone from Taylor Swift to Dave Matthews has been known to be a fan of the Taylor brand. It's a company always striving to innovate, whether that's through the design of its guitars' headstocks, or through experimenting with exotic woods, thus creating that incomparable tone and resonance. Each Taylor guitar reaches the hands of players after innumerable hours have been spent testing, honing, and perfecting every single element of it.
The Taylor 214CE acoustic, six-string guitar is the epitome of everything good about the Taylor brand. The Grand Auditorium body is something special. Not only does it look good and feel substantial in your arms, but it also offers outstanding projection, all the while continuing to promise supreme tone.
The top of the guitar is made from Sitka spruce. This is the most common material for an acoustic guitar top, and there's a good reason for that: it works. Simple as that. The back and sides are made from layered koa wood, which is less common. But this wood is durable and offers an excellent rebound for that smooth tone.
The choice of koa wood is a good one. It gives you premium quality at an affordable price. The Venetian neck cutaway is another nice element of the body, as it allows guitarist easy access to all of the 20 frets that make up the ebony fingerboard. The back and sides have a lovely satin finish, while the Sitka spruce top has been given a gloss finish, helping enhance the gorgeous looks of the guitar.
The neck has been made from sapele mahogany. Taylor has designed it in their typical style, which allows for easy playability, a feature Taylor also focuses on. The company doesn't just create great-sounding guitars, but they also ensure these guitars are a dream to play.
You can amplify the Taylor 214CE, thanks to the Expression System 2 electronics that are integrated into it. Listening to the Taylor 214CE is eye-opening. There isn't any of the scratchy, empty tones that you'll get from a lot of acoustic guitars when you plug them in.
This guitar remains warm and dynamic, which makes it a good choice for acoustic guitarists who perform live. Once again, this is a result of Taylor's desire to strive for innovation, with the Expression System 2 featuring a behind-the-saddle design that is truly original.
Pros
+ The Expression System 2 electronic setup inside the Taylor 214CE is outstanding. It's rare for an acoustic guitar to sound so good when plugged into an amplifier.
+ The dynamic tone offered by the Taylor 214CE is exceptional. The use of the Sitka spruce top and koa back and sides to construct a Grand Auditorium shape pays off nicely. Projection and resonance are also as good as you'd hope for from a Taylor acoustic guitar.
+ The construction is flawless. There is little more to add. It's a perfect example of Taylor's impeccable standards. As soon as you hold a Taylor 214CE in your hands, you know you've got a guitar that could last a lifetime.
+ It's just the right size. Dreadnought guitars can ofter feel oversized and uncomfortable to play. But the Grand Auditorium shape, combined with the Venetian cutaway, allows for effortless playability with the Taylor 214CE. It is very comfortable to hold, and the sapele mahogany neck is smooth and also offering easy playability.
Cons
- It isn't a cheap acoustic guitar. Then again, it's a Taylor 214CE, meaning it's not a low-cost guitar to be used for aimless strumming. It's a high-quality acoustic guitar from one of the finest guitar manufacturers in the world. It features an innovative electronic system, meaning it sounds just as good plugged in as it does unamplified. For that alone, it's worth the price.
Why We Liked It
This is a great guitar to play. But it's also a great guitar to listen to someone play. The tone is faultless. There aren't many acoustic guitars that sound as good amplified as they do unamplified, but this is one of them, which makes it ideal for live performances. It feels comfortable to play, and it also feels very durable, making for a good long-term investment.
If you liked the article, please leave your feedback.