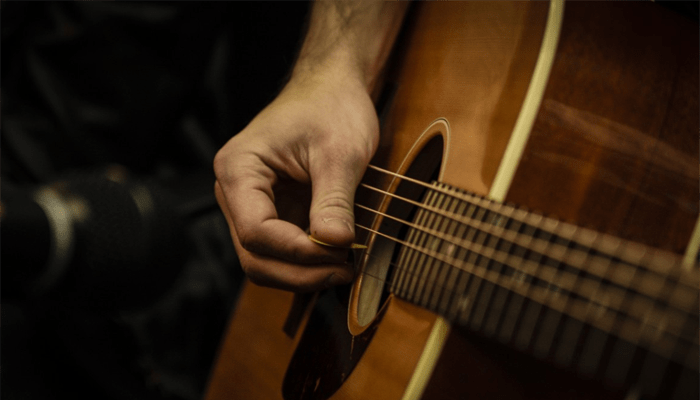 Learning to play the acoustic guitar is one of the most exciting and rewarding hobbies of all. There are not many other experiences that allow you to truly feel the beauty of the sound it produces, but music is always an excellent choice! Acoustic guitars are probably the most popular instrument of all, which makes them incredibly sought after. With a higher demand comes a higher price tag, which can be very frustrating, especially for beginner guitar players.
The good news is that we knew this was a huge issue in the industry. We didn't want to put you through the frustration of purchasing low-quality acoustic guitars just so you didn't have to fork out thousands. It might feel like a gamble when you're buying one, and we don't want you to have to feel that way. Buyer's remorse can be incredibly upsetting, especially when you're trying to fine-tune your new hobby.
Instead of leaving you to find your next instrument without any guidance, we decided to do our best research and get the job done for you. We know that not everyone has millions of dollars to spare. We set out on a mission to provide you with the best acoustic guitars under 1000, and that's exactly what we have for you here today! With the thousands of different options, it can be tough to find the perfect acoustic guitar. But with a reasonable budget in mind, we've found the 10 best options for you to choose from!
Want to half the budget? Grab a great acoustic under $500!
View The Best Acoustic Guitar Under 1000 Below
Electro-acoustic - If you want the versatility of an electric guitar that can also capture that homey, quaint acoustic sound, you should consider investing in an electro-acoustic guitar model. This will give you the best of both worlds, for playing in bigger spaces when you need the amplification or in smaller settings for that intimate acoustic sound.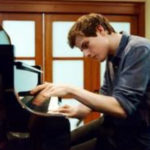 1. Taylor 114ce 100 Series
The budget range of under $1000 is actually very fruitful with many different options. The Taylor 114ce 100 series is a beautiful example of an incredibly professional sounding and feeling guitar with a pretty unbeatable price.
Sitka Spruce and Walnut Wood
Any acoustic guitar enthusiast would tell you that the choice of wood makes a world of a difference in the instrument. Not only does it affect the durability directly, but it also affects how the sound resonates. Sitka spruce and walnut both produce a pure, smooth tone that clearly shows all of the individual strings and chords.
Thin Neck & Frets
Since the Taylor 114ce has such a thin neck & fretboard, it's very easy to transition from string to string, or chord to chord. The combination makes this guitar an excellent choice for anyone looking to finger pick their strings.
Pros:
+ Made with spruce and walnut, two woods that are well-known to produce beautiful tones.
+ The thin neck & fretboard makes chord transitions much easier.
+ The classical appearance is perfect for anyone looking for a wonderfully crafted original.
Why We Liked It - We liked the Taylor 114ce 100 series because it's made for the user. It has the narrow neck and thin fretboard to make everything easier on you, combined with an amazing choice of woods and an added gig bag.
Seagull is a very well-known company in the guitar industry that never fails to produce amazingly well-constructed instruments. The Seagull S6 carries on those traditions while adding a few modern touches to create the ultimate acoustic guitar.
Tapered Headstock
A tapered headstock not only helps keep the instrument in tune much longer, but it also helps from breaking strings or distorting the sounds. If the headstock isn't tapered enough, it can also cause fret buzz, which is very frustrating!
Variety
The Seagull S6 comes in multiple colors like Tennessee Red and Limited Edition Black. The choice is up to you, but it's always nice to have multiple options to choose from since it gives you a more personal feeling with the guitar.
Pros:
+ A tapered headstock helps the Seagull S6 stay in tune without causing string damage.
+ Having a wide variety of colors gives you the customizable selection you need to get started.
+ Seagull is a well-known and trusted brand that always produces excellent craftsmanship.
Why We Liked It - We love almost anything that Seagull produces, so when we came across the Seagull S6, we knew it was going to be an amazing work of art!
3. Taylor 214ce 200 Series
Another amazing product of Taylor is the Taylor 214ce 200 Series. It's a beautiful step up from the Taylor 114ce, and it comes with a few additions to make it even more of an incredible acoustic guitar.
Solid Spruce
As any guitar player knows, solid wood is the way to go with acoustic guitars. The Taylor 214ce 200 Series is made from solid Sitka spruce on the back & sides with a rosewood overlay to create both an audio and visually pleasing masterpiece.
Vibrant Sound
You might notice that the Taylor 214ce requires batteries. This is because it have an internal system that produces vibrant sound to help you project your playing whenever you choose. Don't worry though, it comes with the batteries included.
Pros:
+ Made with solid Sitka spruce for an incredible durable build and beautiful sound.
+ Batteries included to produce a much higher volume of audio output whenever you choose.
+ Rosewood overlay that helps create a unique and wonderful design that's sure to be noticed.
Why We Liked It - We like the Taylor 214ce 200 Series because it gives the musician a step up from its predecessor with a solid wood build and a vibrant projection system.
Dreadnought vs. Concert - The simple difference between these guitar bodies is that dreadnought guitars will be more resonant due to their larger body whereas concert guitars will have a less reverberant sound. This means dreadnought guitars will hold up better to accompaniment while concert guitars are best played solo.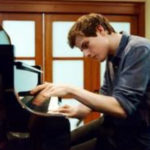 4. Martin LX1E
Martin is another trusted acoustic guitar brand in the guitar industry, and they've done a good job proven exactly why they're so trusted with the Martin LX1E. The LX1E produces beautiful sounds from its solid wood build that's too good to pass up.
Spruce & Mahogany
The combination of spruce and mahogany is debatably the most sought after wood combination in an acoustic guitar build. The spruce is incredibly durable, while the mahogany helps produce rich, unforgettable tones.
Fishman Sonitone Electronics
The Martin LX1E has special electronics that allow you to play at a higher audio level and tune much easier than a regular acoustic guitar. If you're looking for an incredibly affordable option to step you game up to the next level this one is worth a look.
Pros:
+ Mahogany and spruce is a widely loved combination of woods that's too good to beat.
+ The Fishman Sonitone Electronics is an amazing touch to keep this guitar in the modern age.
+ Ed Sheeran himself uses a Martin LX1E, which is pretty cool if you ask us!
Why We Liked It - We loved the perfect combination of woods that come with the Martin LX1E. The fact that Ed Sheeran owns it must mean it's pretty good, too!
If you're looking for the ultimate acoustic guitar under $1000, look no further! The Blueridge BR-163CE is the best bang for your buck in the eyes of many musicians due to its audio range and beautiful design.
Sitka Spruce & Indian Rosewood
These two planks of wood combine to make one of the most visually appealing acoustic guitars in the world. Forget about the fact that it's under $1000, it competes with the best of the best in the eyes of many!
On-Board Tuner
The Blueridge BR-163CE includes an on board tuner that makes it much easier to tune your acoustic guitar and get back to playing. Some tuners can be a little bit expensive, and it's always a hassle to dig it out of your gig bag. The built in tuner takes away both of these issues.
Pros:
+ The combination of spruce and Indian rosewood is a very aesthetically pleasing one.
+ The on board tuner makes it much easier to tune up your guitar and get back to strumming.
+ Beautifully designed headstock that's unparalleled by most other guitars on the market.
Why We Liked It - Looking at the Blueridge BR-163CE is like looking at a piece of art from history. It's so visually appealing that it might take a while to start listening to the sounds you're making with it!
The Washburn WD10 is another classic looking acoustic guitar. There's nothing crazy or fancy about this instrument, other than the fact that it's made with serious attention to detail and producing a reliable piece.
Tilted Headstock
The Washburn WD10 has a slightly tilted headstock that works just enough to prevent fret buzz and holds on to that tune you set. It can be very annoying to have to constantly retune, but the WD10 has a perfect angle to keep you from doing that.
Spruce & Mahogany
Again, spruce and mahogany are very well-matched when it comes to making an acoustic guitar. Most musicians prefer this combination any other, which makes the Washburn WD10 even better of a choice.
Pros:
+ Comes with a tilted headstock that keeps your acoustic guitar in tune much longer.
+ Made with spruce and mahogany, two of the most loved woods for guitars.
+ Classic appeal for musicians who don't need any fancy flair or extra designs.
Why We Liked It - We love the classic feel and simple design of the Washburn WD10. It's a perfect combination of the best woods and articulate work.
The Taylor GS Mini is a perfect example of TNT coming in small packages. This smaller guitar packs a serious punch which makes it the ultimate go to for any traveling musician, or someone looking to get better at playing the acoustic guitar.
Small Size
The GS Mini is small enough to bring with you on a plane, fit in a car, and take with you wherever else you decide to go. The problem with most smaller bodied guitars is that they usually have a much quieter output, but that's not the case with this guitar.
Full Mahogany
It's very rare to find and all-mahogany back and sides on an acoustic guitar, especially at such an affordable price. Since mahogany is the perfect wood for acoustic guitars in most peoples' opinions, the Taylor GS Mini is one of the most liked mini guitars on the market.
Pros:
+ Smaller size with a powerful voice, unlike many other acoustic guitars with a smaller body.
+ Finding a full mahogany acoustic guitar is like finding a gem!
+ A wider neck makes it easier to not slip up and hit the wrong chords.
Why We Liked It - The Taylor GS Mini focuses on nailing all of the exact specifications you'd hope to find in a smaller guitar. Made with mahogany, maintaining a powerful voice, and being the perfect size for travel, it's a great addition to your guitar collection!
Blueridge has another excellent addition to this list with its Blueridge BR-160 model. The BR-160 acoustic guitar is a beautiful dreadnought body style with the signature Blueridge design on the headstock to give it a unique design.
Dreadnought Body
There are many different body styles for acoustic guitars. Dreadnoughts are generally the largest, and therefore they produce the deepest resonating sounds at a higher volume than most others.
Wide Fretboard
There are advantages to both a narrow and a wide fretboard. The BR-160 acoustic guitar comes with a wide fretboard, which makes it much easier to switch strings and chords without accidentally pressing down on the wrong strings.
Pros:
+ Dreadnought body acoustic guitars are some of the most purchased instruments around.
+ A wider fretboard makes it much easier to avoid confusing strings when transitioning.
+ The Blueridge BR-160 is made of Sitka Spruce, mahogany, and Indian rosewood.
Why We Liked It - Nothing says bold like a solid wood dreadnought acoustic guitar with wide frets. It's not hiding anywhere with a beautifully deep, resonating voice.
Yamaha is another very well-known guitar producer. The Yamaha FG730S is a great example of why so many people continue to shop with them as their only source of instruments. They always produce high-quality guitars and maintain excellent customer satisfaction ratings.
Narrow Fretboard
Narrow fretboards are excellent for anyone who loves finger picking. Fingerpicking is challenging on larger fretboards because you have to extend your hand much further, which can throw off the rhythm.
Rosewood & Spruce
Rosewood and spruce are great wood choices to help this Yamaha guitar sing the song that you want it to. Spruce is a perfect addition to any acoustic guitar because it packs a serious punch while remaining one of the most durable woods in the world.
Pros:
+ The narrow fretboard on the Yamaha FG730S is perfect for finger picking.
+ Spruce and rosewood make a beautiful combination to produce a wonderful body and neck.
+ Yamaha is incredibly reputable and widely loved for their perfect execution and builds.
Why We Liked It - We liked the Yamaha FG730S so much because the narrow fretboard is a huge hit for all of its musicians. Yamaha continues to produce excellent pieces of artwork, with the FG730S being a great example.
Another great Yamaha acoustic guitar is the Yamaha FG850. This guitar can be bought in a kit, which makes things a whole lot easier on you. It also features a dreadnought body style, which is incredibly popular among all guitar players.
Includes a Kit
Buying an acoustic guitar with a kit is always a good idea if you can do it because it saves you a lot of money buying things in bulk instead of individually. It also saves you the hassle of finding out which items fit best with your guitar, because they're made to fit with them in the kit. This kit includes a peg winder, some guitar picks, strings, a strap, a tuner, and more!
Made with Mahogany
Made out of solid mahogany, the Yamaha FG850 is one of the most well-constructed acoustic guitars under $1000. It's pretty impressive to think that, while many other brands cut corners with cheaper woods, Yamaha continues to put the best in to get the best out.
Pros:
+ The kit that comes with this acoustic guitar includes everything you need to get started.
+ The Yamaha FG850 is made out of mahogany, which makes it rise to the top 10 under $1000.
+ The dreadnought body style of this guitar is beautiful artwork. You can also choose concert.
Why We Liked It - We're always interested to see what Yamaha produces next, and we were definitely impressed when we came across the FG850. Mahogany makes this beautiful dreadnought acoustic guitar shine even brighter, both in appearance and sound output.
Fretboard Size - Fretboards can come in either wide neck or narrow neck options. Narrower necks will make it easier to move from chord to chord with less movement required between each voicing. However, wide neck guitars will be easier to play for people with larger fingers, larger hands, and larger proportions.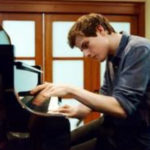 Best Acoustic Guitar Buyer's Guide
Now that you've seen our favorite acoustic guitars under $1000, you might still need a little bit of guidance. Having to choose from only 10 is a whole lot easier than choosing from thousands, but there's still so many variables that could affect your decision. Do you prefer certain woods? Maybe you like concert acoustic guitars more than dreadnoughts? Some people also have fretboard width preferences, headstock angle preferences, and more! With all of these things in mind, we've come up with a buyer's guide to help narrow down your decision to get you matched up with the acoustic guitar of your dreams!
Best Martin Guitar Under 1000?
The Martin LX1E is without a doubt the best Martin acoustic guitar under 1000. It's a perfect example of a budget-friendly acoustic guitar that doesn't break the bank, while maintaining an incredible sound output. It uses the classic combination of spruce and mahogany, which makes it much more durable than other guitars while producing the same beautiful tones, if not better. If you're still not convinced that the LX1E is the best Martin guitar under 1000, then ask Ed Sheeran, the famous owner of one of these low-cost acoustic guitars!
Best Acoustic Guitar Under 800 Dollars?
The Blueridge BR-163CE is the best acoustic guitar under 800 dollars because it has a beautiful unmatched design paired with a uniquely narrow fretboard. The designs on all the Blueridge guitars are some of the best around since no other company can seem to get close to them. The narrow fretboard on the BR-163CE is perfect for learning to finger pick and transition from string to string quickly. Blueridge always produces quality, long-lasting guitars, and this model is no exception to their greatness.
Best Acoustic Guitar Under 700 Dollars?
The Seagull S6 would have to be the best acoustic guitar under 700 dollars, although it's a close tie between it and the Martin LX1E. Seagull always produces amazing quality acoustic guitars, with the S6 model being one of the best. Since it's so affordable, it's hard not to love this instrument. It comes in a variety of colors as well to suit your desired design. Paired with a tapered headstock for easy, long-lasting tuning, you can focus 100% on learning your next song instead of worrying about fret buzz or tune drops.
Best Taylor Guitar Under 1000?
The Taylor GS Mini is easily the best Taylor guitar under 1000 because it's made for all occasions. It's hard to find a travel guitar with a smaller body frame that doesn't mute the sound a little. The Taylor GS Mini produces the same rich, powerful voice of a normal size acoustic guitar, but with a little bit smaller body size. Pack it up with you wherever you go, or simply use it as your one and only guitar at home. The choice is yours because the GS Mini can give you the option.
Which American Made Acoustic Guitars Under 1000?
The Martin LX1E and the Taylor GS Mini come in a close tie for the best American made acoustic guitar under 1000. They both produce beautiful sounds and are made out of solid wood, which makes them much more durable than other guitars who substitute with hardened plastics and fiberglass. Choosing between the two can be difficult, so go with whichever design you love more. If you're a traveler, or someone who's on the move a lot, then the Taylor GS Mini would be your best choice. However, if you're someone who loves to follow famous musicians and the history of the art, then the Martin LX1E would be a better option.
Best Solid Wood Acoustic Guitar Under 1000?
The Yamaha FG850 is made of pure mahogany, which makes it easily one of the best solid wood acoustic guitars under 1000. It's debatably one of the best acoustic guitars in the world, since mahogany is so sought after, and Yamaha is a top-rated producer of instruments. If you're looking for an excellent solid wood acoustic guitar under 1000, give the Yamaha FG850 a look.
Expert Tip
When choosing an acoustic guitar under 1000, there are several pieces of information that you should always look for. Since you're going to be taking this acoustic guitar with you along on your musical journey, you want to find one that you can bond with along the way. It's important to not get caught up in all the self-proclaimed 'best brands' that don't produce actual true quality. Stick with the well-known names, like the ones you'll find on this list.
You need to know what wood you want the guitar to be made out of. Wood heavily affects not only the durability but the sound produced by the guitar, which can change your experience completely.
Make sure the headstock on the guitar is tapered enough to hold the strings in place to keep them from going out of tune. This also helps prevent your strings from buzzing or breaking over time.
Choose your brand wisely. Many acoustic guitar brands are cheap, and they like to cut corners to make a higher profit off of you. Some of the best acoustic guitar brands include Yamaha, Seagull, Martin, & Blueridge. There are several others that work well, just make sure you do your research so you don't get ripped off!
You need to know your preferred body style. While dreadnoughts are the most purchased and widely used acoustic guitars, they're too large for many players which can ruin the experience. If you have shorter arms, fingers, or hands, then a concert guitar would be an excellent choice.
Decide whether or not you want to finger pick your strings, and choose a fretboard accordingly. Many musicians find narrow fretboards to be much easy to finger pick with, whereas the wider fretboards are easier to strum with. This is because, on a narrow fretboard, the strings are closer so you don't have to stretch your hand as much. On a wider fretboard, it's easier to target specific chords without accidentally pressing down on the next fret.
Did You Know?
Acoustic guitars are the most-played instrument in the world, with more and more people picking up the instrument every day. The unfortunate part is that they get forgotten and given up on so quickly because people end up buying the wrong brands and models, which dilutes their experience and creates a frustrating learning curve. If you want to avoid the possibility of getting frustrated and ruining your guitar playing experience, then try to stick to the well-known brands and models.
If you've enjoyed this review by Music Critic, please leave a positive rating: