Playing the acoustic guitar provides a ton of fun for you, your friends, and your family. Not to mention that there's always the possibility of leading into a career. It's a classic instrument with beautiful, resonating tones that guide the music to the listener's ear. Not only does it lift everyone's spirits, but it brings about emotional connections and common interests.
With all the different acoustic guitars on the market, it might be challenging to find the right one for you. We're firm believers that an acoustic guitar, and any instrument for that matter, is unique to the individual. You can't expect the same sort of musical 'connection' with an instrument as another musician. When you finally get the right guitar in your hands, you'll know it's the one!
We've searched all over to find the best acoustic guitars. There are literally thousands of options, so it took us quite some time. We're all about taking out the guesswork, so we weeded out all of the ones with bad reviews or untrustworthy construction. Nothing is as disappointing as buying a new guitar and finding little chips out of the paint or broken strings before you even start strumming!
We also know that a lot of people are on a budget, which means you don't want to fork out thousands of dollars like a professional musician would. Our mission was to find the best acoustic guitars under $500.00, and wse did everything we could to bring the right results to you! Hopefully this article will clear some things up and point you in the right direction to get you strumming as soon as possible.
You might be interested in: Best Classical Guitars under $500 Review
If you have more of a budget, consider these acoustic guitars under $1000.
At a glance:

Our top 3 picks
Our team's top 3 recommendations
Best Overall
Washburn Harvest WD7SACSM

Great Value
Dreadnought Body
High-Grade Materials
Sunburst Style
Good Sound Quality
Premium Quality
Taylor Swift Signature Baby Taylor

Great Value
Dreadnought Body
High-Grade Materials
Sunburst Style
Good Sound Quality
Great value
Yamaha GigMaker Standard

Great Value
Dreadnought Body
High-Grade Materials
Sunburst Style
Good Sound Quality
View The Best Acoustic Guitar Under $500 Below
1. Washburn Harvest WD7SACSM
Top of our list is this superb, affordable acoustic guitar from Washburn. This is a brand that's been impressing music fans for many years, with its guitars being a mainstay on MTV's Unplugged specials through the 90s and 00s.
It features a dreadnought design, which helps to deliver powerful, full-bodied sound. The volume is certainly enough for a small, acoustic gig.
The sound quality is also down to the premium materials that it features. There's a mahogany back, neck, and fretboard, as well as a spruce top. These materials also enhance the durability of the instrument, which means that it can withstand more than a few knocks, in case you want a budget guitar for impromptu, outdoor practice sessions or performances.
We're also big fans of the sunburst color scheme. It gives it a different look to a standard, natural finish.
Pros:
+ Great Value
+ Dreadnought Body
+ High-Grade Materials
+ Sunburst Style
+ Good Sound Quality
Why We Liked It - Washburn is one of the best brands in acoustic guitars. It's simply an affordable guitar that delivers a huge bang for the buck. We're particularly fond of its full-bodied sound.
Beginner Guitars - Don't stress out about finding the perfect guitar right off the bat. Having an affordable guitar while you're learning the basics is a good idea. This way, you're not wearing down an expensive instrument while mastering basic technique. You can always upgrade to a new guitar once you've figured out your desired sound or specialty.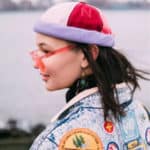 2. Taylor Swift Signature Baby Taylor
Fans of Taylor Swift – and Taylor Guitars – will absolutely adore this small-bodied, acoustic guitar. These two beloved Taylors have come together to create a lovely product, which features Swift's signature below the soundhole.
Swift has spoken about her love of her Baby Taylor guitar, which she used to write songs when she was out on the road as a teenager. This guitar is of a similar size to a Baby Taylor, which makes it ideal for smaller guitarists or anyone who wants a highly portable instrument.
It's three-quarters the size of a standard Dreadnought and has a slim neck that suits smaller hands. Top-grade materials have been used, including Sapele for the back, body, and neck, as well as ebony for the fretboard.
As you'd expect from Taylor Guitars, the sound quality is exceptional, delivering warmth on the low end and crisp mids and highs.
Pros:
+ Small Body
+ Designed by Taylor Swift
+ Quality Materials
+ Superb Sound
+ Affordable Price
Why We Liked It - It's a must-have for any guitarist who adored Taylor Swift. Besides being her signature model, it's simply a quality guitar with a beautiful tone.
3. Yamaha GigMaker Standard
Many guitarists have begun their journey with a Yamaha. This model is designed specifically with beginners in mind. One of the reasons why Yamahas are so popular with newbies is because of their ability to offer a good combination of sound quality and durability for an affordable price. This guitar is a perfect example of what Yamaha does best.
In terms of materials, this product is certainly punching above its price tag. It's got a spruce top, rosewood fingerboard, Meranti back, and a Nato neck. The guitar has been manufactured with good attention to detail, allowing it to be played out of the box without any worries.
The tone of this guitar is impressive when the price is considered. It also holds tune very well too.
As it is designed for a beginner, it comes with handy accessories, such as a gig bag, strap, and digital tuner.
Pros:
+ Budget Price
+ Perfect for Beginners
+ Comes With Gig Bag, Strap, and Tuner
+ Durable
+ Great Tone
Why We Liked It - We liked the Yamaha FS850 because it's a small body with a large punch. There's nothing small about the volume or the tones that this acoustic guitar produces!
Finger Strength - If you're just starting out, use a light gauge string to reduce the initial stress on your fingertips. You can also practice on a nylon guitar to build up your finger strength. Take the time to learn how to switch strings on your own, as this is an essential skill of any guitarist.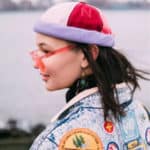 4. Taylor Baby Taylor Mahogany Acoustic Guitar
This mini guitar by Taylor is an excellent example of a perfect traveler's guitar. It's small enough to walk around while holding it without bumping into everything in your way. On the flip side, it's still a dreadnought style, which means it carries similar tones.
Traveler Guitar
While it's a perfect size and sound output for traveling, there's still one thing missing. We knew that there had to be one more item in the package that would make it the ultimate traveler kit. So what pulls it all together? The traveler's durable gig bag. It's strong enough to be dropped and compact enough to be efficient in many situations.
The Perfect Size
What is the perfect traveler's guitar size you might ask? The Taylor Baby Acoustic Guitar is ¾ the size of a dreadnought. Instead of being ½ the size like many training guitars, this one is still big enough to produce great sound.
Pros:
+ Made of solid mahogany, which produces the smoothest, richest sound output of all woods
+ Includes a durable traveler's gig bag perfect for flying, accidental drops, and luggage transport
+ ¾ the size of a dreadnought guitar to provide similar tones without the larger body style
Why We Liked It - Finding the right acoustic guitar to join you on your travels can be a tough search. We ended up coming across this model and knew instantly that it was a perfect fit!
5. Yamaha FG800 Acoustic Guitar
The Yamaha FG800 is in a world of its own. Made with several different types of rare wood and a massive kit included, there's nothing too much like it. If you're looking for a unique style with an awesome kit that includes it all, the FG800 is a great answer to your problems.
Unique Wood Construction
The spruce top of this acoustic guitar provides a solid tone. Nato and Okume make up the back and sides of the guitar, which produces an invitingly warmer sound. Although they're not as common, these woods shouldn't be forgotten. They help your music stand out from the crowd, and they're still very trustable.
Dreadnought Body
There are many different body styles for acoustic guitars. Dreadnought is without a doubt the most popular body, since it's large and produce a great volume.
Pros:
+ Unique wood choice with Nato, Okume, and spruce
+ Dreadnought body style for easy playing and loud volume
+ Packed kit that includes all the essentials to get you strumming quicker
Why We Liked It - It's a classic string and body style on a not-so-classic wood choice, which makes it a very interesting twist on the modern guitar.
Takamine isn't as well-known as some of the other brands on the list, but they're quickly making a name for themselves for their beautifully classic acoustic guitar builds. The GD20-NS is a great example of a classic guitar with a few modern additions that give it a little bit better ease of play.
Wider Frets
The fret width on a guitar is not often something that most people think about when buying a guitar. It's one of those things that you either don't notice, or you seriously regret not paying attention to later on down the road. The GD20-NS features an extra wide fretboard, which makes the strings further apart, thus easier transitioning is possible.
Cedar and Mahogany
Cedar is another great wood choice for acoustic guitars as it mutes any unwanted resonations. With Mahogany back and sides, this acoustic guitar still provides excellent quality of sound. Some say that cedar and mahogany is the perfect combination.
Pros:
+ Wide frets for easier chord transitions and reduced string confusion
+ Cedar and mahogany for the ultimate wood combination for durability and beautiful sound
+ Natural satin finish
Why We Liked It - With wider frets, this acoustic guitar is an excellent choice for anyone who has trouble switching chords. Sometimes strings get unintentionally pressed, so we felt that this fretboard was a great solution!
7. Taylor BBT Big Baby Taylor Acoustic Guitar
If you're looking for a slightly larger alternative to the Baby Taylor Acoustic Guitar, then the BBT is a great choice. It's 15/16 size of a dreadnought, which is just small enough to travel well and produce dreadnought quality sound.
The Perfect Size
Not too small, not too big. The BBT is considered portable still while producing the same volume and tone as a regular dreadnought guitar. To some, this is the perfect sized guitar for any occasion. Playing at home? You still get the same audio as a dreadnought. Take it with you on the go and you'll truly appreciate its size!
Spruce Wood
Spruce lines the back and sides of this acoustic guitar, which gives it the same rich and warm sound output as a most other woods without the fragility. Spruce has been known for its durability, so it's no surprise that Taylor protected their BBT with it.
Pros:
+ 15/16 size of a dreadnought guitar, so it's slightly smaller but produces similar output
+ Spruce on the back and sides protect the guitar with durability while creating excellent tones
+ Just a little bit bigger than the Baby Taylor, which is excellent if you're a little more stationary
Why We Liked It - We love the upscaled size of the BBT from the Baby Taylor. It's still portable but it doesn't reduce any of the sound output of a normal dreadnought guitar.
8. Martin LXM Little Martin
The Martin LXM Little Martin acoustic guitar is a great guitar for training purposes or practicing before a gig. It produces a sound output that is a little quieter than some other guitars, which is nice if you're looking to not disrupt the people around you. It's also good for playing in a house without everyone else outside the room!
Spruce Wood
Since spruce is so good at reducing small errors and buzzes, this guitar is perfect for muting out the problems. It's made of all spruce, which also makes it a durable build. The sound hole is just big enough to produce the necessary volume.
Tilted Headstock
A tilted headstock helps reduce fret buzz, tighten the strings, and make chord transitions easier. The Martin LXM has the perfect headstock to achieve all of those without over-tightening or damaging the strings.
Pros:
+ Made of all spruce, which is durable and vibrant at the same time
+ Tilted headstock for all sorts of benefits included perfectly tightened strings and reduced amounts of returning and damaged strings
+ The perfect size for practice, training, and traveling
Why We Liked It - We love the unique smaller acoustic guitars because they're perfect for all sorts of scenarios that massive dreadnoughts fail to succeed in. Sometimes training or practicing in a room with a closed door isn't enough to mute a dreadnought, so these smaller guitars are a great solution.
9. Fender CD-60S Dreadnought Acoustic Guitar
If you're looking for an excellent setup from a reputable brand, then the Fender CD-60S is definitely worth looking into. This guitar kit comes with everything you need to get started in addition to a beautifully crafted acoustic guitar.
Dreadnought Body Style
Dreadnought acoustic guitars are definitely the most popular body style, and for good reason. If you enjoy performing in front of other people, regardless of the crowd size, then the volume produced by a dreadnought is noteworthy. The rich hum and deep volume produced by a dreadnought is almost always unparalleled.
Mahogany Wood
The back and sides of this acoustic guitar are made of mahogany, which as you now know, is an amazing wood choice for any guitar. It's the perfect classic appearance and feel with the beautiful unmatched tone that makes mahogany such a wonderful choice of wood.
Pros:
+ Large dreadnought body style, which is perfect for playing in front of crowds or on your own
+ Made of mahogany, debatably the best wood for an acoustic guitar
+ The perfect kit with everything you'll need to save time and money
Why We Liked It - Dreadnoughts are the most classic style of acoustic guitar. When paired with the beauty of mahogany, it's hard to find a better one on the market!
Another great dreadnought that we came across was the Bristol BD-116 BD-16. This acoustic guitar has a subtle, classic appearance that makes it not stand out too much in a crowd. However, the bold sound that comes with a dreadnought quickly pulls attention upon the first strum.
Mahogany and Spruce
Spruce and mahogany is probably the most common combination of woods in the acoustic guitar industry. It provides such a classic rich tone of mahogany paired with the longevity of spruce to make the ultimate combination.
Slim Fretboard
While most acoustic guitars have a thicker neck, this Bristol guitar has a slim neck. Why you might ask? Because a slimmer neck means easier chord transitions. It might make it harder to change frets at first, but the quickness of overall chord changing quickly overshadows any issues at all.
Pros:
+ Dreadnought body style for a loud, beautiful tone
+ Spruce and mahogany make the perfect pair for acoustic guitars
+ Slim fretboard makes it easier to change chords quickly and seamlessly
Why We Liked It - The slim fretboard alone was enough to grab our attention. When we saw the beautiful pair of spruce and mahogany on this dreadnought, we instantly knew it would be worth sharing! Nothing beats having a classical guitar with the best woods around.
Basic Guitar Maintenance -Keep your acoustic guitar in a temperature secure place and out of direct sunlight. This will prevent your guitar's wood from warping which could negatively affect your sound. You can also invest in a guitar case and humidifier to keep your acoustic guitar in the best shape possible over time.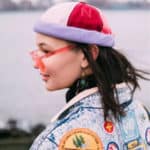 Acoustic Guitar Under $500 Buyers Guide
Although we've cleared out all the bad choices, you're still left with 10 guitars to choose from. It might still be a little bit of a hassle, which is completely understandable. With all the different brands, body styles, colors, sizes, and woods, how should you know which one to pick?
Instead of leaving with all these unanswered questions, we decided that we should make a helpful guide to hopefully clear up any unsolved mysteries in your search for the perfect acoustic guitar for you.
Best Acoustic Guitar Under $400
Usually, acoustic guitars with a cheaper price mean cheaper quality, but that's not the case with the Yamah FG800. It provides everything you need in a perfect kit to get started on your musical journey, including a beautiful guitar. With the rich tones provided, you just have to start strumming away to unlock the natural sound of this acoustic guitar.
Best Solid Wood Acoustic Guitar Under $500?
The Taylor Baby Taylor Mahogany Acoustic Guitar is without a doubt the best solid wood acoustic guitar under $500.00. Mahogany makes the best acoustic guitars in the eyes of many, and this one if 100% mahogany on all sides. There's nothing like the beautiful tons from mahogany, which makes this guitar a perfect find.
Can You Buy Good Acoustic Guitars Under 500?
Absolutely! Finding a perfect acoustic guitar doesn't require thousands of dollars. There's a perfect guitar for you on the list under $500.00, which gives you any size, design, wood, and whatever else you want to customize.
Expert Tip
Choosing the right guitar body style is one of the most important factors in buying your new instrument. A large dreadnought is a great body style for people with larger fingers or longer arms since the fretboard is longer and wider. The body itself is also a little bit larger, which can be hard for smaller people to hold. Smaller musicians should look into getting a smaller body with a short fretboard. It makes it much easier to perform chord transitions and change strings. It's also easier to hold while standing if you don't have a guitar strap.
Did You Know?
The tilt of a headstock on an acoustic guitar can change everything about the strings. If the headstock is too tilted, it'll tighten and damage the strings. It also makes it harder to get any resonating sound out of the guitar. If the headstock is not tilted enough, then you'll get fret buzz, loose strings, constant retuning, and you probably won't get much audio output at all.
If you've enjoyed this review by Music Critic, please leave a positive rating:
[vc_separator