We were recently asked to examine one of the most overlooked yet essential guitar accessories of all time; the guitar strap. We've done the research, gathered the facts, and we're now ready to present you with the 10 best guitar straps in 2023.
At first glance, the humble guitar strap might seem far too insignificant to warrant an entire article. But when you consider how important they are for playing and performing, you realize how much they're needed.
We get a lot of questions from novices regarding different strap styles and types, but this is also a subject that seasoned players should think about. A broken strap leads to a nightmare scenario for performers - and happens more often than you might think.
There are a number of straps on the market and we've picked them all apart for you below.
At a glance:

Our top 3 picks
Our team's top 3 recommendations
Best Overall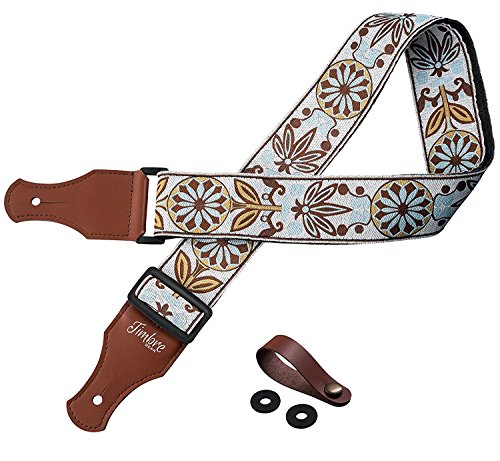 TimbreGear Vintage Woven Collection Strap Set

Versatile uses.
Leather strap button for the head stock end preference.
Gorgeous vintage looks.
Premium Quality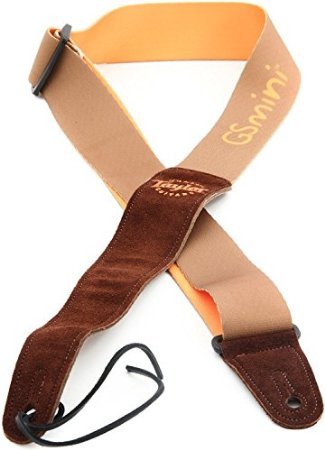 Taylor Guitars Chocolate Suede Logo Guitar Strap

Versatile uses.
Leather strap button for the head stock end preference.
Gorgeous vintage looks.
Great value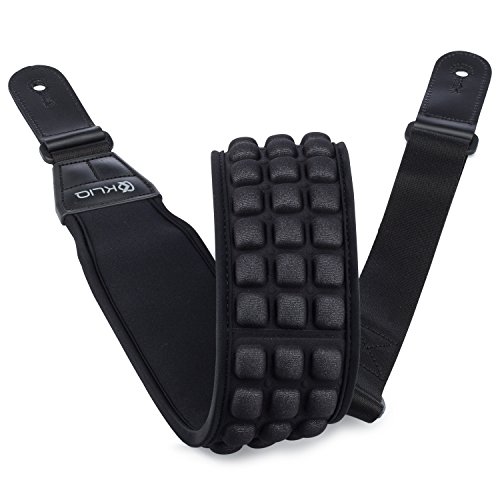 KLIQ AirCell Guitar Strap

Versatile uses.
Leather strap button for the head stock end preference.
Gorgeous vintage looks.
View The Best Guitar Strap Below
1. TimbreGear Vintage Woven Collection Strap Set
We are kick-starting our reviews with this stunning woven and embossed strap set from TimbreGear which makes for a highly versatile choice. It includes a high quality genuine leather strap button to give the wearer more choice over how they want their instrument to hang. It is a one of a kind design that adjusts for men women and children. It is 64 inch length and 2 inch wide and suitably comfortable with it soft and comfy composition. It it backed with a smooth and durable woven backing. It can be used for acoustic or electric guitar as well as bass.
TimbreGear is a manufacturer dedicated to their customer and this strap comes with strong rubber strap locks to set it into place to prevent any slips and to help protect the wear and tear on the leather.
The leather is hardy and durable but pliable enough to slip over strap buttons without too much resistance.
Pros:
+ Versatile uses.
+ Leather strap button for the head stock end preference.
+ Gorgeous vintage looks.
Why We Liked It - We love the aesthetics and the integrated pick pocket cleverly incorporated into the leather strap ends is another sweet feature worth a mention.
Think about comfort - Whatever guitar strap you choose has to be comfortable. There are a few things that make a strap more comfortable, from the material to the width. With a heavy guitar, a wider strap might distribute the weight more evenly, but it could also rub on your neck more than a thinner strap. Find the best balance of comfortable material and practical design.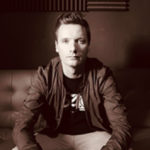 2. Taylor Guitars Chocolate Suede Logo Guitar Strap
Next up is a super supple all suede strap from Taylor. It has a classic understated look with the Taylor logo simply embroidered over the soft brushed suede. The high-quality material makes for a luxury level of comfort and it has non-slip properties which for something supporting your pride and joy is a must.
They are a little pricier than the poly-blended straps which the market is flooded with but with genuine suede that is to be expected.
It has been specifically tailored to fit Taylor guitar strap pins but should still be compatible with the majority.
Pros:
+ Soft for added comfort.
+ Non slip.
+ High quality fabric (suede).
Why We Liked It - It provides a touch of class and unbelievable comfort levels whilst playing suede straps are tasteful and soft but they have advantages and disadvantage so see our buyers guide.
3. KLIQ AirCell Guitar Strap
The AirCell guitar strap from KLIQ makes for a monster of man-made guitar strap it has been very well thought out and we like extra length the company has gone into researching and developing maximized comfort for their strap.
The neoprene air-cells provide a lush and squishy shoulder padding to take some of the aches and pains out of the equation entirely. The gentle bumps are unobtrusive and compact against the body providing optimal cushioning.
This one has been designed with electric guitars and basses in mind to help take some of the pressure off.
The air cell core technology helps to evenly spread the weight of a solid bodied instrument and they are shock absorbing and the strap itself is also much wider than average at 3 inches. Another fantastic quality is the air cells allow for air movement under the strap which helps reduce sweating and rubbing.
It adjusts from 46-56 inches and its overall design allows for an improved weight distribution.
Pros:
 + Air cells provide luxury-level comfort.
+ Ideal for solid bodied electric guitars and basses.
+ Better balance pressure and weight.
Why We Liked It - We will go as far as to say this is one of the most comfortable straps out there and essentially a must have if you have a particularly heavy instrument.
Style matters, to an extent - We probably shouldn't say this, but we will. The guitar is one of the coolest instruments ever, right? So, you can be forgiven if you choose accessories, at least partly based on style. Remember, it's something you will be wearing a lot, you have to like it.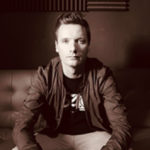 4. CLOUDMUSIC Guitar Strap Jacquard Weave
The following strap form Cloud Music makes for another great woven alternative for an acoustic guitar. It has beautiful vintage patterns and a wide selection (24) to choose from including roses, geometric, vintage classic and vintage circle. Each one is pretty eye-catching. The strap is reasonably priced though the ends are vinyl and the buckle is plastic so longevity might be an issue with this one.
It is fully adjustable and versatile for different ages and statures as well an instrument including electronic ukulele and banjo. It has a soft cotton webbing underside for comfortable wearing, it is non-slip and it is a 2-inch width.
Pros:
+ Versatile adjust ability.
+ many stunning design s to choose from.
+ Can be buttoned or tied.
Why We Liked It - They offer some aesthetically pleasing options the construction is pretty good for the price, there are better straps available but not with quite as large a range of styles. They make a good affordable and eye-catching option.
5. Levy's Leathers M17-DBR Guitar Strap
This strap is again and understated piece. It is made from high grade genuine carved leather which is a bold, distressed veg-tan shade, its beauty is in it simple, raw has no fancy stitching. It Is stiff and long-lasting, the comfort will come as the leather is broken in but this has no additional padding nor any other frills to speak of.
It is a 2 ½ inch no-nonsense option which adjusts from 41 to 55 inches total length. They also make an extra long version.
Pros:
+ High quality leather.
+ Stiff and long lasting.
+ Good for smaller instruments.
Why We Liked It - It is very affordably priced for a thick premium leather cut. It is very heavy-duty but if shelf life take precedence over comfort and you don't mind breaking it in this strap makes a valuable choice.
6. BestSounds Guitar Strap
This is another leather ended guitar strap option this time in breathable cotton which is good for sweat reduction and ultimately softer on your shoulders minimizing any potential friction problems.
It is very affordably priced and thicker and heavier than other similar cotton straps. It has great quality, fine stitching. It is fully adjustable from 41-66.5 inches and fits most adults and children. It is 2 inches wide and the small width means it is less likely to slip off.
Like the TimbreGear reviewed at the start of our reviews BestSounds have had the forethought to include a genuine leather button strap adapter for head-stock mounting adaptability and 2 rubber strap locks to help keep them safely in place.
Pros:
+ Affordably priced.
+ 100% cotton with leather ends.
+ Button locks and and adapter included.
Why We Liked It - This one offers great value for money it is very versatile and low priced to further sweeten the deal. Cotton is pretty comfortable to wear and its woven so it wont slip. This one is a good cheap acoustic guitar strap.
7. Fender 2 Vintage Tweed Strap
If you are looking for a classic vintage strap to compliment your retro Fender look this cream and yellow tweed guitar strap might be the one for you. It is well-constructed and features reinforced genuine leather ends that are machine stitched. All in all, it makes for a robust strap solution The webbing is unnoticeable but provides the necessary barrier between contact that prevents unwanted sliding. It is very lightweight and sits comfortably.
A very important side-note with this one is that the strap isn't a Fender product it is a Fender-inspired look so you shouldn't expect Fender quality with this one! It is very affordably priced and Has a reasonable adjustability from 44-49.5 inches, but is by no means the most versatile on the market.
Pros:
+ Low price.
+ Great retro vibe aesthetics
+ Genuine leather ends.
Why We Liked It - It provides a cheap and cheerful option for those who want but cant afford the Fender look.
8. BestSounds Guitar Strap Jaquard Weave Hootenanny Style
This one is another one in the range from BestSounds it is thicker and heavier as most of their traps are. It features genuine leather ends which fit snugly keeping your instrument safe, they are beautifully tapered and reinforced. The back is nonslip and it is woven from thousands of fine threads interlocked along the way.
The Hootenanny style is a very striking design and it is available in several colors.
The material is soft to the touch and very comfortable to wear. It is 2 inches wide and
has a very good range of adjustable length from 35-59 inches this covers much younger players and parlor instruments also.
Pros:
+ Premium quality materials.
+ Low priced.
+ Beautifully made.
Why We Liked It - We love it's artistic good looks it is double layered with a good tensile strength and the low price is hard to beat.
9. Dunlop D3814GY Celtic Grey Strap
This high quality tightly woven entry comes from the crew over at Dunlop. It's seriously well made and offers impressive tensile strength. They feature patented Comfort edge webbing to stop it from carving into your shoulders with even the heaviest of instruments. It is 2-inch width and has easy onboard adjustment across an extensive range (38-65 inches) which makes it ideal if you're a bassist who likes to play with your instrument low.
It has a black background and gray Celtic design it is also available in tweed, black and white checker, with studded grommets, or with different colored flames. The leather ends are very stiff and might take some work over buttons initially but provide a snug and safe fit. It is thick but surprisingly lightweight for its presence.
Pros:
+ Well made.
+ Durable.
+ Stylish designs to choose from.
Why We Liked It - It is a great cheap guitar strap from a quality assured company that is available in 9 different designs offering top brand quality with a low price tag.
10. PU Leather Western Vintage 60's Retro Guitar Strap
Last up in our reviews is this top grade guitar strap which is competitively priced at the lower end of the market. It is made with printed PU leather with an intricate, artistic design. The ends, however, are 100% genuine leather as PU leather wouldn't be nearly as safe to use on your pride and joys buttons. It is impressively strong and manages heavy vintage Gibson well. It is versatile for acoustic or electric use, including bass guitars.
It is 2 inches wide so not so big it may fall off and adjusts from 37 to 62 inches. It has classic retro aesthetics which are timeless enough that it still seems fashionable and current.
Pros:
+ Well made.
+ Subtly detailed.
+ Affordable.
Why We Liked It - This one can withstand rigorous use it is affordably priced and the PU leather middle is just a bit softer on the neck than stiff all leather options.
Play standing up - If you are new to using a strap, it can be a bit of an awkward transition from sitting down to standing. At first, it will feel a bit strange and maybe even knock your playing off-track a little. A good tip is to start wearing your strap sitting down and adjust it to a comfortable height while sitting. If you do that often enough, it won't be such an odd feeling when you stand.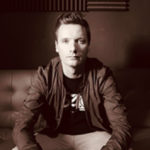 Guitar Strap Buyers Guide
What to look for in a Guitar Strap?
Firstly you need to look for the right style for your guitar and preferred playing style in regards to how the strap attaches.
An important factor is the quality of fabrication, this is key no matter the style required or desired.
Regardless of the fabrics and components used, it needs to be well constructed if it is poorly made it won't be of much use.
You will also want a decent adjustable length, If you are below or above average size you will want something that has a wider range of length. Pretty much all straps are adjustable, however, some do not stay adjusted well once your heavy instrument is hanging on it.
Leather straps typically are belt like with buckles or have slits to thread through. Man-made straps use a buckle feature to shorten or lengthen.
Where your straps buttons are the most vulnerable part of your strap to damage even the highest grade leather will stretch over time and possibly rip of slip over the button ends. So a lock of some sort can be nothing but a bonus.
Leather and suede will generally set you back a few extra bucks. Suede is very soft supple and comfortable and it is also has a naturally lower risk of slipping. However, suede can become easily damaged from water and will harden and break over time when exposed to profuse sweating under stage lights.
The leather is stronger than the suede on the whole but it is nowhere near as soft and supple. If you have a fair amount of money to spend there are some great leather options which have additional padding. Leather will take a while to break in and will outlive many other straps but it requires maintenance to keep in tip-top condition.
Synthetic blends make for some very durable versatile strap solutions but their composite nature means they have more weak areas along the way so some are more prone to wear and tear.
Best Electric Guitar Strap?
Electric guitars are typically solid bodied much heavier than an acoustic or classical guitar so they need a more heavy duty strap. It is also sometimes wise to seek a wider strap (2.5"/3") to better spread the weight, though wider straps can slip off of smaller shoulders.
The pressure in one place can be damaging in the long run over long periods of playing. Having a wider strap can be less comfortable so you also might prefer padding in the shoulder area as wide cut thick straps can leave marks if you have a particularly weighty instrument and a history of taking your shirt off during performances! Our top contender for best electric guitar strap is the KLIQ with its AirCell technology.
Best Acoustic Guitar Strap?
When choosing an acoustic guitar strap you need to know how you prefer it hanging if you aren't sure just opt for something with a button adapter or at least a cord or string. Some acoustic guitars don't have a second button if that's the case then you will definitely need one.
Acoustic guitars are much more lightweight so you don't need to worry heavily about the straps tensile strength. This means you have far more options we like the TimbreGear.
Cotton and woven cotton blends are ideal just make sure they are well made and comfortable if you play for long periods.
Some people think a nice natural leather or suede strap suits the natural wooden finish of your acoustic guitar but many prefer the heavily patterned stylized retro designs on their instruments.
Conclusion
Guitar accessories are often something people want to personalize whether its to match their bands' image or their own individual one and you obviously want it to compliment your guitar. So you might find yourself blind-sighted and neglect to shop with your head over your heart.
Looks should never be your primary constraint. When shopping for something that is a necessity item that needs to withstand a lot of wear and tear the materials and quality need to be prioritized above all else.
Fortunately, the majority of companies make their products available in a range of aesthetically different styles, so once you have found a well made suitable strap be sure to browse.
Expert Tip
If quality is what you are after you should be looking in the 30-50 bucks range they will typically last you a lot longer as they employ premium materials and manufacturing.
Did You Know?
If standing out from the crowd appeals to you and money is of no object there are some amazing custom design options out there, and it just down to prints or embroidery. You could go for a wooden beaded strap, or even a military style ammo belt or studded spikes. There are a host available from the fluffy to the downright weird!
If you've enjoyed this review by Music Critic, please leave a positive rating:
[vc_separator