It might come as a surprise but there is a little more substance to them than is sometimes factored in especially when it comes to acoustic guitars. On your behalf, we have rounded up the 8 best acoustic guitar straps for close comparison.
A strap is a crucial tool for any guitarist but all too often the lowly guitar strap is the number one guitar accessory that isn't given as much credit nor consideration as it should be.
There are a few dedicated styles to choose between and given the plethora on the market, it can be tough to determine a quality option out of the bunch.
Believe it or not we get more questions than you might think. So we have written up a little know-how in this week's buyers guide to shed a little light as well.
At a glance:

Our top 3 picks
Our team's top 3 recommendations
Best Overall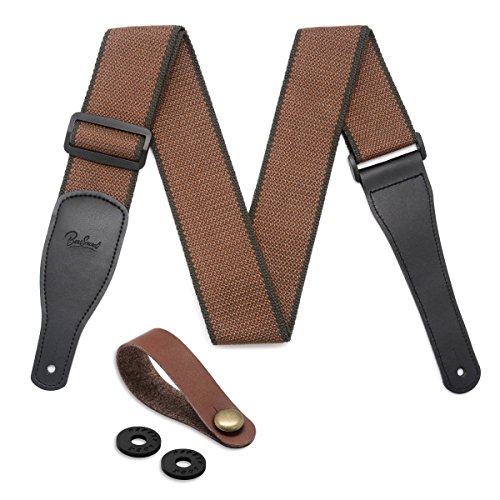 Best Sounds Soft Cotton Guitar Strap

Practical and comfortable.
Strong weave pattern.
Inexpensive.
Premium Quality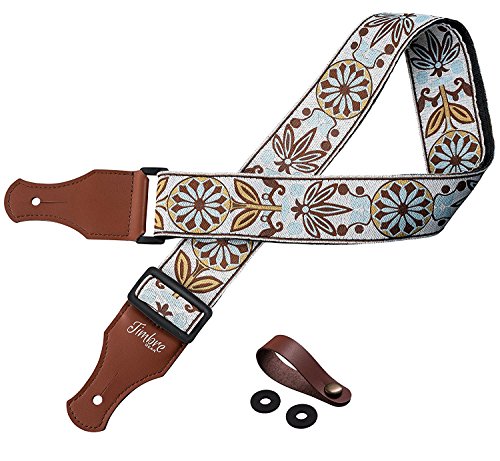 TimbreGear Vintage Woven Strap

Practical and comfortable.
Strong weave pattern.
Inexpensive.
Great value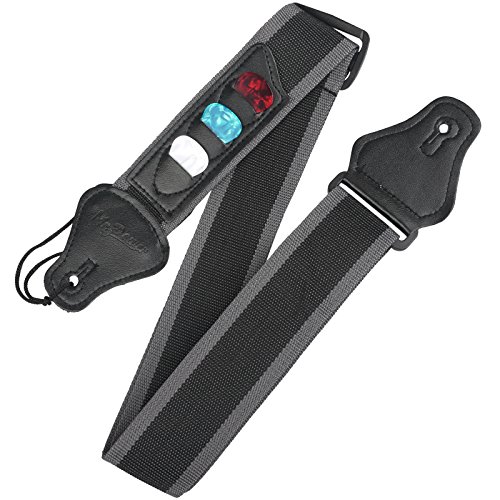 Mr. Power Guitar Strap

Practical and comfortable.
Strong weave pattern.
Inexpensive.
View The Best Acoustic Guitar Strap Below
1. Best Sounds Soft Cotton Guitar Strap
First up we have a simplistic woven soft cotton strap that has a very strong weave but provides superb comfort levels.
It is a low-price choice that has durable stitching and softly finished edges to ensure it doesn't carve into the shoulder.
It is finished with durable leather ends. One is freely hanging from a buckle which gives it greater mobility, although, it's ABS so it may not realistically last a lifetime. Given its economic price, you can't expect too much and it is inexpensive to replace over the years.
It is 2 inches wide and its length adjusts from 41-66.5 inches to suit a range of builds. It comes with rubber button locks to take some of the strain directly off of the leather and can be used with the head-stock, as a button strap attachment is provided.
Pros:
+ Practical and comfortable.
+ Strong weave pattern.
+ Inexpensive.
Why We Liked It - It is well-made and has functionality at the heart of its design. It comes in a range of colors, we love the coffee model.
2. TimbreGear Vintage Woven Strap
Our second savvy selection is this beautiful 64-inch length option from TimbreGear which is a deliciously comfortable and aesthetically pleasing vintage-look strap.
It is 2 inches wide and has a durable woven backing which is soft on your shoulder, which sports its embellished vintage-inspired embroidery. It features high-quality machine stitching and the ends are finished with genuine leather.
The design thoughtfully includes a cunning pocket for your guitar pick which is genuinely a nice touch.
It has good length adjustability making it suitable for different aged/sized players and can be used in a versatile manner. It comes with a leather strap button for acoustic guitars but can be used without for an electric guitar if you wish.
The company also provide strong rubber strap locks to ensure it can't slip around and help to prolong the life of the leather itself.
Pros:
+ Striking vintage design.
+ Versatile headstock strap button attachment.
+ Great quality composition.
Why We Liked It - TimbreGear makes some genuinely stunning designs to choose between that add great character to compliment your instrument and define your look as an artist.
3. Mr. Power Guitar Strap
The Mr. Power Guitar strap has seized the number one spot on the best-sellers list for 2 good reasons, namely, its practicality and its budget-friendly retail price.
It is a strong nylon option with reinforced ends and an integrated head-stock adapter. Despite its super-low price, it comes with the benefit of an extensive pickpocket that capably stores up to 3 guitar picks.
It is a streamlined option which has a width of 1.8 inches and it extends from 36-65 inches so is suitable for children as well as adults.
It is reasonably well-made and despite being a cheap-choice suffices for most with the majority of reviews pretty positive.
Pros:
+ Barebones design.
+ Slimmer width.
+ Good adjustability.
+ 3 pick pockets.
Why We Liked It - It is a good value for money option which is a best seller for reasons which extend beyond its budget price.
4. CLOUDMUSIC Guitar Strap Jacquard Weave
Cloud Music makes some stunning straps in a range of inspiring designs that allow you to personalize yourself as a performer. The Jacquard weave is a strongly woven option that provides great durability It has reinforced vinyl tips which slot over your buttons with little resistance.
It measures 2 inches in width spreading the weight of your instrument more comfortable and can be adjusted a great deal to cater to a range of ages and builds. It shortens enough for ukulele use, which is pretty versatile. The underside features soft cotton webbing for additional comfort. It can be buttoned or tied with its head-stock strings.
Pros:
+ Very adjustable.
+ Durable weave.
+ Range of patterns available.
Why We Liked It - They are well-constructed and come in a range of designs that offer something a bit more unique.
5. Art Tribute Guitar Strap Embroidered
This next option is another eye-catching embroidered beauty. It is lovingly manufactured with an intricate folksy design that once again incorporates a cute pick-pocket. It sells with 2 complimentary picks which are also stylishly decorated with a matching pattern.
It comes well-presented in a box so would make for a lovely gift option. It is well-manufactured and has strong machine stitching. It is universally fitting and comes with the versatile options of a button strap or acoustic guitar string attachment making it applicable for a range of instruments and playing styles.
It is strong but comfortable it has a 2-inch width for better weight distribution and can be adjusted from 37-64 inches for a fit tailored to the individual.
Pros:
+ Nice attention to detail.
+ Versatile attachment options.
+ Complimentary matching picks.
Why We Liked It - It is beautifully finished and makes for a nice present, it features strong stitch-work and is universally fitting.
6. StarHousing Guitar Strap with Suede Leather
We genuinely love this model from StarHousing it has an understated look but provides fantastic quality with a very reasonable price-tag.
It features strong suede fittings and highly durable retro metal belt-buckles made from copper which means it adjusts and maintains position as well as lasting far longer than most designs.
It has strong stitches once again and is 2 inches wide which spreads the weight on your shoulder a little more evenly.
It adjusts from 26 to 51 inches and is a good option for smaller-scale length guitars and ukuleles as well.
It features a leather strap button for head-stock application and comes with strap locks.
Pros:
+ Good adjust-ability.
+ Gorgeous suede tips.
+ Beautifully made.
Why We Liked It - Whilst it isn't the most eye-catching on the market the suede is a lovely touch and the strong copper buckles are a welcome design feature if you want something that is going to last.
Another great cotton alternative to consider is this durable but soft option from Tifanso.
It has reinforced stitched edges are real leather strap ends to provide durability where you need it most.
It can adjust from 36 to 62 inches in length making it ideal for a wide range of users. It is 2 inches wide to help reduce shoulder and neck strain and has versatile applications.
It comes in a range of colors and designs including a striking Aztec-style pattern and cream striped. It is sold with a strap button and strap locks and 3 bonus guitar picks which can be stored in its integrated triple pick storage slots.
Pros:
+ 100% cotton.
+ Good range of adjustment.
+ Pick storage.
Why We Liked It - It is another well-made breathable option which again has good functionality.
The McCartney model from Simtyso is another well-manufactured nylon option which features genuine leather ends. The companies patented Planet Lock system helps ensure the strap stays securely in place giving your instrument additional protection.
It has a strong weaving design and adjusts from 31-63 inches to provide a comfortable fit. The strap width is 2 inches which are forgiving on the shoulder and it is soft but durable.
It features strong eyelets to run softened leather ties through for head-stock application. The leather is high-grade with a brushed suede finish and gives it pretty softened aesthetics.
Pros:
+ Fully adjustable.
+ Strong nylon weave.
+ High-grade leather.
+ Patented lock system.
Why We Liked It - It is another durable option the buckle is again a hardened plastic so it won't last a lifetime but it will do the trick.
Acoustic Guitar Strap Buyers Guide
An acoustic guitar tends to be quite lightweight so the good news is you have far more options out there to consider than for an electric guitar which requires a high tensile strength so let's have a look in more detail at what you need to think about before you buy.
What to look for in a Guitar Strap?
For the majority of acoustic players, you are going to want to strap your guitar up from via the head-stock, some prefer a traditional button strap for the strength they provide but many sticks with ties. They inhibit your guitar strings less and are unobtrusive but if they are of poor quality, they could leave your pride and joy liable for an accident as they wear and tear a lot quicker.
Some acoustic guitarists modify the guitars to have a second pin like an electric guitar, this isn't too difficult a modification and it allows you to wear a standard strap without an adapter but it does change the balance point of your instrument which can limit the playing style.
To get the best support for your instrument you ideally need to strap it in the most appropriate manner, though this is subject to some wiggle room and many will wear it as they please.
Your guitar is, at the end of the day, an extension of you as a musician and so it needs to suit you.
When it comes to choosing a guitar strap more often than not it is aesthetics at the forefront of your mind and whilst a strap can add a little style and individuality there are a few more pressing issues to address.
Comfort should be kept key as should the durability. They are both essentially down to 2 key things, the quality of the craftsmanship and the materials chosen in its composition.
Wearing an instrument for long periods can take its toll especially if you aren't great at remembering to check your posture which many of us are guilty of once we are lost in the music.
So once you have the guitar strap style settled you need to address how comfy it is. There are several models on the market some from natural materials and others are synthetically produced.
Synthetic fabrics do quite often provide durability but they don't tend to be as comfortable. Nylon, for example, has hardy qualities but can cut into your shoulders a great deal especially if you have a heavier guitar model.
The leather is also heavy-duty and long-lasting but again it can take some getting used to. It has idyllic characteristics because it is pliable enough to slip over your pins but it is resistant enough to cope with the wear and tear it will be subject to over the years.
Leather is skin, so it is also very insulating and can cause you to sweat. This is another reason why some people opt for cotton or poly-cotton designs. Cotton allows for better circulation and is cooler as well as softer on the user but it is not strong enough to support a guitar alone.
For this reason, 100% cotton straps tend to be double or even triple layered and will often have leather, leatherette, vinyl or suede ends to slip over your pins.
Having a composite nature actually adds potential weak points to the strap which is a tough one to weigh up, as you don't want to put your instrument in harm's way.
All leather straps are usually cut from one-piece which eliminates the issue giving better strength they function as a belt and will have a range of slits to thread the strap itself through but as previously stated leather is tough and can cause discomfort for some.
Leather can be broken-in over time but the adjustment period is not as bad as it first seems and they are relatively comfortable so long as you don't intend on playing shirtless!
Most synthetic or composite cotton straps will have to incorporate a buckle for adjustment this can also be a weak point. With cheaper acoustic guitar straps, plastic can be a go-to option as it makes the production costs cheaper allowing the company to provide a product with an appealing price-tag.
Some plastics are very hardy so you shouldn't be completely discouraged but perhaps stay aware of the wear and tear as time goes by to help prevent accidents in the future.
Metal buckles can obviously do a better job at securely keeping your instrument where you want it.
If you opt for a cheaper strap you should be prepared to A have a few and B replace them much more frequently.
No matter which materials it is fabricated from the manufacturing quality can differ from company to company so be sure to spot a well-constructed option.
To ensure that you get a comfortable fit you are going to need a good amount of adjust-ability in terms of the length most straps are adjustable but some cheaper choices on the market aren't actually that great at staying fixed in position.
This is another reason why you might want to opt for a metal buckle.
Conclusion
Though the functionality is on occasion overlooked it should be regarded with much more concern than aesthetic appeal.
There is a tonne of options out there to choose from so the good thing is you won't be short on choices and the majority of companies do try to cater to the need for a personalized style just try not to find yourself choosing without some real thought.
Your guitar strap serves a crucial purpose and it will need to withstand a lot of wear and tear so make sure you are smart with your decisions.
Make sure you value comfort and quality above all else and hopefully with the tips presented in today's buyers guide you can make a wise decision when it comes to your first or indeed next acoustic guitar strap.
Expert Tip
If your budget isn't too restrictive you might want to try shopping in a higher-priced region than those we have looked at today. A bigger budget can get you some fantastic all-leather options which could actually last you a very long time and serve you well.
Did you Know
We previously took a look at a few interesting options back in 2018 many of which are still available so why not have a flick through our archive for the 10 Best Guitar Straps in 2018.
If you've enjoyed this review by Music Critic, please leave a positive rating:
[vc_separator