In this article, we're going to look at the 7 best cheap acoustic guitars that are currently on the market.
Gone are the days when you needed to empty your bank account for a top-quality instrument. Nowadays, many of the leading brands offer high-grade models that are available for budget prices.
The key features of any quality product will be the sound, durability, and looks that the instrument offers. If you're a novice, then it can be difficult to know which budget models offer these important characteristics and which don't, as they all can look the same.
We think you'll like: Top-Rated Cheap Electric Guitars
Fortunately, we've done the hard work for you. Our team has tested and then chosen seven products that deliver quality across the board. All the models on our list also offer excellent value for money too.
After reading our list, we recommend that you consider the buyer's guide that follows it. We answer all the most commonly asked questions that a budding guitarist might have about this wonderful instrument. By the end of this article, you'll be in a great position to grab yourself a bargain.
For those with a budget of $500 or below, see our review of the top acoustic guitars under $500.
At a glance:

Our top 3 picks
Our team's top 3 recommendations
Best Overall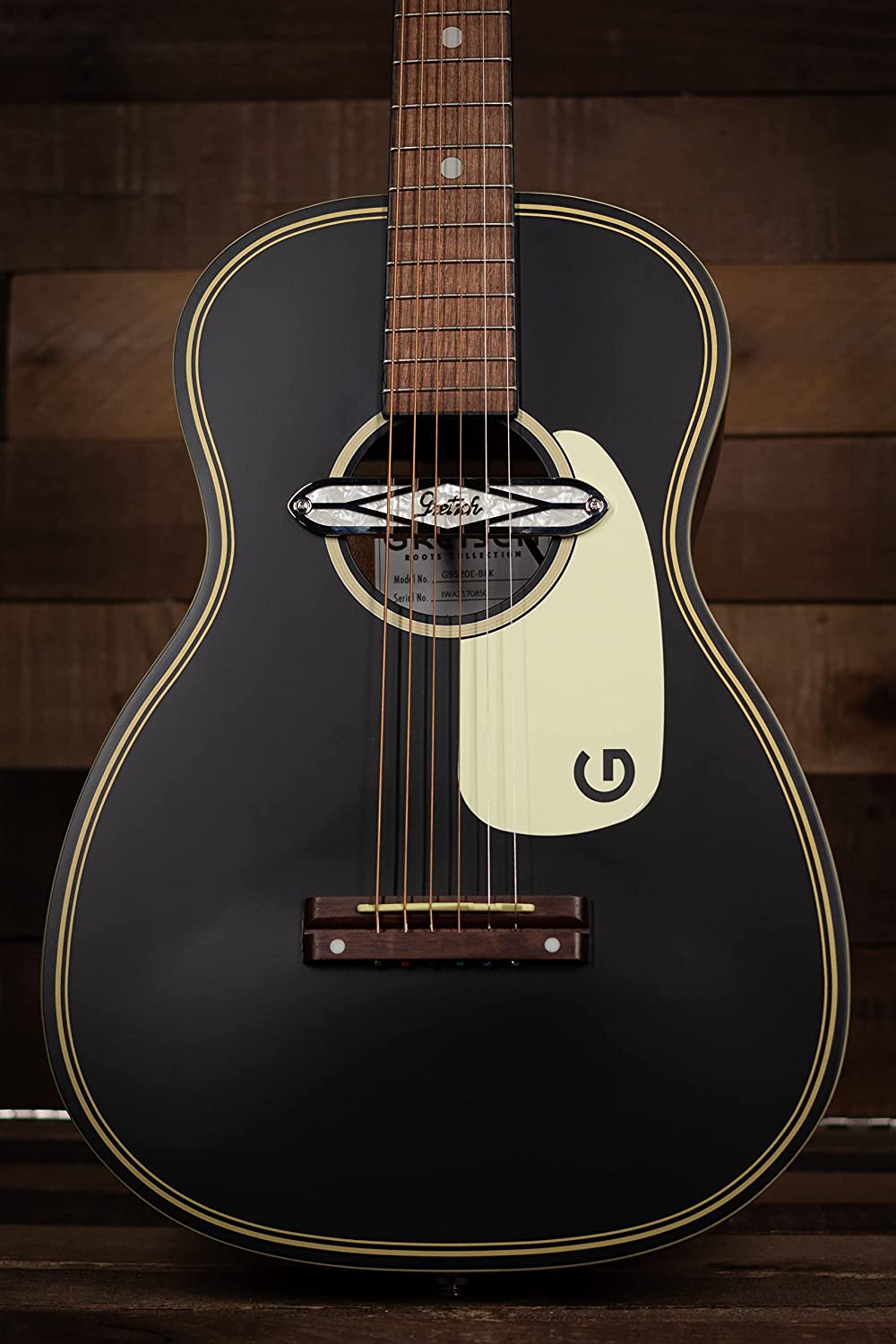 Gretsch G9520E Gin Rickey Acoustic/Electric Smokestack

It seems more expensive than it is
Stunning design
Acoustic and electric
Static-free pickup
Premium Quality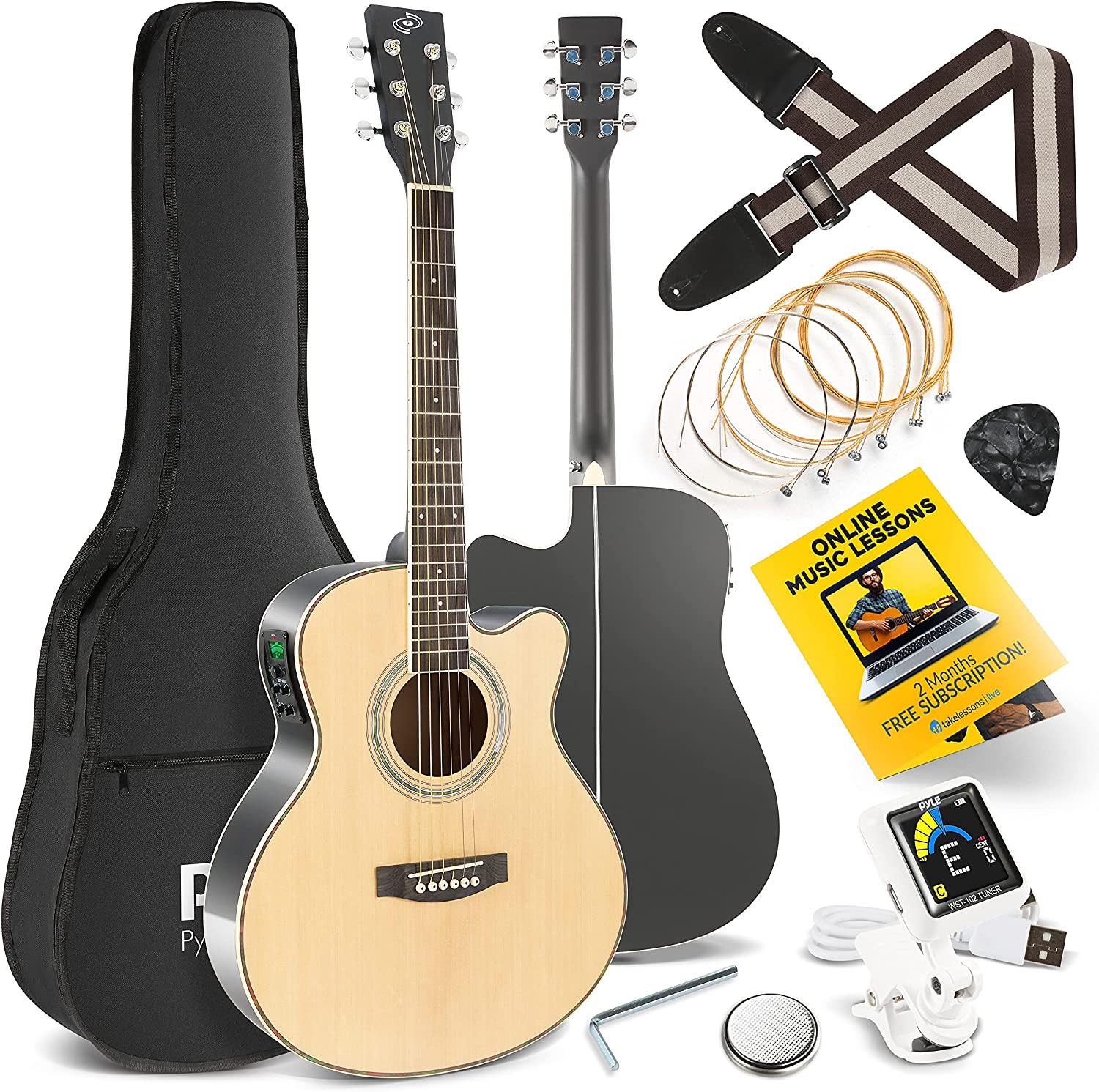 Pyle Acoustic Electric Cutaway Guitar

It seems more expensive than it is
Stunning design
Acoustic and electric
Static-free pickup
Great value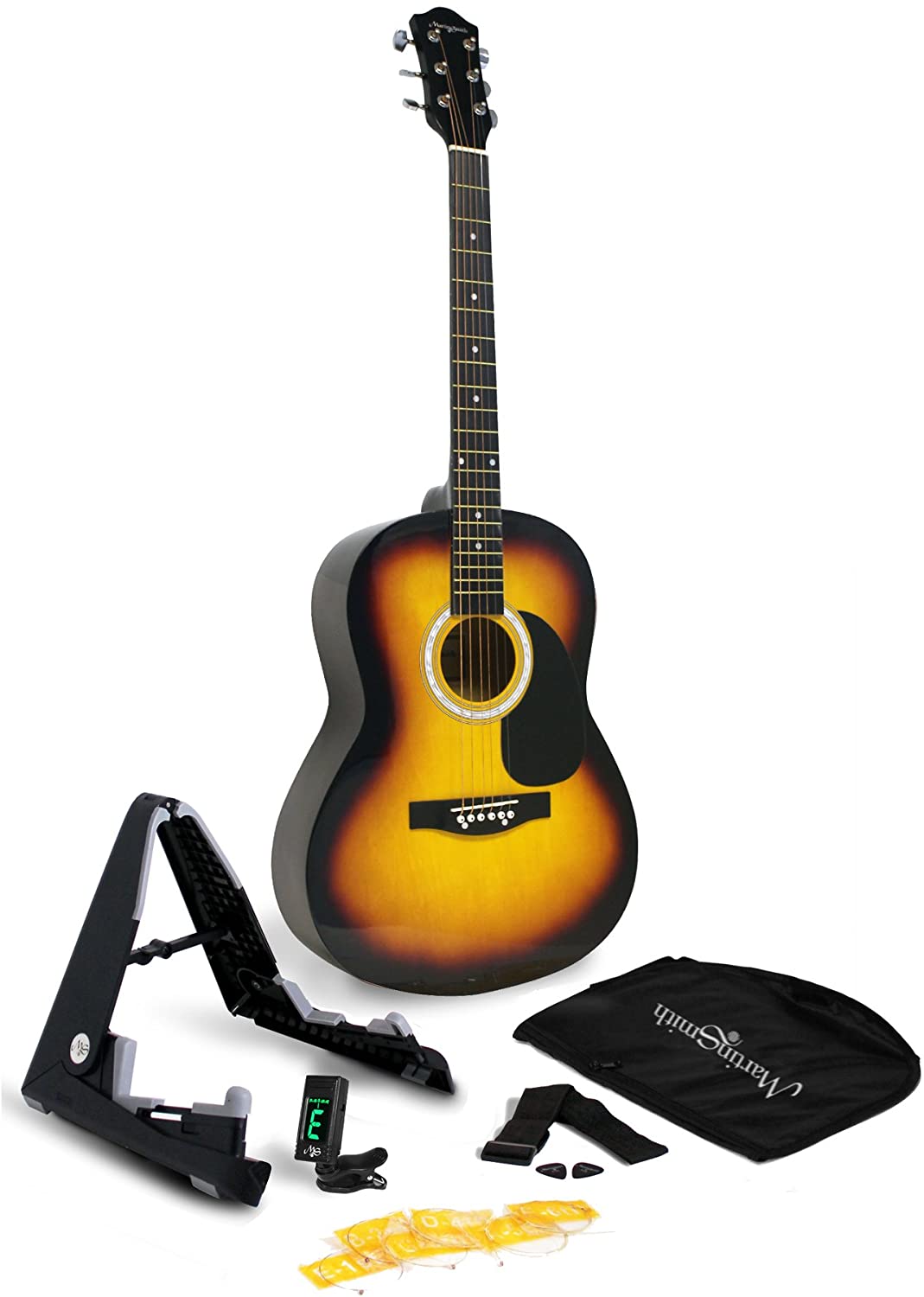 Martin Smith Acoustic Guitar Kit

It seems more expensive than it is
Stunning design
Acoustic and electric
Static-free pickup
View The Best Cheap Acoustic Guitar Below
1. Gretsch G9520E Gin Rickey Acoustic/Electric Smokestack
If you're looking for a cheap but well-made guitar that can handle casual playing, the Gretsch G9520E is perfect. This 5-string acoustic and electric guitar will help you play any song with ease and precision. Strum your favorite tunes from the comfort of your own home – the guitar sounds great, both plugged and unplugged. The pickup is static-free. Reviews have suggested it plays like a much more expensive model.
The design is beautiful, too. With a walnut fingerboard, a nato neck, a basswood top, and a stunning black finish, this guitar not only sounds great - it'll look good in any studio, home, or living area, too. In addition, the smaller size is perfect for comfortable play, so if you're not used to playing the guitar, this is a great option for you
Pros:
+ It seems more expensive than it is
+ Stunning design
+ Acoustic and electric
+ Static-free pickup
Why We Liked It - We really love the design. For a cheap guitar, it certainly doesn't look like it. A lot of work and care has clearly gone into the design of this guitar.
String Upgrades - The strings that ship with budget acoustic guitars are generally reasonable but ought to be your first upgrade. Upgrading strings will improve tone and handling. You'll also be able to select strings that suit your playing style, including nylon strings. Strings are relatively inexpensive and easy to change - ideal for beginners.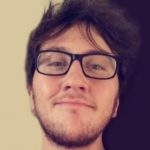 2. Pyle Acoustic Electric Cutaway Guitar
If you're looking for an inexpensive guitar for beginners or children, the Pyle Acoustic Electric Cutaway Guitar just might be your best bet. The guitar comes in a range of sizes. The smaller size is much easier to manage, making it perfect for children. They can tackle lessons, band rehearsals, school or performances, as well as at-home practice.
The guitar has been hand-crafted with a spruce-body style and a natural matte finish, making for a simple beginner guitar that can handle a lot of wear and tear. The steel strings provide a brighter sound than other string alternatives. Just plug it into an amplifier if you want to go electric!
This guitar also comes with everything you need to get started, including a digital tuner, guitar picks, a gig bag for travel or storage, a shoulder strap, and an extra set of strings. That's just another reason why this guitar is perfect for beginners
Pros:
+ Beginner-friendly
+ It comes with a starter pack
+ Steel strings for a brighter sound
Why We Liked It - We love that this guitar comes with everything you need to get started, from a gig bag for band rehearsals to a spare set of strings.
3. Martin Smith Acoustic Guitar Kit
This is another cheap guitar that's great for beginners. The Martin Smith W101 features an ergonomic, dreadnought body, designed especially for easier playability. But it's not only the design that enhances playability. The guitar features steel strings, which give off a brighter sound than alternatives, and metal gear-heads for easy tuning. Both of these features ensure that your guitar will stay in tune for longer.
But even if you do find yourself tuning your guitar more often, this model comes with a clip-on guitar tuner that provides clear feedback for all your tuning needs.
This model also comes with a foldable stand, so there's somewhere you can rest your guitar when you're not playing it, enhancing durability and reducing the possibility of damage. Display your guitar loudly and proudly. After all, with such a beautiful design, why wouldn't you want to?
Pros:
+ A great starter guitar kit
+ It comes with a stand
+ Tuning is effortless with steel heads and strings
Why We Liked It - We especially like that this guitar comes with a foldable guitar stand. Now you have somewhere safe and reliable to put your guitar, no matter where you are!
Fender and Gibson for Acoustic Guitars - Fender and Gibson are best known for the Stratocaster, Les Paul, and other world-famous electric guitars, but are their acoustic guitars any good? Absolutely! Gibson and Fender have learned a thing or two in their time and their acoustic guitars are well up to the mark. But don't forget about other brands just because Gibson and Fender exist!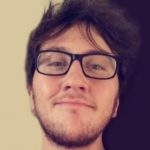 Oscar Schmidt is another brand that's known for its affordable instruments. This is a 3/4 length guitar that's ideal for younger or smaller guitarists because of the size. It's also ideal for taking with you out and about as it's less bulky or heavy than a full-sized model.
The build quality is hard to beat. Its back and sides are made from Catalpa. It's got a fixed bridge system. The fingerboard features twenty frets, of which fourteen of them are free from the body. It comes in a huge range of colors and finishes, so it's easy to find one that you like.
The truss rod is adjustable, which might come in handy if you have it for a while. The neck is not just shorter than a full-sized model, but it's also thinner, which makes it ideal for smaller hands. It comes with a set of D'Addario acoustic strings, which are known for delivering a gorgeous, crisp tone. We found it to project very well for its size, and the resonance is equally as powerful.
Pros:
+ 3/4 size and full scale
+ Engineered woods
+ Very low price
+ Great sound
Why We Liked It - It's a 3/4 model that's perfect for younger or smaller guitarists to learn on. The quality far exceeds the price tag, making it one of the best value for money options on our list. The tone and resonance is also very impressive for the size.
This is another excellent Fender guitar that's an upgrade version of the one that we previously looked at. Just like that model, this one comes as part of a bundle, which includes everything that a newbie guitarist might want.
It's got a solid, spruce top, as well as laminated, mahogany back and sides. The body features a dreadnought shape, and it's been given a gloss finish. The bridge is made from very durable hardwood. The fingerboard features twenty frets and it's got a 43mm plastic nut. Another great feature is the pickguard, which is single-ply and is black, which looks great in unison with the sunburst finish.
There are three colors to choose from, which all feature the sunburst design. We found it to be eye-catching, and we're particularly big fans of the darkened edges.
Now we come onto the sound. We found it to be bright, well-balanced, and warm on the low end. The action is also low, but there's also no need to worry about fret buzz, as it's not present at all.
Pros:
+ Low price
+ Bundle
+ Solid top
Why We Liked It - It's another superb Fender product that delivers exceptional value for money. We were particularly impressed by its looks, as we think the sunburst design is quite something. The sound is great too, but that's what we'd expect from Fender. The fact that it comes with lots of handy extras, such as a stand and case, also adds to the great value that it offers.
We've got another wonderful guitar made by Yamaha here, which is part of the popular 800 series. The FG800 is actually the model that started the whole series off. It's a well-balanced, powerful guitar that's become a bestseller for lots of good reasons.
It's a western-shaped product, which includes Yamaha's revolutionary scalloped bracing pattern. It's also got a solid, spruce top that contributes to the sound and durability of the instrument. The innovative bracing ensures that you get the very best resonance.
The scale length of this model is 25.9/16". It's got a nut width of 43mm. Yamaha has used some high-grade, unorthodox woods for its construction. The neck and back are made from nato wood, while the sides are made from Okume, which is also known as Gaboon and Angouma. These woods help to offer a warm, rich sound across the whole sound spectrum.
The fingerboard is made from rosewood and is a good size for adult learners. The truss rod can be adjusted so that you can find the best action for your needs. This model is available in either black or natural, as well as a few different styles. It's got die-cast, chrome tuners that we like the look of too.
You can buy this awesome product as part of a bundle, which can aid you in getting even better value for money. It's a great choice for amateur guitarists or for people who are looking for a solid product to learn on. It comes with a hard case that will certainly keep your instrument safe.
Pros:
+ Great value for money
+ Solid top
+ Scalloped bracing
+ Great projection
Why We Liked It - Yamaha make outstanding affordable products that are aimed at beginners and hobbyists and this is one of them. The full sound it offers is difficult to beat. We were also impressed by the quality of the extras that come as part of the bundle. The hard case is a superb product. Overall, there's little to fault this superb product from Yamaha.
7. Martin LXK2 Little Martin
Martin is a much-respected manufacturer of acoustic guitars, and this model is one of its more affordable products. It's a 23" scale guitar that's a portable, child-friendly size. It features lots of typical elements of a Martin instrument, such as the patented mortise neck.
It's got a classic, dreadnought shape, which it is commonly believed was invented by Martin. The bracing is made from Sitka spruce, which offers better durability. The tuners are also high-grade, having been nickel-plated. The laminated finish adds to its durability, allowing it to withstand weathering, unlike a non-laminated product.
Its scale size means that it's ideal for smaller hands and for kids but its diminutive size also makes it a fantastic travel guitar, which was what it was designed for. The tone is natural and warm, and it sounds just like a full-size Martin guitar.
The KOA design gives it eye-catching, unique looks that we liked a lot. It's available in a range of colors, so it's likely you'll find one that suits your style.
Pros:
+ Smaller scale fretboard
+ Full, well-balanced sound
+ Ideal for traveling
+ Reasonable price
Why We Liked It - Despite being a smaller model, this Martin guitar delivers powerful, full-bodied sound and tone. The build quality is exceptional, and it looks gorgeous too. It's a brilliant choice for guitarists with small hands or for anyone who wants a portable guitar to take on the road. A superb instrument that exemplifies Martin's famous quality.
Cheap Acoustic Guitar Buyers Guide
What to look for in a cheap acoustic guitar?
Our first piece of advice for anyone wanting to purchase a cheap acoustic guitar is that you should always choose a model that's been made by a leading or trustworthy brand. Epiphone, Yamaha, and Fender, for example, all have an excellent reputation for consistency and reliability. If you purchase a product from one of these brands, then you know what you're getting. These companies are also able to manufacture to a high level on a mass scale, which is why they're able to offer products for such a low price. Lesser known or smaller brands just won't have the same production facilities, so they cannot produce the same quality for the same price.
We recommend that you check the materials used for the construction of the instrument before purchasing it. You should ensure that quality tonewoods are used. We think that a spruce top is always a safe choice, as this wood resonates well, and it's even used on much more expensive models too because of its resonant qualities.
You have a choice when it comes to budget products. Either you go for a laminated top or a solid top. In our opinion, if you are willing to pay slightly extra for a solid top, then you should do. The difference in sound quality is obvious between these two types of guitars. A solid top simply resonates much better. But one downside to a solid top is that it weighs much more than a laminated body. If you're looking for portability above all else, then get yourself a laminated model instead.
Cheap, of course, is a subjective term. What's cheap for one person might not be cheap to another. If you're willing to spend between $200 and $500, then you will be able to find a product that has been very well made, featuring high-grade tonewoods. If you want to get even more bang for your buck, then we recommend purchasing a guitar that comes as part of a bundle. It will provide you with all the necessary accessories a beginner needs, which can save you lots of cash in the long run. Some accessories that you'll find as part of a bundle include a case, stand, and chromatic tuner.
What type of cheap acoustic guitar is best for beginners?
You want a low action, as this will make playability easier. You will also want to consider choosing a model with a narrow neck, as this will be easier to maneuver. If you're purchasing a guitar for a child or teenager, or you're an adult with smaller hands, then you may want to consider a model that's got a shorter scale length.
We also recommend that beginners purchase a guitar that comes as part of a bundle. This will provide you with all the essential products you need. A good bundle will include a wide range of accessories, from guitar picks to a sturdy case.
We can recommend the Yamaha models on our list as being particularly well-suited to beginners. Yamaha is a brand that's often used by learns as it delivers a lot of quality for a very affordable price. All the Yamaha models on our list are also designed to make playability even easier, which is an advantage for beginners. We can also recommend the Fender models if you're looking for an even cheaper model than Yamaha offer.
What is the best quality cheap acoustic guitar?
It will depend on how you define quality.
Let's look at sound quality first. In our opinion, the Epiphone on our list sounds the best. The warm and rich tone that it offers is something special. It's also very well-balanced, which makes it versatile and suited to a range of musical genres.
When it comes to the build quality, then the Yamaha 800 has to be up there. It costs a little more than many other models on our list, but we think it's worth it if you're willing to spend it.
For a decent-sounding, cheap acoustic instrument made from quality components then you should probably expect to pay more than the $250 mark. Of course, some fine guitars cost less than this, but you'll quickly outgrow them once your skills improve.
If you are simply looking for the very cheapest product, then the Oscar Schmidt on our list is the one to go for. It's a great product for the price, but it is limited, of course. Still, if you just want something cheap, then we can recommend the Oscar Schmidt.
Conclusion
There are three main reasons why someone is wanting to buy a guitar in the budget price category. One, it is because they are a beginner. Two, it is simply a financial necessity. Three, it is because they want a product that can be knocked about, allowing you to spare your beloved main guitar. Regardless of why you might want a cheap instrument, the important thing is that you choose one that offers durability, playability, and good sound quality.
In our opinion, all the products on our list tick these boxes. You might think that there isn't too much difference between the models after reading our list, but that is often the case in the budget price range. Much is the same, but there are slight differences, and it is these small differences that will lead you to make your choice as to what one is for you.
If we were forced to choose our favorite of all the models that we've reviewed, then after some thought, we would go for the Epiphone. It has a unique sound that makes it seem like a much more expensive product. It's been constructed from high-grade materials. And it is also available for a shockingly low price.
That's just our pick, though. The one that you decide is your favorite might be different. We recommend that you list your personal needs, whether that's budget, sound, or looks, and then read through our reviews again carefully before deciding which one to spend your hard-earned dollars on. Don't forget, buying one that's part of a bundle can also save you lots of money, as you won't need to buy all the accessories separately.
We hope that you've found our article valuable. Hopefully, now that you've read our reviews and buyer's guide, you're in a good position to choose your next guitar.
Expert Tip
If you're looking for a cheap guitar because you want a product that you don't mind getting damaged while you go on holiday or backpacking, then you might find our article about the 10 best travel guitars in 2023 very interesting indeed.
Did You Know?
Guitar strings can have a big impact on the sound that the instrument delivers. Usually, stock strings that come on a guitar aren't the best quality. We always recommend that you make an upgrade, especially when purchasing a budget product. It doesn't cost a lot to buy great strings but it can make a huge difference.
If you've enjoyed this review by Music Critic, please leave a positive rating:
[vc_separator