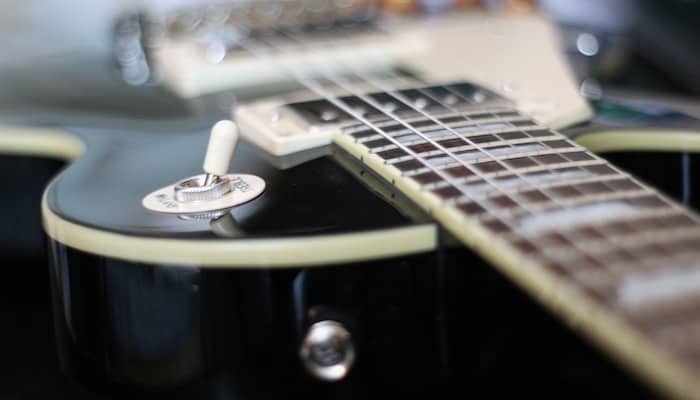 In this article we are going to take a gander at the 9 best cheap electric guitars that don't suck, to try and highlight the ways in which of the best guitar brands have managed to make great electric guitars more accessible to the masses.
Some guitar brands make fantastic profits on their high-end models and can provide budget instruments they don't need to make a large profit on. Other companies redesign their high-end models (or competitors high-end models) to reduce production cost until they have a guitar that has a lower price tag. Unfortunately, some use low build quality components, and manufacturing processes and ultimately produce instruments which are terrible by comparison.
In this day and age, we order online and companies ship online to how do you tell if you are getting value for money? How do you tell if you are getting a quality import? If you are looking for a cheap electric guitar whatever your playing skill level you will still want your money's worth and you might be surprised at just what you can get for very little investment, so let's have a look.
At a glance: Our top 3 picks
Your shortcut to our team's top 3 recommendations
View The Best Cheap Electric Guitar Below
1. Epiphone Les Paul Special-II
The Les Paul Special-II from Epiphone makes for a solid contender for best cheap guitar because has all the makings of a much pricier model. Gibson took on Epiphone purely to stop their biggest rivals. The Epiphone Les Paul Special-II whilst many could sit and argue the differences until the early hours provide a fantastic homage to their flash friends. They have all the essential Les Paul elements guitar players know and love but at a super low price.
The Epiphone Les Paul Special-II guitars feature the LockTone Tune-O-Matic bridge and stop-bar tail-piece for added sustains and convenient string changes.
They are constructed with mahogany bodies and have a bolt on style neck with a rosewood fingerboard housing 22 frets.
The pickups are 700T/650R (open coil humbucking) delivering that unmistakable Les Paul tone. It has stunning vintage sunburst aesthetics. And comes with D'Addario 10-46 strings.
Pros:
+ Great tones.
+ Humbucking.
+ Narrow neck (Gibson in general).
Why We Liked It - The Epiphone Les Paul Special-II comes in at just below the $200 mark and really does great intonation and action, chords ring, the guitar strings have defined individual clarity and it is pretty gorgeous to look at too. Alternatively, you can look at getting the Les Paul Standard.
2. Squier by Fender Affinity Stratocaster HSS
This entry-level Squier Affinity features the popular Stratocaster, double cutaway body shape it Is constructed form great tonewood. Fender's Squier Affinity is an alder body which is very lightweight and has a bolt-on c-shaped maple neck and a rosewood fingerboard. The Squier Affinity has 2 single coil Strat pickups and one humbucking bridge pickup, a very popular pickup set up known an HSS but also dubbed Fat Strat sound. It has five-way switching with a master control for volume.
The Fender Affinity Stratocaster delivers the notorious Fender Strat tones and is available as an economically priced kit the Fender Stratocaster comes with a guitar amp leads strap and everything you could possibly ever need down to an Alan key!
Pros:
+ Lightweight alder body
+ Good quality manufacture.
+ Humbucking.
Why We Liked It - The Squier Affinity subsidiary produce fantastic affordable musical instruments to put Fender Fat stat sounds at the fingertips of all budding guitarists. There are a menagerie of Strat copycats on the budget market, but Fender's Squier series have the edge.
3. Yamaha Pacifica PAC012
Next up is a fantastic low-priced entry by Yamaha, a company which offer a wealth of affordable models and whom have helped shape musicians from learners into professionals for decades.
The Pacifica series are known for their outstanding play-ability they have to comfort contoured bodies and benefit from quality Japanese construction.
This Yamaha Pacifica PAC012 was the initial model from the Pacifica series and despite being a perfect first electric guitar it appeals to many as a great knock-around to due to its minimal price tag.
It too is a double cut-away shape, reminiscent of Fender Stratocasters. The Yamaha Pacifica PAC012 features popularly desirable 5-way switching between it's Seymour Duncan pickups in an H-S-S configuration which provides pretty awesome voicing for a budget guitar.
The Yamaha Pacifica PAC012 produces vintage warmth, has great intonation and they come with a range of colored finishes that complement their chrome hardware. They feature locking Sperzel tuners and a whammy bar for instant vintage vibrato. The guitar itself has a maple 22-fret neck which bolts on to its Agathis body. Agathis is similar to basswood body and a little cheaper to the source which contributes greatly to the low retail price without compromising on electrical components in any way.
Pros:
+ Humbucking.
+ Quality components.
+ Whammy bar.
Why We Liked It - The Yamaha Pacifica PAC012 is a stat inspired instrument that delivers good tones and adds a touch of modernization to the shape with is contoured edges, it is low priced and makes for a great first ax.
The LTD brand was created in the mid 90's to help bring ESP guitars into a lower price range. The EC series features a single cutaway Eclipse-style body which is crafted from basswood The EC-10 harbors dual humbuckers for hard rock sounds and epic tones. The LTD own-brand pickups are of a superb quality it is important to note that before stepping into guitar manufacture ESP manufactured pick ups and other components for many of their competitors top brand guitars.
Some of the more notable aspects include Tune-O-Matic bridge and tail-piece like the Epiphone Les Paul. It has a U shaped maple neck with rosewood fingerboard it is a slightly larger scale length with 24 frets and typical nut width. The electronics are passive and of a high caliber. They come with a gig bag and are covered by a limited lifetime warranty.
It is a simple understated classic black gloss finish design.
Pros:
+ High quality construction, no outsourcing.
+ Dual humbuckers gritty distortion.
+ Good tone woods.
+ Basswood body
Why We Liked It - It makes for a great basic model the double humbucker are a fat warm sound it is competitively priced and ESP make some fantastic guitars.
5. Ibanez GIO Series GRX20Z
Ibanez produce an astoundingly wide range of top guitars that don't suck! Their GIO series is the line that specifically caters to those with a shoestring budget. GIO musical instruments are just as heavily inspected and rigorously set up in the same manner as more expensive models.
The GRX20Z is a solid bodied instrument and it features a double cutaway basswood body again the shape we associate with Strats. It is well made and has a GRX bolt-on maple c-shaped neck with rosewood fingerboard.
It is a full size 22-fret electric guitar and makes for an excellent first guitar from a top brand with some high esteem. It has dual Powersound humbucking pickups, FAT 6 bridge and a standard tremolo handle
Pros:
+ Dual humbucker pickups.
+ Tremolo handle.
+ Bundle buy.
+ Super low price.
Why We Liked It - It provides powerful sound and retails at an unbelievable price especially considers is sells as a bundle with a gig bag, stand and polishing cloth.
6. Squier by Fender Affinity Telecaster
Another good budget electric guitar modeled on one of their parent companies best-selling iconic guitars the Fender Telecaster. The Squier version is a perfectly adequate and an easily affordable priced homage to the rich cutting tones and Tele twang of that Fender sound that dominated throughout the decades.
The Fender Affinity Telecaster sports the stylish retro looks of the original telecasters. It has a solid alder body
and a maple C-shaped neck and fingerboard although there are Indian laurel versions available for sale.
The Fender Affinity Telecaster also features 21 frets which are larger in comparison for added comfort and is 25.5 scale length and 1.6" nut width. It has 2 vintage style single coil pickup and 3 way switching to provide the signature tones synonymous with the Fender Affinity Telecaster. It has EQ dials and volume control.
Pros:
+ 21 jumbo frets.
+ 2 single coil Tele pickups.
+ Tone control.
+ Affordable price.
Why We Liked It - The Fender Affinity Telecaster is lightweight and resonant, looks good, sounds good. It is another great cheap electric option which provides the sound and image of a Fender Affinity Telecaster topped with its comfortable play-ability.
This electric guitar model is a single cutaway and is similar in shape to the Eclipse budget friendly guitar from ESP and of course an attempt at a Les Paul type. It has a mahogany body and a set maple neck. The fingerboard comes in rosewood or ebony inlaid with a mother of pearl serpent and the build quality appears good. Nice straight neck fast action goo weight. It is a head turner with its gold tuners, mother of pearl and abalone decor. It features a Tune-o-matic bridge with stop tail for convenience. It is a classic dual humbucking configuration they are unbranded stock pickups with a 3 way switch. For thick vintage distortion perfect for rocking and rolling.
Pros:
+ Aesthetically pleasing.
+ Tone woods used in construction.
+ Les Paul-like sound.
Why We Liked It - It is a solid purchase for the money especially if you are looking for something a bit more striking in the looks department.
8. Dean Guitars Vendetta XM Shredder
This is a solid entry-level budget friendly guitar from Dean we have seen them take a bit of a breather over recent years with their main lines but they have been putting a lot of their efforts into affordable options we don't often see Deans below the $200.
The Vendetta shredder has a solid paulownia body which is a slightly altered Stratocaster type shape. It features an interesting shaped head-stock and bolt-on style neck which is loaded with a Tune-O-Matic bridge and string through body design, for great tuning retention. It has a rosewood fingerboard.
It has a pair of Deans own brand balanced humbuckers, They offer great sound overall and very punchy high-end frequencies. It has good sustain and a vintage classic vibe but as with most double humbuckers, the clean sound is not as crystal as it could be.
Pros:
+ Rare tonewood.
+ 24-Fret.
+ Tune-O-Matic bridge.
+ Dual humbucking.
Why We Liked It - Dean have packed a lot into the model they have taken inspiration from other guitars and merged them into a great value guitar.
Our last review is this Jackson JS22 Dinky which is an archtop electric guitar it is made of basswood and covered in a polyurethane coat. It features 24 jumbo sized frets for comfortable playing and has a bolt-on maple speed neck which has graphite reinforcements. The fingerboard is also bound with shark-fin inlays. It has a double locking tremolo synchronized fulcrum bridge. Its black hardware is stylishly offset against its color for great aesthetics.
It has a dual humbucker style pickups which are high output with ceramic magnets that has been well constructed the circuitry seems fantastic.
Jackson guitars are once again another company owned by the Fender Musical instruments corporation
the division centers its focus around relentless innovation in order to try and redefine modern guitar designs.
Pros:
+ Dual humbuckers (ceramic magnets).
+ Locking tremolo.
+ 24 jumbo frets.
+ Elegant inlays.
Why We Liked It - The craftsmanship seems very precise we love the edgy look, the fat frets make it easier to navigate you way along the neck and it deliver solid hard rock tones.
Cheap Electric Guitar Buying Guide
If our reviews have left you with a few unanswered questions our buying guide is where we attempt to address them.
What to look for in a cheap electric guitar?
When buying a good electric guitar with a low price tag you will want to check quality woods have been used. Most of what to consider when you look for a good cheap guitar is actually more to do with your personal preferences. Why you are buying it is one factor are you a novice or proficient and looking for a knock around budget friendly guitar or a back-up that won't break the bank?
Pick up preference is a key factor different pickups pickup different frequencies resulting in various tone qualities each better suited to some playing guitar styles over others. You might want to have a nose through our pickup reviews as the buying guide is very informative which you can find here;
10 Best guitar Pickups to buy right now.
In this price range, you will probably see mostly only 3-way switching options.
Different tonewoods have a big effect on the natural original tone the pickups receive. Alder was a popular wood in the 50' and 60's and tends to still be a go-to for Fender and product lines modeled on Fender Strat or Telecasters. Sometimes they use Ash to give the higher end a better sustain but they can be dimmed in the mids. Alder is lightweight and provides a warm mids and lows but the highs are not so resonant as other wood options. Mahogany is another popular choice it is pretty neutral so gives a good balance across high and low frequencies. Lots of mahogany neck and bodied guitars have maple top accompaniment to compliment one another's tones. It was a go-to for Gibson with their Les Paul Jr and SG's
To avoid getting a bad deal, you will want to stick with a reliable brand and make sure you are buying from an official source for them. Notorious guitar brands all offer budget entry-level musical instruments, as well as their top of the line, ranges to make sure their brand is accessible to a wider clientele. Sometimes the price reduction equals building quality reduction but not always the bigger the brand the less they want to risk their reputation on a sub-par product produced elsewhere with their name on. However frequently they will subcontract the work to outside production facilities or subsidiary companies under their brand itself as in the case for electric guitars such as Squier (Fender).
Where to buy a cheap electric guitar online?
You can buy cheap electric guitars online directly from the guitar brands or from independent sellers on a variety of e-commerce sites. All of the 9 best cheap guitars we have reviewed here in this article are Amazon listed and we have provided all the necessary links. As with any online purchase, we would advise you to check the sources before you commit to buying as there are a few sellers masquerading as official dealers for well-known guitar brands who are operating fraudulently. They may be offering one heck of a bargain but it sure as hell won't be the real deal.
Can you get a good cheap electric guitar?
The short answer is yes! With constant technological leaps and companies working hard to redesign with smaller budgets in mind, the industry is a competitive hub of activity. There are countless models on the market for lower prices than ever before.
You would be forgiven for thinking a cheap guitar just equals a piece of junk. Once upon a time, a cheap import passed off as the real deal was every guitar players worst nightmare. These days with the majority of online buyers being relatively tech-savvy, so long as you do your research you will be surprised to find there are some pretty great options just a click away.
Of course a seasoned professional with the top of the range, high end, and boutique collections probably won't find as much merit in these budget-friendly guitars most are still pleasantly surprised with what is actually achievable and attainable will lower priced tonewoods and cheaper manufacture.
Some people have a very narrow view regarding where products are manufactured many shying away, or immediately moving on from a made in China guitar. It is fair to say China has a tainted reputation of producing some cheap and nasty instruments, but it is important to remember they are also a the forefront of cutting-edge technological advancements and high-end fabrication processes and produce some of the best electronics for most of the world. So it is no one some Top guitar brands are opting to produce their lower end models within their facilities.
It is advisable when shopping in the lower price range that you look around and really take some time to understand the specifications. Choose something reliable with great feedback regarding the craftsmanship, that has decent tonewoods and the pickups you prefer. Check multiple sources, watch YouTube demonstration videos (keep in mind the sound on videos is affected by many things) you should find something suitable.
As long as you keep an open mind and don't expect too much of a budget version you are going to get your money's worth.
What cheap electric guitar for a beginner?
If you are an adult beginner you will probably find any of the reviewed guitars above suitable as a practice instrument/beginner guitar. Smaller players may require and prefer something slightly shorter scale length, like one of these small neck guitars. We've also completed a review on our favorite electric guitars for beginners.
Yamaha is well known for producing some of the best affordable entry-level instruments specializing in student budget friendly instruments. Ibanez is also a great choice they make over 300 different electric guitar models and have a lot in the affordable price range to suit beginners. As a novice electric guitar player, it might be worth looking at a set of electric guitar strings more suited to a beginner see our 10 Best Guitar Strings in 2020 article.
Best budget electric guitar under $200?
From our review of the best 9 all fall below the $200 mark, The Squiers are both very popular options and have been first guitars for many budding musicians, they also come in packages with everything a starter needs for the price. The Ibanez GIO model is pretty great and the model from Dean has packed in a wide range of typically more expensive features.
If you are looking for the cheapest of the lot, it is the Ibanez GIO it is around 25% lower than it's competitors uses the same quality woods and comes with a gig bag and stand so is great value for money.
If you want something heavy and loud we say go for the ESP LTD EC-10.
Conclusion
The lower level price range is a thriving and very competitive one the companies are always trying to at least match if not out-do one another, this makes it difficult to discern the good from the bad. Sometimes the only thing they really differ on is their aesthetics because ultimately if there was a cheaper way to produce an electric guitar without compromising the sound they would be doing it already. So we have seen them reach an equilibrium where the majority of guitars at each price level don't really differ radically they offer the best available parts and construction for the given cost. At the end of the day be smart to keep your wits about you with regards to reputable sellers and look for a product which ticks all your boxes and maybe offers something additional to boot when compared with the rest.
Expert Tip
It might be worth checking out our Best Guitar Brands in 2020 article for a little extra info on the subsidiary companies and the budget lines provided by some of the worlds guitar manufacturing industry leaders.
Did You Know?
Guitar gear doesn't define the guitar player, many professionals have a sentimental connection with their first guitar and many greats started on a budget guitar.
If you've enjoyed this review by Music Critic, please leave a positive rating: