Originating from the volcanic islands of Hawaii the humble ukulele has seen a huge leap in popularity in recent years, so today we are reviewing the top 10 best concert ukuleles under $200, for a glance at what is affordably available.
The compact nature of a ukulele has a lot of appeal, its proportional portability makes it a viable alternative to a traditional travel guitar. It is for this reason that their popularity has risen so steadily and this has paved way to an abundance of models.
With many in mass production the overall costs have lessened.  Whilst a cheap ukulele can sometimes have flaws there are many companies out there who have mastered the art, and are providing perfectly adequate low-cost solutions.
At a glance:

Our top 3 picks
Our team's top 3 recommendations
Best Overall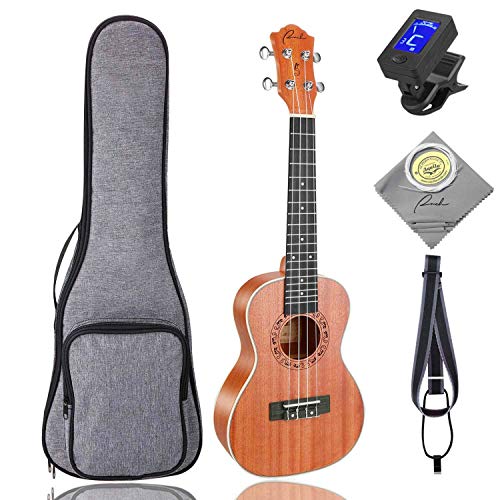 Ranch Concert Ukulele 23 inch Professional

Bundle buy.
Solid mahogany neck.
Beautiful treble end.
Premium Quality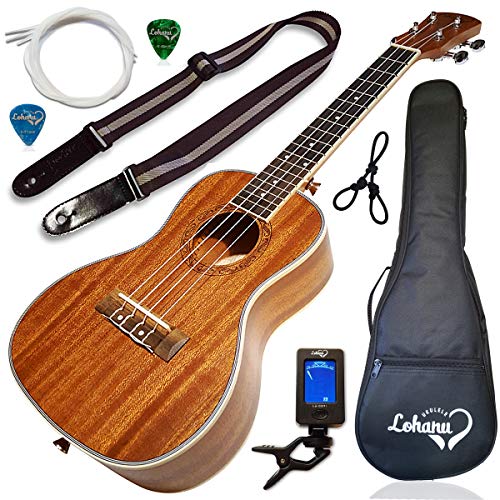 Lohanu Ukulele Concert Size Bundle

Bundle buy.
Solid mahogany neck.
Beautiful treble end.
Great value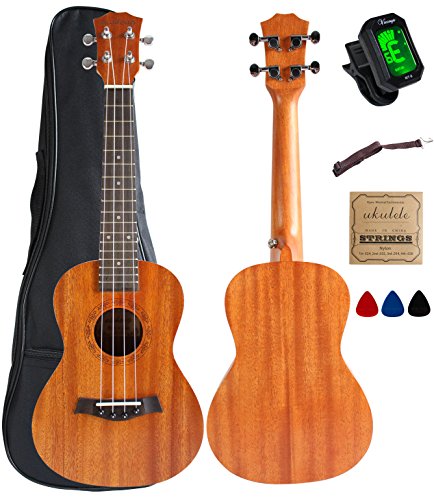 Forever Trustly Concert Ukulele Mahogany 23

Bundle buy.
Solid mahogany neck.
Beautiful treble end.
View The Best Concert Ukelele Under $200 Below
1. Ranch Concert Ukulele 23 inch Professional
We are starting todays review sections very fittingly with a great starter bundle by Ranch which adds value to the purchase by offering all the accessories needed to pick up a brand new hobby.
The bundle includes a perfectly sized lightweight padded gig-bag a digital tuner, which is a must-have item, a strap, some spare Aquila strings, and access to 12 online instructional lessons which we think is very thoughtful of the folks at Ranch.
It features a solid mahogany neck and headstock, the top back and sides are formed from sapele. Opting for sapele gives it a warmer tone, akin to a larger bodied instrument.
It is a full-size 23-inch concert ukulele and so has 15 frets on-board. The frets are housed on a beautifully smooth solid rosewood fingerboard, which matches the bridge.
The frets seem pretty accurately seated, it is easy to play at each end of the neck, they keep good intonation once the Aquilas have settled in. The lows are fairly deep for a ukulele, and the trebles ring out triumphantly.
Pros:
+ Bundle buy.
+ Solid mahogany neck.
+ Beautiful treble end.
Why We Liked It - It is a fab option for beginners and intermediate users alike, typically quality can be an issue in the lower price region but this holds good intonation and impressed us with its warmth and depth.
2. Lohanu Ukulele Concert Size Bundle
Next up is another affordable bundle ukulele pack this time with a branded cushioned Lohanu gig-bag, a strap to assist with playing your instrument whilst standing, a para-cord Ukulele hanger, 2 picks, a digital tuner, and spare Aquila strings.
Once again in direct competition to the first we reviewed it also comes with exclusive access to an online series of lessons, which start from beginner and feature many catchy songs.
The ukulele itself comes installed with 2 strap buttons so you can learn to play stood up from the get-go. It is once again concert sized, which gives it a bigger presence than your typical soprano ukulele and makes it a little easier to play as the fret spacing is a little more generous.
It is very similar in construction to the Ranch model as it utilizes the same tonewoods with a solid mahogany neck and headstock, and Sapele top, back, and sides. This is a great pairing as previously stated for a bigger and clearer sound overall.
The main qualifying difference between the Lohanu and the Ranch is that the bindings on this model are all hand-made and deluxe quality. The Lohanu is also strung with Aquila strings, which are considered one of the best in the industry.
Pros:
+ Good quality tone woods.
+ Great natural acoustics.
+ Handmade deluxe bindings.
Why We Liked It - This model is a little longer at 24 inches a better model for adult beginners.  It has good presence, ukuleles are generally considered quieter by the majority but this one really holds its own.
3. Forever Trustly Concert Ukulele Mahogany 23
Third on our list is this well-put-together Matilda concert model from Forever Trustly, which is adorned with a beautiful inlay surrounding the sound-hole.
It is competitively priced below the 50 dollar mark and also comes with a similar serving of accouterments, such as an essential gig bag, tuner, strap, and spare strings.
It features a solid mahogany design, with all parts barring the Indian rosewood fingerboard and bridge being made from mahogany.
It features silver chromatic tuning hardware like a traditional acoustic guitar to keep intonation as accurate as possible. The strings are again a decent set of Aguila's, the industry standard with idyllic properties for high tension short length string instruments.
The sound is very thick and resonant, the trebles are dulcet, it is easy to play and the 18 brass frets are well-positioned.
Pros:
+ Mahogany bodied.
+ Silver chromatic guitar tuning hardware.
+ 18 frets.
Why We Liked It - It is decidedly well-made for a budget friendly model. The tuners have a good grip and hold tension better than some cheaper models on the market. It plays well and has good presence and a pleasant tone.
4. AKLOT Concert Ukulele Solid Mahogany
Next we have another all mahogany model with a marginally higher price than the those we have examined so far in our article.
The extra cash gives you the pleasure of a solid mahogany top with rounded edges for better acoustics and a wider resonance thanks to the natural compression in the sounding board itself. The tones produced are purer and more wholesome than a pressure treated laminate alternative.
It is once again, a full-scale concert ukulele and the contours of the body provide a comfortable armrest when seated. The action is very low making it far easier to play and ideal for novices learning and has zero buzzes.
The rosewood fingerboard is supported by a strengthened solid mahogany neck with a reinforced join adding durability and longevity to your new pride and joy. The frets are formed with a proprietary wire method which is smoother to the touch and less aggressive to the nylon strings, keeping them scratch free, helping them to last longer.
The intonation is great the frets are low sunken to give new fingers an easier time and they are placed with good accuracy all the way up the neck. The tuning hardware is great quality, it features pure copper gears which are efficiently functional keeping pitch stable.
The model retails with a whole bunch of own brand goodies, a gig bag, picks, a tuner, spare strings, and a strap. Most notably they include an instructional guitar book along with their 30-minute QuickStart video lesson aimed at giving complete beginners a leg up.
Pros:
+ Solid top.
+ Low action.
+ Bunch of goodies.
Why We Liked It - It is a great example of what splashing a little more cash can give you.  The sound is fab, the shape is comfortable we like the detailed inlay and the action and harmonics are great.
5. Donner Concert Ukulele Mahogany DUC
Now for another all mahogany option this time very exceptionally put-together to a higher standard than is generally expected below the $100 region.
For starters, all of the African Mahogany used is carefully screened in person and left exposed to the air to dry naturally for 3 whole years before wetting and processing into a finely crafted instrument. The internal bracing is great and the ukulele is very structurally sound.
It is a full size 23 inch, 18 frets standard ukulele with a strong C-shape neck. It features good quality chrome-plated guitar-style tuning pegs which keep good intonation throughout playing once the strings have settled in properly.
The strings are carbon fiber another popular choice for ukuleles and violins also. The frets are brass and smoothed to make playing a little easier going.
It sells with a range of useful items which provide a beneficial way to buy all the gear you need to go with your first ukulele. Included in the bundle is a gig-bag which fits the instruments snugly to keep it shielded from potential knocks and drops. There is also a clip-on Donner digital tuner, a strap, spare strings, and 4 colored picks as well.
The Donner concert ukulele has good resonance and a very bright tone, down-tuned the G is impactive and the low chords sound far warmer and wider sonically.
They have an accessible price-tag and are available in 3 different colors each with a satin finish.
Pros:
+ Hand selected, air-dried African mahogany.
+ Good intonation.
+ Durable model.
+ Nice tone.
Why We Liked It - We are surprised by the length the company have gone to select only the best materials for the job.
We simply could not write an article on ukuleles without mention of a couple of Kala modes, so here is the first of two we are including today.
It is once again a full-size all–mahogany concert configuration, and it retails well below the 100 dollar threshold making it a highly viable option for the masses. It is brilliantly designed and executed as it should be, from a company which is one of the most notorious ukulele manufacturers worldwide.
The mahogany is carefully selected through a rigorous process much like the Donner above, you only have to hold this little guy to appreciate the quality craftsmanship.
The biggest difference between this model and the others we have highlighted so far is its fretboard, which is walnut and provides a lovely surface to lazily walk your fingers all over. It is a lot more comfortable to slide with, the low profile frets also help with maneuvering your digits about your ukuleles neck.
It is marketed as a starter model, and all the design elements we have mentioned lend a hand in keeping it easy to learn and play.
It comes with a tote bag to sling it in and access to an accurate Kala tuning/and learning App which is very forward thinking of them. The lessons can also be accessed online if you don't have an iOS device.
Pros:
+ Great quality construction.
+ Walnut fingerboard.
+ Low profile frets.
+ App assisted learning.
Why We Liked It - We love the App assisted learning, it is an awesome starter model.
7. Kmise Concert Ukulele Kit Vintage
Another mahogany model which is donned with walnut fingerboard and bridge like the Kala we just examined is this Vintage inspired concert ukulele by Kmise.
Its bridge has been uniquely shaped to make restringing a much simpler task as this model is once again aimed at those just starting out. Stringing an instrument can be a little daunting, but Kmise has provided links to online installation instructions.
Once the string has had a while to settle in, the stay in great key thanks to their 18:1 pure copper geared tuning pegs which hold the tension exceedingly well.
They come strung with a great quality set of D'Addario strings which are soft on fingers and have a good resistance and flexibility to work well under higher tensions put upon them by shorter necks.
It produces a well-balanced sound, but the high end really shines in our opinion.
It is a full-sized full-scale instrument which comes in 4 different colors with a whole host of bonus bits and bobs to cover all your needs.
Pros:
+ Vintage inspired look.
+ Trebles ring out.
+ Competitively priced.
Why We Liked It - The company has gone out of their way to provide a beginners model, the modified bridge and instructions for stringing are a nice touch.
8. Kala MK-C Makala Concert
This second model from Kala is from their classic Makala line, it is a quaint concert sized ukulele which again provides the same tone wood composition as the first model we wrote about.
It has a satin-finished mahogany top, back, sides, and neck and supports a walnut fingerboard laden with brass frets. They are placed with precision and unobtrusive to help extend the life of your nylon strings.
It measures 23 inches but feels a bit more spacious to play, giving larger fingers a little more room to walk about the board. It features real geared tuning mechanisms which maintain the tension much better than a traditional ukulele peg. They are 18.1 and made from chrome and copper making them very durable.
It comes with a bunch of Austin Bazaar gifts to make it the perfect starter-pack for those embarking on the journey of learning to play the ukulele. It also comes with access to 2 hours of online lessons which go from complete novice to entire songs to stick in our repertoire.
Pros:
+ Slightly cheaper than the other Kala model.
+ Same tonal woods.
+ Geared tuning hardware.
Why We Liked It - It is a slightly older model from their classic series, designed with beginners in mind, it comes with a range of goodies and is ever so slightly cheaper.
9. Luna Tattoo Mahogany Concert
We had trouble looking through Lunas Tattoo series to settle on a model to review. Functionally speaking they are well-manufactured and feature the same composition but their tattooed aesthetics make the decision tough.
The one we have chosen features concentrically laid out triangles that spiral into a gorgeous pattern on the soundboard and the triangle motif is also tattooed around the sound-hole itself. Aptly named the Shark Teeth model it is very eye-catching with its dark tattoo offset against is burnt orange all-mahogany body.
There are a whole host of different Hawaiian inspired designs (Honu, Mo'o, Maluhia) all very tribal in appearance and each stunning adding real charm to your instrument.
They all feature a simple, cheap rosewood fingerboard which has good fret-spacing. The tuning hardware is open-geared, they play well, have a fair amount of depth and come strung with a good set of Aquila's. They also sell with an instructional DVD, gig-bag, and tuner.
Pros:
+ Stunning aesthetics.
+ Tone wood composition.
+ Good intonation.
Why We Liked It - Though it is our highest priced Ukulele today we think the decoration is great, they sit just slightly over the 100 dollar mark and are no where near our 200 cap. It you are short on cash they also retail without the Austin bundle for below one hundred bucks.
10. Strong Wind 23in Concert Ukulele Hawaiian
Taking our final slot today is this Strong Wind model built with triple A grade mahogany. It is competitively priced and well-built and serves-up great resonant properties.
The fingerboard is good old fashioned rosewood the frets are set low ideal for portamento sliding and the action is comfortable.
It is another strong choice for a beginner and once again brings with it a bundle of useful items like the others we have reviewed.
It features strong chrome gears which are enclosed, they are finely adjustable and keep a good grip on the tension.
Pros:
+ Well-made.
+ Ideal childrens model.
+ Closed-gear tuners.
Why We Liked It - We like the shape of the top of the head stock it has a sweet understated charm, the interior paneling is beautifully constructed and the sound produced is very bright but not tinny.
Concert Ukulele Under 200 Buyers Guide
What Is A Concert Ukulele?
Some of the earliest ukulele models date back as far as the start of the 1800s, brought to the Hawaiian shores by the Portuguese in the form of a 4-string instrument they called the cavaquinho, or sometimes a machete.
It is said the Hawaiians were so impressed with how fast the players fingering was that they named it the ukulele meaning jumping flea.
Ukuleles are known and cherished for their infamous, twinkling treble tones and the brightness in the strumming of their sweet, island rhythms associated with a traditional or standard ukulele refereed to in professional terms as being a soprano model.
The register produced is dictated by the size of the instrument, namely the overall length, neck dimensions and fret scale and they are named in accordance.
Soprano models are the smallest, with an overall length of just 21" and a scale of 13". For many they can be found to be just too fiddly to get to grips with, due to their tiny frets - they are also much quieter.
The next size up from soprano is the concert ukulele, which for the majority is ultimately a better choice.
At just 3 inches larger they manage to project at a louder volume and the tones are richer. This is because whilst they are typically tuned with their strings at either G4-C4-E4-A4 or A4-D4-F#4-B4 exactly the same as a standard soprano ukulele, they can also be tuned with their G string one whole octave lower (G3). This is what gives it a more impressive depth than the soprano model and produce higher decibels.
Their fingerboards are, generally speaking, far more accommodating as well as they usually have a scale of 15" with a total length of 23 or 24".
A concert ukulele is the most commonly sold type of ukulele on the market.
What to look for in a Concert Ukulele Under $200?
Generally speaking, we have to spend a little more for better quality and it is true that cheaper ukuleles tend to be made a little less accurately where the frets are concerned. This means that the intonation degrades as you venture along the fingerboard.
There are however plenty of companies that care about making affordable ukuleles without sacrificing on the quality, so considering its construction really is key.
You want to look for good tonewoods, in the lower price region, this will typically be cedar, koa, mahogany, rosewood, and spruce.
Mahogany is featured on the majority of models we have looked at today it has good durability and offers warmer tones with its natural resonance, spruce tops are brighter because they vibrate more.
Conclusion
With a budget in mind, we have chosen to stick to comparing similarly low priced models so that you can better understand just what each brings to the table.
In the budget regions models really don't tend to differ a whole lot as you will have seen here today, it is not until we sit well over today's budget that you see anything truly special.
Many of those we have included today are actually bundle deals which come with a range of handy accessories making them a valuable purchase for those with no kit or just starting out.
We hope today's comparisons along with our detailed buyer's guide will sway a few kindled minds into trying out a ukulele for themselves.
Expert Tip
If you intend on performing you will need amplification, this can be achieved by playing in front of a mic or installing a pick-up in your ukulele. A better solution is to invest in an electric ukulele which is surprisingly economic in modern times.
Did you Know
The bass ukulele is a pretty recent hybrid instrument imagined by the folks at Road Toad who collaborated with Kala in 2007 to create the U-Bass and many other companies soon followed
If you've enjoyed this review by Music Critic, please leave a positive rating:
[vc_separator