It isn't often that new or hybrid instruments privately developed get catapulted into the mainstream market but in this review, we are exploring the 10 best bass ukuleles in 2023 for a glance at the innovative bass you can backpack with.
Once just a rumored novelty and now a reality, these small guys have a separate identity all of their own.  Nothing like their treble-touting twangy, traditional ukulele forefathers and far more rhythmic and percussive than your typical electric bass, they truly have a sound of their own.
They have many advantages over a standard bass guitar and they cover a much lower register than even a baritone ukulele.  Their appeal in recent years has become less of a case of curiosity, propelling them to the status of a popular new instrument.  With any new product comes a series of questions which we have aimed to answer in the form of a buyers guide below todays reviews.
At a glance:

Our top 3 picks
Our team's top 3 recommendations
Best Overall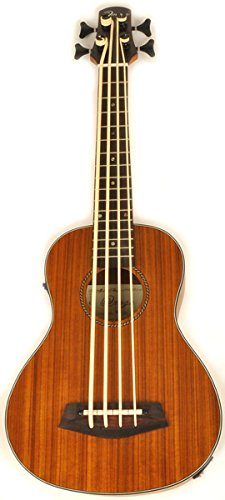 Hadean Acoustic Electric Bass Ukulele

Reasonably priced.
Durably built.
Hollow bodied.
Premium Quality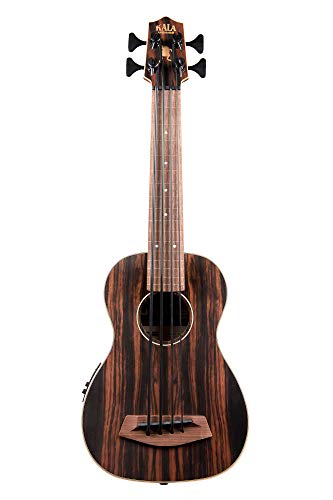 Kala UBASS-EBY-FL Striped Ebony Fretless U-Bass

Reasonably priced.
Durably built.
Hollow bodied.
Great value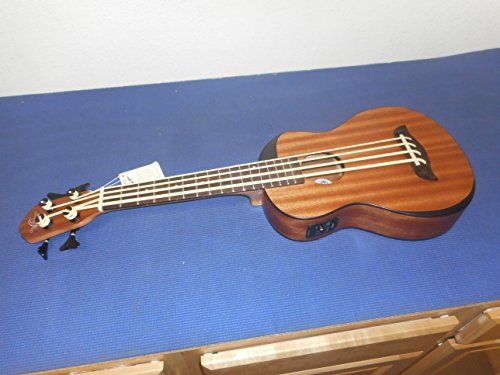 Oscar Schmidt Comfort Series Bass Ukulele

Reasonably priced.
Durably built.
Hollow bodied.
View The Best Bass Ukelele Below
1. Hadean Acoustic Electric Bass Ukulele
Leading our listings today is a well-crafted competent contrabass model, which shares many characteristics with a traditional bass.
For one, this electric ukulele is tuned to the same notes in the same octave as a regular basis (EADG) but its notable size reduction (just 29 and ¾ inches) gives it a baritone ukulele stature, making it more lightweight and portable.
It is hollow-bodied like an acoustic bass and features a familiar dreadnought shape. Its body has a good natural resonance and is constructed totally from walnut wood.
It is fitted with a pre-amp for connecting to an amplifier, the pre-amp is also fitted with a tuner, and it comes with a set of Nylgut high-density Aquila strings.
Pros:
+ Reasonably priced.
+ Durably built.
+ Hollow bodied.
Why We Liked It - It really is like a miniature bass guitar, it makes for a good transition instrument if you already have bass playing experience.
2. Kala UBASS-EBY-FL Striped Ebony Fretless U-Bass
Now for a fret-less model from Kalas U-bass line which helped kick-start bass ukulele design. It is a hollow-bodied, highly-versatile model offering acoustic and electric playing option. It is crafted totally from high quality striped mahogany, with the exception of its walnut fretless fingerboard. The striped shading of the ebony grain is definitely aesthetically pleasing.
It features Shadow U-Bass NFX electronics, which enhance the low register sounds for optimal tone and provide active equalization. It has a built-in electronic tuner and the tuning mechanisms are custom built 'Hipshot Ultralite' tuners.
It is 20.375" scale length with 16 frets, although obviously, these are unmarked as it is a fretless model.
Kala have thrown in a padded gig-bag which is a nice touch.
Pros:
+ Fretless.
+ Shorter scale.
+ Premium build.
Why We Liked It - It is a well crafted and highly refined iconic instrument from the original inventors of the first ever bass ukuleles.
3. Oscar Schmidt Comfort Series Bass Ukulele
We have reviewed a variety of Oscar Schmidt guitars which play beautifully and their comfort series bass ukulele is no exception. Their recent branch out into bass-ukulele territory in our opinion is a great move, it has an upright bass tone which has a deceptive presence.
It too features a mahogany top, back, and sides and delivers great resonating sound. It features a top-notch pre-amp which harbors a handy tuner and volume controls.
The comfort series as the name suggests is designed with comfortable playing in mind, they come with a rosewood comfort rest on the lower bout, which helps to take away some of the tension on your forearm and a partial cutaway to make accessing the highest of the 16 frets less awkward.
It has a rosewood fingerboard with dotted inlays and comes adorned with a set of Aquila nylon bass-uke strings.
Pros:
+ Solid topped.
+ Cutaway body.
+ Comfort rest.
Why We Liked It - It plays remarkably well, the cutaway body makes life a little easier and it rests on the lap better for casual jamming.
Back to Kala for a look at a more affordable U-bass model. It doesn't offer the premium tuning hardware as the first and the electrics aren't quite as sophisticated but it is a fantastic model within a more graspable price bracket.
It has a familiar dreadnought-shaped body which gives optimal acoustic projection bouncing and funneling sound to the sound-hole. It is bestowed with the same all mahogany construction as its flagship kin and features the same smooth walnut fingerboard this time with marked frets and dotted inlays to guide your playing. It has the same scale neck length and number of frets.
It is equipped with a UK-500B Piezo pickup for the great response, which allows for active equalization. It also bears a built-in tuner to keep intonation in tow with its custom black die cast tuning hardware and comes with a complimentary padded gig-bag.
Pros:
+ Affordable price.
+ Piezo pickup.
+ Hollow bodied.
Why We Liked It - It is a slight step down from the previously reviewed model, but serves up superb sound and harbors some high end tech.
5. Hadean Acoustic Electric Bass Cut-Away
Another Hadean contrabass-ukulele model worth a look at is this Cut-away design acoustic-electric model. It has the same price as the first model reviewed and indeed shares many of the same features but it's body style is preferable to many as it allows for better access to the higher notes on your fingerboard. Having easier accessibility gives players a better range to play with and ultimately allows for more dynamic bass runs and riffs in the long-run.
It is constructed with high-quality walnut and features a built-in adjustable truss-rod and a neck integrated tuner. The pre-amp offers volume control as well as 3-band EQ adjustment.
It like many of those we have ogled at sports a set of high-density Aquila Nylgut strings with optimal gauged stability and accurate fret intonation.
Pros:
+ Competitively priced.
+ Cutaway body.
+ 3-band EQ.
+ Fine-quality construction.
Why We Liked It - It has a lovely tone even without amplification although it is on the quieter side.  The 3-band equalization when plugged in gives a good range of tone coloration to explore.
6. Kala UBASS-JYMN-FS Journeyman Acoustic-Electric
Now for something a little more stunning from Kala a company who have the bass-ukulele design so perfected they can afford to expand their range with a few more flourished designs. This gorgeous instrument features f-holes reminiscent of an upright bass. Despite it not being and arch-top it resonates in the same distinctive but natural way as a violin or cello or any other stringed instrument employing an f-hole.
The body has a curvaceous binding and a Venetian cutaway. The mahogany neck is 20.875" scale and is also decorated with a cream binding that is easy on the eyes.
The Journeyman features a UK 500B Piezo pick-up like the Wanderer model which allows full equalization control as well as volume level and gain. Like the others, it comes with a suitably sized padded gig-bag.
Pros:
+ Piezo pickup.
+ Good-looking.
+ Beautifully crafted.
Why We Liked It - The f-holes give is a lovely warm depth it sounds great with an analog tube amp, and the aesthetics are undeniably appealing.
7. Hadean Acoustic Electric Bass Ukulele UKB
Back to Hadean for their bare bones model, which comes in slightly lower than the others we have listed.
This model is constructed from swamp ash, which is a good tonewood that has a great acoustic quality as well as being cosmetically eye-catching. It is also far more lightweight, this model weighs under 4lbs.
Again it is a contrabass model which is tuned as a typical bass guitar and makes for a good transition from or to a regular electric bass. It features a built-in truss rod for control over the action. It has great intonation and is fitted with a pre-amp with user-friendly dials for fully adjustable control over the bass middle and treble blending, and an all-important LCD screen tuner.
It plays at intimately audible volume acoustically and springs to life when amplified. It is easy to play and comes already strung with a finger-forgiving set of Nylgut Aquila strings.
Pros:
+ Contrabass ukulele.
+ Truss-rod.
+ 3 band EQ.
Why We Liked It - It offers a lot for the low price, making it good value for money and the as is lightweight and pretty to look at.
8. Fretless Electric Acoustic Ukulele Bass
Next up we have on offer what may be the lightest of the bunch so if portability is a factor for you then this one might just win you over. It is a good value for money budget model which plays acoustically or electrically.
It bears no well-known brand and boasts no high-end features but The folks at Alston have managed to provide a perfect fit for function, accessible solution for those searching for a fret-less bass ukulele that won't break the bank.
It serves up 16 notes on each of its 4 strings, each unmarked for the smoothest bass slides ideal for more intuitive, experienced players. The fretless fingerboard is Indian rosewood, as is the bridge and saddle, but the neck itself is satin butterfly wood. The body, back, and sides are also crafted with from the same exotic composite wood, with its veritably striking visage.
It weighs just 2lbs, and its lack of a solid top doesn't compromise its rich amplified tone capabilities.
It is once again kitted out with a set of Aquilas best-selling bass ukulele strings, has a pre-amp with 3-band EQ controls and volume levels as well as a built-in tuner like all of its competition.
Pros:
+ Friendly budget model.
+ Lightweight.
+ Fretless option.
Why We Liked It - Bass-ukuleles is a far less saturated market than most, it is nice to see competitors venturing out of the woodwork. This model plays suitably well and whilst it doesn't compare to the high end Kala which has won our hearts, it is more a more realistic solution for those keen to have a dabble without parting with too much cash.
9. Kala Rumber U-Bass Acoustic Electric
Over to our final offering from Kalas extensive range of bass ukuleles their recently added Rumber model, fresh out of fabrication but quickly becoming another of their best-sellers.
It is a groundbreaking short scale bass, a contrabass-ukulele model that benefits from Kalas unique experience in the fledgling field of bass-ukulele development.
It is economically priced but provides next level quality as it harbors some of their most refined custom-engineered, cutting-edge electronics. The proprietary pre-amp system utilizes a crystal piezoelectric pickup equipped with active equalization and an integrated chromatic tuner.
It features a solid mahogany top, with high-grade laminate mahogany back and sides that curve to form a familiar dreadnought shaped body.
It is laden with a set of Silver Rumbler strings which are designed by Kala and manufactured by Aquila exclusively for Kala U-bass models.
Pros:
+ Fab sound.
+ Proprietary strings.
+ Cutting edge pre-amp electronics.
Why We Liked It - It is one of their newest models feature some fantastic upgrades to its pre-amp system and it is decked out in an exclusive set of strings which have a great tactile response.
10. Luna Uke Bass Koa Bari-Bass Ukulele
Our last item to look at is a competitively priced model from Luna, who are making a good name for themselves as far as their affordable guitars are concerned.
It is dreadnought shaped and crafted from Koa, a very popular wood choice for ukuleles which is being utilized heavily in guitar making nowadays. It is a good tonewood which is very lightweight and cheaper material in general which helps to minimize the overall costs to let companies produce products with a more manageable outlay.
It features a mahogany neck, the fingerboard is walnut and it is 20.2" scale. It features a Fishman Clasica II pre-amp that supports 3-band EQ and a built-in tuner. It is strung with a set of Aquila strings and comes with a bonus gig-bag.
Pros:
+ Lightweight (2lbs).
+ Built-in tuner.
+ Great pre-amp.
Why We Liked It - It has good action and is easy to play, the Fishman Clasica II pre-amp is pretty awesome as it has been specifically designed for optimized use with nylon strings and comes with a Sonicore Classical pick-up.
Bass Ukulele Buyers Guide
We have broken our buyers guide down into a few easy to digest questions, as bass ukuleles are a somewhat uncharted territory there is a bit more to cover than in other articles.
What is a Bass Ukulele?
A bass ukulele is a relatively modern instrument inspired by traditional ukuleles and bass guitars.  The idea was first conceived by a small company known as Road Toad when the founder Owen Holt designed his Bufo Bass.  It was incredibly popular but the costs were far out of what the average salaries reach.
Road Toad decided to team up with esteemed ukulele manufacturers Kala in 2007 to produce a more practical affordable solution.  Together they created the U-Bass which is probably still one of the most recognizable bass ukuleles ever made
Why is an Amp Required With a Bass Ukulele?
A bass ukulele has been designed with amplification in mind and whilst some hollow-bodied models can play acoustically, they truly sound their best with an amp.  This is because to capture resonate and project the vibrations of the strings of bass you actually need a bigger body, something which a ukulele inherently doesn't have.  Which we will explore further throughout this guide.
What Are the Different Size Bass Ukuleles Available?
Bass ukuleles are typically the same size as a baritone ukuleles (around 30-32" in overall length).
There are two types of bass ukulele sizes; standard, which is tuned E-A-D-G like a regular bass except for one octave higher and the slightly bigger contrabass ukulele is tuned exactly the same as standard bass tuning.
How Do You Select the Right Bass Ukulele Body Type?
They can be solid bodied (like an electric bass) or hollow-bodied (like a ukulele or acoustic guitar).
Deciding which body type you want boils down mainly to your requirements and preference.
A solid bodied bass ukulele cannot be heard without amplification anymore than an unplugged electric bass guitar can.  If you want to have the flexibility to play without an amp around you might want the versatility of a hollow body.  It is important to recognize that the models have been designed with electric amplification in mind and that they won't always sound their best without, although the Kala models are pretty impressive when played either way.
Within each body, type category comes a number of different design shapes.  Solid body models vary like a regular bass guitar.  Hollow models typically feature dreadnought or cutaway acoustic guitar shapes, but can also come in figure-of-eights, paddle, and pineapple, like a traditional ukulele.
Are Bass Ukulele strings different to other string instruments?
Simply put yes, in general, bass strings have to be tuned to a lower register than a guitar, the strings are typically thicker and also under less tension, sometimes the necks are longer (and therefore the string too).
None of these key bass factors work on a ukulele sized instrument, the fatter strings sound dead and lifeless, you can't elongate the neck and the tension can't really be reduced or the strings become to loose to pluck.
The way around this is for the strings to be denser rather than thicker, there are a couple of main types on the market some being high-density polyurethane composites with nylon cores, whilst others are metal wound like your usual bass guitar strings.
What is Better Between Frets Vs Fretless Bass Ukuleles?
Once again this is a factor that boils mainly down to individual preference.  Frets can be a great assistance for inexperienced players to learn to play without looking at the neck of their instrument constantly and are pretty much invaluable to someone starting out on a stringed instrument.
If you have some previous guitar, bass or ukulele experience you might like the liberated surface of a fretless model.  Some players honestly feel what they are playing, their instruments simply an extension of themselves.  Fretless models become a great choice for them, they allow for more freedom of movement around the neck but of course, you have to be fairly disciplined and have a good natural pitch.
How do you Choose the Best Bass Ukulele?
There is no magic formula for choosing the best bass ukulele, it really is a rather unexplored instrument and with only around a decade of small scale production, there is still a lot of room for development.
Seeing as though it is early days for the bass-ukulele and that the original proprietors dominate the top end of the market, the majority of the products on the market at the moment don't differ too heavily from one another.
The competitive companies are all modeling themselves on the Road Toad/ Kala partnership vanguard instruments.  They might not have the design concepts down as well a the flagship models but they are more accessibly priced.  Some of the more well-known guitar manufacturers who are turning their hand to bass ukulele designs are able to serve up enhanced pre-amp circuitry that rivals the products of their progenitors.
We would advise that you simply choose it like you would any other similar instrument.  Go for the best tonewood your money allows for opting for quality above all else, do plenty of research and know what you want out of it.
What is the Best Bass Ukulele?
It is tough not to sound biased but the Kala models we have looked at today really are benchmark bass ukuleles.  From today's reviews, we give the prime position to the Journeyman with its unique f-hole design and easy access cutaway and general good looks, though it is on the pricier side.
The Oscar Schmidt plays nicely and is exceptionally well-crafted and will make for an adorable alternative if you can't stretch to a Kala model.
Conclusion
If you are thinking about taking a punt on a bass-ukulele, we think today's reviews have got you covered.  The Hadean range provides a reasonably priced set of options and their contrabass nature means they sound the same a bass guitar and are ideal for transitioning between the two in either direction.
If you have the luxury of a little more cash at your fingertips, then you can't go wrong with a Kala model, they sound superior, are beautifully designed and as they are ahead of the game come in a vast range of styles and cater to many more preferences.
As ever, we hope our reviews and buyers guide, serves as a useful tool to arm you with all the info you need before you commit to your first bass-ukulele.
Expert Tip
A standard bass ukulele has a much brighter sound because it is tuned an octave higher than an electric bass guitar, it is therefore like playing the upper frets of your bass and can produce some great pitch harmonics to play with.
Did you Know
Inventors of the innovative bass ukulele Road Toad make their own proprietary sets of strings perfectly suited to bass ukulele use their Pahoehoe dreads set are one of their best-sellers.
If you've enjoyed this review by Music Critic, please leave a positive rating:
[vc_separator