What's your worst nightmare when it comes to headphones? Losing them? Breaking them? Spontaneous explosion? Or is it having no bass? If you've got a set of headphones that don't have a low punch, you're missing out massively on the sound quality you're intended to hear. Good bass quality brings the sound together in a harmonious way that satisfies the soul.
We've come up with a list of the ten best bass headphones after testing many different types. To help give you a better idea of what to look out for when you're buying a pair of bass focused headphones, give our list of ten best bass headphones and our buyers guide which follows.
At a glance:

Our top 3 picks
Our team's top 3 recommendations
Best Overall
Sony MDRXB55AP Extra Bass

12mm Drivers
Bass Duct
Tangle-Free Cord
In-Line Remote
Mic
Premium Quality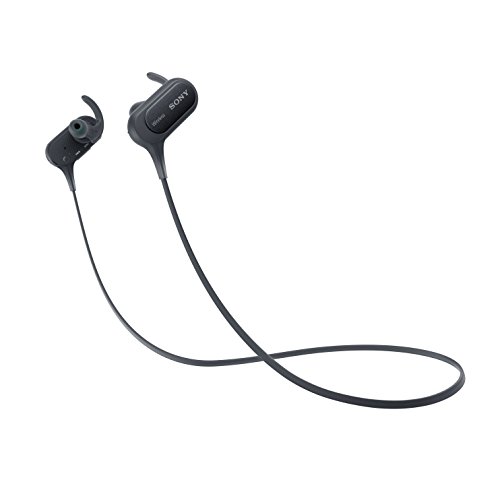 Sony Extra Bass Bluetooth

12mm Drivers
Bass Duct
Tangle-Free Cord
In-Line Remote
Mic
Great value
Sony WF-XB700

12mm Drivers
Bass Duct
Tangle-Free Cord
In-Line Remote
Mic
View The Best Bass Earbuds Below
1. Sony MDRXB55AP Extra Bass
Top of our list is an excellent product from Sony. These bass-heavy earbuds are affordably priced, while also delivering ample durability to ensure that they last you a long time.
They're wired earbuds, which have a tangle-free cord. On the cord, there's an in-line microphone for voice calls, as well as a remote that can be used for skipping tracks, pausing, playing, and for answering or ending calls.
The key attribute of the earbud headphones is the sound quality. The 12mm neodymium drivers inside each earbud deliver a huge amount of power. The sound quality is impressive too. The low end is where this product performs best, though, which is because it features a powered bass duct.
These earbuds also come with a handy carry case, as well as four tips, so you can choose a pair that offers you the best comfort.
Pros:
+ 12mm Drivers
+ Bass Duct
+ Tangle-Free Cord
+ In-Line Remote
+ Mic
Why We Liked It - Sony promises a pair of great headphones with punchy bass, and that is exactly what they deliver. For anyone on a budget who wants big bass and crisp highs, then this product is highly recommended. An excellent set of Sony earbuds.
Use Case - While bass earbuds can be great, they're not the best pick for production or mixing. Creating music while wearing bass-boosted earbuds can distort your perception of the mix, potentially leading you to leave out low frequencies sounds that hold your mix together. Another option is to find a pair of headphones or earbuds that has a built-in EQ. This way, you can boost the bass when needed but toggle it off when you're looking for a more even sound.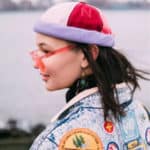 2. Sony Extra Bass Bluetooth
If you want the energy that comes from extra bass but don't enjoy having a cord dangling, you'll love the Sony Bluetooth version of extra bass headphones. These are a pair of neckband headphones where the wire connects the two earbuds and hangs behind your neck. Like the previous pick on our list, they have 12mm drivers that bring the noise.
They have one-touch NFC pairing which is really convenient to have them synced with your phone or device. The battery will last for up to 8.5 hours of playback time. The earbuds have a built-in microphone for calls and voice commands.
They have an IPX4 sweatproof rating, which is not as high as it could be, but it will offer some protection against the elements. These headphones are more convenient for people who are looking to be more active and have more freedom of motion. Athletes and business people alike will love them.
Pros:
+ 12mm drivers
+ Bluetooth connectivity
+ IPX4 Sweatproof
+ 8.5-hour battery
Why We Liked It - Great for workouts and staying active. The bass is really great in the earbuds along with the mids and the treble coming through cleanly. They are really pleasing during a workout with the extra bass. You can really feel the beat and tightness of the music with the 12mm drivers.
If you're looking for a premium product that's made by a reliable brand, then you can't go wrong with these wonderful, true wireless earbuds from Sony. They deliver exceptional sound quality, a comfortable fit, and a stable, Bluetooth connection.
Often, true wireless earbuds can fail to offer a powerful sound, especially on the low-end, because of the restrictions in size when it comes to drivers. Sony has counteracted this by including Extra Bass technology in these earbuds. This helps to create powerful, rich bass, which is highly impressive.
As they're wireless, then they need to be charged, but you get a whopping 9 hours of playtime from a single charge with this product. They also come with a charging case that provides you with an extra 9 hours of playtime.
These earbuds have been designed with ergonomics in mind. This provides you with a comfortable, stable fit, which will stay in place even if you're exercising.
Pros:
+ 9 Hours of Playtime
+ Wireless
+ Extra Bass Technology
+ Charging Case
+ Comfy, Ergonomic Fit
Why We Liked It - This is a premium, high-quality product that delivers a huge amount of bass, despite being completely wireless.
Figuring Out Your Needs - Don't forget to consider the use case of your bass earbuds. Will you be wearing these at the gym? While in transport? During casual listening sessions? Each of these applications has its own set of factors that should be considered. For example, if you're planning on working out with these earbuds, you'll need to prioritize sturdiness and water resistance. Determining your use case ahead of time can help you find the perfect fit without emptying out your wallet.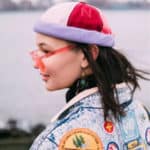 4. Audiophile Elite Earbuds
Extra bass is definitely a covetable characteristic in earbuds. You get just that with the Audiophile Elites as well as sound isolation. That way you can block out the extra noise and focus in on what you want to. The premium sound quality comes through dual drivers with 16-ohm impedance technology.
The frequency range available is 5Hz to 31,000Hz which goes beyond what the human ear can even hear. You also get up to 118 db for when you really want to turn up the sound. Talk about going over and above. They have multiple tip sizes to fit people with different sized ears for maximum comfort. They offer you excellent wearability matched with beautifully rich sound.
Pros:
+ Extra bass
+ Versatile in comfort
+ Extra frequency ranges
+ Clear sound
Why We Liked It - They sound quality is just fantastic. That'll be the standout feature of these headphones. When you compare them to headphones that cost much more than they do, they stack up really well in terms of deep bass and treble clarity. They are wired so you never need to recharge them. Not ideal for working out, but they'll still do the trick when you need them to.
The sound comes through in a stereo format with that extra bass punch you want. Along with the deep bass, you get rich sound detailing. They have a really great design, resembling a microphone in many ways. Sound-isolation will bring even better sound with no interruptions from outside noise.
9.2 mm neodymium drivers deliver the sound to you in perfection. They come with a built-in microphone for calls and commands. Silicone memory foam ear tips offer the highest level of comfort, and they also come along with a carrying case. 3 sizes of ear tips are included for comfort versatility.
Pros:
+ Superior comfort
+ Detailed sound
+ Extra bass
+ Built-in Mic
+ Memory foam ear tips
Why We Liked It - The superior comfort is impeccable along with the fantastic sound. The extra bass comes through perfectly with the 9.2mm drivers. Great for listening to detailed music or movies that need that extra bit of emotion.
These headphones are no-joke, whether you're using them as your main headphones or a pair of backups. When you take them out of the box and pop them in your ear, the extra bass is immediately apparent. If you're not used to it, you may even think they are too bassy. That sound is amazingly crisp and clear and really accent the music in a superior fashion.
The buds provide soft comfort with multiple tip sizes and noise-isolation to keep out the unwanted sound. For sports use or everyday listening, they are very versatile. They also come with a built-in mic for calls and voice commands. Compatible with all major device types.
Pros:
+ Super punchy bass
+ Extra comfort
+ Noise-isolation
+ Built-in mic
+ Economic price
Why We Liked It - That extra punch hits you right away with the bass frequencies. It really adds to the listening experience in a way that you're not used to if you haven't listened to bass headphones before. The sound is incredibly crisp and clear with high-end glitch reduction technology.
7. GoNovate Airo Wireless Earbuds
Do you want that extra bass along with the convenience of wire-free technology? GoNovate will deliver what you want. Bluetooth 5.0 offers the best in Bluetooth technology for excellent signals and fewer drops or skips. They are great for sports with anti-sweat features and a secure fit. They have a unique "shark fin" style design which helps them stay right in place. They have CVC6.0 noise-reduction to keep the good stuff right where it needs to be.
They are built with a composite diaphragm material which is responsible for 3D stereo Hifi sound. The battery will allow you to listen for 6 hours uninterrupted which is really convenient for picking up and going. The charging case also gives you an additional 30 hours of battery life. A built-in mic and button control on the outside of the earbuds offers you control over calls and music navigation. They also have waterproofing technology for resistance to sweat during a workout or in the saunas.
Pros:
+ Superior bass sound
+ Bluetooth 5.0
+ 6-hour battery life
+ Excellent comfort
+ Charging case
Why We Liked It - As far as convenience and comfort go, these are some of the best bass headphones you will find. They have superior sound and maneuverability. For a workout, they are perfect because of how lightweight and comfortable they are. The extra bass sound really brings the motivation when you need it the most.
8. TOZO T10 TWS Bluetooth 5.0
Tozo budget true wireless Bluetooth headphones are a fantastic pair of extra bass earbuds. Bluetooth 5.0 technology is the strongest you'll find and gives you excellent signals for calls and music alike. For in-ear bluetooth headphones, the bass comes through extremely well via 8mm drivers in the small earbud casings.
They are incredibly easy to connect as they pair to each other as soon as they are taken out of the case, and a one-touch pairing on the phone is super fast and convenient. The waterproofing is really impressive. They have an IPX8 waterproof rating which allows you to take them 1 meter deep in water for up to 30 minutes. That's a really strong nano-coating to give you that capability. The battery life allows you to listen for 3.5 hours with an additional 9 in the charging case.
Pros:
+ Superior waterproofing
+ Deep bass
+ Bluetooth 5.0
+ Crystal clear sound
+ Great comfort
Why We Liked It - They are a really great pair of comfortable bass focused top-quality true wireless earbuds. One of the best workout headphone pairs you will ever find. You can do hot yoga with them on and take a shower afterward and still have the peace of mind to know they will work. The superior sound will impress any listener as well.
9. Mpow Flame Waterproof Bluetooth Headphones
We love the Mow Flame headphones. They always deliver on quality in sound and comfort. With an IPX7 waterproof rating, they are another great pair for workouts. They have a wire that hangs behind the neck and doesn't dangle down the front of the body. The tuned driver and CSR chip give exceptional bass quality and rich clear high-end frequencies.
Bluetooth 4.1 offers a strong signal for fewer dropped calls and music skips. Memory foam ear tips and ear-hooks all come together to bring the listener extra comfort along with the heightened sound. The battery will allow you to listen for 7-9 hours after a 1.5-hour charge up. A great pair of headphones for people being active or if you prefer to have a versatile pair around the house.
Pros:
+ Bluetooth 4.1
+ 7-9 hour battery life
+ Supreme sound-quality
+ Customizable comfort
+ IPX7 sweatproof
Why We Liked It - These headphones are one of the most versatile pair of earphones you will find. For extra bass headphones, they provide the intense sound that you want whether you're working out, just listening to music and watching movies.
10. 1More Triple Driver In-ear
These wired headphones have a great style to them and have three separate listening drivers. The superior, rich bass quality comes from two balanced armatures and a third dynamic driver. They have tuned the earbuds with a Grammy award-winning producer and sound engineer to ensure tightness and accuracy of sound.
They are perfectly comfortable with multiple ear tips to fit different sizes. Of course, they offer in-line button control and a mic for calls. Great pair of headphones that are perfect for listening to high-quality music and watching movies.
Pros:
+ Precision tuned sound
+Thumping bass
+ Extra Comfort
+ Three drivers
+ Mic and button control
Adapters - Many of these earbuds aren't optimized for use with Apple products. Keep in mind that you might have to purchase an iphone dongle for your earbuds of choice, and factor that into your budget.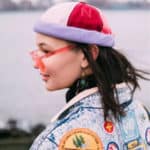 Bass Earbuds Buyers Guide
What to look for when buying bass Earbuds
With so many amazing options to pick from, narrowing down your pick can be a little more difficult. All of our picks offer superior bass and fantastic all around sound, but that's not all you need to keep your mind on. On top of that, things like comfort, durability, wireless/wired technology are all important. Among other things, you want to make sure all of your bases are covered.
We hope this buyers guide will provide you with a little guidance in terms of what to look out for. We want to make sure you are getting the product that is perfectly tailored to your specific needs.
Sound Quality
Since you're buying bass specific headphones, the most important factor will be the quality of the bass and sound. While all bass headphones come with the added boost, some of them will have better overall sound tuning and precision. Different sized drivers and variations on things like noise-cancellation will alter the sound in many ways. With extra noise-cancellation, you tend to get more focus on sound quality without the outside noise.
Along with the bass, you want to make sure that the mid and high range frequencies are going to come through in a crisp manner. All bass headphones will be great for music listening and movie watching, but may not be necessary for podcasts and e-books. However, you may get a more pleasing tone out of the voices with enhanced bass sounds.
Durability
The last thing you need is to have your earbuds break or wear out soon after you buy them. All of our environments are different and no two situations are the same. Nonetheless, you want to have the peace of mind that you get from a durable set of headphones. If they are made cheaply, then they will be much more likely to break and cause unwanted hassle and headaches.
If you're able to take your headphones on a rigorous workout without worrying about sweating too much or ruining them by dropping your earbuds, you will be all the more pleased with your purchase. Sweatproof ratings and waterproofing go a long way in protecting your earbuds from unnecessary damage if they are dropped in water accidentally. Make sure to pick up a pair that is durable enough to stand up to your everyday tasks.
Connectivity
Do you need to have wireless earbuds with superior Bluetooth, or can you settle for a pair of wired headphones? The nice thing about wired headphones is that you never have to charge a battery to listen. However, you also don't get the convenience of being totally wire free. Bluetooth 5.0 will offer you the strongest connection possible to result in a more seamless listening and talking experience. If you're an active listener, then wireless earbuds are the way to go.
Having no wires in the way when you are lifting, climbing, and running makes it so much more convenient. How many times have you pulled your earbuds out of your ear by accidentally snagging the cord? If you're more of a "stay at home" listener where you do not need the maneuverability that wireless headphones bring, a wired pair will do just fine and will still provide you the sound necessary for your listening pleasure.
Comfort
If you have a pair of comfortable headphones, then you won't feel the need to take them out when you get too tired of wearing them. The comfort level adds to the convenience of not needing to switch to another set of headphones. The comfort level you should shoot for is one that has you almost forgetting that the headphones are in your ears, if not for the amazing sound coming through them.
More active listeners will benefit from earbuds with a specific stay in place technology so they are not moving around mid-activity. If you're watching movies at home or on a plane, the earbuds should sit perfectly inside your ears without any discomfort. The more comfortable your earphones are, the longer you will hold on to them.
Warranty
In case of any unwanted or unexpected problems that may arise, be sure that the headphones you buy have a solid warranty you can rely on. You'll want the ease of exchange if there is a manufacturer defect at all. Sometimes, that does happen and the headphones don't quite work the way they are supposed to. The extra peace of mind you get with a good warranty is worth it. You should be able to easily exchange your headphones for ones that work the way they are supposed to with no hassle.
Conclusion
Are you ready for the bass? It's time now to pick out your favorite and give them a try. With the best bass headphones, you'll experience the true nature of what music can be in all of its glory. The extra bass boost will drive motivation deep into your bones during a workout or allow you to soak up the emotions of a movie when things get heavy. Enhanced bass adds to the listening experience in ways that are felt more than heard. Enter the world of exciting bass boost!
Expert Tip
Noise-cancellation technology is an important factor when it comes to sound quality and the protection of your hearing. With noise-cancellation, you don't need to turn the volume up quite as loud, which will be better for your hearing in the long run.
Did you know?
Bass frequencies travel further through the air than treble frequencies do. That requires the driver to work a little bit harder to force the bass into the extra echelon. Sometimes this can be the reason that drivers wear out.
If you've enjoyed this review by Music Critic, please leave a positive rating:
[vc_separator