Are you ready to become a rockstar? Looking to hop on the bass and lay down some thumping bass lines? You'll need to start somewhere, and buying a beginner bass is your first step. You'll want something affordable but reliable. Luckily there are plenty of options for you to choose from that are going to leave some change in your pocket. Your first bass needs to sound good, feel good and hopefully look good. Keep in mind, your first bass is likely not your last.
Here we are going to outline ten of the best beginner bass guitars. We'll go over all the factors you need to keep in mind when considering your options. With acoustic basses and electric basses on this list, you'll be able to find the one that works for you.
See also: Best beginner electric guitars and our favorite acoustic guitars for beginners!
At a glance:

Our top 3 picks
Our team's top 3 recommendations
Best Overall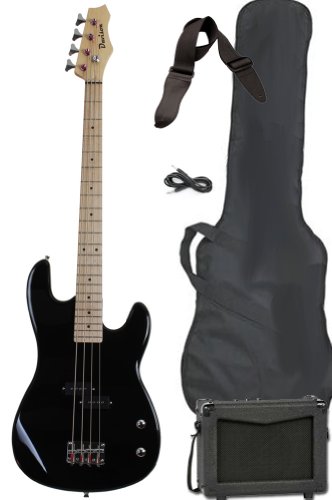 Full-sized Electric Bass Guitar Starter Pack

All inclusive package
30-watt amp
Good sound
Nice look
Premium Quality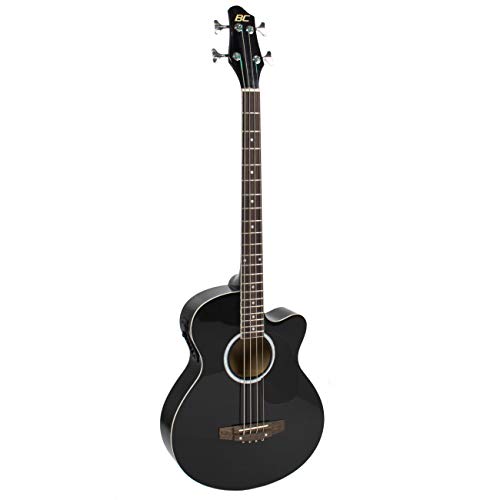 22-Fret Full-Size Acoustic-Electric Bass

All inclusive package
30-watt amp
Good sound
Nice look
Great value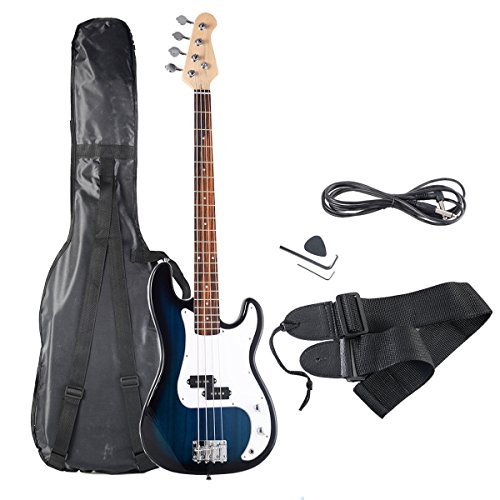 GoPlus Electric Bass

All inclusive package
30-watt amp
Good sound
Nice look
View The Best Beginner Bass Guitar Below
1. Full-sized Electric Bass Guitar Starter Pack
The first bass on our list is a great starter pack for anyone who has never played bass before. If you do not have access to any equipment, this will also be a great option. The bass sounds looks and feels good. Comes in both left and right-handed options. With this pack, you get everything you need.
In the box, you'll get the bass, strap, cord, bag and a 30-watt amp. You will not need to go out and pick up anything else to get started. When you are just beginning, you do not want to go with anything too complicated until you know you're hooked. This guitar will be perfect for any beginner.
Pros:
+ All inclusive package
+ 30-watt amp
+ Good sound
+ Nice look
Why We Liked It - This is a very simple package to start our list off with. The nice option is that you have everything you need in order to start learning the bass. If you're left handed, you can choose that option which is fairly rare for guitars and basses.
2. 22-Fret Full-Size Acoustic-Electric Bass
We needed to include an acoustic option on the list. Acoustic basses allow you to be a little more versatile since you do not need an amp. When you do plug it in, the bass has a 4-band EQ-7545R guitar preamp to produce fantastic sound.
It comes equipped with volume, bass, treble and mid control on the body. The body is made of high-quality wood, giving you great sound. This bass looks great with a glossy finish and tidy looking inlays. For an inexpensive beginner bass, this choice sounds perfect for what you will need.
Pros:
+ Beautiful finish
+ Warm sound
+ In-body volume control
+ 4-band EQ
Why We Liked It - This guitar is perfect for jamming along with friends in any scenario. You don't need an amp, but when you decide to plug in it sounds great. For a guitar that leaves some money in your pocket, the sound is pleasing. You'll be satisfied with this guitar and it will allow you to work on your chops.
See more bass guitars under $500.
This is a beautifully finished electric bass guitar. The sound is nice and smooth. It will give you the round, warm tones that you want out of a bass. Along with the bass, it comes with a carry bag, pick, strap, and amp cord. With everything included in the package, you'll be up and plucking in no time.
This bass has a classic look and will have you looking like a rockstar. You can choose between multiple colors to fit your desire. This bass will feel great in your hands and will sound even better. It won't be long before you're getting the call from your favorite band.
Pros:
+ Looks great
+ Deep, warm sound
+ Included accessories
+ Professional set-up
Why We Liked It - For a beginner bass, this one sounds amazing and looks great. It is inexpensive and comes with everything you need to get started. You can plug right in and jam with your friends. The sound is notable and you will be pleased with this classic looking bass guitar.
Ibanez has made a really cool looking bass here. Compared to other beginner basses, this one has the real rockstar look to it. Its got a slim, fast necck which is great for seamlessly smooth riffs. The body is small and compact which is great for getting from point A to B. It comes equipped with a Dynamix P pickup to amplify your sound and give you the tones that'll satisfy your soul.
This bass is a little bit smaller than usual. It is easier to have in smaller studio spaces or for traveling. Playing a smaller scales bass is a lot of fun. It almost plays like an electric guitar but gives you the bass tones you need.
Pros:
+ Cool look
+ Small scale
+ Dynamix P Pickup
+ Great sound value
+ Compact size
Why We Liked It - We love the look of this bass and the size. Playing a small scale bass is so much fun you may never want to switch to a full-size bass. The sound is nice and smooth and provides a solid bottom end for any jam session.
Squire is a fantastic beginner guitar brand. They have been trusted for years as the original pick for new players. They have created a wonderfully round-sounding bass. It is a small scale bass at only 30". It will be good for guitar players, smaller players or just as an extra weapon in your arsenal. Compared to basses that cost closer to $1000, this bass sounds almost as good. It contains a single coil pickup and a maple neck. With a 2-saddle chrome bridge, volume and tone controls, this bass has everything you need to hold down the bottom end.
Pros:
+ Small scale
+ Classic look
+ Great sound
+ Single coil pickup
+ Maple neck
Why We Liked It - What is most surprising about this bass is the sound for the price. A single coil pickup gives you very raw, full sound. Along with a nice classic look and a small scale design, this bass is super fun to play.
6. Squire Vintage Modified Jaguar Bass
The Squire Vintage Modified Jaguar Bass is a great retro style bass. It is another small scale bass and has only 20 frets. You don't need too many frets to lay down the bass groove. Sporting a maple neck and a vintage style split single coil pickup. Both pickups are connected to their own volume knob and there is a master tone knob to suit your needs.
This is one of the best beginner bass guitars because of its smooth playability and warm sound. Cheap bass guitars usually have lesser sound quality. Squire has hit it right on the mark with the Vintage Modified Jaguar.
Pros:
+ Small scales
+ Vintage look
+ Smooth sound
+ Split single coil pickup
+ Comfortable playability
Why We Liked It - For a beginner bass guitar, this one has everything you want. A smooth fretboard, comfortable design, and good sound. The vintage style will make it seem like you are playing a professional style bass.
7. Ibanez Talman TMB100 MGR 2015
If you want a beautiful bass with more of a chunky neck and deep sound, The Ibanez Talman is right for you. The neck is made of maple and is a little thicker than most beginner bass guitars. The pickups are Dynamix P & J, and the bass comes with 2-band EQ for easy tone changes. There is a nice satin finish on the neck which makes it easy to slide your hand along the length.
Fit for people with medium to larger sized hands due to the width of the neck. The sound you get is big and resounding. Compared to basses at a higher price tag, the Ibanez matches up nicely.
Pros:
+ Wide neck
+ Vintage Ibanez classic shape
+ Deep/big sound
+ 2-Band EQ
+ Comes ready to play
Why We Liked It - When this beginner bass comes out of the box, it immediately surprises with how big the sound is. It looks great and feels more like the chunky bass you may expect. This bass looks fantastic with a real retro feel to it.
8. Davison Guitars Full Size Electric Bass
One of the best things about this beginner bass is that it comes with absolutely everything you need. You get the bass, gig bag, cord, and a 30-watt amp. This is this ultimate package for the fresh starter. It is a full-size bass for anyone who is looking to get used to the regular size right away. It has more of a modern look to it than the other retro styles on this list. The hardware includes Diecast tuners, a maple neck, and an alder wood body. For someone with no experience and who is looking to self-teach, this bass will do the trick for you.
Pros:
+ Full-size bass
+ Complete package
+ Modern look
+ Maple neck, alder wood body
+ 30-watt amp
Why We Liked It - As far as a total beginner is concerned, this bass should be considered a go to. The focus has been put on making sure the player has all the necessary tools. The bass looks good, sounds good and feels good. This is all you're going to need in order to get started.
9. Crescent Electric Bass Starter Kit
This is a great beginner bass for a player of any age. This is a full-sized bass with 20 frets and a basswood body. It comes in a classic 70's style and you can pick from a variety of color options. The body has split middle pickups and tone knobs which allow you to form the sound you crave. Everything comes included except for the amp. You get a full-sized bass, cord, bag, strap, picks, strings, and a tuner. That way you'll be tuned up as soon as you pull it out. It is a great option as it comes in cheaper than most of the other basses on our list.
Pros:
+ Full packag
+ 70's Style with many color options
+ Tuner included
+ Low cost, high value
+ Pleasurable sound
Why We Liked It - The ease of use with this instrument is fantastic. For a full-sized starter bass guitar, it sounds good and looks nice. The value you get for your money with this bass is unbeatable. It comes in at a lower price point than many other beginner bass guitars and will give you everything you need to practice on.
Ibanez is a guitar company with a great reputation. They make some guitars at a very high level. They take their expertise and apply it to the beginner class. This bass outfits a small scale, compact design, a fast maple neck, and Dynamic P pickups. A modern black finish gives the bass a desirable look. With the small scale design, you get easy playability. A fifth string on the top end allows you to have even lower bass tones. This allows you to be more versatile and practice a wider range of songs. If you are a fan of heavier rock or metal music, this bass may be the pick for you.
Pros:
+ Small scale design
+ 5 string versatility
+ Dynamic P Pickups
+ Cool modern look
+ Ibanez quality
Why We Liked It - This bass made it to our list because of its easy playability and great look. Ibanez has a great reputation and has made a solid instrument here. The neck plays so smoothly and it is easy to learn on. This is the type of bass that'll have you picking it up all the time. You'll be shredding your favorite tunes in no time.
Beginner Bass Guitar Buyers Guide
Choosing the right beginner bass guitar can be a daunting task. If you have no experience, you'll have no frame of reference for what you should pick or why. Many different factors come into play such as sound, size, look, price, and accessories. You want a bass that sounds the way you want, and looks the way you want.
If you need everything in one package, then make sure you pick out one that includes all the necessary parts. Keep in mind that your first guitar will not be your last if it is something you enjoy doing. The key here is to get something that you like enough to pick up numerous times a week. The more often you practice, the better you will become. The better you become, the more you will enjoy it.
Then you will be able to take your time and pick out the exact bass that you crave. We want to make sure that you have all the information in order to pick out the right bass guitar for you.
Sound
As with any instrument, you need to make sure you get one with good sound. The whole point of playing an instrument is to produce listenable sound, except for looking cool and getting the girl/guy. Do you want a nice deep round sound that comes in hip-hop and electronic music? Or do you want more of a raw sound that you hear in typical rock or blues music? Pay attention to what people are saying about the sound of certain instruments.
It may be great to get a cheap bass at a steal of a price. But if the sound sucks, you'll never play it. If the sound is reliable, then it will sound good to play along with your favorite music, or while jamming with friends. Make sure the bass you buy has a sufficient sound quality.
Style
The style is not as important as sound, but you'll want something you enjoy looking at. You'll be upset if your sound is great and the guitar feels easy to play, but you hate the way it looks. Luckily on our list, we have included a wide variety of bass styles for you to choose from. There are a few vintage options and other modern styles. Try to find a bass that fits your personality and the type of music you listen to the most. The style will have a small effect on the playability of the instrument as well. Often times, retro instruments have a clunkier and thicker feel to them. While more modern looking instruments can play quickly and easily. This is, however, not a rule, just something that has been noticed.
Size
This could be an easily overlooked factor when deciding what the best beginner bass is for you. There are small scale and full-sized options. Small scale is better suited for people with shorter fingers, or who enjoy the feel of a regular guitars size. They can also be a lot of fun to play and easier to take traveling with you. Full-sized basses are much larger than typical guitars. If you are planning to play bass long term and eventually upgrade to a more professional bass guitar, you will want a full-sized option. That way you can get used to the size and you won't need to adjust at all when you need to switch instruments.
Accessories
You should consider what tools you already have at your disposal before buying. If you have no experience, then you will likely need an amp and a cord. Without an amp and a cord, you will be playing a muted instrument (except for the acoustic bass). The best way to go is to get a bass which includes at least a cord, some picks, and a bag. You will be able to find a starter bass amp for a reasonable price as well. If you've already got an amp and a cord at home, then you can decide between the other bass options.
Price
All of the guitars we have outlined in our top list are reasonably priced. Luckily as a beginner, you do not have to spend a lot of money. Nor should you. You are trying out a hobby for the first time and you should look to make a minimum investment. The best beginner bass guitars will be comparable to professional basses.
They won't sound quite as good, but you should be able to get that warm and deep sound that you want from a bass. Keep in mind that more expensive doesn't mean better, and cheaper doesn't mean worse. There are some amazing guitars and basses available that are also notably cheap.
However, is bass is priced cheaper then there have to have been some shortcuts made somewhere. That may not translate into an inferior product but may mean a lesser warranty, cheaper hardware, or many other factors.
Playability
Playability can be translated to how easy or fun it is to play. Playability is one of the most important and underrated factors of instrument buying. When you begin to play an instrument for the first time, it will be frustrating. You will need to spend hours upon hours honing your skills in order to improve. If your new bass guitar is difficult to play, then you will be less inclined to pick it up. But if the neck plays quickly and smoothes you will feel great much sooner. Your goal with you beginner bass guitar should be to find something to get you over the initial learning curve.
The better you get at an instrument, the more you will enjoy it and then you will get even better. One factor that affects playability is the size. Small scale bass guitars will be very easy and comfortable to play. Full-sized basses are a little more difficult due to the fact that you need to stretch your arm further to real the frets. This is something that your hands will get used to in time.
Conclusion
With this list of top ten beginner bass guitars in 2023 we hope you have the information, you need to make an informed decision. Deciding to play an instrument will open up a world to you that you have never experienced before. Music is great for the brain and helps build long-lasting friendships. We hope that you're confident about making a decision for yourself and we look forward to seeing your album on Spotify soon.
Expert Tip
Pay the most attention to the guitar you will be most likely to pick up all the time. Playability tends to be the biggest factor. Guitars that are tough to play don't encourage reuse. If you can find something that has smooth and quick playability, you'll be much more likely to practice.
Did you know?
The first bass guitar was invented in the 1930's by Paul Tutmarc from Seattle. He invented the bass guitar as an alternative to the upright bass you see in jazz bands and older music videos.
If you've enjoyed this review by Music Critic, please leave a positive rating:
[vc_separator