Before you shell out on a new practice amplifier online, you might find today's article a good read, we have flung together a comparative review of some of the best-sellers to find a front-runner for the best bass amp title.
We have put them through their paces and played with them side by side to show you what they are made of and decide their value.
Bass amps sometimes need a more little consideration especially for practice purposes, generally speaking, we want a large speaker to handle the low-frequency vibrations, but it is always to have a smaller more portable knock-about for bedroom use.
We have selected a range which is a cross-demographic representation of what you can currently get your hands on. We have focused on affordability so don't expect to see any boutique options today but let's take a look at what we have rustled up.
At a glance:

Our top 3 picks
Our team's top 3 recommendations
Best Overall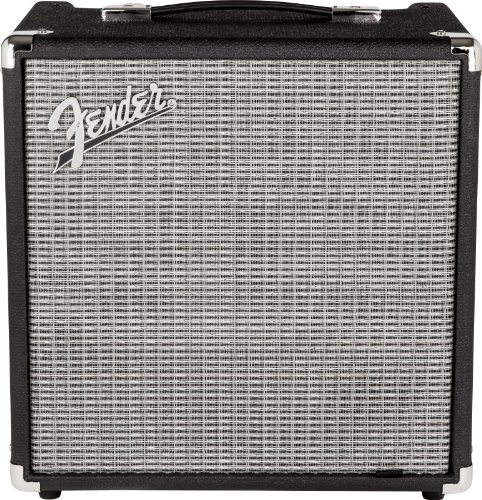 Fender Rumble 25 v3 Bass Combo Amplifier

Decent lows for a compact option.
3-band EQ, contour and overdrive.
Well-manufactured.
Premium Quality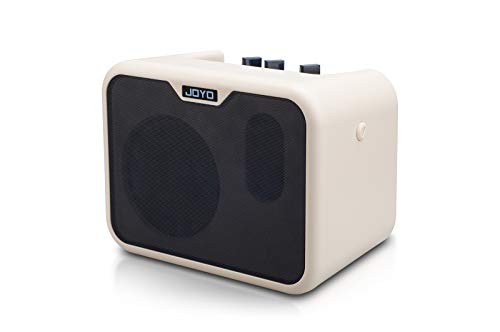 SUNYIN Bass Guitar Amplifier

Decent lows for a compact option.
3-band EQ, contour and overdrive.
Well-manufactured.
Great value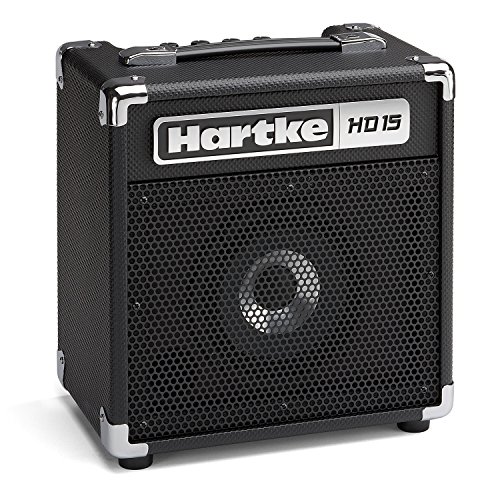 Hartke HD15 Bass Combo Amplifier

Decent lows for a compact option.
3-band EQ, contour and overdrive.
Well-manufactured.
View The Best Bass Amp Below
1. Fender Rumble 25 v3 Bass Combo Amplifier
First up we are having a look at the lower-end of the Fender rumble line, having previously looked at the 15 model we are stepping up to the 25.
Now whilst we would never suggest anything below a 75/100 for performing with, this is a good basic beginner practice amp ideal for bedroom use.
It is a bit of a step down from the rumble 40 as it doesn't offer quite so many onboard controls, there is no gain and you are limited to your standard 3-band EQ as opposed to the 4.
That said it provides pretty great sound and provides a contour filter as well as an overdrive. The overdrive is a non-adjustable Delta-Comp limiter, which holds pretty well and subtly keeps the volume low enough so as not to feed.
If you want the perk of sculpting it then it might be worth the price-hike for the Rumble 40 model which gives you drive and level dials as well as a bright and vintage switch in addition to the contour.
It is equipped with a high-quality 8-inch speaker with a stiff paper cone that doesn't dampen, which is what gives this amp its name-sake rumbling nature. The stiffness with the contour up also gives it a nice attack, ideal for slapping.
Pros:
+ Decent lows for a compact option.
+ 3-band EQ, contour and overdrive.
+ Well-manufactured.
Why We Liked It - It is impressive for a low-watt smaller option it copes with a sixth string reproducing a low B, though the harmonics are mainly above rather than below which is to be expected.
2. SUNYIN Bass Guitar Amplifier
This second selection may raise a few eyebrows, but it has been included as a versatile travel amp that can be easily lugged about.
Now when it comes to battery mini-amps, let's be honest most of them suck and in all honesty you won't find many which will do your bass any favors but being able to have a jam on an outing is just as appealing to us bassists as it is to a guitarist.
No one really wants to spend a whole lot on something so impractical which is why we have picked this cheap little amp from SUNYIN.
It has a pretty good sound for a 10-watt speaker and they make a specifically bass orientated model that has some low curve response to reproduce the lower harmonics of your signal. It does have a fairly low cut-off for the break up as far as the volume levels are concerned.
It features a volume knob as well as tone and gain, there is an overdrive switch, but to be honest, with the break-up the gain acts a low-level overdrive at max volume anyhow.
It has an auxiliary in and out so you can use this a portable silent practice amp to jam to tracks and practice playing technique without investing a whole bunch.
Pros:
+ Adequate battery powered mini amp.
+ Tone control.
+ Cheap.
Why We Liked It - It is a fun option with a fair amount of tone-play, a little mediocre but very portable and fit for function, it certainly gets the job done.
3. Hartke HD15 Bass Combo Amplifier
We are once again sticking with the low-wattage to keep our comparisons fair, the Hartke HD15 combo amp is another great bare-bones practice option, let's review.
The HD15 is the companies entry-level maiden model it offers onboard bass, mid, and treble controls with hardy dials in an uncluttered layout. Alongside the 3-band EQ, you have your volume adjustment.
It serves-up a good range of tones, despite its back to basic options, this is largely because of the quality of the companies proprietary speaker designs.
Granted the HD15 model has a smaller dimension (6.5-inches) than their higher-output versions, but the cone composition makes it one dynamic little beaut.
The HyDrive speaker cones are constructed with a paper pulp and aluminum blend which gives it rigidity and flexibility for a versatile set of tones from smooth and warm to the punchier bright-end, peaky attacks.
This renders it a suitable practice amp for playing a variety of genres and perfecting a range of techniques. It again has aux in and out for playing from your devices and headphone listening.
Pros:
+ Traditional 3-band EQ.
+ Great speaker.
+ Warm and punchy.
Why We Liked It - It is an impressive low-watt option, if you are looking to kick it up a notch we suggest you take a nose at the 100 or 150 the Hartke range has some great features the higher you fork-out.
4. Ampeg BA108V2 20-Watt 8" Bass Combo Amplifier
Next up an Ampeg option which runs at 20 watts and features a hardworking 8-inch speaker that does a great job.
It is a hardier option with a great enclosure design that is ideal for bearing the brunt if you have to lug it to a different practice location. It is built with a 60-degree angle that means you can have it standing or lay it down in a monitor style position, in which case it directs the audio up at you.
It is impressively powerful for a 20-watt option competing with some 30/40 watt models in terms of volume and punch.
It features your typical triple-band equalization and has an output volume control as well as an additional auxiliary input volume dial. It has a headphone jack for silent practice too.
It is a versatile low-watt option which has a minus 15-decibel switch to engage for higher-output instrument sources to prevent killing the amp.
Pros:
+ Robust build.
+ Good tonal variety.
+ Packs a punch.
Why We Liked It - It has a serious kick and would even be a suitable backline in a smaller venue. It serves up authentic vintage Ampeg sounds and is a good light-weight, lug-around option.
5. Orange Crush Bass 25W Bass Guitar Combo Amp
We are huge fans of Orange and not just for their eye-catching retro good-looks, they are exceptionally well built and have notoriously good tube emulation. Practice amp.
It is ruggedly constructed and has a nice top-mounted display of controls that are easy to navigate. It is competitively priced at an affordable retail level and brings some notable features to the table.
Importantly it benefits from the companies' parametric mid-frequency equalization, which allows users to manipulate the curves to their preference in addition to your standard bass, mid, and treble control.
Being able to soften or harden the peaks gives a much more thorough control over the tones you can achieve between the 3 band EQ on board.
Another contrast to its competition is that it is fitted with a built-in chromatic tuner a handy plus for any musician.
The speaker measures 8-inches and performs well, all of the circuitry signal paths are analog allowing for an authentic great cab-simulation in the headphone output.
It has a minus 6-decibel switch to lower the source input power.
Pros:
+ 8-inch speaker.
+ Analog signal paths.
+ Parametric EQ
+ Built in Tuner.
Why We Liked It - It serves up more options, benefits from a few extra conveniences, and delivers a warm signature sound despite being the smallest amp in the series.
6. Peavey Max 126 Bass Combo Amplifier
Next a 10-watt option that rivals the 15's we have highlighted from Peavey. It is built like a brick-house and provides one of the most durable options on the market.
It is equipped with an industry-leading standard 6.5-inch speaker that holds its own and serves up a rich variety of classic Peavey tones.
It benefits from the companies' TransTube technology a sort of hybrid medium between the vintage analog and modern digital pathways, which is what allows it to stay true to the iconic vintage sounds associated with the Peavey line.
Signals are also processed with Peaveys Psycho-acoustic low-end tech which enhances the low end adding bass. It is notably impressive for such a small model blowing other 10 watt combos out of the water and perfect for bedroom practice.
It has large dials that provide a 2 band EQ for your high and low end, alongside a Vintage gain dial which tweaks the sound through the TransTube emulations adding dirt.
Pros:
+ Vintage gain.
+ Psycho-acoustic low-end enhancement.
+ TransTube technology.
Why We Liked It - It is an unbelievable low output amp that manages low-end reproduction, despite its smaller speakers and consumption.
7. Fat Boy FBGB15 15 Watt Bass Amp
Next up we have a low-cost solution that presents some good value for money. It is a 15 watt model with a 6.5-inch speaker that is well-engineered and has good low-end handling.
It has a solid construction and is lightweight with a strong carry handle that makes it portable for changing practice locations.
It features front-loaded dials that are on the smaller side creating wider spacing, so you won't knock one whilst you adjust the other. Like the Peavey above, they only have Treble and Bass adjustment but between the two you can hone in on a range of sounds.
There are a volume dial and an auxiliary input along with a headphone output.
Pros:
+ Respectably-made.
+ High and low adjustment.
+ Cheap bass amp.
Why We Liked It - It a low-cost underdog amp that competes with some of the leading brands at the low-end.
8. Blackstar Bass Combo Amplifier
Over to Blackstar Fly3Bass for a tiny battery-powered option that incredibly runs on just 3 watts.
Its miniature speaker will not work wonders for your bass in terms of sound, but it has good bass-handling and clarity the clean Is pretty impressive and the gain gives you a little drive when maxed without raising the volume too much.
This is because it features an ISS shaping compressor that can be used to keep the volume regulated and allow the gain to add fuzz. It has gain compression and volume dials along with a tone depth control which allows you to focus the response between the low, mid, or treble to find your sweet spot.
It has an aux-in and an emulated line-out and is ideal for a silent practice solution that takes up next to no storage space and can be taken out and about because of its battery operation.
Pros:
+ Tiny amp.
+ Battery powered.
+ Cheap.
Why We Liked It - If you already have a gigging amp and just need to be able to plug and play to practice in your down-time then this is a seriously small low-cost solution to consider.
9. New Donner 15W Bass Guitar Amplifier
Another low-cost option for bedroom practice is this recently upgraded model from Donner that runs at 15 watts.
It is fitted with a 6.5-inch 8 omega speaker which provides decent low-end reproduction. It is made with a dual-layer paper/aluminum cone that gives it a retro warmth.
It provides bass, middle, and treble controls as well as an input volume dial so you can easily tailor your preferred tone.
It has a good build quality with a carpeted exterior and metal corner caps, as well as rubber feet and the grille, seems reasonably durable for a budget bass amp.
It has two 3.5mm connections, one in and one out, for playing along with devices and headphone listening.
Pros:
+ Compact.
+ Sturdy build.
+ Low-cost solution.
Why We Liked It - It is a reasonable beginner's bedroom amp that won't break the bank.
10. Ibanez Bass Combo Amplifier
We are winding things down with a bass combo amp from Ibanez for a look at their lowest watt starter option.
Again we recommend searching their higher-end if you want anything more than a compact practice amp but given that it is a 10-watt model it does a pretty sweet job at low volumes.
It does seem to have a break-up point and unless you like a lot of grit you will want to keep it below the 6/7 mark as far as the volume is concerned. Fortunately, it is a real powerhouse and even the lowest volumes are fairly loud for a rehearsal rig model.
It has a great rugged build with hardy corner shields to keep it protected against knocks and bumps. The grille is of good quality and it is very compact and lightweight.
The on-board controls give you bass, middle, and treble controls to tweak your equalization for a range of musical styles. It again provides an aux in and out making it ideal for learning new songs and practicing without disturbing anyone.
Pros:
+ Portable.
+ 10 watts.
+ Good starter amp.
Why We Liked It - It is a reasonable rehearsal rig solution that doesn't hog any space and is easy to transport about.
Bass Amp Buyers Guide
We have looked at a selection of low-output practice combo amps and so we have tailored our guide to the specifics of a smaller choice.
What to Look For in a Bass Amp?
What to look for is truly dependent on how you are going to use the amplifier. We are not looking to settle the age-old tubed versus tubeless argument most of today's selections have been solid-state as the industry seems to be leaning towards digital amps in modern times, with good reason.
Though analog tube amps have their place in live performance and indeed recordings with their inimitable vintage tones, many modern amps come close enough for the majority of younger generation bassists.
Solid-state amps provide a great deal more in terms of their tone sculpting capabilities than their antiquated counterparts, simply because they are digitally processing the sound signals.
In a combo amp, the onboard EQ is the major selling point so you need to determine the range of features you want to be able to adjust.
3-band EQ (bass, treble, and mid) is about as basic as it gets and for the budding bassist will suffice in providing a good variety of tones for most genres. If you prefer heavier music then you might require an overdrive button and gain dial.
Jazzier or precision style bassists will be a little more focused on their treble end as they tend to play with a lot more of their neck than most in which case is it nice to have some additional characteristics in terms of sound such as contour control and brightness which will lift the harmonic focus to the higher frequencies.
Bass Speakers
Unlike a traditional guitar amp speaker, a bass speaker needs a larger surface area and more rigidity to handle the low-frequency exposure and move in a manner that creates the air motion required for low-end sound waves.
They also typically require a bigger space to do so as the speaker cone moves back and forth it creates a backlash of reverse motion waves that need to be dealt with or they will muddy the intended signal sounds.
This is the reason that bass cabs tended to be much larger back in the day, though enclosure designs have developed over the years and can be calibrated to help solve the issue.
The majority of smaller amps will do this by filtering the air out of the can efficiently via an opening and placing the speaker as far-forward as possible.
For live use, you will want something bigger with a higher output but for practicing at home this might be less reasonable as far as your neighbors and family are concerned.
To generalize on speaker dimensions, we would recommend 10-15-inches and a minimum of one or two for performance but again in a bedroom situation this is unnecessary and a single 6-8-inch can do a very good job at the right wattage.
Is a Low-Watt Amp any Good for Bass?
While the majority of us wouldn't consider a solid-state bass combo below 75 to 100 watts, the capabilities of smaller speakers, smaller cabs, and lower output amps are getting better by the decade.
If you are only looking to develop your playing skills then you won't require too much in terms of consumption, especially if you are looking to hook up some headphones and play at any hour.
Technically speaking a smaller low-watt amp is missing the lower harmonics and not true to the fidelity of the signal but scientifically our brains hear the pitch of the note filling in the harmonics as it goes.
To a seasoned player with experience of much bigger, high-output amps the sound will be lacking in depth but for a newbie, the majority are pretty satisfying, to say the least.
Conclusion
A smaller amp is often overlooked by many but if you are only practicing and playing for yourself anything over a 50-watt model is just overkill, but each to their own.
We have looked at some realistic low-watt options that make for sensible practice amps and given that the majority now come with headphone outputs allowing you to play solely to yourself you really don't need to overthink a practice amps spec unless you practice as a group.
We would recommend something more powerful in a band rehearsal set up, but for the most part, those we have highlighted are sound bedroom models.
If we had to crown a single amp from our selections, our clear winner would be the Orange, not just because it offers the highest watts of the lot, but because it benefits from parametric EQ allowing more wiggle room to shape your sound, the cab emulation is great on the headphone out so you don't lose any sound quality and it has a built-in tuner.
For us it ticks all of the boxes; we hope we have given you some food for thought and shown that you don't need to spend an arm and a leg for a savvy space-saving practice bass amp.
Expert Tip
If you are looking for something a little more powerful and have a little more cash to spare we would recommend you search the higher-ends of each of the series we have highlighted here today they all make for very respectable options.
Did you Know
A decent bass pedal can open up a wealth of further tone-shaping possibilities in conjunction with a very basic amplifier so why not have a nose at our bass pedal articles?
If you've enjoyed this review by Music Critic, please leave a positive rating:
[vc_separator