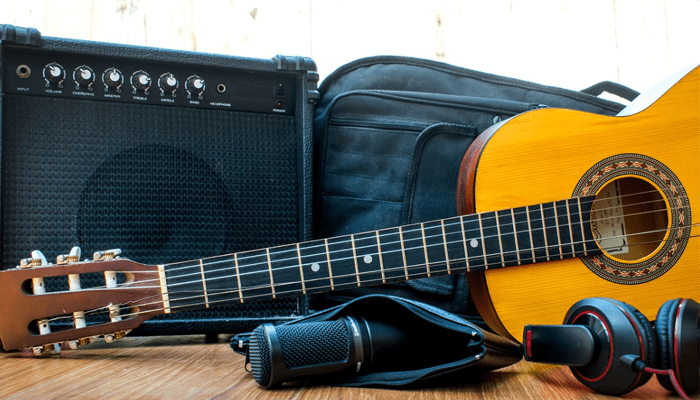 Guitar amps under 250 are for those who are not looking for a roof popping level of power but still want some extra features. Luckily, there are a ton of options you can choose from for amps under 250.
You can enjoy versatility in style, capability, and power when you're willing to spend a few extra bucks. They come in a wide variety of sizes too. So if you're in the market for a larger amp that stays at home mostly, or you want a small 10-20 watt practice amp, you should have no trouble finding what you need.
Here, we are going to try to provide the necessary information for you to make an informed decision on what may be your next practice amp. Here are our ten favorites as well as the most important factors to consider when shopping.
At a glance: Our top 3 picks
Your shortcut to our team's top 3 recommendations
View The Best Amps Under 250 Below
Simplicity is the name of the game with the Fender Frontman 10G. You don't get a ton of effects or power, but if you're using it for a practice amp, you don't need them. Fender is well known for its crisp, clean tones, and that is a significant focus behind the Frontman 10G. However, it does feature an overdrive channel, which makes this amp appropriate for playing metal, rock, and blues music.
You don't have control over the mid-range frequencies, but you can balance things out nicely with the treble and bass knobs beside the master volume control.
A 1/8 inch jack allows you to plug in your MP3 player and jam along to your favorite tracks right on your amp. Also, a closed-back design on this amp offers a more responsive bass sound and keeps it a little bit tighter. The price is in the right spot and will be a decent home practice amp for working on your scales and chords.
Pros:
+ Compact and lightweight
+ Good home practice amp
+ Simple design
+ Headphone and 1/8 inch jack
+ Dual-channel
Why We Liked It - There is not much to the imagination with the Frontman 10G. It has a reliable tone, and the dual-channel setting allows you to be pretty versatile in the types of music you can play.
The Fender Champion series amps are a staple within the Fender family. The Champion is available in multiple wattage levels, but here we are going to feature the 20-watt option. The 20-watt Champ has a few effects for you to play with, but it doesn't get overly complicated. The amp features digital reverb, chorus, vibrato, and delay.
This Fender Champion 20 Amp comes with the handy jacks you want for your headphones as well as an MP3 input.
The most exciting thing about this amp is the 17 amp models that you can choose from with a turn of a knob. That allows you to work with any style of music that you want. The price is on point as well for an amp with this level of versatility.
What you're getting with this amp is the simplicity and ease of use. It has the bonus of various amp models without you needing to spend too much out of pocket.
Pros:
+ 17 amp models
+ 2-band EQ
+ Great for home practicing
+ Pretty light and portable
+ Built-in effects
Why We Liked It - For a 20-watt practice amp, it is excellent. 17 amp models are convenient for choosing whatever style of music you want. Otherwise, it is elementary and straightforward.
3. Sawtooth ST-AMP-10-KIT
Practice amps don't need to be complicated. If you're looking for a good home guitar amplifier for less than 250$, the Sawtooth ST-AMP-10 is a good option. You have the control you need over the low, middle, and treble knobs, as well as a master volume switch for the clean and overdrive channels.
It has an auxiliary input where you can plug in your MP3 player and rock along to your favorite music. It doesn't come with a ton of extra features like effects, but it will work well for a simple practice amp for you to work on your chops.
It is pretty lightweight and easy to move around and fits well into the affordability range.
Pros:
+ lightweight and portable
+ Affordable
+ 3-band EQ
+ 2 Channel switch
+ Simplicity in design
Why We Liked It - Not much left to the imagination with this amp as it is designed to be used to practice around the house. Don't expect to get breathtaking tones out of it, but it will broadcast your playing clearly so you can exercise properly.
4. Fender Mustang I V2 20
Here is an amp that does have a lot of add ons. This is an excellent option for people who want to play around with a ton of effects, models, and tones. It allows you to recreate sounds from some of your favorite bands and albums.
It has 18 different amp models, 37 effects, and 24 factory presets. It has an 8" special Fender design speaker, which helps to round out low-end tones nicely.
An onboard chromatic tuner is convenient for when you need to keep things in check too. It comes with the standard 1/4 inch input as well as an input for the footswitch to allow you to navigate between the clean and overdrive channels. It also has a USB hookup for your device where you can play your favorite tunes and jam along to them.
Pros:
+ 18 Amp models
+ 37 effects
+ 8-inch speaker
+ Versatile tone control
+ USB and auxiliary inputs
Why We Liked It - You get to play around with a ton of different settings on this amp. It is a lot of fun to create some of your favorite sounds from iconic bands from every decade. This is built for people who like to have a lot of variety in their tone.
5. Fender Acoustasonic 15
The Acoustasonic is one of Fenders standout amplifiers for acoustic guitars. It is designed specifically for people who want to pug in a microphone along with an acoustic guitar and get a little bit of extra power instead of playing without a speaker.
An XLR line in on channel one for the microphone and a 1/4" jack is on channel two for the guitar to plug into. A specially designed Whizzer cone sits inside the 6" speaker to help magnify the high-frequency response.
You can control the high, mid, and treble configuration using the knobs, and there are two separate volume knobs for each channel. This amp only weighs 10 pounds making it easy to pick it up and take practically anywhere with you. Suitable for home practice as well as use for small gigs where you don't need a ton of power.
Pros:
+ Built for acoustic guitar
+ Compact and lightweight
+ XLR and 1/4" jack
+ 3-band EQ
+ Chorus effect
Why We Liked It - For acoustic practice and small gigs, you can sound on this amp to give you the clarity you want. The tone sounds good, and it is lightweight and small enough to move around with you quickly.
Bass players need an excellent affordable amp to work on their chops, as well. The Rumble is a superb option for anyone who doesn't want to spend too much money but still has a good tone.
Fender is reliable on all front when it comes to their manufacturing, and they do not disappoint with this bass combo amp. It is durable and offers a high-quality sound that will allow your bass to rumble nicely.
It comes with an 8" speaker, an overdrive circuit, and am 1/8" auxiliary input for you to plug your MP3 player in and pluck along. It isn't going to be the best option for people who are trying to keep up with a loud rock or metal band, but it's suitable for practicing in quieter settings.
Pros:
+ Good practice bass amp
+ Overdrive channel
+ Tone controls
+ 1/8" auxiliary input
+ lightweight
Why We Liked It - It is the perfect small practice amp for bass players. It doesn't take up too much space and has a beautiful tone for you to use to work on your fretwork.
Pro guitar players have trusted Orange with their sound for decades. Orange has created a neat practice amp that has 12-watts of power and a 6" speaker to give you good tone and volume. The 3-band EQ lets you control your configuration, and you have clean and overdrive channels to work with. It weighs slightly more than 12 pounds, so it is effortless to pick up and move around.
For a small amp, the sound quality is fantastic, and the power is quite impressive. Most small amps are unable to reach the volume levels that this amp is capable of. Best of all, it costs less than $250 and is well within the affordability range of most guitarists just looking to get started and work on their skills. It is durable and sturdy and will last for a long time. Great for the home practice studio.
Pros:
+ Lightweight and durable
+ Great sound quality
+ Good power
+ Overdrive and clean tones
+ Affordable
Why We Liked It - Many guitar players dream of working with an Orange built amp. Orange Crush 12 is an excellent beginner option for practice use and is perfectly affordable and user-friendly.
The Fat Boy 15-watt amplifier is built for the ultimate budget seeker. It is also very simply designed and doesn't have a ton of other effects but works as a practice amp. The sound comes out of a 6.5" speaker, it has clean and overdrive channels, and you have control over the EQ with bass, treble, and mid knobs.
It only weighs 8 pounds so it is easy enough to take anywhere with you and it is also pretty small and compact. It is surprisingly loud for such a small amp as well. It will give you the level of tone and clarity you want without the added bulk that some other amps have.
The Fat Boy has a durable design as well, which will make sure that it lasts for a long time if you're carting it around to different locations. It is not really loud or versatile enough to be used in gigs or recording sessions, but as far as a practice amp goes, the price point can't be beaten.
Pros:
+ Super affordable
+ Lightweight and compact
+ Simple design
+ Surprisingly loud
Why We Liked It - The Fat Boy is the one for the people who want an affordable amp. There is no modeling or effects, and you get the clean and overdrive channels. If you want a cheap practice amp, this is a great choice.
Pretty much all of the amps we have talked about so far have been around the 10-15-watt range. Typically if you're looking for an amp under 250, then that is what you'll get. But the Coolmusic DK-35 gives you a little extra power for the same price point as some of its less powerful counterparts.
While most guitar amps are not versatile in terms of which instruments will sound good through them, this one has been designed to work well with percussion instruments. It has two channels with RCA hookups for you to plug in an electric drum kit if you want.
Each channel has its gain knob, and there is a master volume fr the entire amp. On the first channel, you can utilize the reverb to achieve a deeper live sound.
It is a little larger and heavier than most small amps, but you will want the larger speaker to help round out the low end of the tone. It is suitable for someone who wants to have a guitar amp, but be able to plug in a percussion instrument from time to time.
Pros:
+ Percussion capable
+ 2 channel
+ 35-watt
+ Portable
+ Durable
Why We Liked It - The versatility in use is what makes this amp so awesome. Not many guitar amps can handle percussion sounds and keep them so crisp and clear. This is an exception and gives you the extra power you need while still being affordable.
Guitar Amps Under 250 Buyers Guide
What to look for in a guitar amp under 250
When you're browsing affordable amps, there are some things to consider. The manufacturers need to make money somewhere along the line, and amplification components are generally not the cheapest products on the market. To determine which is the best amp for you, keep in mind these factors while you're doing your online shopping.
Speaker Size
The speaker size is a straightforward way of telling how much low end or high end the amp is going to be able to handle. The larger the speaker, generally, the more well rounded the tone will be because larger speakers can handle more bass. Also, you want the amp to be able to display high frequencies.
If the amp has a built-in Whizzer cone, which is designed to offer detailed treble tones, then you will have a beautiful bright and shimmering high end to work with. That isn't to say that a small speaker will sound bad, but if you have an 8" speaker compared to a 6" speaker, then you may benefit from having a little more low end to enjoy.
Effects
The importance of effects on your amp is totally dependant on what type of player you are or want to be. Many players are happy to have a clean channel and an overdrive channel when playing rock or metal music. However, having other effects at your disposal can spice things up.
The most common effects on an amp are reverb, delay, chorus, and sometimes a flanger. There are, however, many amps out there, which are modeling amps after many of the best tones ever created by rock stars. Modeling amps give you that extra level of versatility and allow you to play along with basically any style of music.
If you're in the market for an amp under 250, then effects may not be the most important thing for you. Especially if you're mostly using your amp for practice purposes, you generally don't want to have too many effects muddling up your tone. You want to be able to hear it clearly and concisely. Think of effects as a fun add on, but not necessary to the effectiveness of your amp.
Power
Most affordable amps are not going to have the power necessary to perform on a big stage with a full band. That is unless it is a tube amp that has been designed for such purposes. Any amp in the 10-15-watt range will be suitable for use around the house, but shouldn't be expected to handle much more than that.
This is a good thing, however, because you want to have an amp with a low enough volume that you can enjoy the natural tone without scaring your pets. If you want more versatility in what you're able to do, and want to have the option to keep up with a drummer, then try to go with an amp that is at least 25 watts or more if possible. That should give you the headroom you need to keep your tone above the drowning point.
Input Jacks
Most of the best amps under 250 in today's market should have a jack for you to plug in an MP3 player so you can play along with your favorite music. Some will have an RCA input, and a headphone jack too. In any case, having this nifty little add on can allow you to enjoy the feeling of plugging in your favorite playlist and having a personalized jam session at home.
Channels
For most purposes, your amp should have more than one channel. All amps will have a clean base channel, and the best ones will also have an overdrive channel. The quality of the overdrive is vital because sometimes, overdrive channels don't match up to what they should.
If you don't want to have to spend another couple hundred bucks on pedals, then having a sufficient overdrive channel is essential. This will allow you to play leads that sound good without needing to plug in any extra effects.
Conclusion
The purposes of an amp under 250 are pretty obvious. To give you a speaker to play your favorite music through without spending too much money. Hopefully, this outline will provide you with the information you need to be able to work on those skills you need to polish.
Expert Tip
If ever possible, it is best to have a tube amp instead of a transistor. Tube amps give off a lot more power and generally employ a very authentic and rich tone. It could save you money and headaches dealing with a simplified version of an amp, and you'll benefit from a better overall sound.
Did you know?
The first guitar amplifiers used by touring musicians were created in the 1920s. They were straightforward, having only a volume knob and an input jack. They had no effects or overdrive built-in. But they were the first AC powered plug-in amps that allowed musicians to be heard in larger rooms.
If you've enjoyed this review by Music Critic, please leave a positive rating: