The Roland JC-120 Jazz Chorus Stereo Combo amp is a classic, acclaimed stereo amplifier with one of the best sounding chorus effects in the world. It is a 2x60 watt amp with dual 12" speakers, each with a 60-watt amplifier. It has two channels that have dual inputs on each.
Also, on top of the chorus, this amplifier comes with reverb, tremolo, and distortion switches. It has an individual jack for every effect for you to plug switches into. The set-up is straightforward and allows you to navigate the controls easily and quickly.
Specifications
• 2x12" 60-watt speakers
• Roland JC audio
• Dual-channel
• Chorus, reverb, tremolo, and distortion
• Rate and depth control on chorus effect
• Burly and tough construction
• High and low inputs on both channels
Roland JC-120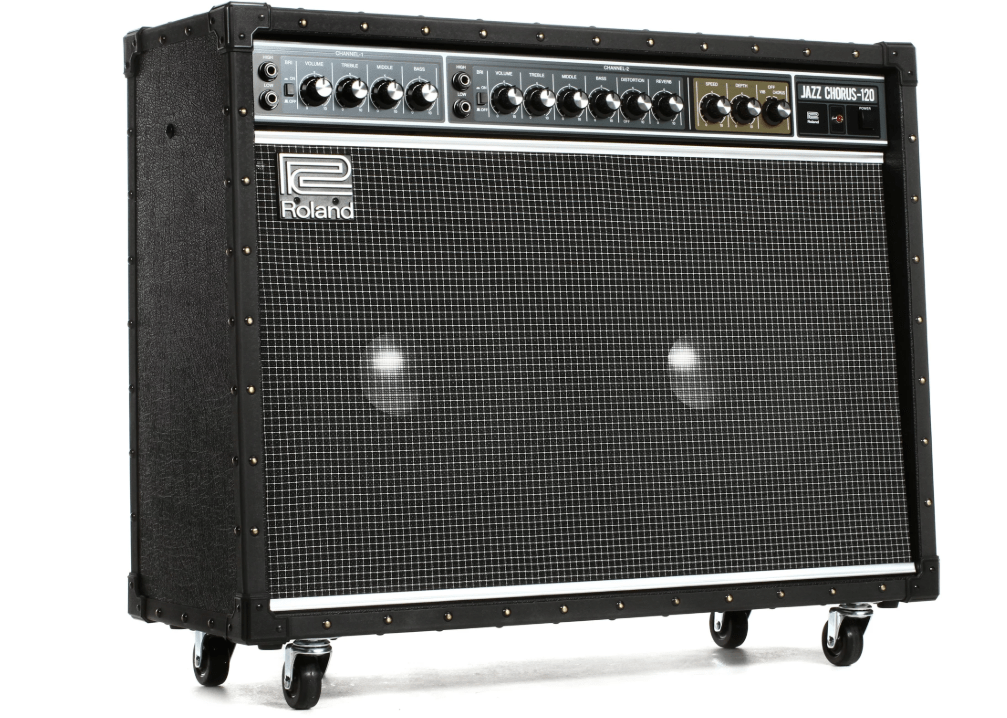 Summary
The Roland JC=120 delivers a legendary sound that has been the cream of the crop for decades. Since 1975, the JC audio by Roland has been one of the most sought after versions for guitar and keyboard players. It has a loud, full, and resounding tone that showcases the craftsmanship of whoever is at the helm.
The amplifier is powered using two twelve-inch speakers, each with its own amp pushing 60-watts of power. The result is a loud and full sound that works for any size of the stage.
The JC-120 combo amp comes with two channels. The first is a clean channel with volume, bass, treble, and middle knobs to control your tone. The second channel includes everything that the first one does, except it also features a distortion knob that'll dirty up your mood for heavier playing. Each channel has dual-inputs with both high and low gains.
One of the most prominent features of the Roland JC-120 is the stereo chorus effect. It is known to be one of the most authentic and satisfying chorus tones in the amplification world. The sound is pure; it swirls and winds beautifully, adding a touch of finesse to your playing. It may be just the accompaniment that you're looking for at your next performance.
Along with the beautiful chorus, this amp comes with built-in reverb and vibrato, including depth and speed controls. You can play your notes with authentic tremolo and have control over the nature of the swells caused by the effects loop. Also, all of the effects have footswitch jacks for easy control mid-song.
The construction of this amp ensures that it will last for a long time. It has a thick casing, with strong castors and a sturdy front grill. The 60lbs weight should not be taken lightly. It is built to withstand a lot of miles and can handle heat; be that from the stage to the back of the tour van. It is an incredibly versatile amp that works for a wide variety of instruments and purposes.
As far as affordability goes, it is well-priced for what it is. You can expect to shell out a little bit of cash for one of the best amps you'll ever own. Players who have chanced this amp have been resoundingly satisfied with their decision, as the amp offers one of the most solid backing amplifiers you may ever need. It works for any genre and provides the level of power and precision you'll want for recording at home too.
Pros
+ Roland JC sound
+ Stereo chorus
+ Tough and sturdy construction
+ Dual-channel
+ Depth and speed control vibrato
Cons
- Slightly pricey
- Quite heavy
Why We Like It
The Roland JC-120 Jazz Chorus 2x12" Combo Amp is impressive in almost every way. It may be bland on the design, but it offers everything you want in an amplifier. It is not a starter amp; it's built to handle some of the heavier hitting demands of professional musicians in any genre.
It is bulky and stiff, offering the levels of volume and power that will allow you to keep up with any live band or studio session. It is suitable for a variety of instruments as well. Guitars, keyboards, stringed instruments, and any other that needs a solid amp, can benefit from the JC-120. The effects are pure and clean, offering a level of versatility and tonal strength that many amps cannot provide.
With two channels, you can switch between clean and distorted easily. Whether you're playing blues, jazz, metal, country, folk, rock, or anything, this amp may be one of the best backing speakers you will find. It is incredibly user-friendly and fun to play around with. You've got a lot of control over the effects loops and switches for your various sounds.
It is not super compact and portable, but for any live touring musician, you may need that extra bulk to handle the bumps and bruises of everyday life. If you're ready for an amp that is going to give you the clarity and punch you need, the Roland JC-120 may be the best way to go.
If you liked the article, please leave your feedback.