When it comes to easy-access, you probably ought to opt for a combo. If that's the case, then you are in luck because we've found some hot candidates that could be considered the best bass amps on the block.
A combo is a sensible way to go if money or space happens to be a little tighter. If you're looking to hone your skills, and get practicing at home, bass amp combos are a good option.
So let's have a look at what's trending online, determine their worth, and see which will make for a decent practice amp.
At a glance:

Our top 3 picks
Our team's top 3 recommendations
Best Overall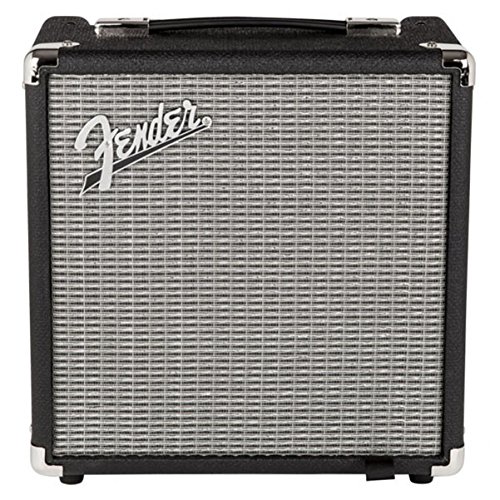 Fender Rumble 15 V3 Bass Combo Amplifier

Low watt amp.
3-band EQ.
Rich fender rumble bass tones.
Good beginners amp. Controls for tone shaping
Premium Quality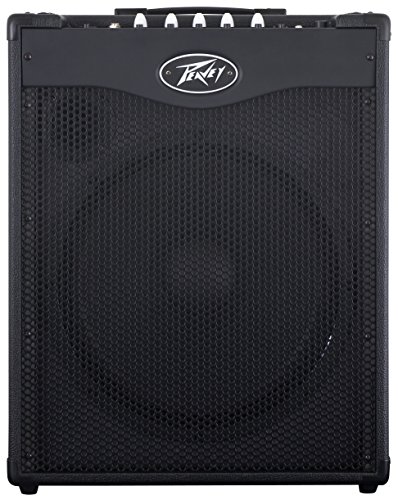 Peavey Electronics Max Series

Low watt amp.
3-band EQ.
Rich fender rumble bass tones.
Good beginners amp. Controls for tone shaping
Great value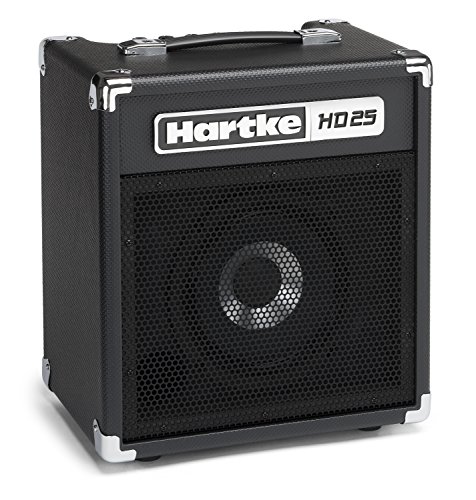 Hartke HD25 Bass

Low watt amp.
3-band EQ.
Rich fender rumble bass tones.
Good beginners amp. Controls for tone shaping
View The Best Bass Amp Combos Below
1. Fender Rumble 15 V3 Bass Combo Amplifier
We're starting with the 3rd iteration of the Fender rumble combo amp which emulates the original rumble bass tones in a combo-style portable package. We have chosen the 15-watt bass amplifier to review, as there seems to be a bit of confusion from the community. This is due to many of the model reviews that have been stacked together.
As a beginner's bedroom amp, we would say it runs just fine. But, if you are a seasoned guitar player, or looking to hear any of its self proclaimed rumbling, you are going to have to go for 40-100 watts of power to satisfy yourself.
This Fender V3 Bass Combo amplifier is very well manufactured and features an 8" speaker. This speaker is a little larger than an average 15-watt amp and about as small as you can go. This is essential when it comes to decent bass reproduction at reasonable volume levels, given the low frequencies it is going to have to handle.
On-board there are 3-band bass middle and treble equalization controls. These controls allow you to shape your tone in a fuss-free manner. The Fender V3 hasn't changed too much from the original model, which is preferable in our opinion.
Pros:
+ Low watt amp.
+ 3-band EQ.
+ Rich fender rumble bass tones.
+ Good beginners amp. + Controls for tone shaping
Why We Liked It - The V3 amplifier gives a fulfilling range of fender bass sounds and has a surprising presence for an 8-inch option, but it won't crank enough to annoy the neighbors.
Enclosure - When looking at enclosures for bass amps, you'll be choosing between sealed bass cabinets and ported bass cabinets. Ported bass cabinets allow for louder sounds from the lowest bass frequencies, while sealed bass cabinets will produce a crisper sound on the high end but less volume on the low end.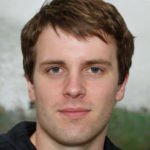 2. Peavey Electronics Max Series
Next, we have something with a little more impact for those of you who are rehearsing at home with your band-mates and need a bit more power than the Fender we got the ball rolling with.
The Max115 is a 300-watt bass guitars' amp from the Peavey Electronics Max series, designed for superior tone control.
Peaveys Max Series is built like a brick-house and harbors a 15" speaker cone with a well-driven response that gives it its model name.
This bass amplifier combo benefits from Peavey's DDT speaker protection, which helps to sense signals which have peaks higher than the power output, to reduce audible clipping and distortion.
The Peavey Max Series combo amp is also equipped with the company's Trans-tube technology, allowing it to model vintage analog sounds. Users get access to your standard 3-band equalization along with Punch, Mid-shift, and bright buttons to sculpt their sound.
Pros:
+ High-watt guitar amp.
+ Trans-Tube tech.
+ DDT tech.
Why We Liked It - The Peavey Max Series amp is a durable beast, fitted with a great speaker, that serves up a bit more versatility in the tone department.
The HD25 is a robustly-built combo amplifier which runs at 25 watts of power, a good practice power rating.
It comes from the Hartke high-def line which utilizes a custom-made cone material with idyllic properties for low-frequency handling.
The eight proprietary HyDrive speakers are formed from a high-quality paper pulp and aluminum composite. This is similar to the original radical transducer amp models that put Hartke on the map all those years ago.
The dual cone structure gives it effective bass-handling for a solid punchy sound.
The Hartke HD25 is a user-friendly bass amplifier combo, which features top-mounted bass, mid and treble dials, as well as volume controls. It has versatile input connections and benefits from a built-in signal limiter to ensure you don't over-power it.
Pros:
+ Rugged build.
+ Proprietary dual transducer cones.
+ 3-band EQ. + Solid, punchy sound quality + Great practice power rating
Why We Liked It - This is another easy to use, primary 3-band EQ option which gives users an industry-standard practice combo amp protected by a signal limiter. You can also upgrade to others in the Hartke HD Series, such as the Hartke HD75.
Watt options - If you'll be taking your bass amp on the road with you from venue to venue for public concerts, you should only be looking at bass amp models with relatively high wattage. If you're just going to be playing for practice in your own space, a low wattage model can be a big money-saver.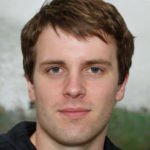 4. Ampeg BA-110V2 Combo Amp
The Ampeg BA-110V2 is one of the best bass amps to consider - one that won't set you back too much. It provides a decent level of power is this 40watt option from Ampeg.
The Ampeg BA-110V2 has a solid-construction which consists of an all-steel amp chassis with a braced frame and impact-resistant metal corners built at a 60° monitoring angle.
This directs audio straight at you lying on its side in a wedge position, but can also be used upright. It features easy-access front-facing controls and gives users access to a range of classic Ampeg bass tones.
The circuitry is engineered with the company's legacy stack tone generator 3-band EQ and the brand new Bass scrambler overdrive circuit designed to produce a tube amp grit and high gain control and distortions.
The Ampeg BA-110V2 is equipped with a custom-designed 10" speaker and delivers bass at reasonable volume levels. It also has aux inputs and a headphone jack for convenient practice.
Pros:
+ Monitoring angle.
+ Front-mounted controls.
+ Bass Scrambler drive controls.
Why We Liked It
- This Ampeg BA-110V2 amplifier is another hardy alternative which provides some additional tone controls on top of your 3-band EQ./vc_column_text]
5. Orange Crush Bass 50W Bass Guitar Combo
Seizing our fifth spot is another firm favorite; the orange crush, with its vibrant vintage looks and glorious one control. The Orange Crush combo amplifier is assisted by its fab features. It presents a versatile option, which is highly popular with many modern bassists.
We have chosen a 50-watt bass guitar amp combo, which still plays at a non-disturbing level if you want to play with a noisier tone.
The Orange Crush guitar amplifier has a sturdy cab design and is fitted with a 12" speaker which delivers a punchy sound that can be tailored via the onboard 3-band EQ dials.
The Orange Crush benefits from parametric mid control and has additional blend and gain controls that give you more power over the manipulation on a more in-depth scale. They add harmonics in the grittier settings and produce a more-analog style setting.
This amplifier also has handy features, like a built-in chromatic tuner, cab-simulation which offers a range of filters, and a buffered guitar effects loop.
Pros:
+ Beautifully built.
+ Wider range of achievable bass tones.
+ Additional handy features. + Parametric mid control + Buffered guitar effects loop
.
Why We Liked It -Orange Crush bass amplifiers represent an idyllic amount of control from their integrated pre-amp section, which allows users to play a variety of genres. It also plays at reasonable volume levels.
Next, we have a very compact choice ideal for shared accommodation student halls, etc. which serves up 15 watts of power for practicing at home with non-offensive volumes.
It features a durable enclosure build with rounded corners that are metal reinforced, and it also has rubber feet for stability.
It has a 6.5" speaker, so you aren't going to be able to crank it up. However, its headphone output jack connection means its more than suitable as a silent practice amp.
These New Donner guitar amplifiers are stacked with your standard 3-band equalization. They are another basic combo amplifier which is easy for beginners and won't take up too much space to store.
Pros:
+ One of the smallest and most portable best bass amps.
+ Basic EQ controls
+ Cheap. + Headphone output jack connection
Why We Liked It - The Donner 15W amplifier is a cheap bass combo amplifier which is simple to use and has a small-footprint that plays at harmless volumes.
Next up is a very aesthetically pleasing, low-watt amp option from Voxes Pathfinder series which harbors a pair of the companies BullDog speakers. They each measure just 5" inches and work together in stereo pretty well to provide practice-level volumes that are surprising given their smaller circumference.
The VOX PB10 from the Vox Pathfinder series is compact and portable and features a durable carry handle. It has top-mounted controls, which allow you to adjust the bass middle and treble filtering, as well as increase or reduce your drive for a grittier dirtier sound.
In addition, there is a brightness switch, which is essentially a high-end boost that gives your tone a vibrancy and better resonance.
This VOX PB10 portable bass combo amplifier has an aux input and a headphone out and also comes with an optional Vox amPlug that allows you the freedom of eliminating your cables. The amPlug has its own set of miniature wheel-style controls. This will enable you to roam from your combo amp and adjust remotely if you need a little drive or gain control when you burst into a lead.
Pros:
+ Classic Vox cab.
+ 3-band EQ + drive dial and a bright boost.
+ Free amPlug.
Why We Liked It - The VOX PB10 portable bass amplifier offers good tone possibilities and plays at a hushed volume. This is no easy feat for an electric guitar! The company makes various wattage's in their Vox Pathfinder series if you fancy something more powerful with the same tone-sculpting qualities.
Bass Amp Combo Buyers Guide
What Is A Bass Amp Combo?
A bass amp combo is short for a bass combination-amplifier. It is called that because it's a bass amplifier that incorporates a bass pre-amp within the speaker cabinet design. This saves you from the need to buy both head and cabinet to hook together.
Sometimes but not always, a combo amplifier for bass guitar will house 2 or more speakers within its enclosure.
The pre-amp is the part that usually holds all of the equalization controls separately from the speakers itself.
Combining the two is not only space and power-saving but makes general life easier, especially as far as practice and rehearsals are concerned. For this reason, combo bass amps have risen to popularity, and a decent combo amp is usually considered the more convenient way to go.
For live stage use, you may want to consider branching out and getting a larger amplifier with a dedicated pre-amp, as it allows for better control over your signals. Pre-amps often pack more options in as far as multi-effects and equalization are concerned.
Some of those we have reviewed today are lower-watt options, excluding the Peavey. These combo bass amps aren't intended for gigging. That's not to say you can't take a small combo amp to a small, local venue, because you can.
In this scenario, you'll probably want to DI out to the principal or house P.A system and use your combo amp for personal monitoring, or as a part of a softened back-line at an intimate gig.
What to Look For in a Bass Amp Combo?
A bass amp needs to have a durable build, quality, and a decent-sized enclosure. It also needs to have some venting or reflex port to ensure the sound isn't subject to wave cancellations.
As it's a guitar combo amp, your focus should be on the integrated pre-amp section though just what you require depends on your needs. For the most part, typical three-band EQ and gain control and volume controls will give you access to a range of bass tones. Most of which can be adjusted with the addition of multi-effects pedal if you wish in the future.
If you play heavier genres, you may want to look for a driving adjustment. If you play precision and jazz-based amp models, you might fancy the bright or even a little reverb. Funkier bassists may want a whole host of additional settings to access.
More importantly, when it comes to the best bass amps, you are going to need a high-quality large-aperture speaker or speakers.
Speakers
Generally speaking, an amp relies on a more prominent speaker cone to respond to the lower frequencies demanded of it. For practice needs, people tend to seek out something much more compact, which unfortunately tends to restrict the speaker size immediately.
Speaker Size
Ideally, you want a speaker size of 10-15 inches minimum in diameter. This renders some of today's picks useless. But, in terms of personal practice, you are going to find that these best bass amps will suffice even if the lower end reproduction isn't quite up to scratch.
We must stress that those who have made the best today have been selected for very different reasons. Our best compact model is the Donner, which is the smallest of the lot, but not quite small enough for our mini-amp reviews category.
The best beginner is the Fender rumble because of its simplicity.
The best for bedroom practice amps are the Hartke bass amplifiers as they offer proper tonal scope. They play at an understated 25 watts of power which won't rock the boat with your roommates.
Our best all-rounder is the Orange Crush, which offers up a diverse set of sounds. This is due to the Cabsim filters and bi-amp modeling. Our best overall is the Peavey for undeniable reasons.
You will notice there is also a reflection of abilities that goes hand in hand with the budget. Realistically, you should never expect much from a combo-amp for bass that's retailing below the hundred dollar mark. You should ideally set your sights on something that's at least $300 if you want it to wow.
Conclusion
A bass amp combo presents a much more convenient bass amplification option. It's an all-in-one solution, which provides the EQ control you require.
Many cheaper combo guitar amps on the market have smaller than average bass speakers. Smaller bass speakers can limit their handling, as our buying guide to guitar combo amps will have pointed out. For practice needs, this can be inconsequential.
We have chosen a good mix today, each of which offers its own benefits. Most of which are practice-focused in their designs. Of course, we have included a beefier Peavey option for the more power-hungry among you.
Hopefully armed with knowledge, and the electric guitar amps we have highlighted, you will be able to choose the right combo for you.
Expert Tip
If you like the dual speaker inclusion of the Vox we listed but fancy something that packs a punch and offers more in terms of the pre-amp section, then we highly recommend the Laney RB7. The RB7 gives versatile tone control via its seven separate mini-EQ-sliders.
Did you Know
The Ampeg bass amps company played an integral role in the creation of bass capable guitar amps with early amp models, such as the Super 800 and the Portaflex, which incorporated a rear venting system.
If you've enjoyed this review by Music Critic, please leave a positive rating:
[vc_separator