The Marshall JCM800 2202X is the head that spawned the birth of hard rock. It boasts incredible tone and power that can be heard all the way from the cheap seats in the back. The JCM800 is a simple, on-channel all-tube guitar head, delivering the crunch, and screams, you want.
It comes with a series effects loop to plug your pedals into, and a 3-band EQ for tone shaping. It features Marshall's classic black and gold styling. It's constructed of birch ply, which is sturdy and durable. With a design that satisfies heavy rockers all over the world, the Marshall JSM800 2203X will blow the doors off.
Specifications
· 100-watts
· Tube power
· Series effects loop
· 3-band EQ
· Black and gold design
· Single-channel
Marshall Jcm800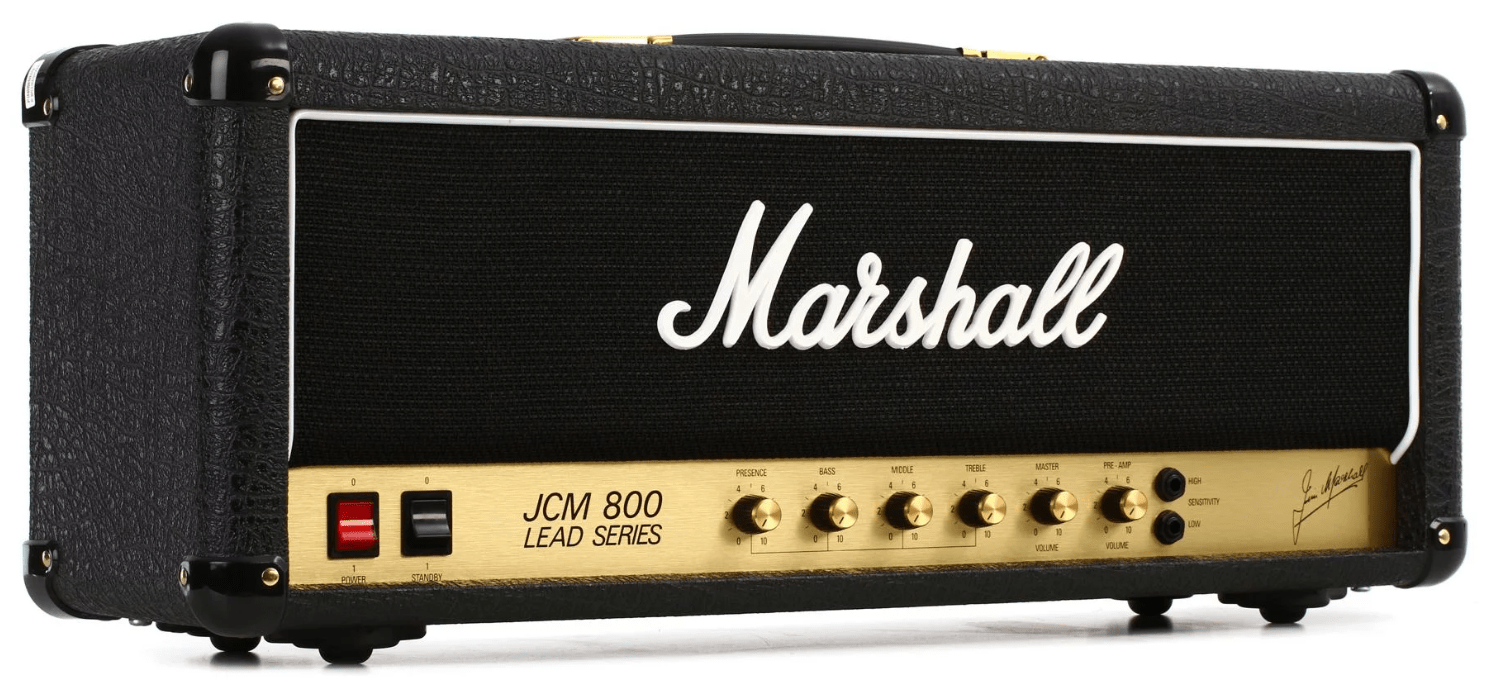 Summary
If you're looking for incredible tonal dominion, then the JCM800 2203X by Marshall is a go-to and a no-brainer. The Marshall JCM800's have been gracing some of the most iconic stages since the birth of rock and roll. It is a guitar amp that has so much power; you won't be wanting to crank it up to ten inside your apartment, you'll want to be in a venue or a studio where you can experience all that it has to offer.
The JCM800 comes with 100-watts of pure power. It uses all-tube power, providing unparalleled volume and purity of tone. Speaking of tone, it is an incredibly simple set-up. Unlike many amps these days, it is a single-channel head with a 3-band EQ. Many amps in this modern era feature tons of effects and amp models for you to play around with. This amp is meant to be kept in its lane, with extra pedals added onto it. The JCM800's tone is so thick and gratifying that you don't need to add much to it.
A series of effects loop allows you to insert your pedalboard between the preamp and the power amp. This acts as a one-lane highway from your pedalboard straight to the robust power of your speaker. Also, true bypass technology will ensure that the effects do not affect the structural integrity of your signal. It will remain intact and pure, no matter how many signals you have blasted through the pipeline.
The price isn't exactly low, however, anyone in the market for this kind of amp is ready to spend a little extra money to get the type of quality it has to offer. You would be hard-pressed to find the sort of tone, volume, and reliability with an amp that falls into a lower price range. This is a professional amp and is priced accordingly. The Marshall JCM800 2203X is the type of amp you hold onto for the duration of your playing days and pass it on to the next generation.
It has the classic black and gold design that Marshall is known for. The head is made from Birch ply construction, which makes it durable and long-lasting. Marshall knows you need to take this amp on the road and show off its temper, and they have built it strong enough to handle whatever you throw at it.
Pros
+ 100-watts of tube power
+ Durable and tough
+ Single-channel
+ 3-band EQ
+Series effects loop
Cons
- Not inexpensive
- Less suitable for practice rooms
Why We Like It
We love this amp for its power and purity. This is an amp that you need to crank up loud to experience all it has to offer. The Marshall JCM800 2203X can shake your bones and make the hair stand up on the back of your neck when you open it up and let it fly. It has the level of tonal quality that would make Tony Iommi's fingers bleed.
If you're a volume focused guitar player, you would have a tough time finding an amp that can produce the level of power that the JCM800 series can provide. You're not buying this amp for a wide variety of effects. You're buying it for the back end power and tonal quality that it offers. It is perfect to plug in a slew of pedals and watch the natural tone of the amp turn them to gold.
Recording with the JCM800 2203X is a dream. You can get sounds out of it that will leave your recordings sounding full and satisfying. From clean to screaming gain, with a plethora of presence, this amp delivers in the studio and on stage.
Along with all of the above, it is an aesthetic amp. Classic Marshall design with the black and gold coloring is always lovely to look at. Stack a few of Marshall's 4x12 cabinets on top of each other, plug this head in, and watch people's heads roll.
If you liked the article, please leave your feedback.