The Marshall Code 50 Digital Combo Amp is a technological mammoth of a guitar amp. It's packed with amp models and effects for any style of music and guitar player. It's a relatively compact 50-watt amplifier, suitable for gigs, studio use, or as a high-powered practice amp. It has a slick design and a level of user-friendliness that makes this amp ideal for musicians of every level. It's also reasonably priced for the level of quality available.
Specifications
• 50-watt
• 1/12" speaker
• 14 preamp models
• Four power amp models
• Eight speaker modulations
• 24 effects
• MP3 and headphone inputs
• 28.6lbs
• 17.3x20.8x11"
Marshall Code 50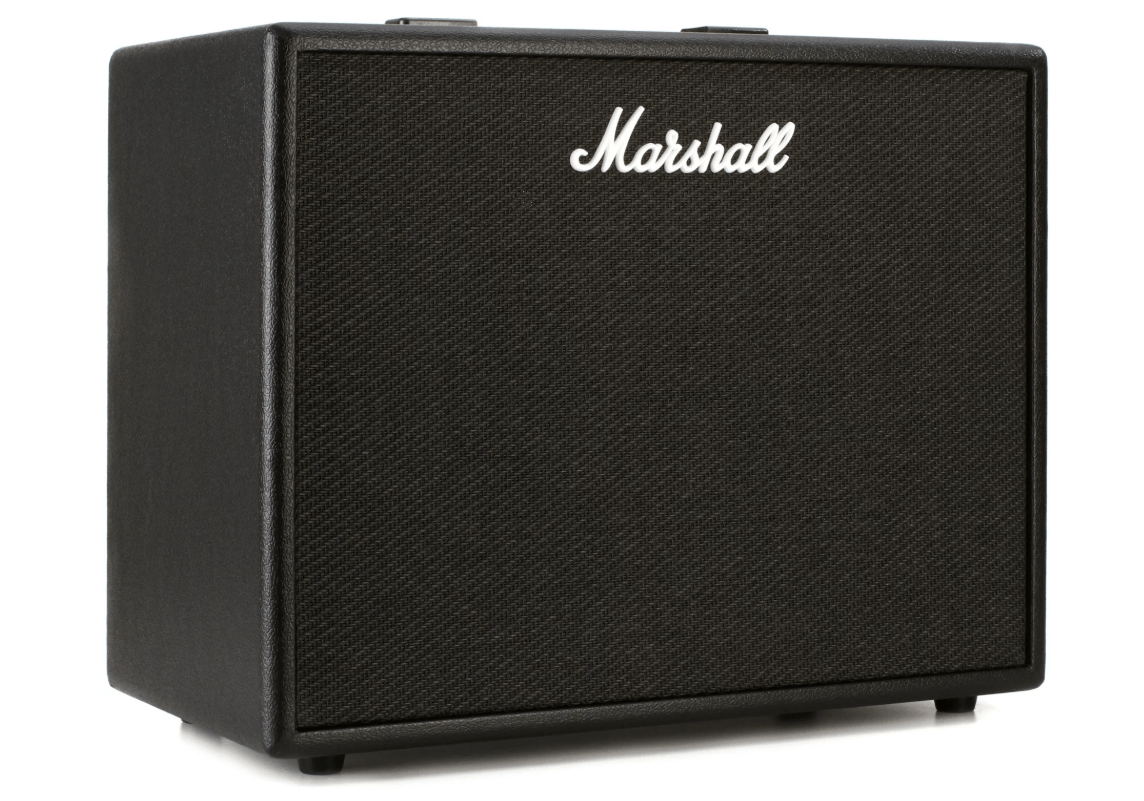 Summary
The Marshall Code 50 1x12" Digital Combo Amp will please guitarists who are looking for a one-stop-shop for effects and models. Along with the legendary Marshall tone and construction, this amp is equipped with a massive amount of technology.
It comes with 14 preamp models that cover a wide variety of eras and genres. You can pick almost any style of sound you're looking for and find it within the preamps that are already programmed into the Code 50. On top of the 14 preamps, you get four power amp models that allow you to find the back end that you're looking for. If that's not enough, you can also choose the type of cabinet sound you want. You can choose from various amp models within the Marshall family, spanning to the early British rock period.
The effects include everything you could find useful unless you're the guitarist for U2. With reverb, flanger, tremolo, chorus, and many more, all manipulatable using the knobs on the top, you can find a truly customized sound, and fit in perfectly to the music you're jamming along to.
This amp comes with an input for a footswitch that you can use to maneuver between the various effects. Also, with the MP3 jack, you can play along with your favorite bands and blend right into the mix, as if you were there on the day they recorded it.
At a weight of 28.6lbs, it's still within the realm of portability. It's not the smallest or quietest amp, but it's still reasonably light for its size. You have enough power to keep up with the band in a live or practice setting. The Marshall Code 50 would also be a wicked practice amp to have around the home, as it offers no limits as far as tonal and effect capability.
The level of control you have over the tone is quite magnificent. Many amps have built-in effects, various models, or intricacies that make them stand out from the others. However, the Marshall Code 50 seems to have all of these aspects in one single unit. It may take you a bit of time to find your way through all the possibilities, but once you do, you're all set.
You can connect the Code 50 to your phone or a tablet and control everything using the compatible app. That gives players a visual of what is happening with their effects, and the various pre and power amps available.
One of the biggest pluses of this amp is the affordability factor. Many amps with this kind of firepower run a little more expensive. However, Code 50 from Marshall has a price tag that most guitarists and digest.
Pros
+ Tons of effects and amp models
+ 50-watts
+ 28.6lbs
+ Compatible with the Marshall app
+ Easy enough to use while giving a ton of options
Cons
- Not the most straightforward set-up
- A bit of a learning curve
Why We Like It
Where do you start with an amp that offers this level of ingenuity and possibility? There are almost no limits to the sounds and effects you can create using the Marshall Code 50. It may be one of the most fun amps to play around with at home for hours on end.
It's a hobbyist's dream considering all of the features it comes with. You can play along with all of your favorite bands right in the amp, and you have complete control over the sound and tone you're playing with.
This isn't necessarily a starter amp, but it's well-priced enough to be worth it for a beginner to use. One thing to note is that there is a ton of things you can learn using this amp, and the curve might be a little steep.
Good luck finding a modeling amp that is this fun to play with, and gives you an endless degree of possibilities. It's perfect live musicians, studio recorders, and casual players. This amp is sturdy, versatile, and a wicked amount of fun. On top of that, it looks great with a slick and minimalist design.
If you liked the article, please leave your feedback.