If you're looking for a new decent command center to build yourself a half stack then cash can be an issue, but, we've gathered the best heads for a Marshall half stack setup to show you exactly what's available.
As Marshall is the company behind the first-ever stacks, the majority of their heads on the market are well worth their salt.
We could easily sit and review the lot but we have kept our selections short and sweet, settling on just four for a concise comparison. All are 100-watt options for a fair fight, and we've included digital and valve models.
At a glance:

Our top 3 picks
Our team's top 3 recommendations
Best Overall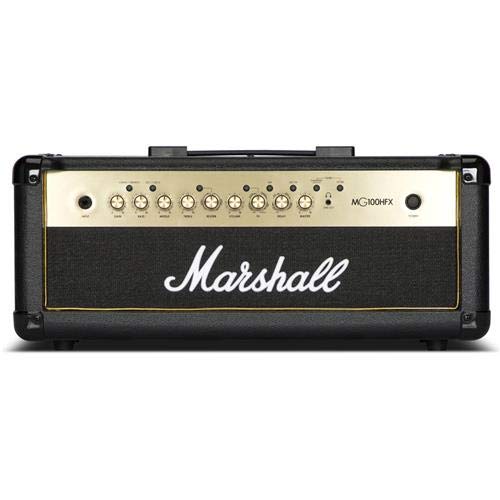 Marshall MG100HCFX MG Series

4 channels.
Great tonal potential.
Capable power head for one cab or two 4x12 cabs.
Premium Quality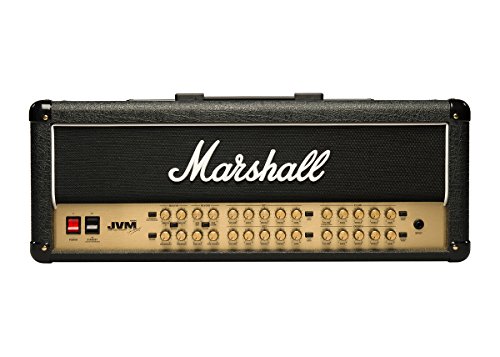 Marshall JVM410H

4 channels.
Great tonal potential.
Capable power head for one cab or two 4x12 cabs.
Great value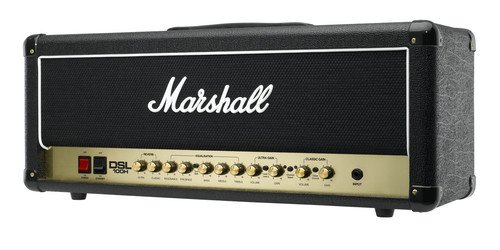 Marshall DSL Series

4 channels.
Great tonal potential.
Capable power head for one cab or two 4x12 cabs.
View The Best Heads for a Marshall Half Stack Below
1. Marshall MG100HCFX MG Series
First up, we have something from the more accessibly priced end of the scale. This is a very capable 100-watt option from MG Gold, which offers up four channels and is capable of powering one cab or two 4x12 cabs.
It's structurally sound and provides players with some pretty convincing tube tones. The channel choices consist of clean, crunch, and overdrive 1 or 2.
Users can tailor the gain, bass, mid, treble, and reverb with complete ease, thanks to its simplistic layout. As well as the dials, you also have an effects volume control, an effect selector, and master volume.
If you tweak the effect selector then you can control how pronounced the effect is within the tone. This gives users a lot of scope for creating a wide range of classic effects.
Pros:
+ 4 channels.
+ Great tonal potential.
+ Capable power head for one cab or two 4x12 cabs.
Why We Liked It - The MG series has been the subject of snobbery in some circles, but the newer CFX one brings a lot to the table in terms of sound, and are comparable with higher-end amps for the range of opportunity they present.
The next option up for discussion is a little richer in taste; the JVM410H from the Vintage model series is truly a tube-driven dream amp, which serves up authentic epochal vintage sound.
These amps are well endowed as far as tones go, but it may be harder to navigate for someone completely new, as the dials are a little overwhelming.
These amps are a pro-level option with exemplary engineering, which permits a faithful reproduction and a huge amount of flexibility. It's equipped with five ECC83 pre amps, four EL-34 power tubes, and, again, presents players with four channels like the MG homage above.
Each channel can be modified via three distinct modes, which are LED indicated as red, orange and green - they sculpt the intensity.
On top of the modes, which give you 12 distinct flavors, you also have control dials for reverb, bass, treble and middle, as well as gain and volume Though, volume is bypassed in green mode. In red and orange, the gain is added post equalization.
The clean is astonishing, with great headroom, and the overdrives are gratuitous. The digital reverb is also pretty impressive.
Pros:
+ Traditional tube amp head.
+ Killer flexibility.
+ Intuitive layout.
Why We Liked It - This amp head sounds like it costs twice as much. It harbors some quintessential tonal qualities, and is very versatile. It even includes a MIDI out giving it additional applications.
For most of us, the DSL is a go-to series, and while it pales in comparison to the JVM's superior sound, it provides what we want in a more realistic realm, as far as the price is concerned.
The DSL100H is a 2 channel option with a 3 band equalization section that includes a presence and resonance dial. There are 2 modes, clean versus crunch, lead one/two, and a reverb cluster controlled by the familiar classic and ultra gain. The configuration basically gives you a clean, and also 3 separate overdrives to tweak to perfection.
The range of tones it can muster is extensive. It's well manufactured and pretty straightforward to play with, given its classic layout.
Pros:
+ Reasonably priced.
+ Classic range of tones.
+ Great engineering.
Why We Liked It - It represents one a staple solutions as far as amplification is concerned.
4. Marshall CODE 100W Guitar Amp
Finally, we are featuring the CODE 100W head for those with fewer savings to splurge. The code guitar amps series was created to reproduce fifty years of the brand's signature sounds.
It's a very well-made modeling head, which gives users the mix-and-match freedom of 14 pre amp settings, four separate power amp modes to run through, and eight different cabinet emulators.
On top of this, there are 24 digital guitar effects to play with, giving this guitar amp great potential and versatility. The Code 100 Guitar Amp has a classic look and is easy to use. The guitar amp can even be controlled remotely via USB or Bluetooth thanks to its digital nature and cutting edge conveniences.
Pros:
+ Modeling head.
+ Affordable option.
+ Cabinet emulator.
Why We Liked It - With Code100 Guitar amps, you'll find a great set of sounds onboard. We like the cab emulators which thicken and fatten the sound for some beefy overdrives.
Marshall Half Stack Buyers Guide
As we feel our reviews have been pretty explanatory as opposed to spec-heavy, we've left our guide on the shorter side, keeping the focus simple.
What Is a Half Stack?
For those who haven't a clue, a half stack is a name given to the combination of a head amp and an extension cab. A full-stack will typically feature 2 separate cabinets stacked vertically, with the top cab featuring an angled incline.
The Marshall full stack was created in an era where rock-and-roll was getting louder and heavier, thanks to the guitar. This was when modern electric guitars were being perfected and the players sought new volume which the systems in use simply couldn't provide.
This grew at an uncontrollable rate until we inevitably got to see the walls of cabs from guitar artists such as Blue Öyster Cult and Slayer that epitomized the early seventies as the guitar artists grew into the hall of fame legends and the venues got bigger and bigger overnight.
A full-stack for most casual circuit venues these days is overkill, as house P.A capabilities have evolved. A half stack is a nice middle ground, which puts the power behind you to hear yourself over the drummer, but not overpower the rest of the band, nor drown out what you are directly putting out to the audience from the main left and right.
What To Look For In A Head For A Marshall Half Stack?
To keep it short you need to decide whether you're tied to the tubes, happy with a homage, or chasing vintage vibes. This can mount up so, of course, the budget will be key in your decision making, and what product you will finally get.
The manufacturing quality doesn't differ once you're above the thousand dollar mark. A cheaper one is understandably built on cheaper, outsourced factory lines.
Once you know what kind you're looking for, you won't find yourself disappointed with a new Marshall head, in our opinion. You can always change brands when it comes to the cabinet if there is a particular speaker you would prefer to get.
A modeling amp offers a lot of room for experimentation with your tone, but for some, these amps will always sound synthetic.
An analog head will be a lot heavier and a little harder to fix if the tubes blow on you, but for many are the better choice, and soundless synthetic than amps.
Conclusion
If our buying guide, and all the options we offered, you can't really go wrong, Once you've decided on whether you're going to get digital or analog, the capabilities our choices serve-up are really only dictated by your budget allocation.
If you have less to spend, or like getting your money's worth, you may as well get a solid-state choice which serves up a fair amount of scope in the FX department. But, remember you can always add an effects pedalboard into the chain further down the line when cash permits anyway.
If you're after memorable vintage vibes and are of the opinion that digital amps just don't cut it, then look for an all-tube amp head, but be prepared to part with substantial amounts of money. Either way, we're sure you'll find the one you're looking for.
Expert Tip
If money is less of a concern to you, we recommend having a look at the JTM Plexi remakes which are equipped with the new, genuine GZ34 valve rectifications, as the original model and provide the same iconic harmonics.
Did you Know
The Who are responsible for spurring Jim Marshall into the creation of the half stack set-up which soon became what we are familiar with at festivals.
If you've enjoyed this review by Music Critic, please leave a positive rating:
[vc_separator